Today, more and more organizations are adopting cutting edge technology and process frameworks to enhance IT AMS (Application Maintenance and Support) capability and efficiency. These applications are able to handle all of the complex business processes which traditionally are handled by experienced and qualified professionals.
Rather than the traditional IT support, the organizations need to provide value by offering business aligned application maintenance and support. E.g. How can I connect an overnight batch exception to the related business modules that it might impact? How do I stay on top of hyper care initiatives? IT AMS is also susceptible to improve operational efficiency and to reduce TCO while running the business operations as usual.
Time is the scarcest resource and unless it is managed nothing else can be managed.
Although the task seems pretty straightforward, this is not an easy to achieve goal considering the number of program governance challenges and the unaligned stakeholders. While focusing on these problems, the PMO and Program Managers also need to deliver the outsourcing benefits of AMS; it is crucial for them to ensure tracking and alignment of the benefits with the program.
OKRs (Objectives and Key Results) are widely known as a strategy execution framework, but many have yet to explore its capabilities in driving the AMS program governance. In this article, let's focus on the traditional AMS challenges and how OKRs can be used to drive excellence in AMS program governance.
Traditional Challenges in AMS program governance
There are many changes occurring in organizations today, especially around project and program delivery. This impacts on how project governance needs to operate. A traditional Target Operating Model (TOM) for an IT AMS program governance has challenges stacked up across its 3 layers: Strategic Layer, Tactical Layer and Operational Layer.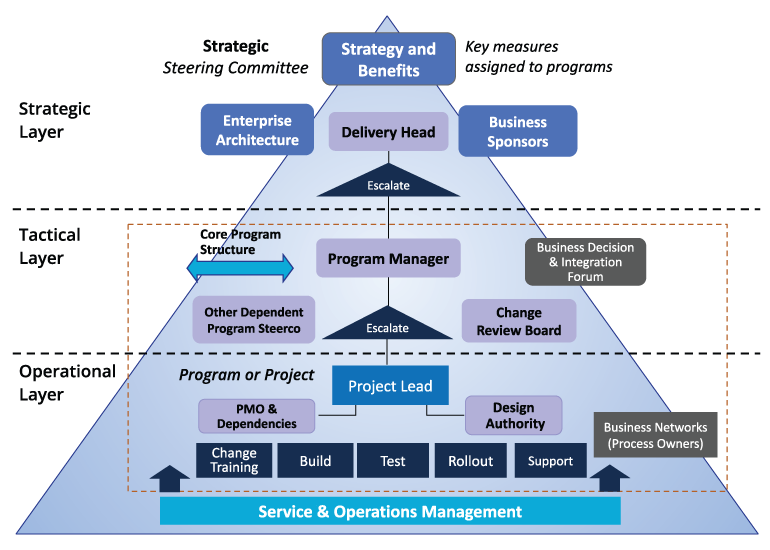 At the Strategic Layer:
The leadership team (e.g. Business Stakeholders and Delivery Heads) will be entrusted to run the business operations as usual at a lower cost and reduced TCO. The primary governance challenges will be on:
Achieving business value and minimizing the risk
Ensuring that the goals of the program remain aligned with the strategic vision
Setting clear priority of the roadmap for planning & execution
At the Tactical Layer:
The program management (primarily the Program Manager) will focus on managing the AMS program to stay healthy, reaping operational improvements (FTE reduction, Shift left, etc.) and staying updated on top of business. The related governance challenges will be to:
Keep the lights on
Track, measure and monitor the program effectively
Make fact based decisions efficiently
At the Operational Layer:
The project leaders and the engineers at this level are the ones focusing on maintaining the service levels and addressing break fixes. Their relative challenges will be:
Managing SLAs and uptime
Clear and traceable R&R; engagement of stakeholders
Getting rewarded for achievements
The challenges at these layers also need to account for the humongous amount of stakeholders' interests. This is where the OKR framework comes in handy to keep these stakeholders aligned with end-to-end information visibility, still contributing and aligning to the AMS program objectives.
Profit.co's OKR tool enables organization-wide visibility for all goals in your business. You can get started on Profit.co completely free today!
How can OKR administer program governance for an AMS?
The OKR framework is based on the principle of breaking down the vision and goals of organizations into ambitious, time-bound goals (Objectives) and formulating several concrete and measurable outcomes (Key Results) to track the success of the goal. OKRs can use Objectives at the strategic layer to ensure a common focus on AMS goals.
If entire projects or their milestones are reinterpreted in OKRs, a direct link among the stakeholders can be established. In many cases, the formulation of project assignments and milestones is also improved. It becomes easier to understand WHY the project exists. A functioning OKR cycle in quarters also helps to synchronize projects and portfolios. Because instead of managing a multi-digit number of individual projects, OKRs one level above direct the focus on the really important and value-creating issues.
Thus, OKRs manages AMS programs in two ways: by aligning program goals and by aligning program benefits. A step-by-step approach on how to interlink AMS program/ portfolio with OKRs is listed below:
Setup program objectives and success criteria as OKRs
Align & Assign to various stakeholders depending on R&R
Set milestones for every activity
Track progress across every department
Identify the problematic areas with ease
Monitor the progress of every activity and its completion
Get awareness of the plan vs reality to understand the deviation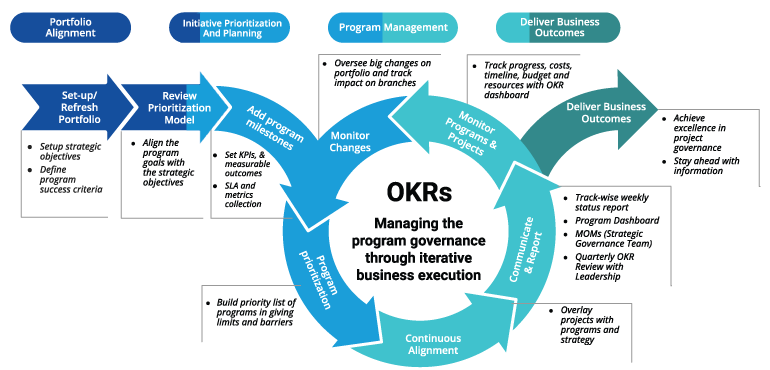 Once alignment is made on the program objectives, the OKR framework delivers the ultimate outcome by ensuring problems are identified early and the path to listed benefits is being achieved.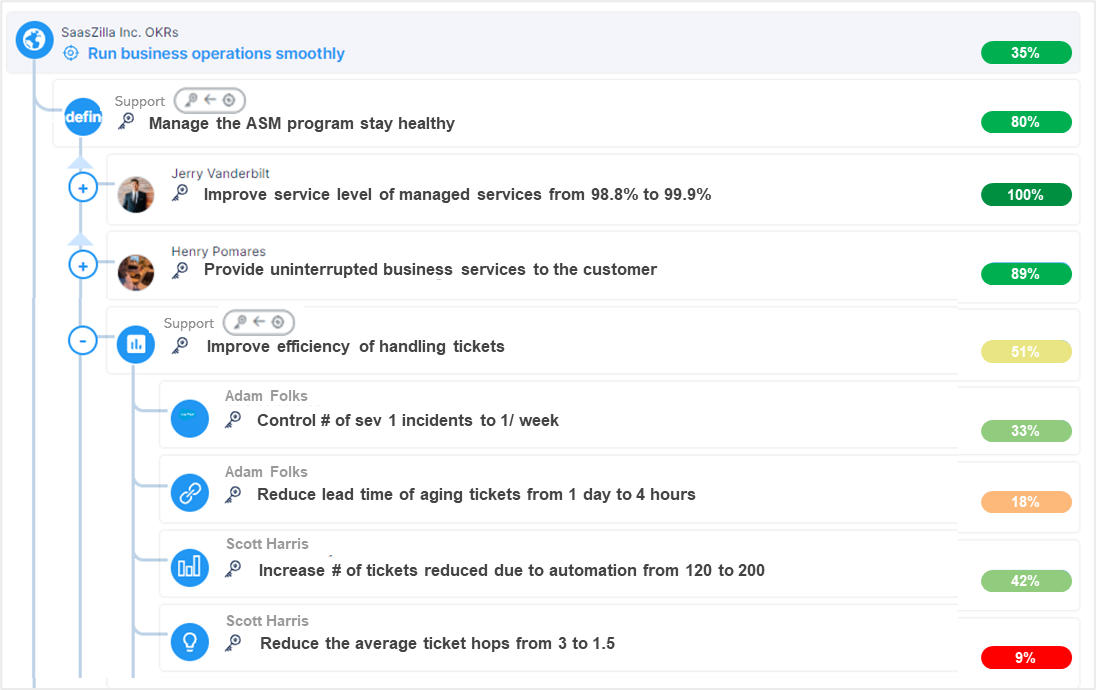 Some of the sample AMS OKRs to be considered are as follows:
Objective 1: Maintain resolution SLA of L2 tickets

Objective
David Griffin
Maintain resolution SLA of L2 tickets
Visibility: All Employees

Key Results
100% of P1 incidents to be resolved within 90 mins
Q2-2022


P1 incidents
0 Min(s)
125 Min(s)
66 Min(s)
8%
95% of P2 incidents to be resolved within 160 mins
Q2-2022


P2 incidents
0 Min(s)
240 Min(s)
82 Min(s)
8%
93% of P3 incidents to be resolved within 2 days
Q2-2022


P3 incidents
0 Day(s)
3 Day(s)
1 Day(s)
8%
88% of P3 incidents to be resolved within 5 days
Q2-2022


P4 incidents
0 Day(s)
8 Day(s)
3 Day(s)
8%
Objective 2: Meet L2 support expectations

Objective
David Griffin
Meet L2 support expectations
Visibility: All Employees

Key Results
Increase MFA-Customer Survey score from 7 to 9
Q2-2022


MFA-Customer survey…
Alert on FMEA items with score above 120
Q2-2022


FMEA items
Manage to create incidents within 20 minutes of detection
Q2-2022


Create incidents
SQL execution MTTR within 3 business days
Q2-2022


SQL executions
0 day(s)
5 day(s)
2 day(s)
8%
Objective 3: Improve support efficiency through shift-left approach 62%

Objective
David Griffin
Improve support efficiency through shift-left approach
Visibility: All Employees

Key Results
Create SOPs for frequent incidents
Q2-2022


Percentage Tracked
40% of incidents to be resolved by L0 and L1
Q2-2022


incidents Resolved
Reduction of manually resolved incidents by at least 5% QoQ
Q2-2022


Manually resolved inci..
All P1-P2 incidents to have RCA, KB, SOP initiated within 2 days
Q2-2022


Initiating Days
0 day(s)
3 day(s)
1 day(s)
8%
Business Benefits
OKRs acts as a value-added service differentiator for organizations that want to differentiate its style of executing AMS programs. Some of the application areas where OKRs can be of great help for AMS are as follows:
Value added proposition to govern AMS programs
Better alignment on the scope of AMS between the client and service provider
Aid performance review during hyper care and steady state
Monthly review of improvement initiatives and project activities
Visibility on business impact/outcome
Center of Excellence thought leadership
Strong Governance
Fact based decision making (Transition from loosely defined SLA structure to a well defined and achievable SLA structure)
Proactive tracking
Increase throughput of IT & Engineering teams
Conclusion
In addition to the classic areas of application of OKRs with a focus on growth and innovation towards executing strategies, organizations can also use OKRs for governing AMS. Using OKRs, AMS can be aligned with the company's objectives. The organizations benefit from better focus, prioritization and communication through the inherent transparency of OKRs. In doing so, organizations can use tried and tested methods and, through intelligent combination and consistent implementation, make them future-proof.
To learn more about how Profit.co can help you set and achieve your goals transparently, book a free demo with our OKR experts today!
Related Articles
Execute your strategy with the industry's most preferred and intuitive software