As your business expands, you'll likely encounter more opportunities, challenges, and obstacles. You need an effective strategy to help you maintain a competitive edge amidst competition.
Introduction
Performing a SWOT analysis for your business is an excellent way to determine which initiatives to prioritize and handle first and the challenges that need immediate attention. It can be an excellent analysis of organizational strategy before rolling it across the organization.
The SWOT framework makes it easier to identify the internal and external factors that impact your ability to achieve the overall objectives. You can minimize the roadblocks you face while optimizing business opportunities.
This guide explores the SWOT analysis, its importance in Strategy planning, why it's essential, and how to successfully conduct the analysis. You'll also learn the do's and don'ts to ensure you can handle your analysis.
What is a SWOT Analysis?
A SWOT analysis is a planning technique and strategy that gives you a clear perspective of your business regarding threats, opportunities, weaknesses, and strengths.
Performing a SWOT analysis is the best way to identify areas of improvement and maximize business opportunities.
You'll simultaneously determine the negative factors that may hinder your success. You can apply this effective business tool in various situations and any industry.
What Does SWOT Stand for?
The acronym SWOT stands for:
Strengths
Weaknesses
Opportunities
Threats
The first two aspects are internal, but the other two are external.
Strengths
Strengths refer to the areas in which your business shines. These are areas where you have the most talent and excel better than your competitors.
Identifying your strengths requires you to think about the tasks you do well, which are in your comfort zone. Think of the times when you attained exceptional results and exceeded expectations.
Weaknesses
Weaknesses are the areas that prevent you from optimizing your strengths for the business to perform its best. Determining your weaknesses helps you identify where you can improve your performance.
Think about the areas where you need more confidence, where meeting expectations is a struggle, and you find it challenging to achieve success. In most cases, you have some control over your weaknesses, so nothing can stop you from outlining steps to improve these aspects.
Opportunities
Opportunities are external elements that allow your business to gain and maintain a competitive edge or distinguish you from competitors.
To identify opportunities, consider questions such as:
Is your team maximizing your online presence or media coverage?
Are there ways you can develop or change a product to resonate with a broader audience?
What external factors can you leverage to fill market gaps?
Can you tap into an underserved or unexplored market?
Threats
Threats are external and internal factors that negatively affect your business, workforce, product output, and workflow.
These are upcoming or potential obstacles, such as market changes and emerging competitors. Although you may have little or no control over such obstacles, identifying them is best to help you implement contingency plans.
However beautiful the strategy, you should occasionally look at the results
Importance of SWOT Analysis
SWOT analysis is an impactful business tool that gives you unbiased assessments on:
A new initiative or project
Your brand or business
A particular channel or campaign
Market position
You can apply the SWOT framework to any business aspect involving strategic planning. Including a SWOT analysis in your strategic process allows you to be creative and evaluate your stand before taking action. Such insights can be invaluable assets that will form the roadmap for your initiatives and projects.
The SWOT analysis also prevents you from rushing into execution and planning without assessing the roadblocks and assets. You can quickly determine threats and weaknesses, boosting your chances of success.
How to
You can create a SWOT analysis diagram in several different ways. However, each SWOT analysis diagram has four sections that depict the negative and positive aspects of a project, proposal, situation, or department.
Instead of starting your SWOT analysis from scratch, you can use an editable SWOT analysis template that suits your needs.
The internal aspects, strengths, and weaknesses should be on the left side or top, while the external factors, threats, and opportunities remain on the right or bottom.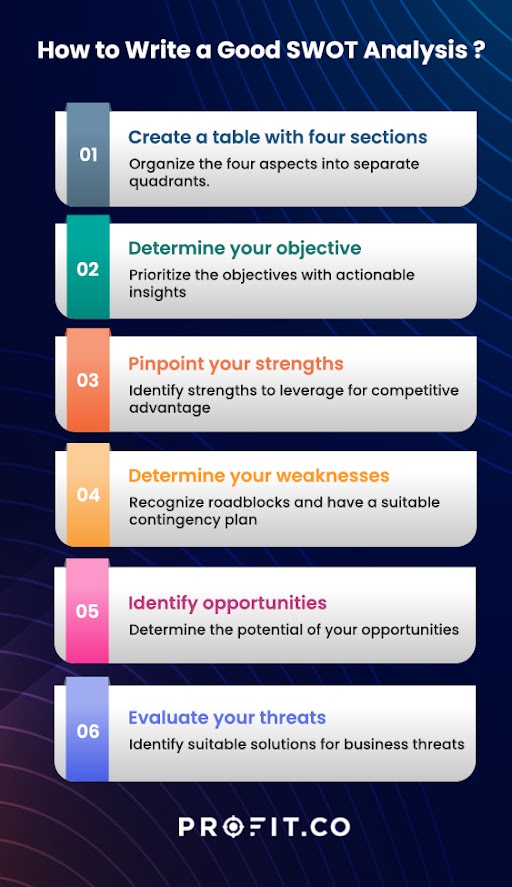 How to Write a Good SWOT Analysis
Conducting a SWOT analysis is similar to a brainstorming session, so there's a right and wrong way to handle the process.
Create a Table with Four Sections
Whether you create your template or use a pre-designed SWOT analysis ppt template, it's best to begin your SWOT analysis in a table format. Organize the four aspects into separate quadrants.
Determine Your Objective
Before filling the quadrants, the first step is determining what your SWOT analysis will cover. It would be best if you were very specific to prevent the analysis from becoming too broad and, therefore, ineffective.
Determining your objective will help you customize the analysis to gain more actionable insights.
Pinpoint your Strengths
Strengths are the factors working in your favor and the unique aspects of your business that your competitors lack.
Identifying your strengths requires you to think about the tasks you do well, which are in your comfort zone. Think of the times when you attained exceptional results and exceeded expectations.
Determine Your Weaknesses
Your weaknesses are the roadblocks keeping you from achieving your business goals. Think about the less productive areas that drain your time and resources and where you need more particular resources.
Think about the areas where you need more confidence, where meeting expectations is a struggle, and you find it challenging to achieve success. In most cases, you have some control over your weaknesses, so nothing can stop you from outlining steps to improve these aspects.
Identify Opportunities
Opportunities go hand-in-hand with weaknesses. Once you identify your weaknesses, it's easy to determine the potential opportunities that may arise if you address them.
You can ask yourself questions such as:
How can your business remain ahead in the current market?
Are there areas that your customers complain about that you can rectify?
Is there a new target audience you can target?
What technologies can you leverage to make your business more effective?
Evaluate Your Threats
Do new technologies exist that may challenge your product?
What are your competitors doing, or what's happening in your industry that may affect your success?
What obstacles can prevent you from achieving your goals?
Once you write the threat, look at them objectively and list them from most to least likely to occur. Doing so makes it easier to tackle them individually.
Do's and Don'ts
When conducting a SWOT analysis, finding definite starting points can be challenging. Sometimes, the items on your list are too large and impossible to fix.
Other times, you can think too small and spend your energy and time on minor things that are insignificant to the big picture. It would help if you also considered various internal factors, such as growing team size.
Choosing the SWOT analysis questions often takes the same time as the analysis itself. Due to this, you need to determine the overall objective or goal you want to achieve with the SWOT analysis.
Once you determine your goal, start thinking about the SWOT analysis questions that touch on aspects such as:
The company culture
Price points
Online presence
Reputation
Availability
Customers
Customer retention
Suppliers
Budget restrictions
Competitors
Your market share
Business growth
The SWOT framework seems straightforward, but there are several ways you can maximize the effectiveness of your analysis, including:
Use quantifiable or measurable statements in the SWOT analysis
Ensure you represent all aspects and departments of your business
Try to balance the lists evenly for easier comparison, so if you have five weaknesses, you should have five strengths
Have a clear goal for the SWOT analysis
Ensure a thorough SWOT analysis that covers every possible opportunity, threat, weakness, and strength
Design your SWOT in a way that applies to multiple uses
Don't run a SWOT analysis alone. It's best to engage various team members for authentic feedback
Don't depend on people's opinions, so get the necessary data
The SWOT analysis is an excellent starting point but doesn't directly equip you with actionable results. Instead, this analysis helps you determine your current stands, like strategy gap analysis and ways to improve your business.
As Alan Sarsby highlights in his book, a SWOT analysis makes you aware of issues to create a list of actions to take or avoid. It jogs your thinking, informing your decision-making as a result.
A practical SWOT analysis should precede further development and planning to highlight the internal factors you need to consider.
Free SWOT Analysis Templates
1. Microsoft's Excel SWOT Analysis Template
This Excel SWOT analysis template utilizes a simple spreadsheet with different columns instead of the matrix layout. It allows you to compare your business with three competitors, creating an elaborate analysis of your competition.
You can quickly identify various opportunities that your competitors are yet to explore. This SWOT competitor analysis template helps create a competitive landscape, allowing your team to develop strategic planning decisions.
2. Microsoft Word Home Business SWOT Analysis Template
This Microsoft Word business planning SWOT template is perfect for home-based businesses. The template helps you evaluate your business's market value, assess competition, outline your business plan, highlight potential customers, and more.
This SWOT analysis free template makes it easy to create a comprehensive market analysis. You can quickly realize growth opportunities as you understand the market size and your industry.
By outlining the external and internal factors impacting your business, you can determine how to enhance your business's value to match market expectations.
3. Google Docs SWOT Analysis Template
Google Docs' SWOT analysis template allows you to design analysis templates for your business from scratch. The template offers simple guidelines to help you assess your business's value in your current ecosystem while analyzing the available skills and competencies.
For instance, you can design a SWOT analysis template to assess your employees' value to the department or business. It helps you analyze their skills and competencies based on the returns the department or company receives.
This SWOT analysis blank template helps you highlight your internal threats, opportunities, weaknesses, and strengths on one page.
FAQs
What is a SWOT Analysis?
A SWOT analysis is a strategic planning tool that highlights the four key elements of a project, campaign, or business. It's an acronym for Strengths, Weaknesses, Opportunities, and Threats.
What Makes a SWOT Analysis Important?
SWOT analyses provide actionable insights that become the foundation for:
Goal setting
Creating teams
Formulating roadmaps
Developing strategies
How Often Should You Conduct a SWOT Analysis?
No particular rule stipulates how often a SWOT analysis is necessary. The best way to determine the right time for analysis is by assessing your current situation. It's an excellent reassessment tool you can use at any time.
Conclusion
A SWOT analysis is a priceless tool, especially for businesses looking to remain agile with Strategic Priorities and adapt to dynamic market conditions. By following the SWOT analysis tips and best practices, you can optimize the evaluation for more actionable insights. Sign up with Profit.co today to learn more about optimizing your business' performance.