Goal setting is crucial to ensuring any business's growth and sustainability. Goals help all team members determine where they are, where they wish to be, and the best way to get there. Although there are various ways to measure the success of your goals, one of the most effective methods is adopting the OKR framework.
Implementing Objectives and Key Results (OKRs) helps to promote organizational transparency while driving accountability toward achieving specific goals.
Let's dive deeper into OKRs and how they can help you achieve transparency in your organization or business.
Great things in business are never done by one person. They're done by a team of people.
Why Should an Organization be Transparent?
Organizational transparency is an essential element of any successful business.
Transparency in goal-setting creates a unified understanding of objectives, goals, and strategies. One primary benefit of OKRs is nurturing transparency, which opens the conversation to ensure the business objectives, goals, and purposes are clear.
An aligned workforce moves in the same direction and is more likely to reach the destination faster. Setting focused and clear goals increases your chances of success since everyone knows the collective desired outcomes.
Your team members will be more content and productive if they understand how their roles affect the overall goals and feel appreciated. The openness of OKRs helps everyone know how they contribute towards achieving the goals.
Additionally, transparency helps build trust with employees as they can access relevant information about their roles within the organization. It increases engagement by providing visibility into how management makes decisions and the progress of various activities within the company.
In 2008, Google set out to develop the best universal browser within three years. The objective was a next-gen browser, and the key result was the number of users, and they set to achieve at least 20 million active weekly users by the end of that year.
The team fell short of this ambitious objective, reaching only half the desired number. Instead of covering up the shortcomings, they restructured and aligned their goals. Google team members set sub-objectives and stretched the goal to 50 million in 2009 while enhancing the product.
By the third year, the key result was 100 million users. With the team working collaboratively and in alignment, they exceeded the target, achieving 111 million users.
Thanks to transparency, goals, and OKR framework, Google Chrome is now the most popular and fastest web browser.
We at Profit.co have a success story about alignment and transparency with our customer United Technical Support Services, Inc. (UTSS), United States.
Listen to what Deena Giordano Ullom, an attorney and the VP of People Operations at UTSS, says about how Profit.co has helped solve organizational transparency challenges.

With access to Profit.co's OKR framework, your business also has the tools to create transparency and thrive.

The Strategy Behind OKR Transparency
Building trust and unity is essential for successful teams. Building trust is easy because the OKR framework integrates transparency into the method. The OKR framework ensures transparency by providing visibility into your organization's objectives, strategies, and progress.
Every team member will understand the current issues and the areas that need improvement. With the guidance of the OKR framework, they will feel comfortable participating in conversations to determine how to make these improvements and be accountable for their contributions.
Transparency nurtures an environment of mutual respect and trust while benefiting the company with practical ideas for enhancing daily processes.
Openness in objectives also encourages open dialogue and collaboration among departments as individuals become aware of their team's contributions to company-wide initiatives.
With open communication, expectations, and a foundation of trust, teams can create alignment between individual efforts and organizational goals.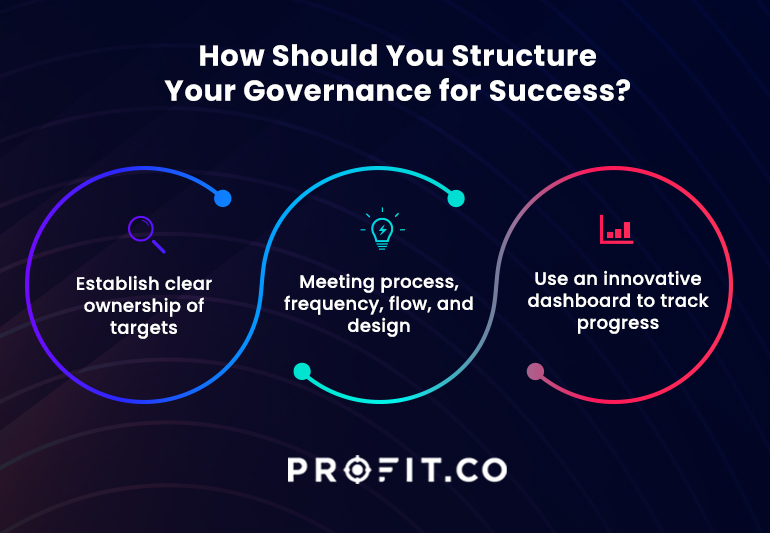 How Does the OKR Framework Help Achieve Transparency?
The OKR framework effectively achieves organizational transparency because it helps develop a shared understanding of goals, strategies, and progress.
Transparency in goal setting allows team members to understand the objectives they need to work towards as individuals and how their efforts contribute to the company's overall success.
OKR transparency helps you achieve clarity in the following ways.

Ensuring strategy visibility for everyone
Your team(s) can execute a strategy successfully if they understand it. Most people in an organization are unaware of the strategic priorities on a team level because of a lack of transparency and accessibility to this information.
OKR Visibility eliminates this challenge by ensuring strategies are visible to all team members. Organizational OKRs clarify the primary company objectives, while team-level OKRs define how the organizational OKRs apply to different product areas or departments and what areas need work to achieve them.
With a robust and intuitive OKR tool like Profit.co, everyone can easily access the team and organizational priorities. It also allows you visibility into past initiatives to see previous strategic importance and the aspects that succeeded or failed.
Creating alignment‍ through transparent dependencies
Determining the people you need to align with to attain your goals can be challenging. If dependencies are unclear across teams or hierarchies, you may end up with groups undermining each other, lost synergies, and double work. Proper alignment between collaborative teams will ensure the success of the project.
OKRs ensure dependencies remain transparent and interdependent goals align to ensure successful strategy execution. This transparency enhances collaboration and team effectiveness.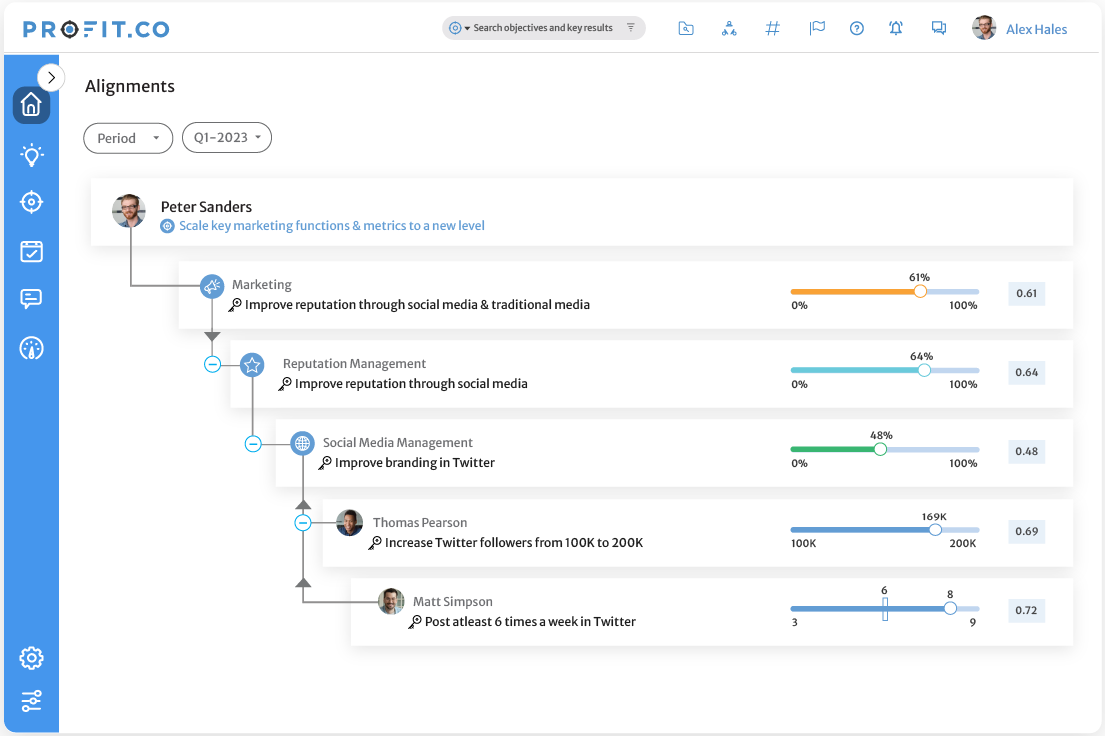 Strategic alignment across the teams using Profit.co OKR software
Agility to respond faster to changes
Adopting organizational change is often challenging. While they may cause disruptions, changes are necessary for growth to happen.
OKR examples for change management shift the organizational culture from activities-based thinking to a shared outcomes mindset.
Access to transparent information regarding objectives, results, and progress enables organizations to react when faced with market or external environment changes.
By providing all team members with up-to-date knowledge on current initiatives, you can respond faster than competitors who lack such visibility into internal operations.
Furthermore, clear communication about expectations gives employees a better idea of what needs to occur to reach individual and organizational targets.
Clarifying the big picture for everyone
Implementing an OKR system provides all staff members with a comprehensive view of the "big picture" – from the executive vision to each department.
OKRs allow for a unified team, whether they are part of the goal-setting strategy at the top level or working on daily tasks within one team.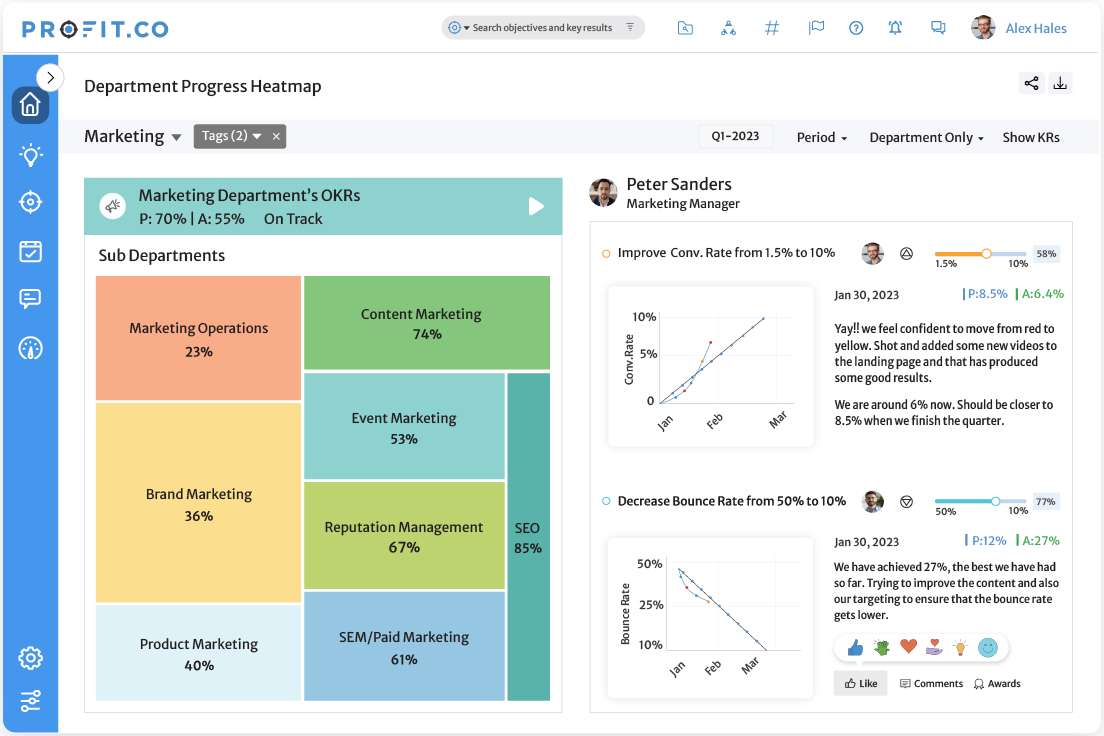 Clarifying the purpose across the board using Profit.co OKR software
By creating this OKR transparency throughout the organization, you can have greater control over decision-making processes while allowing teams more autonomy over projects without sacrificing cohesion between different parts of business operations.
Ultimately, these benefits demonstrate why promoting a culture of transparency through OKRs is essential for any successful business today.
FAQs
Why is transparency important in any organization?

The benefits of organizational transparency include improved collaboration among teams, greater efficiency in the use of resources, and successful project execution.

By giving employees visibility into how you make decisions, you can foster a culture of trust that will increase engagement and morale. Transparency lets executives gain insight into how well the team manages tasks while allowing them more autonomy.

How can you achieve transparency by implementing OKRs?

To successfully implement OKRs for increased transparency within your organization, there must be clear communication about expectations from management and team members. You must also ensure that everyone has access to up-to-date information regarding objectives, results, and progress so they can react quickly to market or external environment changes.

Setting measurable key results will incentivize employees by enabling them to see tangible evidence of their accomplishments.
Conclusion
Organizational transparency is an essential element of any successful business. Implementing Objectives and Key Results (OKRs) can effectively promote organizational transparency while driving accountability toward achieving specific goals.
Thanks to the visibility into the organization's overall objectives, strategies, and progress, teams can align individual efforts and organizational goals while collaborating with other departments.
Furthermore, it allows you insights into the effectiveness of task management, which helps you make informed decisions on resource allocation or timeline changes for projects or initiatives. Your organization can be transparent with clear dependencies, common goals, aligned initiatives, and measurable progress.

Sign up with Profit.co today and start your journey to achieve organizational transparency