As John Chambers, the CEO of Cisco said in the simplest of terms, "Disrupt, or be disrupted." To avoid being disrupted, one needs to be a disruptor. Disruption is not limited to any one kind of business, and it's what brings about change. It's what happens when a product or service enters the market and pushes its way upwards, eventually uprooting competition or creating a market of its own.
Google's one such disruptor. One of the things that Google attributes its success to are OKRs. The OKR framework was made popular by Google, and it credits much of its success to OKR goal setting model. Google has been using OKRs right from its inception, right from the time when they had just a handful of employees. Soon after, Twitter, LinkedIn, Dropbox, Oracle and many more big companies followed suit and also adopted OKRs.

As a CEO, it goes without saying that there are many responsibilities. And all of the responsibilities culminate into one big responsibility which is: taking the company to greater heights. OKRs are a great tool for the CEO to make this happen.
OKRs: A Tool for setting Business Goals and Tracking Outcomes.
OKRs are a useful tool for the CEO for setting business goals and tracking outcomes. An OKR's objective section should be concise, and have clear statements of a high-level goal.
While using the OKR framework, it helps teams focus on accomplishing the objectives.
Want to manage your important OKRs on intuitive, agile software? You can get started on Profit.co for free today!
Setting high level OKRs
While OKRs are being set during the initial Strategic Planning phase, the CEO, along with other executive leaders of the organization, decide on top-level objectives for the organization. The objectives that are set are to drive the organization to greater heights, which eventually boils down to inspiring employees. And therefore, these objectives are set around
Employees
Customers
Excellence
Growth
Innovation / Creativity
Well-written company OKRs inform department level OKRs, which amplify top level goals, and give a clearer picture of what steps must be taken to measure success and track the progress towards achieving the key results.
OKRs are useful to ensure that there's no gap between strategy and execution.
Once the CEO establishes OKRs, the objectives are used for the product roadmap and key results. Key results are helpful in breaking objectives into smaller, measurable targets, and for keeping track of progress that the team is making. It also helps people remain focused on the goals that are important, and set their priorities right by not getting distracted by goals that might seem urgent but are less important.
OKR Brainstorming and Planning sessions
In order for company-wide OKRs to drive organizational success and execution, leaders are required to set OKRs for the various departments and teams. For this, brainstorming and planning sessions are very useful, which also is a great opportunity for the CEO and executives to meet and connect with employees across different hierarchical levels. It's a great way to get them involved in the OKR setting process, get their views and pay attention to their opinions.
OKRs that flow down to the teams from the top-level OKRs set by the CEO and top executives, help stay everyone aligned
The CEO sets OKRs for the organization. These OKRs cascade from the CEO down to the department heads, and to the team managers, down to the frontline employee. By cascading goals, everyone gets involved and understands the organization-wide objectives better. And thus everybody's OKRs are aligned.
What this leads to is department heads writing their own OKRs, and members of each department writing their own OKRs, based on their respective end goals. As a result, there is perfect alignment across the organization. When each level's OKRs are informed by the OKRs set a level above, the organization runs like a well oiled machine, and it contributes to their bottom line and business strategy. The OKR framework helps keep everyone at all levels focused and accountable.
A CEO's OKR discussion with employees boosts employee engagement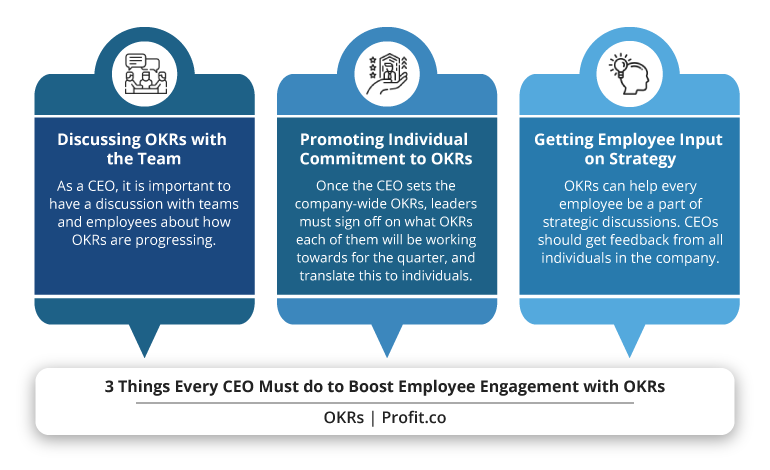 The best way to make sure employees are engaged and happy is to value their opinions and contributions. When they are engaged and feel valued, they would feel motivated to work towards meeting the business goals of the company and come up with new and creative ideas.
1. OKR Discussion with the Team
As a CEO, it is important to have a discussion with teams and employees about how OKRs are progressing. There are a few questions to ask beforehand in order to have an effective conversation:
Is the team's progress satisfactory?
Is the team's progress aligned with the OKRs that have been set?
What areas are doing well and are there any areas for improvement?
Knowing the answers to these questions will provide a better understanding and the right context for having the discussion regarding OKRs with the teams and employees.
2. OKR creates greater individual commitment
OKRs lead to commitment and are motivating. Once the CEO sets the company-wide OKRs, leaders must sign off on what OKRs each of them will be working towards for the quarter. Since it is done in a public forum of co-workers, peers, top level executives and the CEO, there is transparency, commitment and accountability.
3. Getting employees' inputs for the Strategic Planning process
The way the Strategic Planning phase is designed, it is meant to get employees' inputs in deciding the organizational strategy. This gets employees engaged and motivated and be more involved in the success of the organization.
OKRs for the New Normal
In the times we live in, industries, companies, and teams are all transforming rapidly. People have adjusted to the new normal, and are now working from home and balancing work and home demands.
OKRs were built for times like these. OKRs are built for adapting to changes as they happen. They are not something that can be set and forgotten nor are they unchangeable. They can be revised, can adapt and be tracked depending upon the circumstances. Reorient and reset is the OKR mantra of the moment. Remember that properly set OKRs can boost remote engagement— so it's a better time than ever to adopt and commit to the OKR framework.
Want to learn how an OKR software can revolutionize the way you manage your OKR program? Book a free demo with our OKR experts today to find out!
In Conclusion
The CEO of the organization needs to ensure that the company stays ahead of the game. They should always strive to have better communication with their employees– and OKRs are a great tool to help achieve this. This framework ensures all employees are aware of and are accountable for their responsibilities, are on the same page, and have a strong sense of commitment.
From the CEO all the way to the frontline employees, the whole organization works in tandem to achieve the top level objectives set for the organization when leaders commit to setting great OKRs.
Related Articles