Did you know that only 44% of leaders feel that their organizations can implement a successful strategy? Companies face numerous challenges in strategy implementation.
For example:
Poor leadership and communication
Resistance to change
One way to overcome these challenges is through strategic priorities. When you understand the importance of each element in your strategy, you can assign the right resources to implement it successfully. Let's look at strategic priorities and how to set them for your organization.
What Are Strategic Priorities?
Strategic priorities are definitions of what is vital to your company and, sometimes, the entire industry. They can include a variety of factors and processes like Key performance indicators (KPIs), objectives, and target markets
Due to their nature, strategic priorities allow a company to work at a greater efficiency when implementing new technology, allowing it to remain competitive in today's market climate.
Strategic priorities are at the very core of any organization's success, and they only have one chance to get it right, and often it can be a daunting task. Furthermore, there are countless metrics to track, not just financially, but on the quality of their employees, sustainability efforts within the company, and many others.
The concept of priorities begins with tasks. When you have many assignments to achieve, you must choose the most important or urgent ones and work your way down. Strategic priorities are the goals and tasks your company must complete over time. These priorities are always subject to change as the marketplace evolves, but they're still crucial to success.
Here are some examples to explain strategic priorities in today's business world.
Examples of Strategic Priorities
Strategic Priorities in The Digital Space

Many companies include digital transformation in their strategic plans, but the Covid-19 pandemic has pushed it up the priorities list. With 73% of employees seeking permanently remote work post-pandemic, businesses must prioritize digital transformation to stay competitive and profitable.

Strategic Priorities in Occupational Health and Safety

Similarly, businesses must adapt to Covid-19 protocols regarding hygiene and social distancing. Apart from creating virtual workspaces, companies must redesign and maintain their premises to protect employees and customers from Covid-19.

Strategic Priorities in Sustainable Business

There's a massive shift towards sustainability in every industry as we become more aware of climate change. Companies that adopt a green workspace enjoy benefits like:

Healthier employees
Lower overheads, and
Improved productivity
Why You Need Priorities in A Strategic Plan
A strategic plan contains a company's short and long-term vision, mission, goals, and objectives. The larger the company, the more complex the strategic plan.
Strategic priorities break down the strategic plan into actionable steps that lead to the company's overall goals. They also help assign the right resources at the right time to cope with inevitable change and growth.
5 Criteria for Setting Strategic Priorities
Each element in your strategic priority list should:
Guide everyday corporate behavior
Be valuable to every area of your company
Significantly improve your productivity
Align with your company's vision, purpose, and philosophy
Primarily support your business goals and strategy
Using the digital transformation example above, you can see how it is a critical priority for business performance in the current economy. Remote work affects how we have meetings, handle our workloads, deliver to customers, and bring profits to the organization. Digital transformation is the means to these ends, so integrating the right cloud-based solutions for your business becomes a top priority. Book a free demo with our team to learn more about how OKR software can optimize your collaborative workspace, especially in a hybrid organization.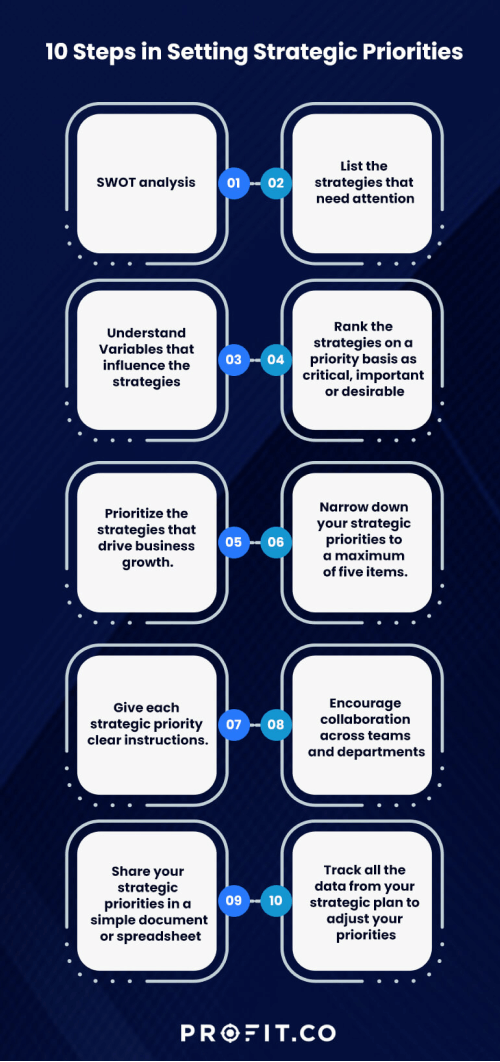 10 Steps in Setting Strategic Priorities
Once you evaluate your strategic plan according to the criteria above, take the following steps to build actionable strategic priorities:
Conduct a SWOT analysis of your strategic plan to understand the context in which your business operates.
Use the SWOT analysis results to determine which priorities need the most attention. Focus on turning weaknesses and threats into strengths and opportunities.
Understand the variables that affect strategy implementation, such as human resources, time, finances, and market trends.
Rank your priorities:

A critical priority is time-sensitive and uses every available resource to achieve.

An important priority significantly impacts your business without a specific time limit and fewer resources.

A desirable priority can optimize your performance and productivity, but its implementation

Prioritize the tasks that drive business growth: innovate your company rather than stagnate or become complacent.
Narrow down your strategic priorities to a maximum of five items. A long list of strategic priorities may overwhelm your team and slow communication.
Give each priority clear instructions on how to achieve it. If your preference is to improve productivity by 50%, break it down into steps like upgrading to goal management software or recruiting new team members.
Encourage collaboration across teams and departments to achieve your strategic priorities. Demonstrate how each member contributes to your company's overall objectives.
Share your strategic priorities in a simple document or spreadsheet. Make it accessible across the company for feedback and updates.
Track all the data from your strategic plan implementation to help you adjust your priorities over time.
Every organization has unique needs and contexts, so use these ten steps as a guide. Some companies may prioritize digital marketing and customer service, and others may prioritize supply chain management and logistics. Most businesses need all these elements, but how they stack up in their strategic plan varies with each company.
Strategic Priorities FAQs
What's the Difference Between Strategic Priorities and Business Priorities?
Strategic priorities are values that guide you to achieve your goals. Priorities align with your company's vision, mission, and culture to lead to organizational success.
Business priorities are the activities that a business undertakes on a day-to-day basis. These include:
Attracting and retaining customers
Data analysis
Updating IT infrastructure
Increasing growth, and
Creating new products and services
How Do I Rank Strategic Priorities?
The three factors determining your strategic priorities are your company objectives, resources, and timing. Each goal uses a given amount of resources and time frame to meet company objectives. Objectives that impact your productivity or need urgent implementation go to the top of your list.
How Do I Create A Strategic Priorities List?
A spreadsheet works best, but you can create rows and columns on a document or notepad.
List down all your business projects and allocate the resources available and the time limits for each one.
Highlight the critical, meaningful, and desirable priorities as explained above.
Ask the relevant team members for more details about the priorities, such as additional resources and best/worst case scenarios.
Adjust your list over time as implementation challenges arise.
Conclusion
A robust strategic plan relies on clear, achievable strategic priorities. Have five or fewer strategic priorities at a time to focus on short and mid-term business objectives. Ensure your goals are achievable within three to five years and follow through at every stage.
As your business grows, keep your strategic priorities focused on the future–adapt and innovate your company to add value over time. Of course, priorities constantly compete for attention and resources, but focusing on a handful is better. A broad range of goals leads to confusion and losses. With these tips in mind, create the right strategic priorities to improve business productivity today.
Business leaders need to be mindful of the gap between setting Strategic Priorities and execution. An agile OKR software can help bridge this gap by aligning goals and tasks using metric-driven Key results.
Ready to empower your business with focused strategic priorities,signup with Profit.co
Business leaders need to be mindful of the gap between setting Strategic Priorities and execution. An agile OKR software can help bridge this gap by aligning goals and tasks using metric-driven Key results. You can get started on Profit.co completely free today!