A sales performance management system ensures every member of a sales team operates to the highest proficiency to meet the overall sales goal. It uses data to help predict how future sales will operate, analyze current sales to understand current dynamics, and then leverages this information to better direct the sales team.
Success seems to be connected with action. Successful people keep moving. They make mistakes, but they don't quit.
Sales growth is determined by how the sales performance management system is able to operate on every level down to the sales representatives. For the highest growth rate in sales, it's important to keep in mind a few features of your sales performance management system to transform it beyond the normal system.
This article will detail three key features of a high growth sales performance management system and how you can implement them.
What is Sales Performance Management?
Sales performance management is an innovation on the traditional process of sales management to better drive sales and overall company growth. This is done by a series of evolved processes over the older model which it still relies on, but offers far better growth as an end product.
Traditional sales management is focused on creating a sales force, developing sales operations to meet the goal, and driving sales techniques to achieve the company sales goals. Many businesses have their roots in this sales management system and continually rely on it.
However, with a high growth sales performance management system, there is a greater focus on metrics to produce forecasted sales and resource optimizations. Additionally, the system focuses more on the salesmen or attendants to motivate them to sell more products to the right people, increasing sales overall.
Why is it Important?
With the introduction of sales performance management systems, companies have seen a three-times growth in their annual revenue over companies that continue to rely on the traditional sales management system. This growth can be monumental if the company is trying to expand or simply survive through a rough spot in the economy.
Sales performance management has seen an increase in sales reps' achievements, sometimes over 80% of the sales reps meeting their sales quota versus nearly 25% of sales reps meeting quotas using the traditional sales management system. This staggering difference in growth leads to the company's sales rising with just the introduction of a system that builds from the traditional sales management system.
Benefits of a Sales Performance Management System
The sales performance management system is based on metrics and the refinement of normal sales operations to drive better sales. Many of these metrics are accounted for within software that can calculate current sales, predict future revenue, and output actionable metrics to help you benefit your business.
Benefits of this system include:
Better predictions for future sales – using data and metrics that react live in the field, an integrated sales performance management system is able to predict where, when and who the best sales can be made to.
Provide better incentive compensation management – sales teams can better assess compensation for sales reps, and those sales reps can understand the breakdown of their compensation through a live view.
Use of sales Performance management software – With performance-based compensation, a finance team can better assess the payroll for a sales rep to more accurately payment expenses. As sales reps undergo further training to refine their skills to work with evolving technologies, they are able to better use predictive and reactive sales performance management software to achieve their sales and earn greater commission.
These benefits can give great incentive to start using a sales performance management system, and in line with the rise in sales rep ability to raise their sales quota once the system is operating efficiently, your business can double or triple the number of sales in time.
3 Features of a High Growth Sales Performance Management System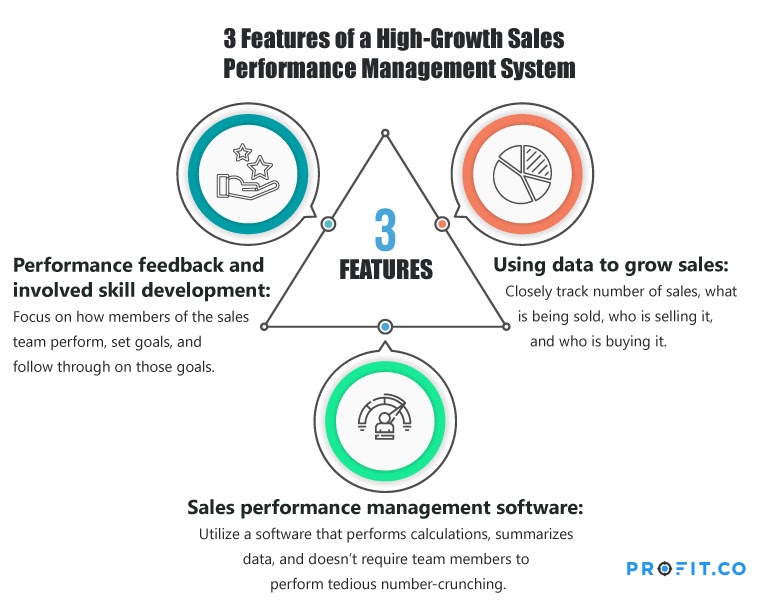 These three features are what companies use to better develop their sales, their plans, and how they forecast the future of their sales and what the company looks like. These features are integral to the sales performance management systems in place today and should be focused on if you wish to implement a system.
1. Using Data to Grow Sales
In sales planning, sales managers will assess the region they are overseeing and target specific areas of where to place sales representatives. That representative will have their territories to sell their products to unobstructed by other sales reps from the same company. However, they will have to compete with similar products from other company's sales representatives.
The issue with traditional sales management is that there is very little insight into what sales are being achieved in these areas other than previously generated sales. The collection of this information would be made after a sale period and then assessed to better future sales.
This system is slow to update. You only can assess those sales from a designated period of time. The system also doesn't account for other factors as the demographic or types of sales made, leaving the sales team to create this and better optimize their classic system.
With a high growth sales performance management system, the sales metrics are automatically calculated through advanced software to instantly assess how the sales are being carried out. For example, if a certain item is being sold more in a certain area, then the sales team can react faster to focus on those sales far faster.
On the long term level, these collected metrics can help enhance further pipeline management to allow for certain items to be stocked. In the case of sales periods, it's obvious that items that would be considered to be bought quickly should be stocked in higher quantity. However, advanced software can help track peripheral sales that the sales team might not consider, leading to stocking the items that buyers wish to purchase alongside the main items that sales teams might overlook.
2. Using Sales Performance Management Software
One of the major driving tools in sales performance management is the partnership with sales performance management software. This software is able to handle several operations, crunch all the numbers, and output everything into actionable information that your sales team can use. This saves many hours of struggle and calculations which could seem like a gamble in the end.
These are some features that sales performance management (SPM) software has:
Territory management – software accounts for where and when sales are being generated to acquire the most net revenue. Sales teams can use this data to better focus the efforts of sales reps.
Sales planning – once goals are submitted into the software, the software can account for the forecast and follow-through of achievements of sales towards that goal.
Metric analytics – one of the greatest features of SPM software is how it can comprehensively report sales throughout the period and forecast data to allow sales teams to react. Sales forecasting point solutions help users to understand expected sales and deals, as well as the generated revenue across all territories and sales reps.
Quota management – software accounts for the quotas of individual sales reps, sometimes through machine learning technology, to better assess how they are meeting their quotas. This can also motivate sales reps to achieve greater quotas from actively viewing their achievements in real-time.
Incentive compensation management – once the software understands how a sales rep operates and how they can best use their skills, the software can account for incentives and monetary compensation to those reps automatically.
There are, of course, a variety of SPM software out in the world, many of which focus on different aspects of sales performance management operations. Most software can tackle a variety of jobs and are flexible enough to handle most sales situations. Some of the best known ones are Anaplan, Oracle, Varicent, Xactly. Each software offers a set of advantages from being greatly scalable from working with small sales services to larger corporations to sales planning, quote management, territory management, incentive compensation management, and forecasting, focus on the back-end system etc.
3. Performance Feedback and Involved Skill Development
Sales performance management can greatly help how sales reps and sales teams grow from the data and insight formed from both software and more accurate sales tracking.
When hiring someone, it's important to account for their experience as a sales rep, the territory they will be working in, and how they produce sales of your products. Sales performance management focuses on how these individuals perform, sets goals, and motivates them to achieve greater goals.
In traditional sales management, a new sales rep might be forced to achieve the grand goals of their predecessors. Because of their lack of experience, they can quickly lose motivation to achieve sales and feel pressured, which leads them to quit the sales team. As sales have one of the highest turnover rates and lowest retention rates, it's important to account for each sales rep and assess them individually to keep them on board.
Sales performance management focuses on evaluating how each sales rep can operate and how they can grow. When you take into account their previous experience, it's worth assessing short term goals they can achieve. Once the data is collected on how they are achieving these goals, a new set of goals and incentives can be created for them.
It's important to set goals using the metrics collected through software for that specific sales rep. If they've collected experience and met previous goals and can achieve greater, it's worth setting their goals higher to motivate them further.
Additionally, if these sales reps show deficiencies in their metrics, you can offer training or guidance in certain areas. Regardless of who is making the sales, if they are lacking in a vital point that impacts sales, once they are trained and back in operation, they can repair that issue and grow both their sales and the company.
Advance sales performance management systems also account for more accurate compensation by viewing how these sales are being achieved. As the sales rep sees this compensation increase, they become more engaged with their sales.
Final Thoughts: Towards High Growth
Companies that implement sales performance management systems can quickly see how these features can benefit their operations and produce higher revenue. They can soon outperform their rival organizations and grow both their employees and their company through the proper application of metrics and data.
Profit.co and Performance Management
To track employee performances, Profit.co supports two types of performance reviews– standard and affinity-based reviews
Standard Reviews
Standard reviews– also called conversation and feedback reviews– allow HR administrators to customize a collection of open-ended questions answered by both managers and reviewed employees.
Employees can incorporate a record of specific metrics and their progress on sales goals at this point in the review process. Both self-evaluations and manager-evaluations allow ample space for comments, examples, and descriptions of different aspects of an employee's job performance.
Affinity-Based Reviews
Affinity-based reviews are reliant on competency rating scales to help quantify employee skills and attributes.
HR administrators can edit competencies- or, skills or attributes that are necessary for professional success– depending on the reviewed department. Members of the sales team can be reviewed on the specific skills that are necessary for them to succeed. With this feedback, team members and managers can determine where the employee is succeeding, and where the employee could improve during the next review period.