One of the biggest issues that modern performance management programs have is that they often only evaluates employee performance through a single lens. Since the concept of the annual review became popular in the corporate world in the 1970s, managers have typically based their employee evaluation comments on their own perspective of that individual and nothing else.
As you may expect, this has the potential to cause significant problems in the workplace, not the least of which includes the potential for unconscious biases and discrimination. This can result in unfair evaluations, a loss of team morale, and lower employee retention in an organization.
Unlike a traditional annual performance appraisal, a 360-degree review seeks to correct this by conducting employer reviews around the perspectives of multiple people.
What is 360 Degree Feedback?
Also known as a multi-rater or multisource feedback review, 360-degree feedback seeks to collect employee performance reviews from multiple sources.
In a 360-degree feedback employee performance review, a manager collects information about an employee's performance from coworkers, other supervisors, subordinates, and anyone else within the organization that an employee has contact with. In some cases, managers may also ask customers or suppliers to provide feedback about an employee for use in a 360-degree feedback review.
Why is 360 Degree Feedback so Important?
360-degree feedback has become a popular tool to measure an employee's performance based on their working relationships within the company, as well as how they interact with third-party individuals. Instead of employee performance being based solely on how a manager perceives an employee, this method of review gives them a more rounded view of an individual.
360-degree feedback reviews are so important because they offer an unbiased and faithful evaluation of employee performance. This means human resources administrators can be more confident that the information they are evaluating the reviewed employee on is accurate, and the reviewed employee can be confident that they're getting a fair and honest review.
A Step-by-Step Guide to Implementing 360 Degree Feedback
If you're worried that 360-degree feedback will add even more hours onto performance management requirements, then you'll be thankful to note that it doesn't take much more time to complete than a traditional review. The 360-degree feedback system works in three steps: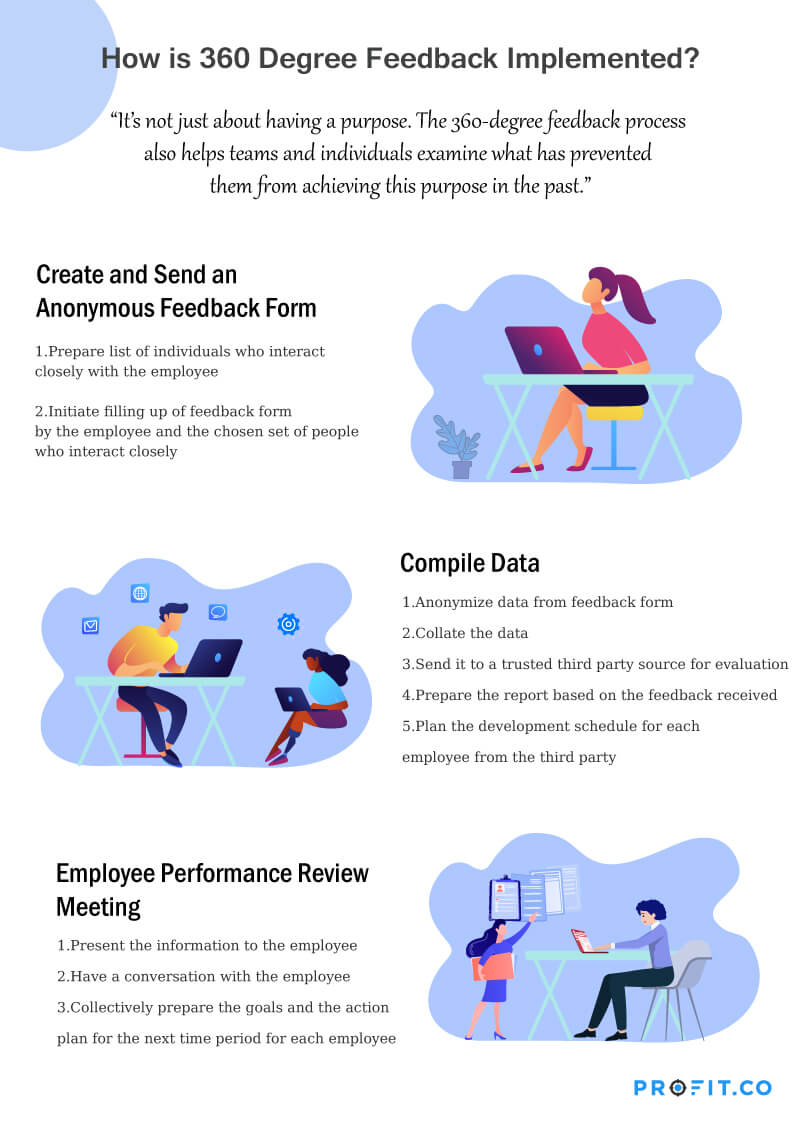 Step 1: Create and Send an Anonymous Feedback Form
Managers will create a list of 6-10 individuals who have regular contact with an employee, and these respondents are grouped depending on their relationship to that employee. At this stage, they may also consider sending these forms to third parties like customers, clients, or suppliers.
Using a standardized feedback form based on the employee's job role, they send this form to these individuals, asking them competency-based questions about the employee's behavior and skills. These questions will usually be answered on a scale of 1-5, to allow for easy data collection.
The employee who's being reviewed also fills out the same form.
Step 2: Compile Data
The responses are anonymized and collated as an average by, typically, a trusted third-party source. Once a manager receives this data back, they then create a report and development plan.
Step 3: Employee Performance Review Meeting
As with traditional employee reviews, the manager then presents this information to the employee and talks through the form responses with them. Together, they come up with a series of goals based on this data for the next review period.
Pros and Cons of 360 Degree Feedback
360 Degree Feedback: Pros
Managers get feedback from multiple sources:


Because multiple people have contributed to the review process, the feedback an employee receives is more likely to be objective and valid than the traditional feedback method. A 2001 study supports this, as it found that subordinates and peer ratings in 360-degree feedback forms could better explain an employee's variations in productivity.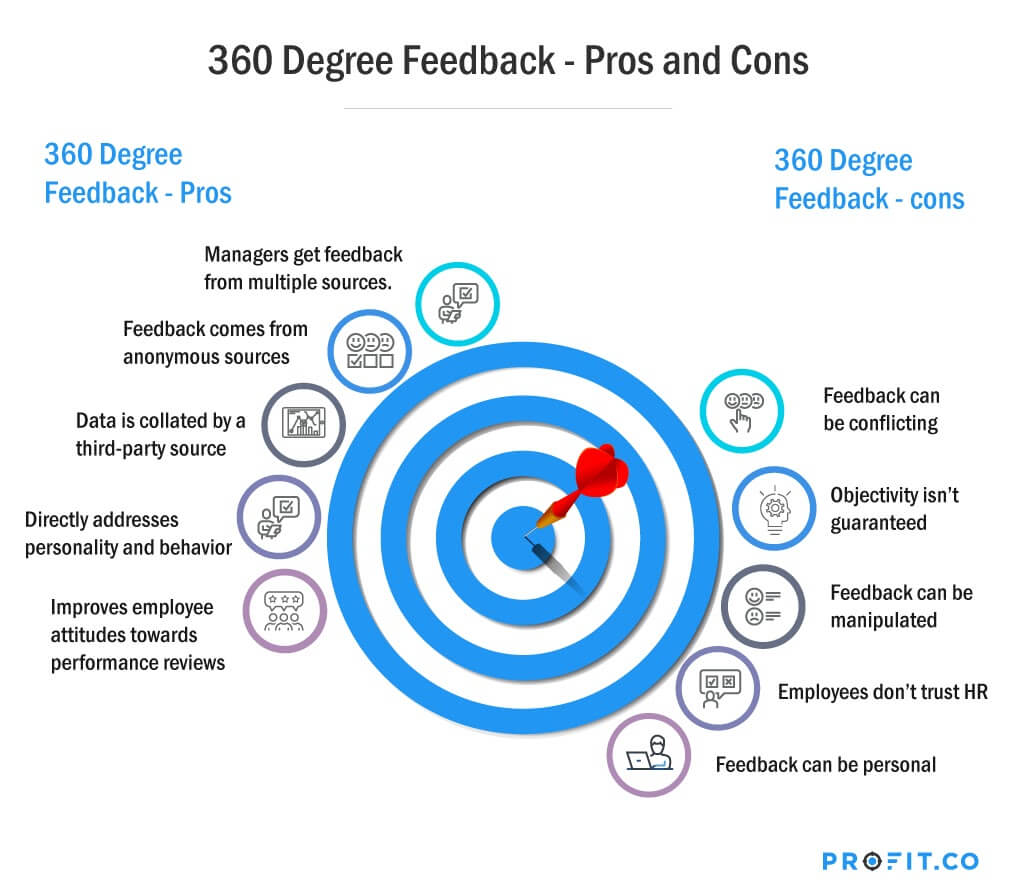 Feedback comes from anonymous sources:


When respondents know their names won't be passed on to the employee, they're more likely to be honest about their interactions. An employee will never know who completed their feedback form, so it doesn't strain their relationship with other employees.

Data is collated by a third-party source:

While the manager knows who is responding to their feedback form, the data is collated and delivered back to the manager by a third-party source who doesn't directly deal with an employee, avoiding any unconscious bias.

Directly addresses personality and behavior:

The traditional manager performance review process often heavily focuses on performance and outcomes over an employee's behavior and processes. In comparison, 360-degree feedback allows managers to see how an employee interacts with other individuals, regardless of performance metrics.

Improves employee attitudes towards performance reviews:

A 1993 study by Bernardin, et al. found that adding more reviewers to the performance review process meant that employees felt more positively about performance reviews, particularly in the case of managers receiving feedback from peers.
360 Degree Feedback: Cons
Feedback can be conflicting:

When data is anonymized, it's hard to tell which "side" of the feedback is more accurate in representing an employee.

Objectivity isn't guaranteed:

A 2004 study by Eichinger found that staff who had known an employee for more than a year, but less than three years, gave the most accurate feedback. Individuals who based their opinions on first impressions were the second most accurate, while those who had known employees for more than three years were not always objective.

Feedback can be manipulated:

In 2015, a study found that employees would make deals with each other to say certain things about a single employee, or they'd make deals in which they'd "trade" positive feedback on performance reviews. The study also found that this manipulation increases when these reviews are used to determine bonuses, pay raises, or promotions.

Employees don't trust HR:

Even though 360-degree feedback works on anonymity, employees may not feel comfortable giving feedback about another employee to HR. For small companies that can't afford to use a third-party service to perform this review process, it can affect the validity of the feedback.

Feedback can be personal:

While every effort must be taken to ensure that staff responds to feedback forms constructively, this doesn't always happen, particularly in the case of clashing personalities or other conflicts. When constructive feedback isn't provided, it can throw off the entire process.
Example Prompts for 360 Degree Feedback Forms
While the questions and prompts that managers use in feedback forms usually – and should – depend on an employee's specific job role, you should also make sure that they take into account the purpose of 360-degree feedback in your organization.
As with other forms of performance reviews, managers should always take into account whether the feedback they're gathering is performance-focused, personality-focused, or both. All of these options can be run by 360-degree feedback processes, but the organization's focus will greatly influence the choice of questions.
With that being said, here are some 360-degree feedback examples:
Performance-based Feedback Examples
[Employee] is a problem solver.
[Employee] is open and receptive to feedback.
[Employee] is open to change and innovation in the workplace.
[Employee] is focused on customer/client/supplier relationships.
[Employee] is motivated by work-related tasks.
[Employee] communicates effectively with others and me.
[Employee] never makes the same mistake twice.
[Employee] acts professionally around everyone they meet.
Personality-based Feedback Examples
[Employee] is friendly and respectful when they interact with me.
[Employee] speaks to others as they would wish to be spoken to.
[Employee] handles conflict and stress in a calm, collected manner.
I consider [Employee] to be a positive influence in the workplace.
I think [Employee] motivates others to reach their goals.
[Employee] inspires everyone around them to grow and learn.
Best Practices for 360 Degree Feedback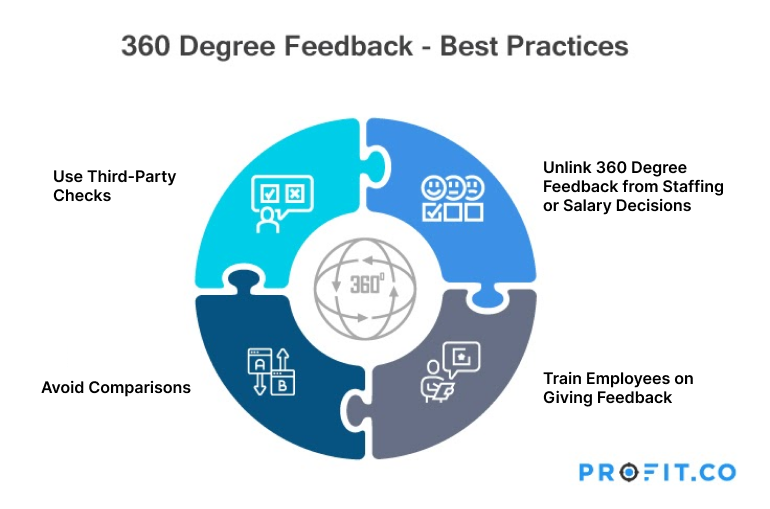 As discussed earlier, 360-degree feedback has the potential for bias to creep into the process. That's not to say that it's worse than other forms of performance review feedback cycles, but simply that there are best practices that managers should be aware of when going through this process.
Four best practices for 360-degree feedback are:
1. Use Third-Party Checks
Although data is anonymized, managers will have chosen who they're sending feedback forms to at the start of the process. That means that when data returns, there is the temptation for managers to try to figure out where free-form feedback has come from. Not only that but in small organizations, it can make it easier for employees to figure out who's been asked for feedback.
Having a third-party individual or group involved to conduct checks minimizes the risk of bias, both conscious and unconscious, particularly if that third party handles the data collection and collation in place of the manager involved. That way, the manager doesn't see how each employee has responded, which makes it a fairer process for the employee.
Also, some third-party checkers can help implement a double-blind system, in which a manager passes a list of contacts for each employee, but it's the third party's responsibility to contact a certain number of them for feedback. This is the fairest possible scenario, as it means that neither the manager nor employee knows who has said what.
2. Unlink 360 Degree Feedback from Staffing or Salary Decisions
Earlier in the article, you read that when 360-degree feedback is used to make staffing decisions, this makes it more likely that feedback form responses will be manipulated. Whether this is as a result of a smear campaign against a disliked employee, or a group of friends trying to secure pay raises for each other, it reduces the value of this process and means that the wrong people may be rewarded or punished as a result.
Given that one of the main benefits of 360-degree feedback is that it reduces employee anxiety around performance reviews, using these reviews to make staffing or pay decisions can reintroduce anxiety and tension.
3. Train Employees on Giving Feedback
360-degree feedback works best when employees value the process, which is why training employees on how to give meaningful feedback can make this style of performance feedback even more valuable to an organization. While ratings of 1-5 are easier to anonymize and take an average, giving trained employees the ability to provide qualitative feedback about an employee often says more than a number.
This makes the process more useful to both the employee and their manager, as it will more accurately show how an employee is seen by others.
4. Avoid Comparisons
As with other forms of employee performance reviews, managers should always avoid comparing employees to their coworkers or others within the company. Not only is this rude and insensitive on the manager's part, but it also heightens employee anxiety and can either create unhealthy competition or a sense of worthlessness and self-doubt. It may also lead to employees resenting other individuals within the company, and in particular, those that they are compared to.
Both of these outcomes mean that an employee is less likely to make any meaningful performance improvements after the process, which makes the benefits of 360-degree feedback non-existent.
Profit.co's 360 Degree Feedback
In Profit.co's software, you can initiate an Affinity-Based Performance Review to get 360-degree feedback.
Affinity-Based Reviews are a model of performance review that invites peers of the reviewee to offer their perspective on the employee's skills and work quality. This offers a 360-degree view of employee performance. These peer reviews are weighted depending on the affinity level– or, familiarity– that the peer has with the reviewed employee.
Initiators of an affinity-based performance review can:
Enable employee-specific or anonymous peer reviews.
Set affinity levels so peers can indicate how familiar they are with the reviewee.
See all feedback compiled into an easy-to-read graph at the conclusion of the review.
An Affinity-Based Performance Review begins after an HR administrator initiates a review. Then, the reviewee will complete their self-assessment, and any peer reviewers will be prompted to complete their reviews. Once these have been completed, the manager completes their review. You can see the flowchart of this process here: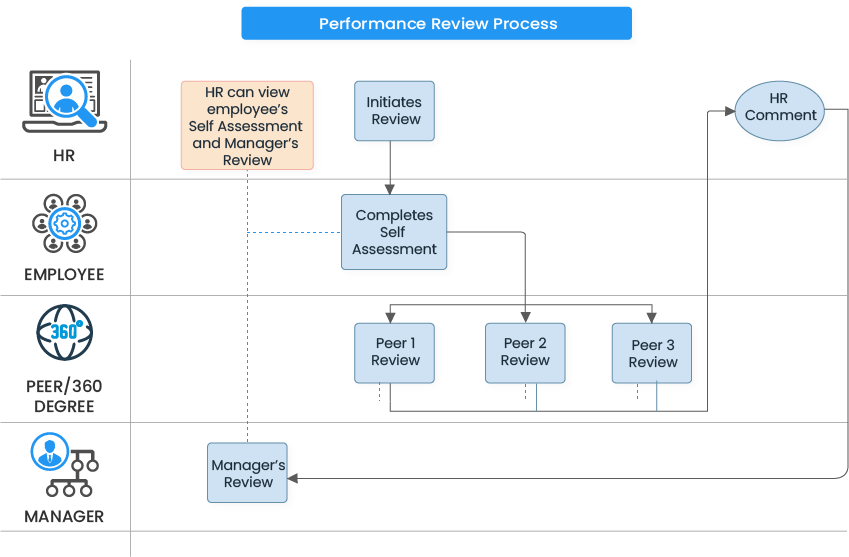 Once the self-assessment, peer reviews, manager review, and HR comment have been completed, an employee will be sorted onto the 9-Box Matrix. This graph contextualizes employee performance in regards to their evaluated potential at the company. It is a performance vs potential assessment matrix to easily identify employees with the potential to move into leadership roles.
Profit.co's affinity-based performance reviews is a great way to make the most of your 360-degree feedback process. This enables you to get a better understanding of employee performance, and assures employees that they are receiving a fair and accurate performance review.
To learn more about Profit.co's performance management module, book a free demo with our experts!