Setting professional development goals is an important part of growing as an individual or professional, regardless of what your career or job is. Whether you have leadership or performance goals or wish to improve your confidence when giving presentations, this guide is for you!
This guide will discuss some of the top career development goals, as well as how you can set them – and achieve them.
Professional Development Goals
The best investment you can make is in yourself.
When it comes to professional development, every goal you work to achieve is an investment in yourself. A professional growth goal can be anything that drives you to improve your career, mindset, or performance.
So, why is it important to set goals? The key is that they help you stay focused and can provide feedback on the activities you are doing on a daily, weekly, or monthly basis. A professional development plan template allows you to stay accountable for the things you would like to achieve, as well as providing a way to quantify success when a project is complete.
Keep reading to discover the top performance review goals examples so that you can get an idea of where to start: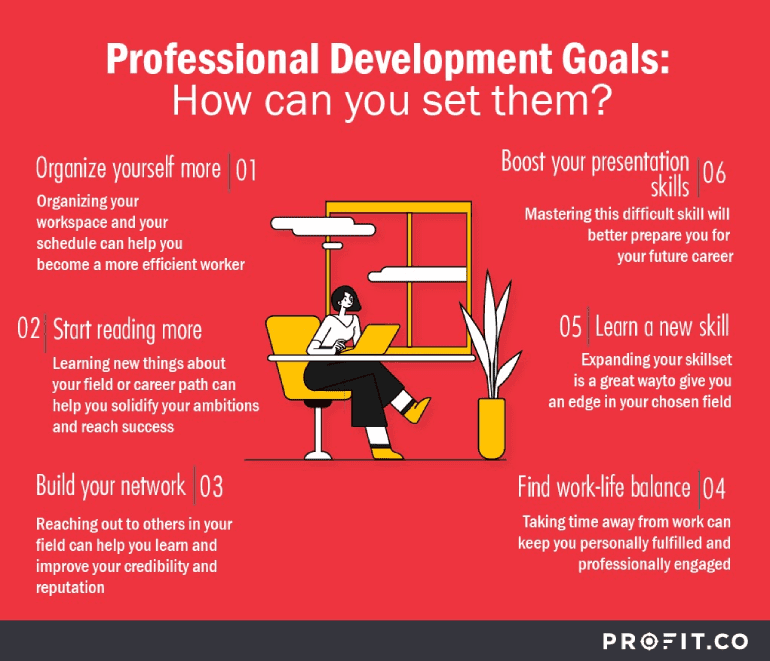 Get Yourself Organized
Setting a goal related to organization is a great way to get started with professional development goals – and it can help you set the stage for success when you start working on other ambitions.
Organizing can refer to decluttering your workspace so that you can increase your ability to focus while eliminating distractions. Not only will getting organized boost your productivity, but it will also reduce stress – there is nothing more satisfying than a tidy desk!
If you want to organize the way you work, it can be helpful to use time tracking tools to see where you spend the majority of your time.
Do you spend a few hours throughout the day answering emails? Perhaps it would be best to organize that activity at the end of the day when you have already completed other tasks or first thing in the morning before your day gets started.
You can even set a goal to clean up your desk each day before you go home, that way you have a clean slate for the next day!
Start Reading More
Reading more is one of the most popular options when it comes to setting professional development goals, and for good reason.
In Tom Corley's book, Change Your Habits, Change Your Life, he discusses a study that he conducted on self-made millionaires. This research found that 88% of them read a minimum of 30 minutes each day – and the benefits of this range from improved vocabulary and writing skills to gaining new knowledge to give you a competitive advantage against your peers.
If your professional growth goal is to start reading more, here are a few things you can do to get started:
Make a list of the books you would like to read, and put them in order of priority
Schedule time in your calendar each day to read the books from your list
When you do this, be sure to pick an achievable amount of time – no one can read 8 hours per day!
Build Your Network
Networking is essential for career growth, whether you love it or hate it. Building and maintaining relationships with other people in your industry can provide you with a group of individuals to share ideas with, as well as get support and advice from.
Having a solid network can help you establish a great reputation, which can lead to numerous opportunities that you may not get otherwise!
Start by creating a professional profile on LinkedIn – this networking app can help you meet other professionals and make connections virtually.
If you are looking for more personal ways to network, here are a few options to consider:
Network within your company – get to know other people in different departments
Schedule a phone call with someone in the role you would like to have
Attend a local meetup or an industry conference
Building your network is an important professional growth goal and one you should be continuously working on.
Finding Work-Life Balance
Achieving a better work-life balance is just as important as any other leadership goals. It allows you to live a productive but happy lifestyle and will have significant positive impacts both on your well-being and your career!
Are you trying to stick to an 8-hour workday? Or do you have a bad habit of checking emails and answering phone calls on your days off?
This goal is all about finding the right balance for you by finding a way to work smarter, not harder. Although a great work ethic is admirable, you want to avoid burnout and take care of yourself. Start with small, achievable goals like shutting off your phone at a certain time each day – it may be hard to resist the urge to check it at first, but it will get better.
Finding Work-Life Balance
Learning a new skill is a great thing to add to your list of career development goals. There is something new you can learn, especially if you are trying to get that promotion or land a new role.
When you are deciding which skill to learn, think about what additional knowledge would better prepare you for that job as a manager, or set you apart from your colleagues. Look for things that will help you in your current role or for the job that you want!
These are some ideas of new skills that may boost your career development:
Take an Excel course
Get a certification that is specific to your industry
Sign up for a writing class to improve your analytical and report-writing skills
Keep in mind that any classes or courses you take should help with your professional growth goals without detracting from the other priorities you have.
Boost Your Presentation Skills
The further you progress through your career, the more likely you will need to give presentations. This can be a difficult task for anyone, and it requires a significant amount of confidence and skill to do correctly!
When you are setting professional development goals relating to presentations, it is important to note that it is about much more than just the words you say. A great presentation includes the media or slides you are displaying, your body language, the way you are dressed, and the way you speak.
Challenge yourself to step out of your comfort zone and volunteer to give a presentation because practicing is the best way to improve! Give your presentation to friends or family ahead of time if possible, or practice in front of the mirror.
This will allow you to learn from our mistakes and grow!
Regardless of which of these top professional development goals you choose to work on, remember that you should work on your weaknesses – not just your strengths. It can be easy to stick to things that you are already good at, but the purpose of professional growth goals are to help you expand your comfort zone and improve!
How to Set Career Goals so You Can Achieve Them
Now that you have your list of professional development goals in mind, let's dive into how you can set them so that you can actually achieve them! It takes a lot more than just deciding to do something to keep you accountable and on track – which is why setting your goals the right way is so important.
Focus on Your Why
The first part of successful goal setting is understanding your why.
Why do you want to achieve this goal in particular? Why is it important to you? Perhaps you want to have financial freedom or get the title you have always wanted. Keep asking yourself why until you get to the root of what is driving you.
If you want to have financial freedom so you can take your family on an amazing vacation each year, that will motivate you more than just seeing a salary number in an excel sheet. Or maybe you want to pay off your debt and retire early.
The answer to these questions will set the foundation for your success because it gives you purpose. It is much easier to visualize accomplishing a task when you have the final destination already in mind!
When you have a big picture goal, you can work backward to create progress steps that can help you get there. It also helps to set a time frame – like 5 years, for example – so you know how much time you have to complete the smaller goals that make the big picture one achievable.
Break the Goals Down into Smaller Steps
Once you have the big picture in mind, you must break the goals down into smaller steps. As nice as it would be, you can't set a goal of jumping from an individual contributor to CEO and aim for it in one go! In a logical progression, you would first move to a supervisor, manager, director, and so on.
You have to take it one step at a time so that you do not fail!
Start working on activities that will help you achieve the big picture goal on a weekly and monthly basis. While these efforts may seem small, you will not be able to accomplish your major goals without them.
Utilize the SMART Goal Framework
The SMART goal framework is one of the best ways to set goals in a way that makes them achievable. It can apply to any type of goal, including those related to leadership and professional development.
This is what the acronym stands for:
S – Specific:
Each career development goal that you set should be specific. Getting a promotion is too vague – what role do you want to be promoted to? Is it a job at your current company, or with another firm?
The more specific you are, the better you can execute your performance development plan.
M – Measurable:
Your goals should always be measurable so that you can track your progress and determine when you have achieved it!
For instance, if you have a goal of attracting new clients, you have no idea what you are working towards. Is it 100 or 500 clients that you need to bring in?
A – Achievable:
Achievable refers to a goal that you need to put in the effort to accomplish but is not impossible. If you aim too high with your leadership goals, you may get discouraged – pushing you further away from your overarching ambitions.
R – Relevant:
A relevant goal is one that will help you work towards your big picture goal. It should align with the next steps you need to take to get there, not lead you down a winding path!
T – Time-Bound:
A timeline is essential for keeping you on track to achieve your career goals. Set a deadline for each goal so that you do not keep pushing it off into the future.
The key to setting achievable goals is to make them intentional. Without all of the factors listed above, it will be quite difficult to achieve what you have set out to do!
Use Your Performance Evaluations to your Advantage
Although performance evaluations can seem daunting and stressful, if you have a professional development plan template set up, you can use them to your advantage.
Take this as an opportunity to get an objective opinion about how you are progressing towards your goals. Engage in a thoughtful conversation and ask for feedback, even if your manager says you are exceeding expectations!
There is always something you can do to improve. Use this as a chance to measure your progress and help you continue setting small goals that will get you to your greatest ambition.
No matter what stage of your career you are in, there is always more to learn! Don't underestimate the benefits that setting career development goals can have on both your personal and work life – you will be surprised at how much you can accomplish when you strive for continuous growth.
As Sheryl Sandberg so eloquently said, "What would you do if you weren't afraid?"
Start with the top professional development goals we have discussed and use these tips to set and achieve them!