To-do lists are often considered a vital part of office productivity. Whether you use the traditional notebook and pen or a digital note-keeping app, there's a good chance that you've used this method to stay organized in the past, or it's a method that you continue to use to keep you productive at work or in your personal life.
Efficiency is doing things right. Effectiveness is doing the right things.
With so many productivity tools and task management software suites available on the market, you might be wondering why and if you need a complicated dashboard to keep track of your tasks when a simple list will suffice.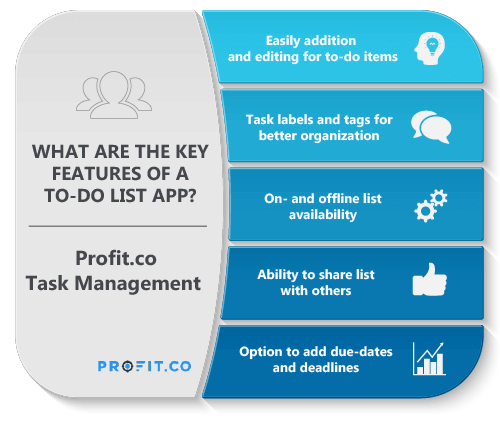 With that in mind, here are the best five to-do list apps to help you manage your daily and weekly to-do lists.
Wunderlist
Wunderlist is one of the most popular to-do list apps because it's modern, intuitive, and allows you to group to-do lists under multiple categories. It's easy to schedule reminders for tasks, and the app will send you push notifications if you haven't completed a task by the day and time you've set. Wunderlist is also a great to-do list app for work because you can connect and share with other users, which makes it easier to manage projects and see your team's workflow.
Key features:
Cross-platform across Mac, Windows, iOS, Mac, and Kindle Fire
Also available as a browser-based application
Add comments to clarify tasks
Easily import web-based items
Categorize tasks with tags, so you can easily find related tasks and lists
Todoist
If you don't have space in your budget for a paid app, then you should consider Todoist. Todoist is completely free if you're using it as an individual or in a team of fewer than five people, and as long as you have less than 80 projects. It's a popular editable to-do list because it's easy to integrate with a wide range of other productivity tools, including your email, calendar, Google Drive, and more.
Key features:
Available for a wide range of devices and browsers
Modern and intuitive interface that's easy to use
Hundreds of project templates to help you get started quickly and easily
Label and color-code tasks for easy organizing and prioritizing
Add due dates to tasks with email and SMS notifications
Evernote
Evernote is a powerful cloud-based to-do list app that combines note-taking and task tracking into a single comprehensive app. It's popular because it's designed to allow you to work offline, and will save your to-do lists locally until the app can sync to the cloud, so you'll never lose your to-do list again. If you're looking for a to-do list app that also lets you build tables, save webpages for reference, collaborate with your team, and manage meetings, Evernote is a great option.
Key features:
Thousands of integrations with other productivity and lifestyle apps
A document scanner, so you can quickly upload your existing to-do lists or other documents
Workspaces for team collaboration and meeting management
Automatically syncs when the app is connected to the Internet
Take handwritten notes and convert them into text
Habitica
Habitica is a unique to-do list app that gamifies your tasks and gives you rewards for completing them, making it a great option if you struggle with motivating yourself. By converting tasks into a role-playing game, you level up your character, buy armor, take part in community challenges, and even raise mythical creatures when you complete a task. However, if you don't complete a task on time, your character will lose health and progress. This free app is a good option if you want a unique app that motivates you to achieve your tasks.
Key features:
Personalized avatars that you can upgrade and customize as you complete tasks
Online chat and community challenges
You can check off tasks as either positive or negative, allowing you to track things you need to avoid doing to build better habits
Tag tasks to make it easier to filter them
Customize rewards for completing a certain number of tasks
Google Keep
Google Keep is a great free to-do list app that's included in G Suite. While it's a barebones app that doesn't come with as many features as the premium apps in this article, it's a good option if you need something free and simple. Because it's part of G Suite, you can access Google Keep easily from Android, iOS, or on your browser, so you can easily transfer notes and lists from your mobile device to your desktop and vice versa.
Key features:
Easily create lists and tasks on the go, and the app will automatically sync when it's connected to the Internet
Audio note functionality, so you can record notes from your mobile device
Voice-command support with the Google assistant
Note archiving so you can remove anything you don't need to focus on
Pin important notes so they show first in your app
Which To-Do List App is Best?
If you're looking for something simple, then Google Keep or Todo ist are both great options that allow you to build to-do lists without needing to spend hours learning how the app works. However, if you're looking for a to-do list app that you can integrate with your other notes and productivity software, and particularly ones you can connect with your team through, Wunderlist and Evernote are great options. If you want something more unique, Habitica turns your to-do lists into a browser-based game that rewards you for completing tasks, so you get to progress your character the more you work towards your goals.
To-do list apps are a great way to simply transfer your written to-do lists to your phone. To-do lists can help with time management skills, and can help you remember everything you need to do in a given day.
To-do lists are an excellent way to remember everything that needs to be done. However, when it comes to versatility and workplace collaboration, you may want to consider a task management software.
Profit.co's Task Management Software
Profit.co's task management module provides you with a platform to manage all of your tasks in one organized view.
This module gives individuals and teams the power to create and organize tasks, specify due dates, priority, and attach documents, and even to create project or department-specific task boards to help you collaborate with team members. The task management module's Workspaces are perfect for department- or team-wide collaboration, and the Boards within Workspaces help organize tasks, projects, and workflow for better productivity and cohesion throughout the entire team. Additionally, you can associate your daily tasks with your important quarterly goals and OKRs so you always know how your work is affecting overall company priorities. This helps employees stay engaged with their important work, and helps managers identify important tasks.
Profit.co's task management software gives you the capabilities of a sophisticated software, but maintains easy usability. All edits and additions to tasks are updated in real time, so your colleagues always have an up-to-the-minute account of what progress you have made, and where certain items stand. You can also leave comments and responses directly in your tasks, so that unnecessary communication via email or meetings can be quickly condensed, and nothing falls through the cracks!
For more information about Profit.co's task management software that helps your teams focus, collaborate, and achieve more, check out our product and schedule a demo today!