What do all successful companies and organizations have in common?
The ability to develop and pivot their strategies for significant and successful change.
All entrepreneurs know that change takes many forms. From hiring and losing employees to keeping up with new competitors and scaling operations to meet demand, change can appear in many ways for a company. There are many elements of successful change management, but perhaps the most important is developing a change strategy.
Organizational change requires developing a change strategy accommodating the company's needs and challenges.
To better understand how to navigate these changes, let's explore real-world change strategy examples from various companies to understand better how to navigate these changes.
What is a Change Strategy?
A change strategy is a process that applies change across an organization or within a department, team, or project. It enables a business to execute its plans effectively in a shifting market environment without losing resources or stakeholders.
Change strategy works alongside the change management process to create organizational transformation.
Change is the norm; unless an organization sees that its task is to lead change, that organization will not survive.
4 Real-World Examples of Change Strategy
Now that we have covered what change strategy is, let's dive into some real-world examples of successful change strategy implementation in companies.
1. Google
Google was first created in 1998 and quickly became a dominant tech company in Silicon Valley and globally. However, challenges can arise when managing various projects, including search, maps, and mail, even in a dynamic company like Google. The company divided each project into a separate company with a dedicated CEO. Utilizing this restructuring strategy was an organizational change that allowed the company to innovate under one umbrella business, Alphabet. Today, Alphabet has products in wearable tech, the Internet of Things (IoT), artificial intelligence, and much more.
Google prioritizes change management so much that it also has a change management system that is internal to the company. The framework has four steps: Excite, Enable, Expand, and Embed. Through these steps, Google streamlines sponsorship, organizational analysis, communication, and training within its organization. Change management for strategy implementation is essential and nuanced, with variations per organization.
2. Starbucks
Starbucks was first launched in 1971 and has grown into a multinational corporation that dominates the coffee industry. Having longevity requires evolution and loyal customers, which Starbucks prioritizes by cultivating the customer experience.
During the financial crisis of 2008, Starbucks struggled and needed to pivot and create change to get back on track. After shutting down over one thousand locations and experiencing losses, Starbucks turned its change strategy into prioritizing customer experience and loyalty. Starbucks launched an initiative called "My Starbucks Idea" to give consumers a platform to share their experiences and ideas. These ideas serve as a basis for the company to evolve. The campaign succeeded, allowing over one hundred suggestions to be implemented into the locations and business model. By relying on its consumers, Starbucks was able to survive the financial crisis and evolve to the preferences of its customers for years to come. The perseverance of customer prioritization paid off; as of 2022, the annual revenue for Starbucks was 32.25 billion dollars.
For a seamless and centralized purchasing experience, Starbucks launched a mobile app, My Starbucks, in 2009, which has grown significantly in popularity since. With the app, consumers can customize drinks, explore the menu, order ahead, discover nearby stores, and earn points with their purchases. Ordering Starbucks is gamified and easy, allowing customers to remain loyal.
Starbucks has also implemented a change to help lower its carbon footprint and prioritize green initiatives. Customers want sustainable options, and Starbucks is adapting to maintain its dominance in the market. With new lid options cutting down on plastic straw usage for cold drinks, Starbucks has decided to expand on its efforts and announced four ambitious green initiatives with a goal date of 2030: expanding plant-based menu options, shifting away from single-use to reusable packaging, investing in regenerative agriculture, reforestation, forest conservation, and water replenishment in our supply chain, and working on better ways to manage waste.
3. The Walt Disney Company
The Walt Disney Company was first created in 1923 and remained one of the world's most successful and wide-reaching media companies. At various times throughout the years, Disney has expanded their audience and executed various change strategies to dominate the field.
Disney has acquired other companies to secure their leadership position and control in the media landscape. After the boom of computer-animated films, Disney purchased Pixar in 2006 to remain competitive and participate in their popularity. Disney was already a dominating force in animation but wanted to add Pixar to their company for their expertise in computer animation and groundbreaking methods.
Disney also has changed by incorporating new characters and storylines from third parties. The rise of superhero films can largely be attributed to Disney's purchase of Marvel Entertainment in 2009, alongside a plan to integrate the characters of Marvel's Cinematic Universe into the theme parks. In addition, Disney purchased Lucasfilm, the media company behind the Star Wars franchise, in 2012.
Disney doesn't just dedicate its strategy to buying content but revitalizing and relaunching existing content and how consumers can access it. Disney prioritized their strategic vision of relaunching classic animated movies into live-action movies. They have already experienced successful releases of live-action depictions such as The Lion King, Cinderella, and Beauty and the Beast, with various other films in the production pipeline. Disney has also heavily invested in its streaming service, Disney+, where consumers can exclusively stream their content.
4. LEGO
LEGO was founded in 1932 in Denmark and quickly grew into a multinational staple in the toy market. For decades, the company flourished until 2003 due to setbacks. The video game and digital toy market were booming, and LEGO was experiencing losses like never before. After consistent losses in profit year to year and a staggering 800 million dollars of debt, LEGO needed to change and do it quickly. LEGO needed a change strategy to overcome these roadblocks.
When approaching these challenges, LEGO decided to restructure not only its management but company strategy completely. LEGO prioritized what consumers wanted and strengthened the quality of their products. They manufactured less, focusing less on the quantity they could produce and more on the product quality. LEGO could not make its numbers go up overnight, but it could control the integrity and quality its brand creates.
In addition, LEGO added new sectors to its organization. With the rise of video games, LEGO dove into that sector of the market and invested in growing its market share. Today, LEGO is back to being a dominant force in the toy industry. In 2022 alone, their revenue was up 9.2 billion dollars from 2021. By implementing and executing a change strategy, LEGO could adjust to changing market conditions and flourish.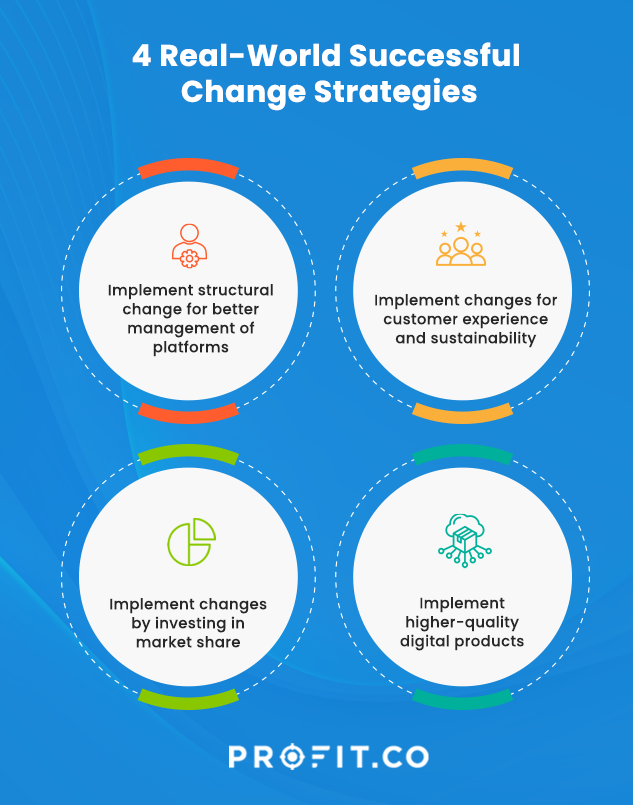 Types of Change Strategies and Examples
After seeing how companies implement change strategies and their successes, it is important to understand the different types available to guide your own transformation.
Let's consider an online retailer to illustrate the different types of change strategies. An online retailer can encounter numerous challenges, such as cybersecurity, lead generation, pricing, logistics, marketing, and customer support.
The company can respond with any of the change strategies below:
1. Innovate
An innovation change strategy means challenging the status quo with new products or services. A retail business example can adopt this strategy to secure and increase its market share by selling new products.
2. Improve
An improvement change strategy means growing your current operations incrementally, measuring every change with KPIs. For example, an online retailer can incrementally increase their product offerings and measure their business performance with corresponding KPIs.
3. Planned
A planned change strategy means gathering data and creating frameworks before implementation. For example, an online retailer can study the most successful e-commerce sellers in the marketplace to help plan for any innovations.
4. Emergent
An emergent change strategy means implementing changes gradually based on real-time feedback. For example, an online retailer can make changes based on their customer reviews.
5. Parity
A parity strategy means implementing changes to help a business reach its competitors' level. A new player in the retail e-commerce industry can use a parity approach to improve their market position by imitating their competitors.
6. Advantage
An advantage strategy means making bold changes that give you an edge over competitors. An established online retailer can keep innovating their products to retain their market position.
FAQs
1. What is organizational change?
Organizational change is any process that shifts a company's operations, culture, or products.
2. What is a change strategy?
A change strategy is an implementation plan that applies changes to the whole or part of a business.
3. What are some change strategy examples?
Examples of change strategies include innovation, improvement, planned, emergent, competitive parity, and advantage strategies.
Conclusion
Change strategy case studies show that implementation can lead to organizational success. You can ensure a positive change strategy by having a clear vision for your company, prioritizing your operations, and communicating with all your shareholders about the change. Navigating change strategy examples can help you learn from others' successful implementations and transform your business.