Businesses are constantly improving their processes to improve workflows, increase productivity, and add value to their stakeholders.
These changes are essential to creating a healthy workplace and profitable business, particularly during disruptive events like economic decline, technological advances, or natural disasters. Therefore, change management is the best way to keep your business on track in a constantly evolving marketplace.
This expert guide explains the change management process and how to implement it successfully.
I Believe innovation is the most powerful force for change in the world
What is Change Management?
Change management is a process of planning and implementing organizational change initiatives. It includes how a business implements new technology, restructures its departments, or changes its work culture. Without change management, an organization loses control over its internal processes and sets itself up for losses. The most common types of organizational changes are listed below.
Exceptional or isolated changes, such as creating a new position in the company structure
Incremental changes that happen gradually, such as enterprise-wide software upgrades
Pendulum or sudden changes from one extreme to another, such as shifting from in-office to remote work
Paradigm changes that impact work culture and organizational values, such as a merger or acquisition
These changes require different change management strategies depending on your industry, business goals, and available resources.
What are the 5 Essential Steps For a Successful Change Management Process?

Whether you want to adapt your business gradually or want a large-scale transformation, your change management process will involve the following essential steps.
Step 1: Preparation
Preparing your stakeholders for the change management process is vital. Everyone in your organization must understand the need for change to get the foundation you need for successful outcomes. Explain why the status quo no longer works and the potential benefits of implementing the change. Involve everyone in the change management process to reduce friction and miscommunication.
Step 2: Planning
Outline the change management process as thoroughly as possible. This plan should include your overall strategic goals, Key Performance Indicators (KPIs), and the scope of the organizational change. Indicate which team members will oversee the change implementation, the metrics to measure your progress, and the specific actions needed for the change management process. In addition, outline potential risks and roadblocks that may arise during implementation and how you plan to overcome them.
Step 3: Implementation
In the implementation phase, you follow the steps described in the planning document. How you implement change management depends on your company structure, strategic objectives, and employee buy-in. Effective, transparent communication is critical for a successful change management process. Use established communication channels to remind your team about the need for change and to collect feedback about the wins and challenges during implementation.
Step 4: Prevent Backsliding
After implementation, businesses must ensure the change initiative sticks in their organization. Otherwise, management and employees may revert to their previous systems or allow for scope creep. Avoid backsliding by integrating the changes into every critical business process and rewarding employees who embrace or champion the change.
Step 5: Project Post-Mortem
A comprehensive review of your change management process will reveal whether the initiative succeeded, failed, or fell somewhere in between. Find out which goals you achieved, which strategies apply to other business functions, and the lessons learned from the initiative.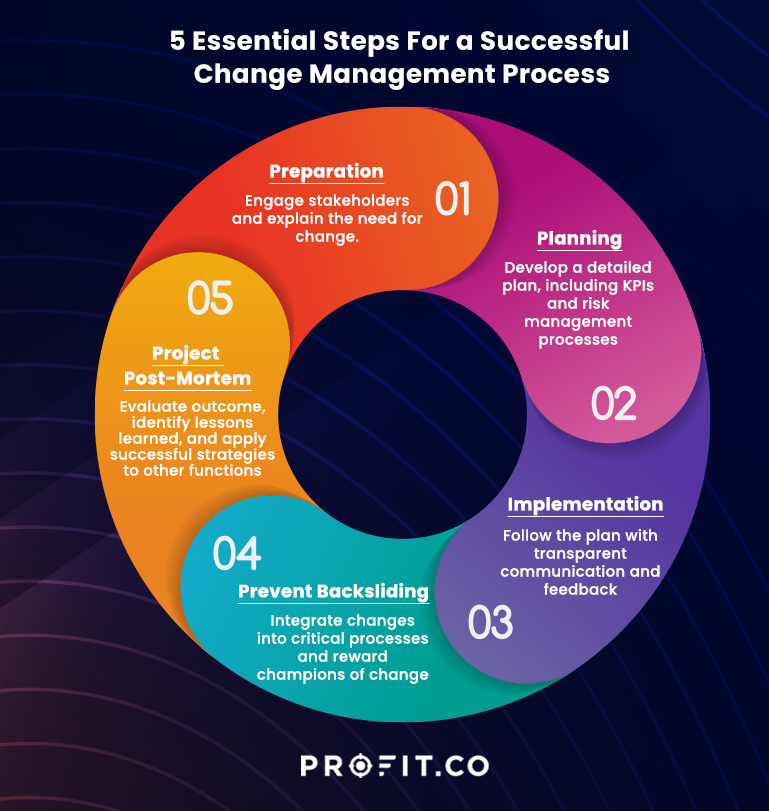 What are the Dos and Don'ts Involved in the Change Management Process?
While the steps above seem straightforward, businesses often fail to implement change management. Only 37% of change initiatives meet their objectives. Here are some change management dos and don'ts to increase your chances of success.
Dos:
Determine the right metrics to track your real-time change management process. Change management KPIs include employee engagement, usage reports, communication effectiveness, behavior change observations, and ROI.
Embrace innovative and agile strategies to scale the changes as your business grows. These include project management tools, process automation, and strategy execution software.
Select change management leaders with prior experience with the process or those with the right skills to drive the initiative forward.
Communicate consistently and transparently throughout the change management process and encourage feedback from all levels.
Support your employees as they adapt and transition to new workflows, policies, and mindsets. Put your employees first because they drive the change.
Don'ts:
Underestimate the effort required to implement a change management initiative alongside your current workload. Strike a balance between delivering value to your customers and adapting to internal changes.
Rely only on technology to implement change management. Instead, use technology as a means to support change.
Track unnecessary KPIs. Choose only the relevant metrics that provide valuable insights into your change management process.
Copy-paste any other company's change management initiative into your own. Even though there are similarities, consider your initiative unique to your company and context.
Initiate change management with the sole purpose of making more money. Consider other value additions for implementing the change other than profit, such as healthier employees, environmentally sustainable processes, or meeting customer needs more effectively.
Types of Tools and Components for Successfully Implementing Change Management Processes

Once you determine that a change management process is the best way forward for your business, the next step is choosing the right tools and resources to get the job done. The change management tools below can help you adjust to change more effectively.
ADKAR (Awareness, Desire, Knowledge, Ability, Reinforcement)


The ADKAR change management tool is ideal for coaching your team to get the buy-in for a successful initiative. Use ADKAR to set goals for the change management process to spread awareness about the necessary organizational change, build the desire for the change, train your team to improve their knowledge and abilities, and reinforce the changes with rewards and incentives.

Culture Mapping

The culture mapping tool works best for a change management process involving organizational culture. Since culture is difficult to pin down, culture mapping helps to understand what influences your norms, values, and behaviors. Use culture mapping to identify subcultures within your company, such as in IT, marketing, or finance teams, and then interview each group to understand their context within the business.

Find out what enables or blocks certain behaviors, whether intentionally or unintentionally. Use this data to incorporate more positive behaviors into your change management process.

Force Field Analysis


Also called "barriers and aids" analysis, this change management tool helps primarily with decision-making. It can help you to think strategically about your initiative's goals and implementation. Describe your change management plan and brainstorm internal and external factors impacting the process.

Look at the forces for and against change, then determine the best way to leverage each for positive outcomes.

Kotter's 8-Step Change Model

The eight steps in Kotter's change management model are:

Step 1: Creating a sense of urgency, e.g., using your opportunities and threats from a SWOT analysis to communicate the need for change.

Step 2: Building a solid team of leaders or influencers to persuade employees that the change is necessary.

Step 3: Form a clear strategy and determine the values linked to the change.

Step 4: Communicating the strategy and vision for the change at every opportunity.

Step 5: Removing obstacles by helping any team members who are resisting change and rewarding those who embrace it.

Step 6: Creating short-term targets to boost motivation.

Step 7: Building on the change to maintain momentum until you achieve all your goals.

Step 8: Making the change part of the organizational culture

Stakeholder Analysis

The stakeholder analysis tool helps you to identify every party affected by the change management process. Internal stakeholders include business owners, leaders, and employees, while external stakeholders include customers, suppliers, employees' families, the government, and society.

Categorize your stakeholders by geography, income, legal requirements, or other relevant factors. Then consider who may be affected or unaffected by your change initiative and prioritize them by their engagement or impact level.

These change management tools are available online as free customizable templates to suit your business needs.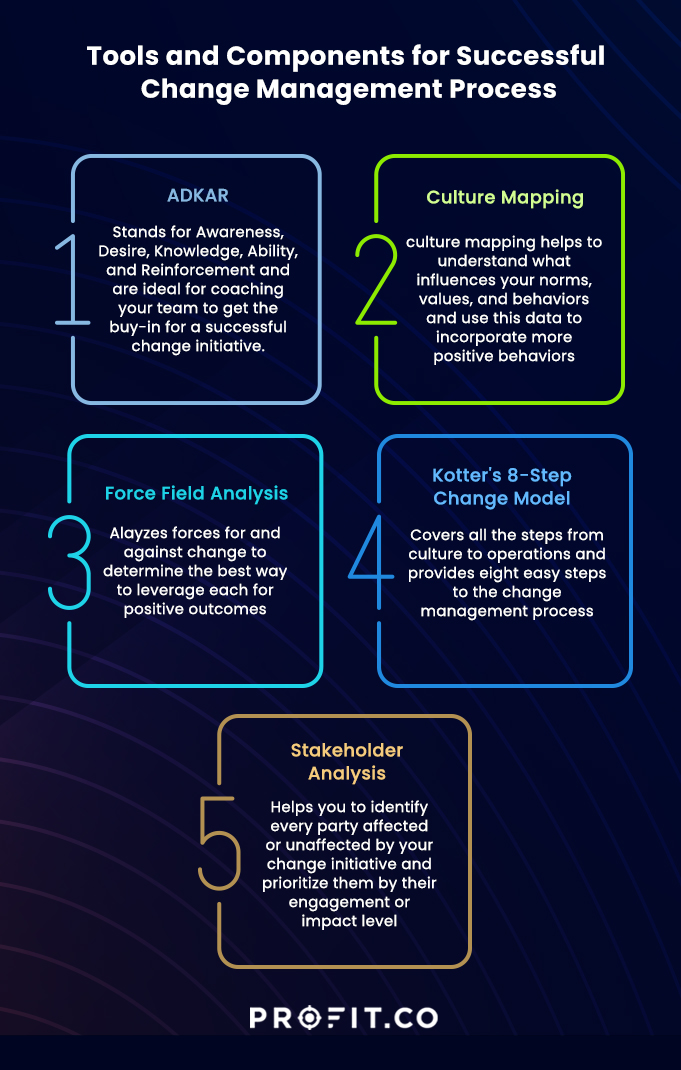 Examples of Case Studies of Successful Change Management Undertaken by Organizations
Here are some real-world examples of successful organizational change management in recent years.
1. Health Care
The organization: An academic health system in Chicago
The challenge: To expand its reach to nearly 100 locations by integrating two new organizations into the system
The solution: To create a flexible change management strategy to match the overall business growth and acquisition goals
The change management process
Choosing change champions to lead meetings every two weeks
Training stakeholders to use an enterprise resource planning (ERP) solution
Providing one-on-one guidance to staff members through selected health system leaders
The outcome: A seamless ERP implementation that sets the standard for future system changes.
2. Government
The organization: HMRC
The challenge: Fewer employees due to recession cuts, outdated workflows, and increased customer requests across departments
The solution: Streamlining customer request handovers through online communication channels
The change management process:
Brainstorming more effective customer call-handling ideas
Choosing the correct metrics to evaluate the quality of customer interactions
Testing new workflows on a small scale before nationwide implementation
The outcome: A 10% increase in customer satisfaction and improved team cohesiveness.
3. Technology
The organization: Microsoft
The challenge: Lack of automation in business intelligence reporting across Microsoft departments
The solution:To create a single source of truth for business intelligence data for teams in various Microsoft departments
The change management process:
Used the ADKAR model to identify potential change blockers
Regular meetings to sustain the change management needs
Choosing change champions among teams
Implementing feedback channels to gather insights from end users
The outcome: The successful adoption of MSX Insights (MSXi) business intelligence reporting platform across the enterprise, comprising over 30,000 users in 95 countries.
Conclusion
Change management is an unavoidable part of business, but it can be painless and effective with the proper planning and tools. A successful change management process can address every aspect of business operation, from individual performance to external shareholders. But it begins with setting the right goals and choosing the right metrics to monitor and report the change initiative's performance.

To learn how to integrate objectives and key results (OKR) frameworks into your change management process