What are performance metrics?
Performance metrics are data that represent an organization's performance, abilities, and actions. These metrics provide an overall assessment of the health of an organization. Performance metrics are gauged on several factors such as profit, sales, customer happiness, return on investment, customer reviews, quality and quantity, and productivity to name a few.
If you can't measure it, you can't manage it.
Why should an organization track performance metrics?
Performance metrics play an important role in any organization's success. Measuring performance through metrics is key to seeing how employees are working, and whether targets are being met. It provides valuable information about how well the organization is doing. As a result, the data that these metrics provide can be used to grow business and increase profits, and also help decide what strategies should be put in place for meeting the objectives of the organization.
Organizations choose to measure performance metrics in a variety of ways, one of which is with OKRs. Profit.co's OKR management platform helps track your most important KPIs within your organization. You can try Profit.co completely free for thirty days– sign up today!
Types of performance metrics to track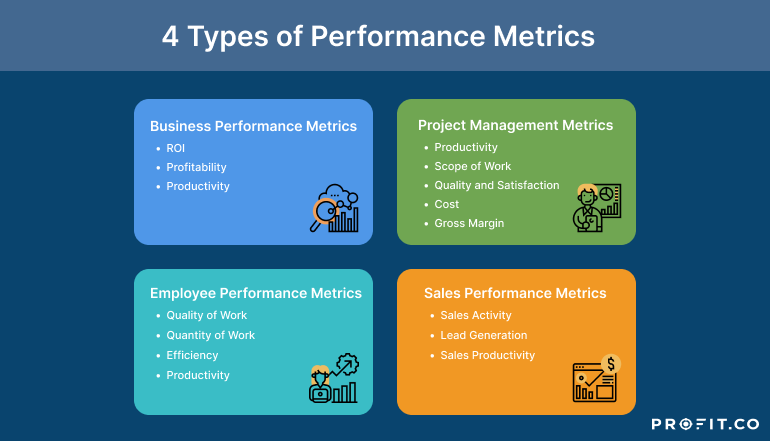 Most businesses track a certain group of performance metrics to measure success and meet objectives. Good performance metrics provide actionable data that can be applied right away to achieve business goals.
The following are important metrics that businesses use to track performance in different areas:
Business performance metrics
Sales performance metrics
Project management performance metrics
Employee performance metrics
1. Business performance metrics
Business performance metrics help track and gauge certain processes such as sales, marketing and profitability within a business. This helps measure and compare data against set objectives and goals, which, in turn, helps the organization make decisions in terms of where to make improvements to achieve its goals and objectives.
The three metrics to help track the overall growth of a business are as follows:
ROI
Profitability
Productivity
ROI:
ROI is a very important metric to track for an organization since this data can determine whether an investment will help or hurt a company. If it does result in the organization making a profit from the investment, it will help the organization in making decisions about which investments are worth pursuing and which ones are not.
An investment that assures a return of 30% is a better investment to pursue than one that can bring a return of 10%. The ROI indicator metric helps leaders make an informed decision regarding investments that the company can benefit from.
Profitability:
Yet another important metric is profitability. The profitability performance metric tracks an organization's profit margin and compares that data with target goals. This helps the organization make necessary tweaks to its business processes so that the profit margin aligns with the goal profit margin.
Productivity:
The productivity performance metric measures the ratio of work generated to the resources used. For example, an assembly line employee who can produce 50 items in an hour is more productive than one who can only produce 25 items in an hour.
2. Sales performance metrics
Sales performance metrics measure an individual's or a team's performance in the sales of an organization's products or services. Some common sales metrics are sales action, lead generation and retention as well as key performance indicators (KPIs) such as total revenue and customer reach. Organizations track sales metrics by comparing the individual's or the team's performance to sales goals the team or company establishes. Monitoring the performance closely will provide valuable insight into how well a business' sales methods are working in comparison to the sales goals set.
Some of the key sales performance metrics are:
Sales activity
Lead generation
Sales productivity
Sales activity:
Sales activity metrics measure an organization's salespeople's performance. It measures what they are doing daily; for example, the number of calls made, the number of emails sent, or the number of proposals sent to prospective customers. Sales activity is measured by calculating these activities.
Based on performance, sales managers can have certain processes in place like a minimum number of sales phone calls in a given period of time, or implementing daily sales quotas, to help improve sales performance.
Lead generation:
Lead generation metrics are a useful metric to track so organizations can assess and estimate the acquisition of new leads. For example, good lead generation metrics to track in sales are average lead response time and percentage of follow-ups.
Sales productivity:
Sales productivity metrics measure the rate at which an individual (salesperson) or team meets revenue goals. The less time it takes to meet a revenue goal, the higher the sales productivity. For example, good sales performance metrics are time spent on selling activities, and the average number of sales tools used during that time.
3. Project management performance metrics
Project management performance metrics track the effectiveness and profitability of a project. From the start of the project to its end, the project's progress is measured at every stage and tracked against the established goals and objectives. This can help the team members gauge and adjust the project performance to align with its goals.
Some key project management performance metrics are:
Productivity
Scope of work
Quality and satisfaction
Cost
Gross margin
Productivity:
Tracking productivity performance metrics gives the project manager the data that they need to assess the resources required for project completion. It helps track the effort put in within project parameters.
Scope of work:
A metric that can track the project's scope provides useful data that can help assess the timeline and budget needed to complete the project.
Quality and satisfaction:
Quality and satisfaction metrics measure how good the end result of the project is once completed.
Cost:
There's a cost component to every project. The cost metric helps account for any unexpected cost variable that could possibly come up during the course of the project.
Gross margin:
The gross margin is a key performance metric to track in project management. It is the difference between the total cost of the project and the revenue it generates for an organization. It is usually targeted at the beginning of a project, keeping the process focused on a set revenue goal.
4. Employee performance metrics
Employee performance metrics assess employees' productivity and efficiency in reaching established goals that contribute to the overall growth of a business. Tracking employee performance metrics helps managers make adjustments and improvements to the project in order to help employees reach their work goals.
Some common employee performance metrics are:
Quality
Quantity
Efficiency
Productivity
Quality:
Work quality metrics are used to measure the quality of employee performance. Breaking down broader goals into smaller, more-easily-achievable employee goals is a great way to gauge quality of employee performance.
Quantity:
Another useful metric to track is work quantity. Quantity is easier to measure than quality since there's a number attached to it; for example, the number of sales that have happened, or the quantity of items produced.
Efficiency:
The data from the quality and quantity metrics combined determines the efficiency metric. This is a very important metric that is useful to track the resources used for an output. For example, an efficiency metric can be the time or money it takes to produce a product.
Productivity:
Employee productivity is a key performance metric that can affect different processes of how a business operates, and can help meet goals.
In Conclusion
As seen from the various performance metrics mentioned above, it is clear that leaders should evaluate the performance of a business using multiple metrics and data points. A combination of different types of performance metrics can give companies a snapshot of how well a business is performing and if it's headed in the right direction, and if not, how to course-correct.
Tracking a combination of various different types of performance metrics, depending on the nature of the business and priorities, can help take the organization to greater heights.
To learn more about how Profit.co can help you track your most important performance metrics, book a free demo with our experts today!