An ambitious business plan, proper financing, efficient management, and dedicated employees– is there anything more you need to lead your startup to success? According to goal setting best practices, there is.
All your planning and hard work can fail without a proper framework to achieve the short-term and long-term goals. Objective and Key Results, in short, OKRs provide the framework that will help you to set measurable goals and make them attainable.
OKRs For All Sizes of Companies
Be passionate and bold. Always keep learning. You stop doing useful things if you don't learn.
There is a general misconception that a framework like OKR is suitable only for the bigger organizations. However, in reality, it is not any less efficient for matching the needs of the smaller companies and even the startups.
It is a universal, result-driven framework that ensures an efficient work process for individuals, teams, and organizations irrespective of their size. Customize it according to your companies' requirements, and you will have a well-set path to follow to achieve your business goals.
The Objective and Key Results framework can be explained as a four-step cycle. The first step is to Plan your objectives and key results and ensure that the entire organization is aligned under common goals and priorities.
The next step is to Execute those goals and complete initiatives and activities to ensure the outcomes described in your key results are achieved. Third is to Engage with your results and your team in order to learn what everyone's priorities are, what progress they are making, and what challenges you can help resolve.
Finally, there is the Learning stage, which is about taking what you have accomplished in the last quarter, examining what helped you succeed or what held you back for achieving your goals, and cycle into the next quarter with that knowledge in mind. This cycle helps you build a better OKR program and achieve more. This is called the PEEL Cycle.
Want to manage your OKR program on an agile and intuitive software? Look no further than Profit.co. start your free trial today!
Goal Setting Using OKRs for Startups
The OKR framework starts with setting the objectives and targets. When you have detailed data from the previous quarters, setting the objectives might not be that complicated but startups need to start setting the goals right from scratch.
Setting lower goals because of a lack of idea about how much can be achieved, is a common issue for goal setting using OKRs for startups.
Instead of opting for smaller goals that can be achieved with ease, opt for ambitious targets. Even if you can only achieve 60% – 70% of the initial goal, it is much better than setting a smaller objective that does not push your team's limits.
Keep the following in mind while creating the OKR for your organization:
Start with setting goals for the quarter, not the year
Identify the objectives you want to achieve for the quarter
Define the objectives without ambiguity
Set your Key Results using concrete KPIs whenever possible
List the initiatives that will help you to achieve the KRs
Track it weekly, not monthly or at the end of the quarter
Tip: Follow the SMART approach to write Key Results. All your KRs should be Specific, Measurable, Achievable, Realistic, and Timebound. KRs are metrics that should clearly show how much progress you have made towards achieving the objective.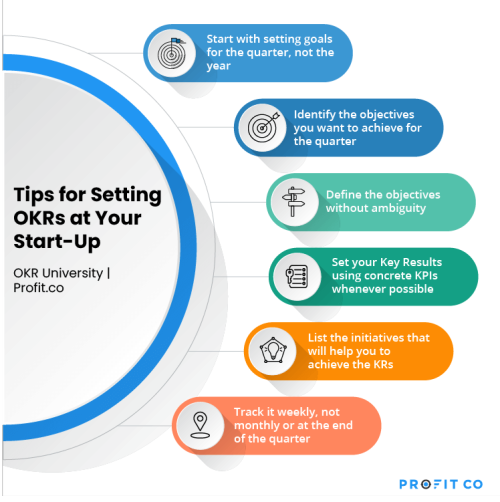 How To Implement OKR In a Startup?
It is important to keep in mind that even the best OKR planning will fail if it is not supported by the people who are supposed to follow it. So, instead of creating the OKRs and placing it on the teams to follow, it is best to involve the people in the process of making the OKRs.
This will make sure that the employees are genuinely concerned about meeting the objectives. Keep the list of objectives short and add between 3-5 KRs for each goal, to ensure that it can be followed with ease.
As a startup, depending on your strength, you can start with implementing the OKR for a small team, at first. Once you reach a favorable result and the team understands the benefits of the framework, it will be much easier to implement it across the company.
Let your developers focus on their work and involve the team managers in the process of creating the right OKRs for their respective teams. Always make sure that the objectives are owned by a responsible individual and not a team. Building focus in the early stages and alignment of people for the results are essential for successful OKR implementation.
OKRs For Various Stages of a Growing Start-Up
When it comes to startups, agility and flexibility are the keys to success. OKRs can help provide a clear path, but it is also vital to adjust the OKRs according to the changing needs of the company. For startups, often the change is frequent and major.
If you are leading a high-growth startup, you should set the OKRs for smaller durations because the long-term objectives of the company can change quickly as it grows. The OKRs for high growth startups with small planning cycles are efficient to quickly adjust to the changing needs.
Want to learn how you can manage your OKRs on Profit.co? Schedule a free demo with our OKR experts today!
Conclusion
OKRs are an excellent planning tool for every business, irrespective of the size. Meticulously planned OKRs can efficiently support the quick growth and success of startups. Adjusting the framework according to the specific requirements of the business can add to its overall efficiency and help drive success.