Include webinars in your sales conversion strategy to unlock the power of direct sales. A webinar is an ideal medium for live-streaming product demos, answering customer questions, and building a solid brand reputation. However, tracking webinar conversion and sales can be challenging. Here are some tips to understand webinar ROI.
Conversion and Sales Basics
Sales conversions describe turning a lead into a paying customer. It begins with prospects interested in your product and may become future customers. A prospect then becomes a lead who is ready, willing, and able to buy your product.
Prospects can be
New or fresh customers who have never purchased your product before
Existing customers purchasing an upgrade
Customers changing from using your competitor's products
Note: Similar to social media marketing, email marketing, and pay-per-click advertising, webinars need a tailored strategy to maximize conversion rate to sales.
Understanding the Importance of Conversion and Sales
Conversion and sales for webinars offer numerous advantages for businesses, including
Increased revenue: Webinars become a part of your overall marketing strategy, reaching previously untapped prospects.
Increased market share: Sales webinars establish your company as a market leader.
Brand loyalty: Webinars can showcase your entire range of products, allowing customers to subscribe or purchase more of your brand.
If the metrics you are looking at aren't useful in optimizing your strategy – stop looking at them.
Strategies for Improving Conversion and Sales Through Webinars
Find out how to increase sales conversion rate through webinars with the strategies below
1. Know Your Webinar's Goals
Know what you want to achieve with your webinar and choose suitable topics to support your goals. For example, host a how-to webinar to introduce a new product or troubleshoot customer issues. You can also share industry trends, insights, and predictions to demonstrate your company's relevance to your customers.
2. Consider Your Webinar Platform
Webinars can be live-streamed or on-demand, so choose a platform that supports your needs. Live webinar platforms need features like screen sharing, video recording, and live chat. On-demand webinar platforms allow you to upload various types of content, e.g., videos, audio files, transcripts, slideshows, etc. Choose a hosting platform to match your budget and deliver your webinar effectively.
3. Boost Your Registration and Attendance
How do you get your target audience to sign up and attend your webinar? Try these techniques to increase conversion and sales
Write down your value proposition and use a compelling title and description.
To promote your webinar, leverage digital marketing, e.g., social media, email campaigns, and blog content.
Automate email reminders to keep your webinar at the top of your customer's minds.
Encourage participation by using incentives like bonuses, discounts, and free trials.
4. Incorporate Interactive Features
Once your audience joins your webinar, engage them with live demonstrations, polls, Q&As, and other interactive elements. Beyond pitching your products, use storytelling, problem-solving, and feedback mechanisms to build rapport. The more your audience enjoys your webinar and trusts your expertise, the higher your conversion rate to sales. Interactive features around the webinar make the experience memorable and improve brand awareness metrics.
5. Focus on Conversion
Remember that your webinar aims to improve your sales conversion strategy. Therefore, ensure your call to action (CTA) is strong, clear, and compelling. Motivate your audience to follow through by giving incentives to thank them for their attendance and improve your conversion metrics. In addition, follow up with emails or social media to offer more valuable information after the webinar, and reiterate your CTA and incentives.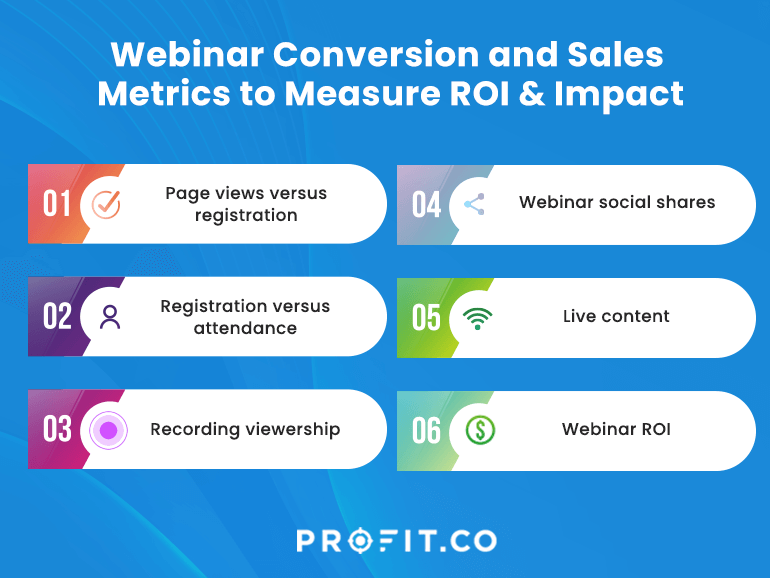 Measuring Conversion and Sales Metrics
Track the following conversion and sales metrics for your webinar:
Page views versus registration metrics: Find out the total number of webinar landing page visitors compared to the click-through and registration numbers.
Registration versus attendance metrics: Compare the number of webinar registrations against the actual participants, attendance time, and drop-off rates. These metrics indicate your webinar's effectiveness: high participation means your messaging, accessibility, and engagement meets your audience's needs.
Recording viewership metrics: Monitor how many attendants click through and view your webinar after the live event. Aim for 50% live views and 60-70% recording views. KPIs of a webinar should be tracked to know the outcome of webinars.
Webinar social shares: Track how many attendants click the share options during and after the webinar. This reveals which marketing channels yield the highest reach and engagement.
Live content metrics: If you're offering an ebook, limited-time discount, or other incentives during the live webinar, track how many attendants take the desired action.
Webinar ROI: Track the number of closed deals from live and recorded webinar viewers. Monitor the sales directly and indirectly influenced by the webinar versus other marketing channels. Sales conversion rate can be used to track the success of the webinar.
FAQs
Which metrics are essential to measuring webinar ROI?

Key metrics to measure webinar ROI include attendance rate, registration rate, conversion rate, average revenue per attendee, and customer acquisition cost.

How can we track conversion and sales from webinars?

Use tracking links, unique promo codes, and CRM integration to track conversion and sales. Monitor purchases, sign-ups, or other desired actions taken by webinar attendees.

What impact can webinars have on business growth?

Webinars can generate qualified leads, build brand authority, nurture customer relationships, and drive sales. They provide a platform to showcase expertise, engage with audiences, and ultimately impact revenue growth.
Conclusion
A webinar can add significant value to your conversion and sales strategy. It accelerates your sales cycle and reveals valuable insights into your customers. You can also use webinar content in future marketing campaigns. Incorporate webinars and their respective metrics into your marketing plan today.