Contrary to popular belief, good products don't sell themselves. If you have a great product you're passionate about, you still have to put yourself out there and get customers. A sales strategy is your game plan to beat the competition and grow your bottom line. But what is a sales strategy, and how do you create one? This comprehensive guide explains everything you need to know about Sales strategy execution today.
What Is A Sales Strategy?
A sales strategy outlines how a business sells products to buyers to generate revenue. In addition, a sales strategy demonstrates how your business differs from your competitors. It also includes buyer personas, sales processes and structures, product positioning, key performance indicators (KPIs), selling methods, and competitive analysis.
At its core, a sales strategy is about the what, who, and how of selling. What do you plan to sell to whom, and which methods will close the deal? You must identify your target market, analyze sales trends, and demonstrate your value proposition to your customers. A sales strategy makes it easier to sell your products and gives you a competitive edge in the marketplace.
If I believe in something, I sell it, and I sell it hard
What Is the Need for A Sales Strategy?
1. Understanding Customer Needs
Prospective, new, and existing customers have different needs that an effective sales strategy can reveal. For example:
Prospective customers need to know how your product will solve their problems and why they should spend their money on your company but not the competition.
A new client chooses to buy your product, but they need a good introduction to your company with perks and ready support.
Existing customers need to stay with your product instead of switching to a competitor, so they need product upgrades and priority support.
Your sales strategy determines how you'll keep these clients happy with your company and products.
2. Boost Your ROI
A sales strategy gives you an in-depth look at your current sales performance to see what works or needs improvement. You can sharpen your current sales tactics, adopt new tactics, or abandon what doesn't work, which translates to better returns for your sales team.
3. Attract and Retain Your Sales Talent
You need the best team to execute an effective sales strategy. When you put your plan on paper, you'll see who is best suited for specific sales tactics over others. A sales strategy helps you match your team to their ideal tactics and identify training opportunities to improve their skills.
4. Increase Your Sales
The objective of sales strategy execution is to sell more products and make more money. It's important to periodically review your current sales strategy to see where there's room for growth or greater efficiency.
There's a difference between sales and marketing strategies. A sales strategy focuses on conversions and closing deals, and a marketing strategy focuses on raising brand awareness and promoting your products. Both go hand in hand to increase revenue and grow your business, but sales require a different strategy.
What Are the Different Types of Sales Strategies?
Inbound sales strategies bring leads to your company. You can use your company website, optimized digital content, informative blog posts, and videos to showcase your product. Anyone searching for your solution finds this content, then your sales team steps in to convert them into buyers. Once the conversation begins through a landing page, contact form, or phone inquiry, your sales team gives more details about your product. Your sales pitch and customer service nurture lead and encourage conversion.
Outbound sales strategies reach out to customers directly, even if they're not actively searching for your products. Your sales team can send cold emails, make cold calls, or pay for digital advertisements to attract your lead's attention. Of course, these strategies begin with thorough market research to identify your ideal buyer personas. Otherwise, you'll spend valuable resources on the wrong targets. Outbound strategies need a killer sales pitch and expert knowledge to handle objections.
Successful businesses combine inbound and outbound sales strategies to cover all bases and increase leads and conversions.
Factors That Determine Your Ideal Sales Strategy
Since each business is unique, you need a sales strategy that works for your context. Consider the following factors before you craft your sales strategy:
1) Your Company Mission and Vision
Understand your purpose as a business, and you can communicate to your sales team and customers effectively. All your sales strategies should align with your company's direction going forward.
2) Expected Revenue
Your sales targets should also align with your company vision. For example, if you need to generate $300,000 in sales per quarter, how does that income help you achieve your overall objectives?
3) Target Customers
You need more than demographics and interests to know your ideal customer. Conduct market research to discover their:
Pain points
Background
Preferences, and
Other essential details to identify qualified leads faster.
4. Unique Selling Proposition (USP)
Outline how your company and products meet your customer needs better than the alternatives in the market. Your USP should address your customers' challenges and how your product improves their lives.
5. Sales Budget
Estimate how much of your company finances go to sales, including salaries, commissions, software, and training. Remember that when you invest in your sales team, you ultimately gain revenue and growth.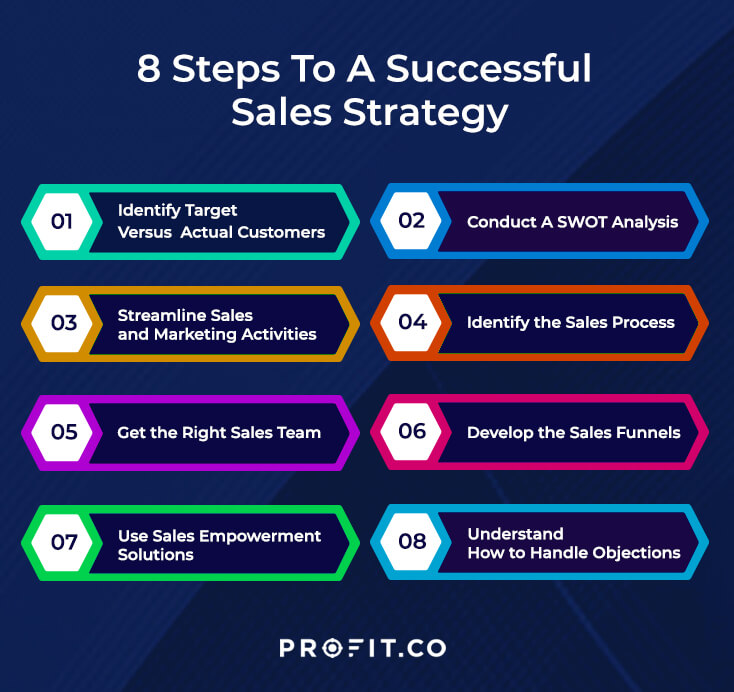 How To Develop A Successful Sales Strategy in 8 Steps
Once you clearly outline these business elements, you can build an effective sales strategy.
Step 1: Identify Target Versus Actual Customers
Evaluate your current sales strategies to see who exactly buys your product. Use this data to create a comprehensive customer persona. This step is crucial in sales strategies, especially for new businesses. You can initially base your sales tactics on market demographics from various sources, but only those who buy your product are the basis of your customer profile.
Step 2: Conduct A SWOT Analysis
Understanding your strengths, weaknesses, opportunities, and threats (SWOT) is critical to access your position as a company. Weaknesses and threats are particularly helpful for sales strategy execution. For example, suppose your sales team captures leads but fails to convert them. In that case, you can polish your sales pitch, improve your product, or revise your customer persona.
Step 3: Streamline Sales and Marketing Activities
Many companies have conflicting sales and marketing teams or poorly defined roles. Both sales and marketing drive your business forward, so they should align and cooperate. The sales team can offer the marketing team valuable insights into customer interactions. At the same time, the marketing team can give the sales team the right resources to engage with leads. This alignment produces a strong and consistent message to your customers, which drives your revenue.
Step 4: Identify Your Sales Process
A sales process comprises the steps your sales team follows to guide a lead from awareness to conversion. It includes prospecting, presentation, closing, and follow-up. A sales process is a repeatable process that most sales teams resist–as long as they close the deal, it doesn't matter how they go about it. However, a sales process should be part of your sales strategy. When you structure your sales process, it's easy to replicate and close more deals. You can also train new salespeople to follow a winning technique.
Step 5: Get the Right Sales Team
Sales is a high-pressure job mainly due to targets, internal and external competition, and customer rejection. This means that you need a healthy company culture that supports your sales team. Choose the qualities your sales reps need as you interview and recruit, then follow up with incentives like downtimes and bonuses.
Step 6: Develop Your Sales Funnels
A sales funnel is your customer's path from awareness to final purchase. The funnel must align with your sales and marketing tasks to know who handles which type of lead. Optimize your sales funnel to reduce conversion time and eliminate gaps in the workflow.
Step 7: Use Sales Empowerment Solutions
Integrate tools like CRM and OKR software to help you achieve effective sales. These tools enable automation, goal setting, lead nurturing, customer service, data analytics, and numerous other functions. They allow your team to focus on building strong customer relationships rather than manual data entry.
Step 8: Understand How to Handle Objections
As you execute your sales strategy, monitor and document how your buyers react to your sales pitch. Some of the most common sales objections include:
Budget (your product is too expensive or the buyer has no money)
Trust (the buyer doesn't know your company or brand)
Need (your product has no precise value addition for the buyer)
Urgency (your product isn't a priority for your buyer right now)
Of course, buyers share their objections in various ways, from politely declining your pitch to downright insults. Your sales team must know how to respond with active listening, empathy, and appropriate follow-ups to make the most out of every conversation.
How To Set The Right Sales Strategy Goals
An effective sales team needs measurable goals to hit the ground running and capture leads. One goal-setting approach is through OKRs (objectives and key results). Sales OKRs define how your sales strategy aligns with marketing, finance, customer service, and other business functions. They also bring transparency into the sales strategy and encourage collaboration. Here are some sales OKR examples to demonstrate effective sales:
Objective: Streamline the sales process
Key Results:
Increase qualified leads from 30 to 50 per month
Increase free trial subscriptions from 50% to 70%
Increase subscription rate from 30% to 50%
Objective: Grow recurring revenue
Key Results:
Increase subscription renewals by 20%
Increase upselling and cross-selling by 45%
Increase monthly revenue from existing customers by 30%
Objective: Boost customer engagement
Key Results:
Run one in-person customer event per month
Host one webinar per month
Score above 75% in customer satisfaction
As you can see, OKRs are valuable tools for developing sales strategies. Your sales team will understand how their targets contribute to the business, plus how to measure their performance. Therefore, an OKR solution like Profit.co is an excellent tool for sales strategy execution. You can get started on Profit.co completely free today!
10 Expert Tips to Design A Successful Sales Strategy
We've described how to create a sales strategy and the role of OKRs in setting sales targets.
Leverage Storytelling Skills

Create a compelling story about your product and company to stand out from the competition. A great story grabs attention and connects with your customers emotionally to increase engagement. Structure your sales pitch using storytelling guidelines to make it more memorable for your team and customers.

Narrow Down Your Target Market

A smaller market helps you to understand your customers' needs better. Maintaining a competitive edge is much easier when you know your niche audience. The more diverse and wide the market you will get overwhelmed easily and lose leads. It's also better to work niche by niche until you find where your product best fits.

Respond to Leads Within 24 Hours

Contact your inbound leads as fast as possible because they're probably comparing your product with the competitors. Close these leads quickly to reduce the risk of losing their business. Your sales pitch should answer their objections and demonstrate why they need your product.

Be Genuinely Helpful

Educate your customers, personalize your message, and empathize with them to earn their trust. Even if they don't buy your product, they'll appreciate your thoughtfulness and possibly recommend you to others.

Score Your Leads

Lead scoring is a way to rank your leads in your sales funnel using a scale of 1 to 10. Determine which customer traits are the most important, then assign a number to each. For example, a high-value lead like a company CEO would be a 10, while a team supervisor would be a 4 or 5. This is because the CEO has more spending power and influence to recommend your product if they convert. Lead scoring helps in prioritizing and adapting a sales pitch.

Always Follow Up

The best sales strategies consistently pursue a lead to move them from cold to hot. Unless there's a clear "no," maintain contact and guide your leads through their buying journey.

Get A Referral for Every Closed Lead

Your sales strategy should include asking your customers for referrals. This broadens your reach and brings qualified leads who already have a good impression of your company and product.

Ask for Customer Feedback

Knowledge about what customers think of the product about a week after purchase is important. Ask for honest reviews on your e-commerce platform or social pages. Use negative comments as constructive advice to improve your commodity and sales strategy.

Cross-Sell and Upsell with Your Current Customers

Many companies discover that repeat customers bring more revenue than brand-new customers. Existing customers already know your company and products, so they're open to trying more. Update your current customers on your latest offerings and give special discounts to retain them.

Use Data to Optimize Your Sales Strategies

Gather data from your CRM and OKR solutions, as well as from social media business analytics and digital advertising platforms, to evaluate your sales strategies. Create a repeatable sales process that delivers the returns you expect.
3 Sales Strategy Examples to Inspire You
Use any of the ideas below as a sales strategy example to guide your business forward:
1. Cut to The Chase
Get to your value proposition as fast as possible. Ask between 11 and 14 questions in your discovery calls, but keep it to 4 questions if speaking with a C-suite executive.
2. Describe Your Customer's Problem Better Than They Can
Your sales pitch story should articulate your customer's pain points. Instead of focusing on your product's features and functions, train your team to empathize with the customer before they mention the product.
3. Get Your Sales Team from Average To Excellent
As a manager, the best thing you can do for your sales strategy is to hire an average sales team and coach them to excellence. An average salesperson knows how to prospect, handle rejections, and close deals. But a star salesperson does all these things better, thanks to experience and training. Spend less time forecasting sales or micromanaging and more time building the skills your sales team needs.
Conclusion
These sales strategy steps and examples can significantly impact your business. But before implementing these strategies, know your customer's pain points and how your product meets these needs. Focus on training your sales team to polish their skills and encourage transparent communication between sales and marketing. Finally, use OKRs for sales strategy execution by setting clear, actionable goals. Get in touch with Profit.co team to learn how the OKR framework can transform your sales strategies today.