The chief operating officer (COO) oversees a business's day-to-day administrative and operational functions and establishes policies that promote company culture and vision. The COO is second in command of an organization and reports to the CEO.
A COO's role comes with a lot of responsibilities. And it goes without saying that it also comes with many challenges.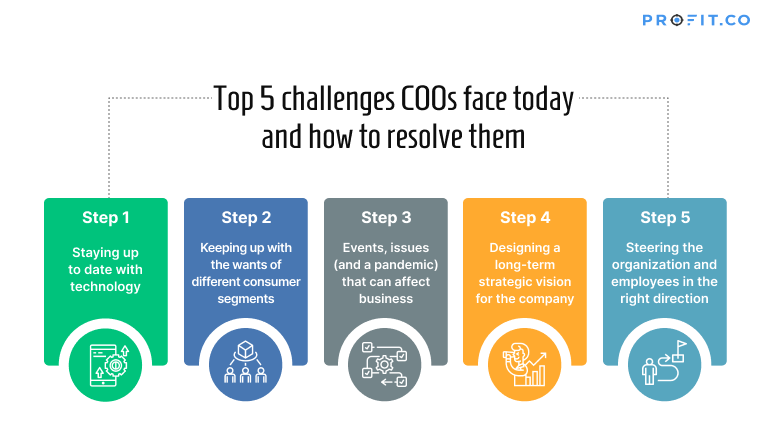 Let's take a look at the top 5 challenges that the COOs are facing:
1. Staying up to date with technology
2. Keeping up with the wants of different consumer segments
3. Events, issues (and a pandemic) that can affect business
4. Designing a long-term strategic vision for the company
5. Steering the organization and employees in the right direction
How best to accomplish this? Integrate the time-tested OKR methodology to align your objectives with measurable results to keep your organization on track to bridge the strategy execution gap. Listed below are some OKR Examples a COO can use to face challenges.
As we look ahead to the next century, leaders will be those who empower others.
1. Staying up to date with technology
Given how fast technology is advancing, staying up to date with the latest in technology is sure to provide the COO, and the business they oversee, an upper hand over a COO and business that hasn't kept up with technology.
Technology plays a huge role in directing the road map for a modern business. It opens up newer avenues that would take the organization to newer heights. Helps implement new technologies with an open mind and pulse on customer demands.
Implementing new technologies through OKR alignment
OKR accelerates learning new technologies and adapting to practices and policies through ambitious goal setting.
COO can introduce new technology or policy in the organization and cascade OKRs down to the last levels to bring quick alignment. COO can analyze OKR insights to verify the implementation of these technologies and how much teams and individuals have achieved in learning and adapting to them.
OKR Example
Objective: Implement a policy of having 30% diversity in the organization
Key Results:
Conduct a social audit across the organization within 2 weeks.
Measure the percentage of racial and gender diversity in each department and the organization in 20 days.
Collect data on current vacancies across the organization and identify roles that can be filled up with candidates from minority groups.
Ensure 15% of recruits and 15% of internal promotions are diverse.
2. Keeping up with the wants of different consumer segments
A COO needs to be with the times to understand what the consumer wants. With social media, chat, and other changes that have come about, the consumer has an entirely different approach to businesses and marketing. Technology has made it possible to circumvent intermediaries and have given the consumer a direct line with the companies that sell them services and products.
A seasoned COO can address the requirements of multiple generations of consumers while staying rooted in the organization's business needs. An experienced COO will have the ability to connect with different target audiences.
Addressing the needs of diverse customer groups through OKRs
OKRs help drive product strategy that delivers solutions for the problems of diverse customer groups.
The OKR framework helps COOs successfully scale operations or expand the presence/product availability to new locations and audiences.
OKRs let COOs quickly tweak strategy, focus more on customer groups buying your products less than expected, and win over those customers.
OKR Example
Objective: Expand the reach of product to a new location and audience
Key Results:
Organize a meeting with product and marketing teams in one week to determine branding and marketing strategy for a new location and audience.
Set up a new sales office and hire 10 new sales personnel for the new location within a month.
Announce a launch offer for the new location in 45 days.
Sell at least 1000 units within 30 days of launch.
Achieve 20% sales growth from the second month onwards.
For free, you can try out Profit.co's OKR Software today!
3. Events, issues (and a pandemic) that can affect business
The pandemic over the past two years has made it clear that anything can come about at any time that can affect the organization's evolution. A COO must not just be mindful of these events and issues that can affect the business and the strategic plan for the organization but also be able to find ways to not affect the organization's business to a large extent.
Economic, social, and environmental sustainability is sought in today's business environment. Consumers are more likely to favor an organization focusing on sustainability.
Ensuring continuity, performance, and sustainability using OKRs
COOs can implement hybrid/remote work during adverse events through self-managed goal-setting and performance.
OKR helps COOs implement sustainability initiatives by aligning the entire workforce to the policies and mainstreaming them in the work culture.
OKRs help COOs quickly adapt to the changes and find workable solutions. For instance, in today's environment, chip shortages and supply chain issues put the abilities of COOs to the test. OKRs let COOs challenge themselves and find radical solutions that are both feasible in the long run and free the company from limitations of the market anomalies, such as finding new logistic solutions or sourcing chips from lesser known fabs.
OKR works on the cloud and enables COOs to forge cross-functional collaborations and teamwork to get work done in a hybrid work setup.
OKR Example
Objective: Manufacture and ship customer's mission-critical components within a month, beating the lockdown restrictions.
Key Results:
Get special permissions from local authorities for employing 40% workforce on-site within three days.
Introduce a third shift at night in 4 days for the next 10 days to make up for the reduced workforce.
Complete manufacturing of the components within two weeks.
Organize online meetings with the manufacturing and product design teams to verify the quality with compliance regulations and specifications and make changes, if any, in 20 days.
Within 25 days, finalize a shipping partner with less than 10% delay in delivery time and costs no more than 10% compared to pre-pandemic times.
4. Designing a long-term strategic vision for the company
The pandemic has led to / is leading to a financial crisis. Companies must prepare for the future to overcome their financial difficulties.
An experienced COO needs to have the ability to design a long-term strategy to help the organization come out of the financial crisis brought about by the pandemic.
Ensuring long-term stability using OKRs
OKR helps COOs quickly and effectively implement cost-cutting measures across the organization.
OKR helps COOs identify the teams and departments with excessive manpower and restructure the organization to make them more efficient.
OKR helps COOs set learning goals to diversify employees' skillsets, make them versatile and eliminate costs incurred in outsourcing/hiring additional workforce.
OKR Example
Objective: Reduce spending by 15%
Reduce team spending by 15%, starting this month.
Evaluate product strategy and cut down at least one least profitable product by the end of the month.
Re-skill and reassign the best performers from that product team to other teams and cut down 75% of those redundant jobs.
Enroll 20% of all employees within the first month in training for learning skills to carry out outsourced tasks.
5. Steering the organization and employees in the right direction
Besides helping increase brand awareness and driving financial growth, the onus is on the COO to steer the employees and the organization in the right direction.
A COO has the skills and employee engagement attributes that would help them mentor and advise employees to help them improve their performance.
Building a culture of openness and collective learning using OKRs
OKR helps COOs facilitate sharing success stories and best practices across the organization, thus promoting knowledge sharing and collective learning.
Using OKRs COOs can impart leanings from one success story and replicate it in similar scenarios in the future.
OKR Example
Objective: Promote a culture of sharing success stories and collective learning
Organize at least one meeting of team leaders every month to share the challenges, workarounds and success stories in their teams.
Introduce the 'innovation of the month' award for the most creative and effective solution every month, reward the employees and highlight the solution in separate internal emailers and monthly newsletter.
Verify if other teams implemented the idea the next month, measure their effectiveness and share results and learnings in internal emailers.
In Conclusion
While the COO reports to the CEO, and an honest and trustworthy relationship between the CEO and COO can help with planning a growth strategy for an organization and executing it, the COO is slowly coming out of the 'second-in-command' shadows and becoming a visionary for the organization. A COO with the right skills and great OKR strategy has the power to change the organization's future by guiding it over many hurdles and leading it to greater heights toward the goals set for the organization. Highly successful enterprises have used OKRs to leverage their products and services to outperform their targets. The benefits of OKRs are tested and proved by significant industry leaders that the COO cannot ignore using them to resolve some major operational challenges. Book a free demo with our team to learn more about how OKR software can optimize your organization's performance!