Strategy plays a crucial role in business success. When planned and implemented right, a good strategy helps companies follow a clear roadmap for achieving growth and business success. In contrast, a poor strategy or improper execution can affect the progress, cost the competitiveness of the business and prevent it from quickly adapting to changing conditions. It can lead to wasted resources, lost opportunities, and missed growth targets in the short term. It may have more serious, far-reaching consequences in the long term, including but not limited to the loss of confidence of investors and other stakeholders.
However, formulating a good strategy is not easy. Strategic planning requires careful analysis of the market conditions, strengths and weaknesses of the company, and product offerings from the competition. It requires a thorough audit of the internal capabilities and a comprehensive assessment of risks and opportunities.
Creating a strategy involves making an array of choices based on these insights. Many businesses struggle to make the right strategic choices and develop a coherent and effective strategy, especially in industries that undergo rapid developments and technological progress or in turbulent economic conditions. Furthermore, companies may complicate strategy development with ambiguities, lack of consensus among the management, conflicting priorities, limited resources, and internal politics. As a result, businesses often need to evaluate the strategy objectively with the help of an outsider.
Businesses often turn to experts – advisors or strategy consultants – from outside the organization who specialize in the particular field or industry to gain critical insights and valuable suggestions that enable the management to make business decisions and develop effective strategies.
What is Strategy Consulting?
Strategy consulting is the process of lending third-party support to organizations regarding vital business decisions and business strategy. It involves specialists from outside the organization working closely with the company, understanding its vision, objectives, and goals, identifying strategy gap analysis, risks, and challenges, and developing solutions to address them. Strategic consultants help the management make critical decisions and develop and implement effective strategies to achieve their goals.
Strategic consultation is based on the insights gained from analyzing vast amounts of data acquired from extensive research, monitoring market trends, and a deep understanding of the company's strengths and the competitive landscape.
Strategy consulting aims at enabling companies to identify their strengths, seize the opportunities available, and create sustainable competitive advantages, which the companies can leverage to drive long term growth and profitability.
Expert consultants from outside the organization work closely with companies to understand their vision, goals, strengths, and challenges.
They conduct research, monitor market trends, and analyze data to gain critical insights.
Based on insights gained, they identify opportunities and risks.
They devise strategic plans and develop solutions to maximize opportunities and manage risks.
They offer advice on business strategies and help businesses implement them effectively to achieve their goals.
They help companies create sustainable competitive advantages to drive long-term growth and profitability.
Without strategy, execution is aimless. Without execution, strategy is useless.
What are Strategic Consulting Firms?
Strategy consulting firms are the ones that offer professional consulting services related to business strategy. They provide strategic advice and guidance to clients on various business issues and disciplines, such as operations, product design, corporate strategy, etc. They typically employ experienced professionals with deep expertise in a particular industry or functional area. They play a vital role in helping clients navigate complex business challenges and develop strategies that drive growth and business success.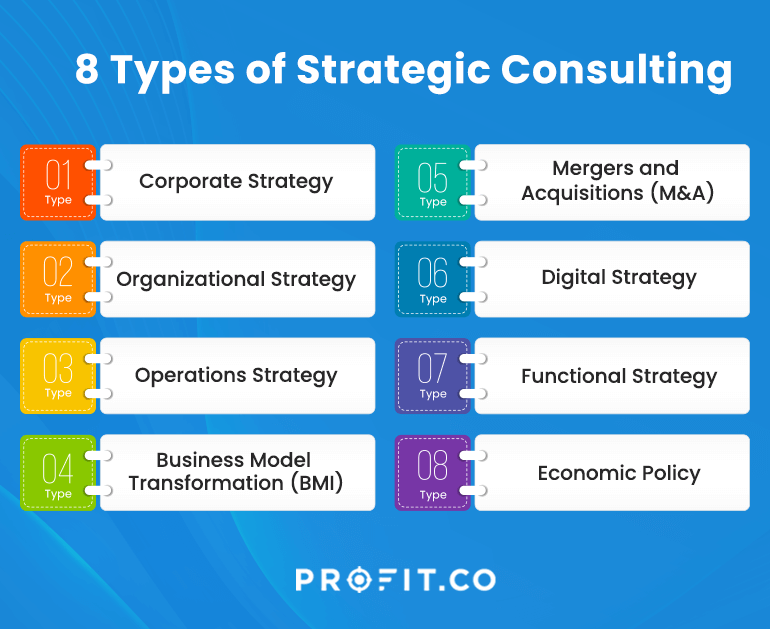 8 Types of Strategy Consulting
Strategy consulting encompasses a wide range of disciplines and areas of expertise. While businesses can invite strategy consultants to seek advice on any business decision or process, strategy consultation is usually confined to the following disciplines.
Corporate Strategy

Corporate strategy consultation deals with higher-level decision-making by helping companies select strategic goals aligned with their vision and design strategies to achieve them. It involves advising companies on formulating their vision, mission, and goals, evaluating their current position, analyzing market trends, and identifying opportunities for growth and expansion.

Organizational Strategy

Organizational strategy consulting involves advising businesses on creating the most suitable organizational structures and processes to improve the effectiveness, overall performance, and efficiency of the organization.

Operations Strategy

Operational strategy consulting involves aligning the operations with the overall business strategy. It includes developing operational strategies, managing supply chain and logistics, improving systems and processes related to manufacturing, and achieving cost reduction and efficiency in operations.

Business Model Transformation (BMI)

BMI strategy consulting strives to transform the business model of an organization to adapt to changing market demands, pathbreaking technological innovations, and a paradigm shift in customer preferences. It includes the implementation of new business models, identifying business opportunities and new revenue streams, and creating first-of-a-kind innovative products and services.

Mergers and Acquisitions (M&A)

M&A strategy consulting involves the evaluation of potential mergers or acquisitions, developing strategies for the same, and executing them. Strategy consultation in this discipline covers conducting due diligence, assessing opportunities and risks, identifying potential partnerships, mergers, and acquisitions, and developing plans for integration.

Digital Strategy

Digital strategy consulting involves advising companies on creating value and improving performance and efficiency using digital technologies, software systems, and platforms. It includes developing and deploying strategies for digital transformation, integrating emerging technologies, and the implementation of digital marketing and customer engagement strategies.

Functional Strategy

Functional strategy consulting involves advising on optimizing the business functions of companies. It includes developing and implementing strategies in the areas of finance, sales and marketing, operations, and human resources to streamline processes, improve their performance and efficiency, and reduce costs.

Economic Policy

Economic policy consulting involves analyzing economic policies, examining trends and patterns in the economy that may impact the business, industry, or sector, and advising companies on creating strategies taking them into account, to achieve growth and business success in those conditions. Economic policy consulting helps companies avert or manage the impact of economic policies and find countermeasures to overcome the challenges posed by those policies. It includes data analysis and forecasting economic outcomes, and advising on government policies related to trade, tax, and regulatory issues.
Why Does Your Company Require Strategy Consulting?
Strategy consulting is a customizable process. Reasons for seeking consultation vary depending on the company's needs.
Companies may need strategy consultation for the following reasons.
1. Insiders have different priorities and may even have their own agenda. As a result, on many occasions, they cannot see things objectively. For instance, the product team may believe in a particular innovation and prioritize incorporating it into product design. But the sales and market teams may have reasons to believe that the customer expectations are entirely different. It is quite possible that one of them could be wrong, and making decisions based on their preferences could be catastrophic. Strategy consultants consider every angle and possibility and provide an unbiased perspective on decisions vital for the future of the company. They can set goals and put processes in place without potential conflicts of interest.
2. An organizational structure and leadership consist of people who fulfill certain roles. Their skills and competencies depend on what is expected of them from those roles. So they may be experts in carrying out specific tasks and fulfilling the responsibilities mentioned in their job description. But they may not have in-depth knowledge and expertise in a particular industry or a subject, such as market positioning or restructuring the organization. Such skills and expertise are indispensable for good strategy development. Those skills may not be available in-house. As a result, companies have to seek the advice and support of industry experts.
3. During acquisitions and mergers, companies involved in them have various legal obligations. For instance, companies cannot share or exchange crucial information until they complete the transaction. During such occasions, consultants can fill in the shoes of the company leaders and fulfill the legal purpose by advising on their behalf.
4. Company management and the leaders are insiders, and their ideas and plans are discussed and saturated over time. So at times, they cannot go beyond a certain point when it comes to ideating and problem-solving. Strategy consultants, with their vast knowledge and experience, bring new, out-of-the-box ideas for growth and business success. They can present the companies with whole new perspectives and help them find better solutions and strategies.
5. Strategy consultants have vast experience working with companies of various sizes and types. So they have the know-how to solve problems and create a robust strategy based on the experience they gained from working with similar companies. They take a result-oriented approach and complete the job quickly, avoiding distractions from other priorities. They can introduce frameworks, structure, and best practices to complex situations and validate the management team's own strategy before investing significant resources.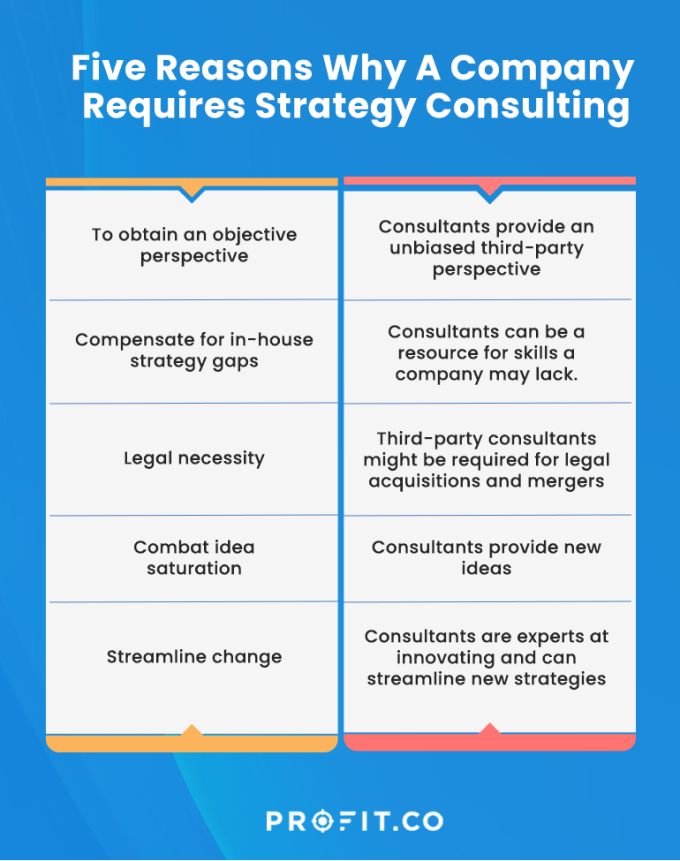 What are the Skills and Qualifications Essential For a Strategy Consultant?
A strategy consultant possesses a combination of education, experience, and a broad range of skills and competencies. Following are some of the most common skills and qualifications to become a strategy consultant.
Education

A degree, higher studies, and specialized focus in specific areas of relevant fields, such as business, economics, finance, engineering, etc., are mandatory for a strategy consultant. The more qualifications you acquire in different specializations better are the chances for becoming a more rounded strategy consultant.

Research and analytical skills

Strategy consultants must conduct extensive research on the market conditions, competitors, economic situation, strengths and weaknesses of the company, etc. So they should be good at research. They should be able to analyze vast amounts of data, find opportunities, assess risks, identify the competitive advantage of the company, etc. They should be able to identify patterns, draw conclusions, and develop insights that drive business decisions. They need to make sound recommendations and advise on a business strategy based on facts and data. All these require good analytical skills.

Communication skills

Strategy governs the organization as a whole, and it requires careful design and implementation. Being specialists who make recommendations and provide ideas and solutions, strategy consultants should have the communication skills to convey or impart their findings and recommendations effectively to clients and colleagues through concise reports, persuasive presentations, and strong working relationships with clients. A lack of good communication can muddle things and cause ambiguities, misinterpretations, and mistakes in strategy.

Problem-solving skills

Strategy consultants are primarily problem-solvers. They analyze complicated problems and come up with innovative solutions and workarounds to manage risks and maximize opportunities. So they must possess the skill to assess problems and approach them creatively, identify the root causes, find innovative solutions, and develop strategies that address the client's needs.

Industry expertise

Strategy consultants are sought specifically for what they specialize in and the industries they are experienced in. They should be seasoned professionals with a deep understanding of the industries in which they operate. They should stay up-to-date on industry trends, constantly research the topics critical to the industry, and attend conferences and seminars to gain and impart their knowledge.

Teamwork

Strategy consultants are outsiders of the client organizations they work with, unlike the company management in charge of strategy development. So they should be extremely capable of quickly getting in sync with the teams within the company and working with them closely to solve complex problems for the clients. They should collaborate effectively with their colleagues, employees, and the other stakeholders of the client organization. They should share information, build consensus around recommendations, and create a strategy with the active participation of everyone involved.

Leadership skills

Strategy consultants should motivate employees and team members, manage timelines and budgets, and delegate tasks effectively. They should lead from the front and take ownership of the strategy and the projects.

Flexibility

Strategy consultants must be aware of developments in the industry landscape and market conditions; they should adapt to these changes and be flexible to the changing client needs and project requirements. It is crucial because staying rigid with outdated knowledge can lead to poor strategic decisions and failure of strategy. They should also be able to multitask and work under great pressure.
FAQs
Who are the Big 4 strategy consultants?

PwC, Deloitte, EY, and KPMG are some of the top strategy consultants in the world.

What is an example of strategy consultant work?

Helping a company enter a new market would require strategy consultation. It could involve:

Market research to understand the competitive landscape, market size, growth potential, and other crucial factors for ensuring business success
Opportunity assessment to assess the potential opportunities in the new market and develop a business case for the entry of the client
Market entry strategy to determine the optimal entry mode, such as joint venture or acquisition, and to develop a go-to-market plan
Implementation of the market entry strategy by conducting due diligence on potential partners or acquisition targets, negotiating deals, and developing an execution plan
Ongoing Support after the client's entry into the new market, which includes monitoring market trends, assessing competitive threats, and identifying further growth opportunities

What do strategy consultants do day to day?

A strategy consultant usually does some of the following tasks.

Conducting research to understand the client's business, market, industry, and competitors
Analyzing data and gaining insights
Collaborating with the teams and stakeholders of the client organization to understand their needs and develop customized solutions
Conducting workshops, interviews, and discussions with stakeholders to gather information and align them to the goals
Developing strategic plans and roadmaps for clients to achieve their goals
Assessing the feasibility of potential strategies and making recommendations
Helping clients with new strategy implementation
Providing guidance on organizational design, process improvements, and change management
Evaluating the effectiveness of existing strategies and suggesting improvements
Providing ongoing support to clients to execute the strategies effectively
Building relationships with clients and identifying new business opportunities
Staying up-to-date on industry trends and best practices

Why a career in strategy consulting?

Strategy consulting is a profession with many perks, including:

Opportunity to work on high-profile projects with globally acclaimed clients
Exposure to a variety of industries and a multitude of business models
Chance to work with and learn from the pioneers of the industry
High learning potential and scope for refining strategic thinking and problem-solving skills
Attractive salary and benefits packages
Rapid career advancement
Scope for building a vast network of professional contacts
Satisfaction from delivering meaningful impact to clients
Conclusion
Utilizing strategic consulting as a resource is essential to getting a fresh perspective on your organization. Strategy consulting aims at enabling companies to identify their strengths, seize the opportunities available, and create sustainable competitive advantages, which the companies can leverage to drive growth and profitability over the long term. Trusting experts to guide and rejuvenate your strategy will lead to business growth and success.