Introduction
Strategic excellence is a key driving factor for the success of an organization; impactful strategy execution leads to the realization of goals and organizational vision. However, strategy execution can be complicated and too taxing for the management that sometimes they need to pay more attention to some key factors. It can potentially lead to strategic failure. So it is crucial to have an outsider with the expertise to evaluate the organizational strategy and facilitate the leadership team to implement it perfectly.
To become a strategy consultant, you must have vast experience across industries in successfully implementing different strategic plans in organizations of various types, sizes, structures, and organizational cultures. Experience comes with years of practice. However, the starting point for becoming an expert in strategy execution can be a strategy execution certification program.
Learn continually- there's always 'one more thing' to learn!
Benefits of Certifications
Online certifications for strategy execution offer numerous benefits, both for personal development and professional advancement. For starters, they provide a flexible learning environment, allowing learners to study at their own pace, irrespective of location. This flexibility is particularly beneficial for working professionals who balance their job responsibilities with their learning pursuits.
Online certifications also offer up-to-date content that reflects the latest trends and best practices in strategy execution, helping individuals to stay competitive in the evolving business landscape. Moreover, these certifications serve as a testament to a person's commitment and expertise in the field, potentially opening doors to better job opportunities, promotions, or higher salaries.
Additionally, they offer a chance to join a community of like-minded professionals, facilitating networking opportunities and enhancing peer learning.
Pursuing online certifications in strategy execution can be a strategic move in its own right, offering tangible benefits in a digitally driven business world.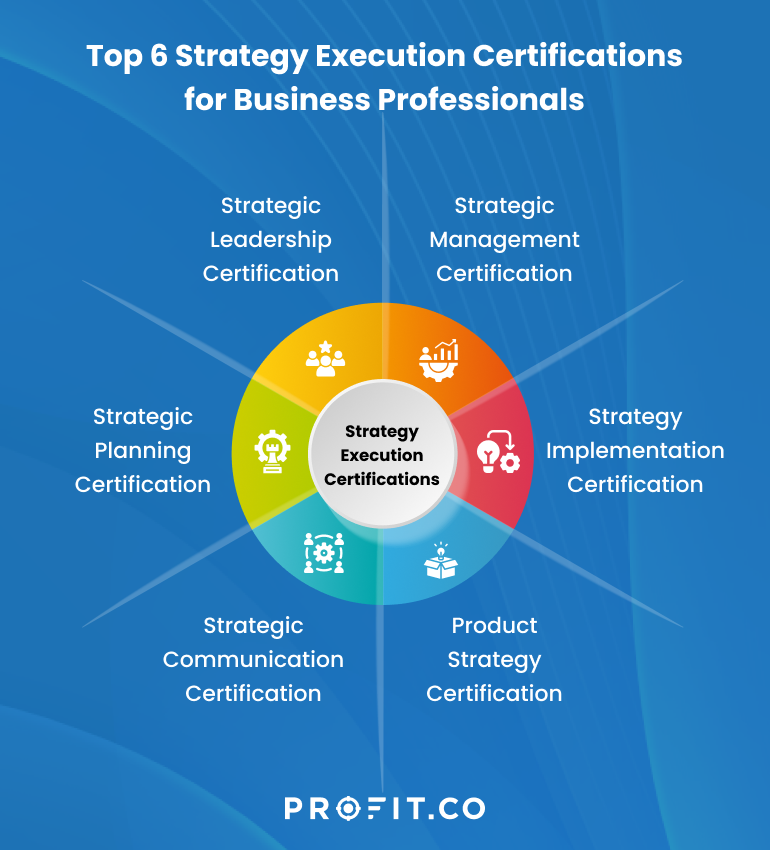 Top 6 Strategy Execution Certifications
Strategy execution certifications allow you to progress on your learning journey and gain insights into developing and achieving your goals.
Here are six courses and certification programs available for anyone who wants to specialize in strategy execution.
1. Strategic management certification
You can enroll in a strategic management online course if you want to:
Develop a strategic mindset and leadership qualities.
Acquire skills required for strategic management, such as creating acceptance and stakeholder buy-in, critical thinking, problem-solving, people management, leadership, motivation, and value-driven decision-making with the strategic intent.
Learn theories and concepts in strategic management.
Get an in-depth understanding of KPIs and analytical tools for tracking the performance of your strategic initiatives.
Learn how to use analytical tools to identify and solve problems and gaps in strategy execution in various scenarios.
2. Strategy implementation certification
The strategy implementation certification program covers various aspects of strategy implementation, such as:
Goal setting and formulating objectives for strategy implementation for different organizational cultures.
Leveraging organizational culture for implementing specific aspects of strategy.
Finding the suitability of a strategy for the type of organizational structure adopted.
Communicating the strategy across the organization.
Risk management strategies.
3. Product strategy certification
Product strategy is one of the most critical aspects of the organizational strategy. Getting it right is crucial for successful strategy execution. The product strategy certification course:
Imparts a comprehensive understanding of product strategy implementation.
It enables you to identify product opportunities in any given scenario.
It helps you assess the suitability of products in different business models.
Teaches how to develop new products and manage partner ecosystems.
Imparts an understanding of creating customer personas and doing product positioning, pricing, branding, messaging, product launching, and marketing.
Enables you to plan product roadmap, evolution, and future development.
4. Strategic communication certification
A strategy communication certification program covers various topics related to strategic communication in different scenarios. It imparts you the skills related to:
Communication strategy development, including planning, research, goal-setting, and developing communication for different target audiences.
Understanding the stakeholders and their communication requirements through stakeholder analysis and mapping.
Engaging with the stakeholders and customizing communication to build positive relationships.
Marketing communication through various communication channels.
Coordinating and managing multi-channel efforts and tools for creating consistent brand communication and messaging.
Digital marketing, public relations, advertising, email marketing, and social media marketing.
Internal communication to improve employee engagement, alignment, and organizational culture.
Change management and risk mitigation communication to manage change and address crises effectively.
Systematically measuring performance using the KPIs and evaluating strategic communication initiatives.
5. Strategic planning certification
Strategic planning certification enables you to develop and implement effective strategic plans. It covers:
The basics of strategic planning, including its purpose, process, and benefits.
Environmental analysis, internal and external assessment, and SWOT analysis for informed decision-making.
Formulating vision, mission, and strategic objectives to determine the organization's strategic direction.
Strategic SMART goal-setting.
Developing strategies and creating action plans for strategy execution.
Resource allocation and budgeting for strategic priorities and initiatives.
Tracking progress, measuring performance, and monitoring strategy execution using KPIs.
Developing and implementing change management strategies and managing change.
Developing communication plans for sharing the strategic plans, strategic objectives, and implementation strategies.
6. Strategic leadership certification
The strategic leadership certification program aims at developing the leadership qualities and skills required to lead an organization toward strategic success. It imparts:
The ability to think and plan strategically.
Visionary leadership qualities inspire and align the employees toward a common purpose.
Critical thinking, informed, data-driven decision-making, and problem-solving.
Communication skills and the ability to influence and inspire stakeholders.
Change management strategies.
Building high-performance teams, leading and coordinating them, and promoting collaboration and teamwork.
Strategic talent management to attract and retain top talent.
The ability to inspire employees, foster innovation, and build a culture of transparency, creativity, and innovation.
Performance management through feedback and review.
FAQs
1. What is the best strategic planning certificate?
Numerous certification courses that focus on strategic planning and strategy execution are available. These are offered by premier management institutions, online universities, and organizations specializing in strategy. It is imperative to assess the individual needs and various other factors, such as the time available for learning in relation to the course duration, whether the applicant wants to attend online classes and if the course offers that, etc., and decide what is best for the individual.
2. What are the four A's of strategy execution?
The four A's of strategy execution are:
Alignment
Accountability
Action, and
Assessment
3. What is a strategy certificate?
A strategy certificate is a course/program offered by management institutions and online universities. It is for management professionals, entrepreneurs, and individuals focused on business management who want more theoretical and in-depth strategy knowledge. It offers them the credentials required for working on organizational strategy and the expertise needed to become a consultant specializing in strategy execution.
4. What is strategy execution?
Strategy execution refers to converting a company's strategy and strategic plans into actionable steps, tasks, and activities and putting them into practice to attain the strategic objectives.
Conclusion
Strategy execution course certifications are more than just a symbol of academic achievement; they are a powerful tool for individuals seeking to advance their careers, hone their skills, and stay competitive in today's rapidly evolving business environment. The top six certification topics discussed provide access to the latest trends and practices in strategy execution.
By completing these courses, you gain critical knowledge and join a network of professionals, creating opportunities for collaboration and peer learning. However, the value of these certifications ultimately rests on your willingness to apply the learned strategies and insights in real-world scenarios. They pave the way for your growth and success, but your commitment to the learning process and your pursuit of excellence will truly transform your professional journey.
Iterating OKRs in your organization with Profit.co's intuitive OKR software will help streamline your courses and track progress toward attaining certifications.