Global shift to WFH
With COVID-19 companies around the world are experiencing a paradigm shift in the way they are operating. Most of the companies have shifted to a remote work environment and this now requires the adoption of new management practices and policies. These new trends in workplace environments require managers to come up with effective strategies that will help them gain maximum benefit from the remote working teams.
Every challenge is an opportunity in disguise. We have seen that the increased climate challenges in the 21st Century have encouraged organizations to invest more in eco-friendly initiatives.The current pandemic challenge will force companies to focus more on the remote work environment.
Teamwork is the ability to work together towards a common vision, the ability to direct individual accomplishments toward organizational objectives. It is the fuel that allows common people to attain uncommon results.
A survey in the pre-pandemic era stated that 99% of workers want to be in a remote work environment at least for a brief period in their careers. This is now becoming a reality. Tech giants like Apple, Microsoft, and Google have started to adopt new remote work cultures and this trend is expected to last long. As reported, Sunder Pichai, CEO of Google and Alphabet, has said, "We were one of the first companies to move to WFH; we will be equally careful about our transition back to the office."
Another analysis in 2019 stated that remote work has risen by 44% and 91% in the last five and ten years respectively and the managers' role in supervising the remote workers for performance improvements has gained more significance ever since.
Top-level managers find it challenging to achieve high productivity from remote workers because of the lack of face-to-face interaction and management. It is a well-known fact that management style adjustments to new trends require proper research, resource allocation, and effective planning to ensure improvement in employees' performance.
A study done by Enterprise Strategy Group (ESG), a leading technology analyst, research, and strategy firm, shows high productivity levels among remote workers, and that 57% prefer to increase their remote work in the future. Yet another study done by IBM states that 83% of workers want to work remotely in some capacity even in the post lockdown era.
One thing is crystal clear; a large percentage of permanent employees will work remotely in the future. Innovative management strategies have become a compulsion for employees' performance improvement to achieve high productivity levels.
9 Strategies for Managers to adopt for performance improvement of remote workers and teams
When you're surrounded by people who share a passionate commitment around a common purpose, anything is possible.
Here are a few recommendations from a recent Deloitte report on the establishment of a remote work environment:
Team leaders should review the team members responsibilities
Consistent communication is a compulsion
Virtual technology tools are required to achieve high collaboration
Relevant risk areas should be identified, such as; securing the confidential data and development of security policies
Team leaders should properly monitor the mental health and project satisfaction of remote workers
Adoption of Transformational Leadership Style
Managers should become role models for colleagues. Every manager has to invest in developing an innovative culture, deploy the right technologies, and introduce suitable performance metrics. Transformational leadership style is one suitable way for managers to encourage and motivate employees.
Transformational leaders are charismatic and effective communicators who are open to new ideas. In a remote working environment, the transformational leader will be able to devise an effective way to ensure employees' involvement, develop a collective vision, encourage a culture of innovation, and be able to communicate well with every stakeholder to overcome any resistance to change.
Transformational leadership traits help in the team-building process and increase the positive attitude at the workplace. There is better work delegation and the decision-making process improves resulting in higher growth.
Managers can also use technologies like Data analytics and artificial intelligence (AI) for supervising employees. Data analytics enables the managers to identify significant insights from stored employee's data to introduce new changes. Organizations can collectively use data analytics and AI to achieve exceptional employees' performance.
Innovative Organizational Culture
In every organization, the millennials form a large part of the workforce. A study reflects that millennials prefer transformational leaders because of the increase in engagement and inspiration. An innovative culture is promoted when adopted practices encourage the involvement of every internal stakeholder in organizational activities.
Remote work productivity depends a lot on the principles, values, and beliefs of each employee. Since we do not have control over these it is essential to establish a remote work culture for the successful functioning of teams.
Verbal and non-verbal communication with employees is a must to ensure performance in a remote work environment. This will help establish personal and professional objectives and growth plans. The question is, why is it essential to define personal objectives? Buffer's survey report shows that while working remotely 22% of workers find it challenging to unplug from work, 19% consider loneliness and 17% think collaboration and coordination as the biggest challenge. Therefore, defining personal objectives helps bring clarity on what employees should focus on and how to achieve them most effectively.
Rewarding an employee's contributions with monetary and non-monetary incentives reflects a performance rewarding culture. New HR parameters need to be identified that improve work culture, decrease turnover rate, and achieve organizational objectives set.
Maslow's Hierarchy of Needs and Employees Motivation
When it comes to employee motivation it is important to understand Maslow's five-stage model of the hierarchy of needs. Fulfillment of employee's needs is vital in improving their performance and productivity, especially in a remote environment.
Managers should recognize the remote workers potential and provide both growth opportunities at work and self-fulfillment. To reach the final level in Maslow's Hierarchy of Needs one should attempt to maximize an employee's potential at work. To feel motivated and give their best in a job employees should feel that they are doing the best they can in that position. You can read more about it here.
Scheduled Surveys to Collect Feedback
The survey method is beneficial to collect employees' feedback about current policies and suggestions for future improvements. Organizations have the responsibility to integrate the most useful suggestions for future policies. A survey indicates, only 40% of workers consider that organizations pay attention to their responses presented in feedback surveys. Therefore, the organization's actions, policies, and future strategies should reflect that employees' feedback is valued. Quarterly or annual surveys are also important to increase the engagement of remote workers.
Profit.co has an extensive feedback mechanism and you can read more about 360 degree feedback here.
Communication Strategies for Remote Workers
Effective communication with co-workers is the single most crucial ingredient for high productivity. Remote workers in FYI's remote work report identify communication, social opportunities, and loneliness as the top three challenges.
Common communication mediums include chat, video conferences, email, and meetups. Mediums can be effective if the quality of communication is maintained. Employees' engagement in communication can be increased by developing a collaborative culture and addressing the challenges, needs, and expectations of workers. The manager should engage workers and teams by encouraging them to participate actively in discussions and also for presenting honest feedback about organizational policies. Detail-oriented and active listening skills can resolve any conflict or dispute among employees. Some of the best practices adopted by leading corporates can be read here.
Understanding New Technologies to Manage Remote Work
Technology transforms the workplace environment to make it productive. The freelancing trend is on the rise. Finances Online estimates the number of freelancers to be more than 64.6 million in the US by 2020 and is expected to reach 90.1 million by 2028.
A survey suggests more than half of small-medium businesses will prefer to increase the remote working options in the future. Therefore, managers will have to select relevant technologies to cater to the needs of freelancers and permanent employees working in a remote environment. Some of the popular communication tools are Zoom, Slack, and FormStack.
To work efficiently remote workers require different kinds of tools. Mobile hardware tools, virtual communication tools, project management, and employee engagement tools. Managers are usually responsible for identifying relevant technical and technological requirements. The organization should arrange appropriate financial resources to deploy the right technologies suitable for the fulfillment of tasks and responsibilities.
Conducting Performance Evaluation and Reviews
Famous management guru, Peter Ducker, has stated: "you can't manage what you can't measure." Managers' performance evaluation methods play a critical role in managing the performance of employees. Performance reviews need to be based on goals set at the start of a project.
Performance reviews based on clearly defined systems, KPIs and objectives enable the manager to identify areas of improvement in employees' performance, practices and policies. Managers can develop an action plan in a situation where remote workers are unsuccessful in meeting the KPI's. Management excellence depends on strategies, initiatives, and positive changes introduced in the post-performance review period. Performance review templates can come in handy to plan and conduct an employee performance review quickly and effectively. For an employee evaluation form to get the right results, it has to be inclusive, fair and objective and you can read more about performance reviews here.
Involvement of Stakeholders
Organizational policies should increase the interest and engagement of stakeholders.
Talent wins games, but teamwork and intelligence win championships.
Performance management and measurement should involve stakeholders' suggestions. Managers have the responsibility to communicate with internal stakeholders like employees and founders and external stakeholders like customers, investors, suppliers, and creditors.
Communication helps to identify the specific project requirements and expectations and then convey to remote workers for the achievement of exceptional results. Managerial skills are essential for developing a comprehensive stakeholder engagement plan. The manager works as a bridge between the external and internal stakeholders to ensure that organizational objectives are achieved.
Sustainable Competitive Advantage
Howard Schultz, the former CEO of Starbucks, has used specific strategies for the achievement of sustainable competitive advantage. These strategies are an excellent source of knowledge for every manager. Howard's journey reflects how innovation in a workplace environment can help to develop a multi-billion-dollar brand. Manager's innovative and creative skills can help to determine new strategies suitable for a specific requirement of the remote work environment.
Employee's capability to achieve defined objectives depends on the manager's abilities to utilize the maximum potential of human resources. Managers should have rights skills and professional experience to determine organizational competitiveness factors to develop a strategic direction for remote workers. Valuable information about strategic direction and objectives should be transferred to workers to monitor and evaluate employees' efforts for the achievement of competitive advantage.
Market conditions in developed and emerging markets have changed. Improvements in employee's performance are vital for organizations to compete and grow in the current business environment. Employee's behavior, engagement, and productivity depend on the effectiveness of organizational policies and procedures.
Lack of managerial skills can create challenges in terms of controlling, monitoring and organizing activities of remote workers. Organizations are responsible for developing suitable training programs to increase the skills and professional experience of managers to supervise remote workers. The returns on investing in training can be high and be seen in the form of new skills in managers and increased productivity of remote workers.
Employees' performance improvement and increase in engagement help to develop strong brand equity to compete in any market conditions.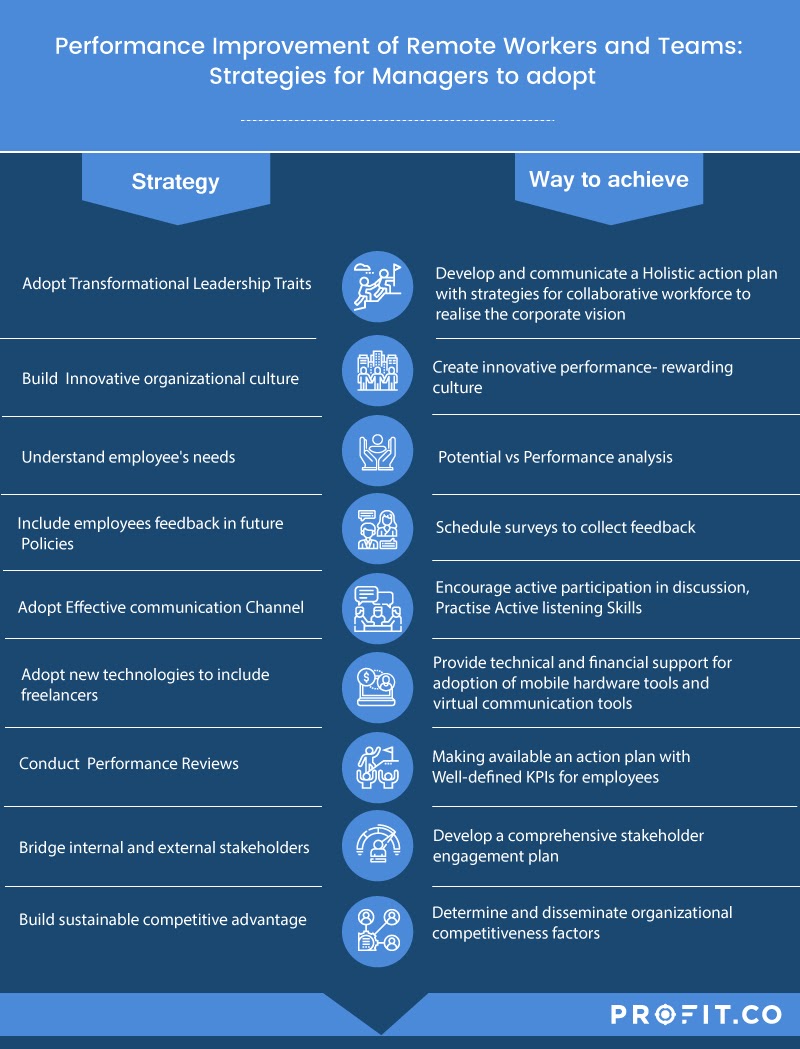 How Profit.co Software can help Performance Improvement?
Profit.co software offers a variety of features that can make remote working easier and more productive, and help employee performance throughout the quarter.
In the Performance Management Module, Profit.co offers employee reviews that encourage a dialogue between managers and employees. These reviews can be conducted quarterly or annually, and offer the opportunity for employees to assess their own progress and performance, as well as receive feedback from peers and managers.
Additionally, the OKR methodology lends itself well to remote work. Business leaders and managers have complete visibility concerning the progress of OKRs within departments, and that transparency enables them to see where things are running smoothly, and where help is needed to get back on track.
Weekly check-ins on key results ask that employees reflect on their progress and are reminded of their goals for the quarter, aligning their day-to-day tasks– even ones done in their home– with quarterly Objectives.