Just as your goals and ambitions are constantly evolving, so can your OKRs also. Our unique and highly customizable OKR Software is equipped to help you manage these changes. When we first determine our OKRs, we focus on things that really matter to the organization. However, during this time, there may be circumstances that require us to adjust our OKRs. When your priorities shift and situations change, Profit.co is ready to help you make the necessary adjustments to your OKRs.
These changes can be attributed to a variety of factors- a change in your product strategy, acquisition of a new client, a natural disaster, and a multitude of other reasons for an organization to shift its strategy. Profit.co supports the following changes to your OKRs:
Changing the target value of your Key Results
Creating new OKRs mid-cycle/period
Moving OKRs to other Employees/Departments/Teams
Moving Key Results
Reassigning Key Results
Moving Objectives and Key Results to the backlog
Deleting OKRs or KRs
Changing the target value of Key Results
During the OKR's time period, Profit.co allows you to make adjustments to your target value when editing your key results. If you make any changes, they will be reflected in the projection graph, which will be auto-adjusted in the check-in window.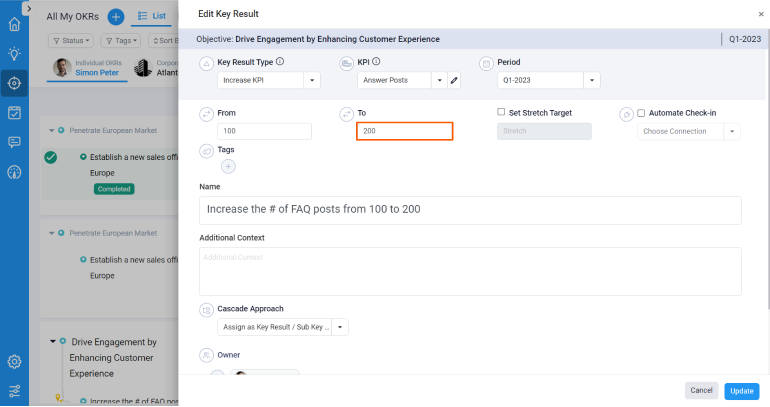 Creating new OKRs mid-cycle
Profit.co provides superusers with the flexibility to control OKR creation access during the period. This allows users to continuously add or modify their OKRs, ensuring that any changes in business priorities or goals are effectively communicated. With this feature, teams can be agile and responsive to changes throughout the period while maintaining alignment with the overall strategic direction of the organization.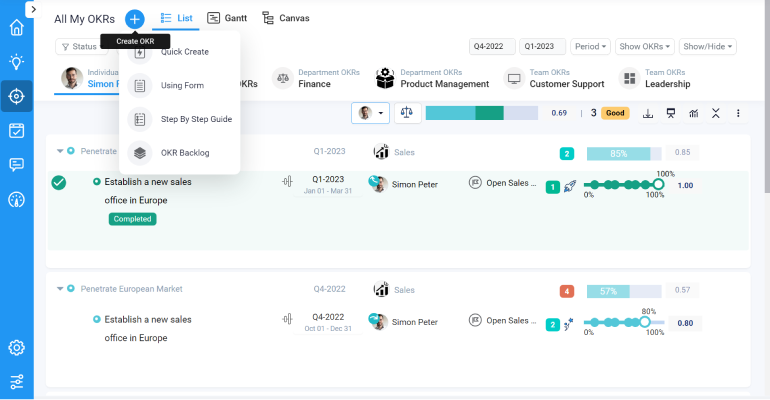 Moving OKRs to other Employees/Departments/Teams
In many instances of personnel change in your organization, you may want to move an OKR from one user to the other. You can move your OKRs by selecting the Objective name from the "All my OKRs" page and pressing the 'Move' button in the top right corner. From there you can move the OKR to another department, employee, or team. However, you cannot move an OKR to the corporate level.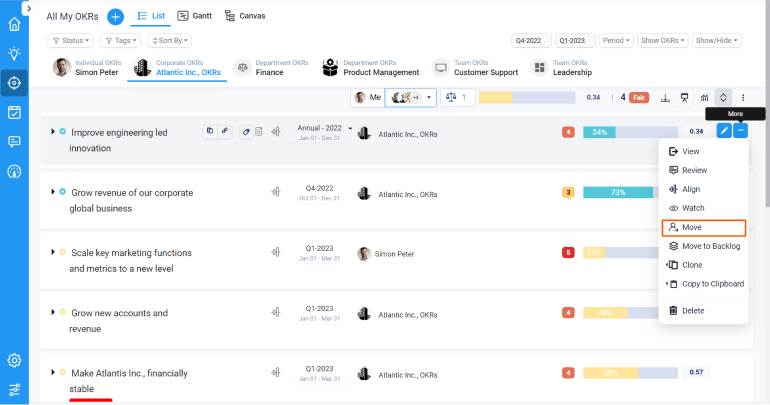 You can also reassign a Key Result that has been assigned to someone else by pressing the 'X' beside their name and selecting a new user, department, or team.
Reassigning Key Results
If someone has assumed a responsibility that connects to one of your Key Results, you always have the option to assign your KR to them. You can either assign your Key Result when you're creating it, or when editing your KR.
To assign a Key Result while editing, press the pencil icon to the right of the Key Result. The editing window will open where you can add an assignee in the "Assigned to" section.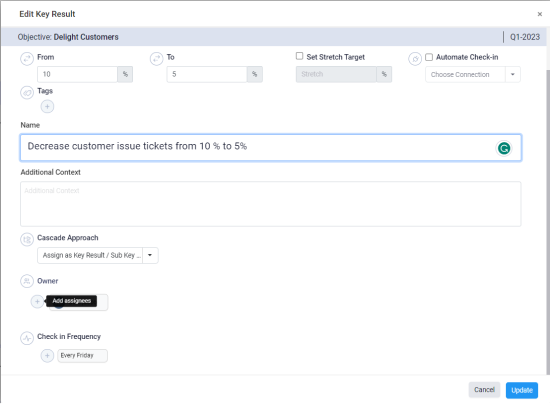 Moving Objectives Key Results to the backlog
If you have well-defined OKRs that may no longer be relevant to your organization's situation, you can always move them to the OKR backlog. The backlog is both a drafting space and a space to move OKRs that you're not ready/able to currently work on. If you decide to move an objective or key result to the backlog, you also have the option to move them back to the OKRs process page at any time.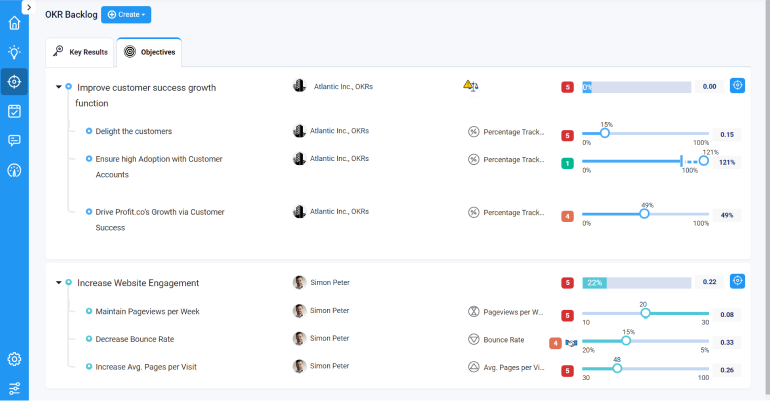 Deleting OKRs or KRs
If your organization's priorities shift and there is no longer a need for an objective or key result, you can delete them completely at any time. To delete an objective or key result, navigate to its view page and press the trash icon in the top right corner.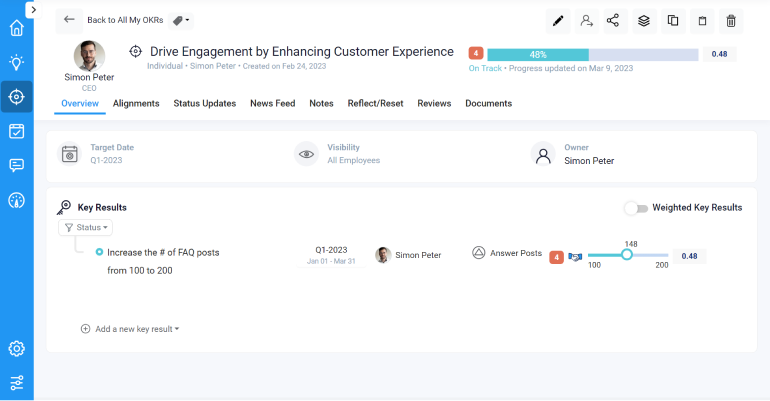 Conclusion:
In conclusion, Profit.co is a powerful tool for managing OKRs throughout the quarter. Its flexibility in goal-setting, alignment with strategic priorities, real-time progress tracking, collaboration and transparency, and coaching and guidance all contribute to its effectiveness. With Profit.co, organizations can adapt to changing business needs and priorities, stay aligned with their strategic direction, and achieve their goals more effectively.
To start your OKR journey for free, Sign Up with Profit.co for free