In today's rapidly evolving business landscape, organizations face many challenges, such as weathering changing market conditions, adapting to new technological innovations, revamping processes, restructuring the organization, and managing unforeseen crises, as they strive to remain competitive and relevant.
Market conditions may change due to geopolitical impacts in a globalized world, shifting consumer preferences, and technological advancements. Unforeseen challenges and crises like the COVID-19 pandemic caused seismic shifts in supply chains, operations, and consumer behavior.
Emerging technologies such as AI and automation have also disrupted traditional business models. They create new opportunities while posing challenges for organizations. Embracing these technologies can give businesses a competitive edge, and resistance to change can leave them behind.
Organizations must prioritize flexibility, adaptability, and agility in their strategies and operations to ensure their survival and success in the long term.
Innovation is the ability to see change as an opportunity – not a threat
Change Management and Flexibility
Change management is the process that helps organizations manage these challenges and better navigate uncertainties and disruptions. It is a crucial aspect that enables organizations to adapt to changing market conditions, emerging technologies, and other challenges. Change management creates a framework for systematically aligning and transitioning individuals, teams, and the entire organization from the current state to a desired future state.
Organizational flexibility is crucial for effective change management as a flexible organization is responsive to changes and adapts quickly to new situations. It can easily adjust to new technology, regulations, or economic environments. The more flexible organizations are, the faster they can adapt to unique circumstances, react to changes in the business environment, and pivot their strategies and operations as needed to respond to these challenges effectively.
Importance of Being Flexible as an Organization
Top ten reasons you should have a flexible organization:
Efficiency

A flexible organization has the innate ability to try new methods and processes, even when they are at their best productively. This quality drives them to adapt to technological innovations and maintain their leadership. This culture of constant experimentation and pursuit of improving processes makes the company more efficient. Greater efficiency brings higher revenues and reduces costs.

Competitiveness

Flexible organizations embrace change and evolve constantly. They are adept at changing as they accept change as inevitable in a business environment and know how to take advantage of changes. It enables them to stay ahead of the competition and maintain their competitive edge.

Strategy

Organizations do not necessarily get their strategies right all the time. However, the difference between successful organizations and the ones that do not succeed lies in their ability to monitor strategy implementation, identify the problems at the right time, and make corrections to the strategy or revamp it before the faulty strategy/implementation could cause a severe impact on the organization. Further, when they have to, flexible organizations can quickly deploy a revised strategy, align the employees, and make a quick turnaround to succeed. They can make quick course corrections even if they face setbacks initially.

Problem-solving and Crisis Management

As flexible organizations do not hesitate to experiment with processes and embrace innovations, the culture of finding solutions to complex problems, finding creative workarounds, constantly improving the processes, and actively looking for innovations is built into them. As a result, they are better at finding and embracing solutions when facing difficulties and challenges during a change.

Work-life balance and job satisfaction

Flexible organizations let employees do their work at their convenience, albeit within the confines of deadlines and schedules. They allow hybrid and remote working, offering a wide range of options. It ensures better work-life balance as employees can lead more fulfilling personal lives, increasing employee satisfaction. Flexible organizations also allow job sharing for more flexibility in their scheduling. It increases productivity and ensures job satisfaction.

Teamwork and resilience

Flexible organizations take a balanced approach to work and have diversity in the management structure. They bring personnel with different skill sets and expertise together and unite them under a single cause. It makes those organizations more robust, resilient, and effective as a team at tackling any challenge.

Preparedness

Being adept at changes, flexible organizations can sense the need for change and prepare for future uncertainties. By keeping work mode, work schedule, resources, and workforce flexible, they manage the impact of adversities much better compared to rigid, centralized organizations. It enables them to manage and maintain continuity during times of crisis.

Reduced use of resources

Flexible organizations reduce the use of resources through hybrid and remote work. It reduces not only power consumption and the use of resources at the workplace but also the environmental footprint by eliminating the need for employees to commute to the workplace.

Employee retention

Flexible organizations often have workplace happiness, better work-life balance, and job satisfaction. These factors prevent employees from leaving organizations. It also reduces the need to hire people and its associated costs. Embracing a flexible organizational culture can be one of the employee retention strategies that can benefit both employees and organizations.

Faster Growth

Flexible organizations constantly adapt to new processes and improve existing ones. They also embrace new technologies to adjust to external conditions and to create a robust work setup in a hybrid working model, promoting collaboration and integrating employees seamlessly into work from different locations and timings. As a result, they are always ahead of the competitors, resulting in better growth and productivity.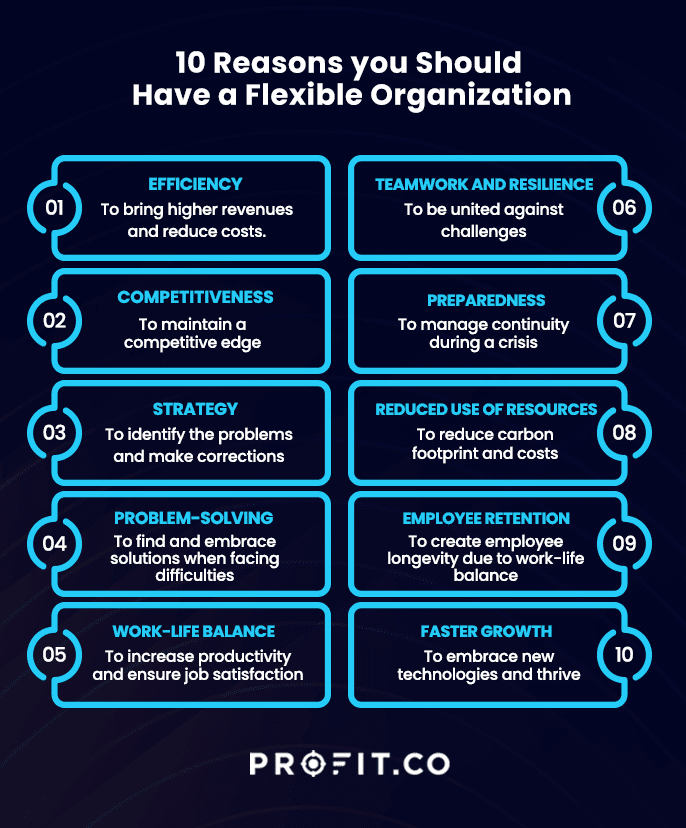 OKR and Change Management in Flexible Organizations
OKR (Objectives and Key Results) is a goal-setting framework that helps organizations set ambitious objectives and over-achieve their goals by enabling teams to focus on the right priorities and measuring progress toward their objectives.
It is highly effective in helping flexible organizations manage change effectively. With OKR, organizations can define highly ambitious objectives and Specific, Measurable, Attainable, Relevant, and Time-bound (SMART) key results to achieve those objectives.
This approach encourages flexibility and adaptability, as organizations can adjust their objectives and key results as circumstances change. By using OKR, flexible organizations can ensure the alignment of their teams around shared goals and focus on achieving measurable outcomes. As a result, the teams, and the organization as a whole, remain agile and responsive to changes in the business environment, maintaining their competitive edge in a rapidly evolving market.
Implementing Change Management Initiatives Using OKR
Implementing change management initiatives can be challenging. Objectives and Key Results (OKRs) can help implement these changes in a structured and effective way.
The following is a step-by-step guide to implementing change management initiatives using OKR.
You can create a sense of immediacy around the need for change with OKR by setting ambitious objectives and timelines for change and providing a short-term cadence to achieve that. You can establish clear implications for underperformance and stress the importance of achieving the objectives to ensure the continuity and success of the long-term strategy.
Change requires leadership and guidance. You can identify the change leaders from different teams and select people with diverse skill sets and expertise to lead the change management effort. Since change flows from top to bottom, the management can leverage OKR to assign team OKRs to this change management leadership group and let those change leaders work with their respective teams to cascade those goals across the organization down to the last level.
The change management leadership team can use OKR to take the objectives assigned to them and create acceptance and buy-in among their respective team members by articulating the team goals and making employees understand the outcomes expected from them in line with the management's vision of the change. Change management can be effectively brought about by implementing your OKRs across the organization.
The change leaders can communicate with their respective teams in detail about the goals they all need to achieve as a team and create clarity on the vision for everyone in the organization. OKR framework provides transparency and allows for top-down and bottom-up communication. As a result, employee feedback enables them to participate in the change and clarifies opportunities, challenges, and limitations in how the management has envisioned change. It also allows the top management to listen to the feedback, adjust the change management strategies, do major course corrections quickly, and achieve realignment if necessary.
OKR empowers the teams to effectively change structures, skills, and systems to achieve their team goals. It also empowers employees to take up their individual goals and targets and gives them the autonomy to find the best solutions and workarounds to solve problems and achieve goals. As self-driven individuals and autonomous teams, they can claim ownership of the change and make progress with minimal intervention from the management.
The workforce remains motivated when the change management initiative produces favorable outcomes and successes. OKR focuses on the collective achievement of outcomes rather than how individuals and teams achieve their goals. As a result, employees can visualize the progress as the initiative moves forward against the overall change management objective. Every important milestone is deemed a collective short-term victory and a reason for a modest celebration. It motivates the teams and builds credibility and trust in the organization.
OKR constantly verifies alignment at the end of every cycle and keeps the change management initiative aligned with the vision. It consolidates small successes from the beginning and connects them to the larger vision of the change. Connecting the outcomes from every team involved creates horizontal and vertical alignment to ensure that teams work together towards the same goals. It helps the organization make the workforce continuously work towards the change in the right direction and take it forward.
Finally, OKR creates a lasting impact by creating an outcome-based culture. Embedding change into an organization's culture allows the workforce to adapt seamlessly. With change as a foundation, desired change occurs habitually rather than compulsively.
FAQs
What is the importance of flexibility in change management?

Flexibility is crucial in change management as it allows for adjustments when necessary. Change is often unpredictable, so adapting plans to unforeseen circumstances is vital for success. A flexible approach can also increase employee buy-in and reduce resistance to change.

Are OKRs flexible?

OKRs are flexible. They can be adjusted as circumstances change, and they encourage continuous feedback and reflection. This flexibility is essential for effective change management and achieving desired outcomes.

What are good OKR examples for change management?

Following is one of the OKR examples of change management.

Objective: Improve employee engagement during a sweeping organizational change.

Key Results

Increase the participation rate of the employee engagement survey by 50% compared to the last survey.
Achieve a 15% increase in the overall employee satisfaction score in the survey.
Implement at least three new ideas and initiatives based on employee feedback to improve their experience during the change process.
Conclusion
Organizations must prioritize flexibility, adaptability, and agility in their strategies and operations to ensure their survival and success in the long term. With the OKR Framework, change is built into the structure and foundation of organizations. Change management requires flexibility, and OKRs assist in allowing an organization to thrive.