What is hybrid culture?
A hybrid culture is a work environment that combines remote and on-site work arrangements. As the world learns to work around the (never-ending) pandemic, hybrid work culture is becoming the new reality.
Let's take a look at some of the challenges that hybrid work is facing.
What are 5 hybrid work challenges and how can organizations overcome them?
A biased approach towards remote employees
Work culture weakens
Connecting remote employees with on-site employees, seamlessly
Being transparent
Good working relationships
1. A biased approach towards remote employees
As the world is grappling with the hybrid culture of work, there seems to be some biases getting in the way of this emerging change; remote employees run the risk of not being treated the same way as those working on-site. Even though so much has changed over the past two years, remote employees seem to be at a slight disadvantage.
This disadvantage translates into lower performance evaluations, smaller raises and bonuses, and fewer promotions than their on-site co-workers. Although both on-site and remote may be working just the same, there still seems to be the notion that those on-site are more committed than those who aren't.
How can this be overcome?
There must be tools that managers can use to correctly evaluate the quality of work done by their team members, irrespective of whether they are on-site or remote. This would ensure equality in remote and in-person performance management. If employees are not given the same treatment,
a hybrid workplace will cease to be effective, as there could be a huge disconnect between being on-site and being productive.
2. Weakening work culture
A hybrid work environment runs the risk of weakened work culture. If the above challenge is true, work culture can mean different things depending on whether the employee is working on-site or remotely. It sends the wrong message to those working remotely. If culture is not clearly defined and embedded through all its activities and actions, it will be difficult for employees to believe in it.
How can this be overcome?
Before things sour, organizations need to review, evaluate and adapt their culture to align with the changing times. The way people work has changed so much since the pandemic, and therefore it is important that organizations evaluate what aspects of their culture need to stay the same, which ones need to adapt, and which ones to remove. While this is not a trivial task, it isn't set in stone either. For the success of the organization, it needs to evolve as well.
Book a free demo with our team to learn more about how OKR software can optimize your organization's performance by helping you evolve and adapt!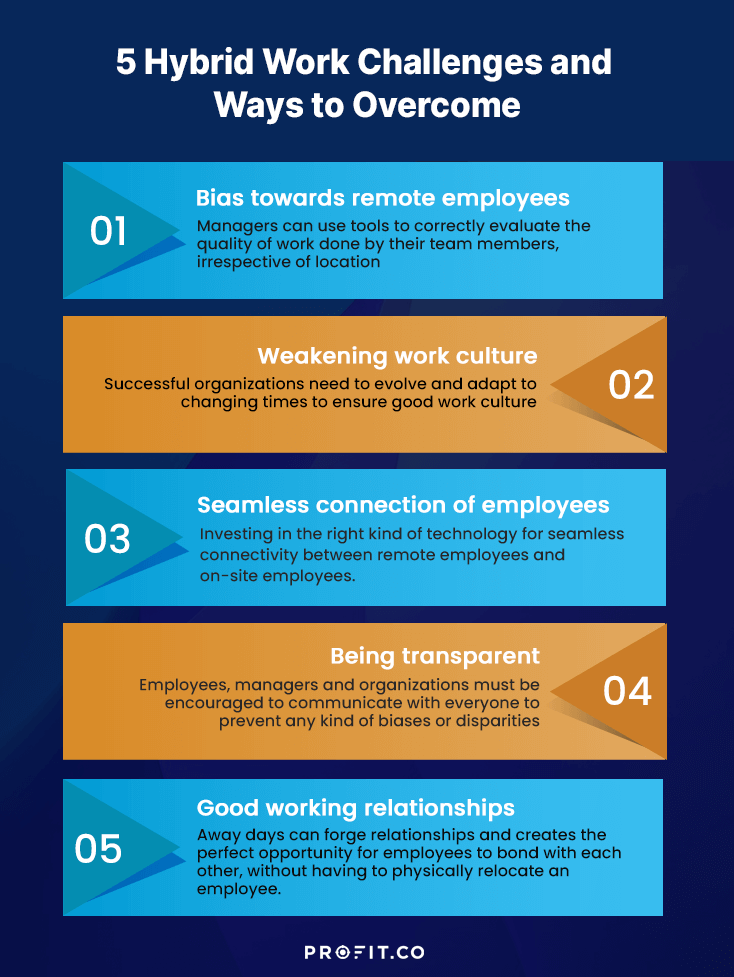 3. Seamless connection of remote employees with on-site employees
Connecting remote employees with on-site employees seamlessly is very important for the business to succeed. If not, there will be knowledge loss, delays, silos and a lot more things that are detrimental to the business. There should only be a few events that employees need to attend in person, which again, ideally should not be a 'must-attend' scenario. Creating a productive connection between both parties is essential.
How can this be overcome?
Investing in the right kind of technology is the answer to seamless connectivity between remote employees and on-site employees.
With the work scenario having changed so much these past few years, technology has caught up to meet the changing work requirements. There are resources available to make the connection between remote employees and on-site employees. One of the tried and tested frameworks to align and execute strategy across organizations is the OKR process. Organizations can set their OKRs to align the teams through metric driven key results to seamlessly connect everyone. All that the organization needs to do is to find the right technology that works for them the best.
Connect all meeting rooms to the organization's video conferencing software. This way those working remotely can engage with everyone in the room, not just a specific person.
Have all meetings include a video conferencing link. Have a few meeting attendees to be working remotely. This 'normalizes' remote working, eliminating biases.
Guide employees on how to conduct meetings for remote employees and on-site employees. This meeting could be conducted by an employee who is working remotely themselves. The end objective is to make work seamless, no matter when or how it's being done.
4. Being transparent
In a hybrid work environment, transparency is more important than ever. Emphasize the importance of open communication. A huge reason for biases creeping in is the lack of transparency. Remote employees must never feel that they are at a disadvantage just because they are not on-site. Transparent communication practices make sure remote and office-based employees remain equal. The inability to have open and honest communication can be a huge setback and can impact the morale of the remote employee tremendously. It is not uncommon for a remote employee to have missed out on important information because it was communicated only in person. Onboarding an agile OKR software to increase transparency and visibility across the organization will go a long way to improve the hybrid workspace. Once the objectives of the organizations are aligned with the key results of employees across the organization there is ownership, trust and cohesive operations. OKR transparency is vital to mitigate the challenges of a hybrid workspace.
How can this be overcome?
Organizations must ensure that every piece of information that is relevant to those who are part of the project or team, irrespective of what their mode of work is, needs to be part of the communication. All actions, outcomes, and next steps of any informal or formal meeting should be shared with all, if relevant.
Meeting notes, whether written or recorded to be shared with all who are working on the project.
Employees, managers and organizations must be encouraged to communicate with everyone to prevent any kind of biases or disparities.
5. Good working relationships
For a business to thrive and be successful, employees must have good working relationships with each other. Employees who have good relationships with each other at work are more productive and more engaged with their jobs. Not being together in the same geographical location or office can be a challenge for forming these work friends.
How can this be overcome?
The value of close working relationships cannot be set aside. Even though it might not be possible for this to happen under the same roof, it is still possible to foster these relationships through away days or day trips. Away days can forge relationships and creates the perfect opportunity for employees to bond with each other, without having to physically relocate an employee.
In Conclusion
Like most things, hybrid work culture has its pros and cons. Given the times we live in, it is important to adapt and adjust and find solutions to make things work without the business having to take a beating for it. Leaders must find ways to overcome the challenges of hybrid work to maximize its benefits for employees and the organization. This becomes a lot easier if the leader puts the workforce at the center of everything – from recruiting and onboarding to engagement and compensation. With the right technology to help build more experience with people in mind, the hybrid nature of work is sure to find success. Our OKR software can provide you with the right technology to help you integrate your hybrid team with the organization. You can get started on Profit.co completely free today!