Introduction
Podcasts can be a valuable tool for your business to reach and engage with your target audience. By creating a podcast, your company can provide informative and entertaining content to build a loyal following, establish thought leadership, and increase brand awareness. Podcasts can promote products or services, host interviews with experts, or share company news and updates.
Additionally, businesses can monetize their podcasts through sponsorships, advertisements, or subscriptions. Overall, a well-produced and strategically marketed podcast can be a powerful bandwagon for any business looking to connect with customers and grow its brand.
Utilizing podcasts is a great tool to continue your education on various topics. Podcasts and OKRs are excellent resources for enhancing and developing your OKR journey, especially from outstanding speakers sharing their thoughts and experience on implementing OKRs within different layers of organizations.
How do Podcasts Act as a Continuous Learning Platform?
Podcasts provide an excellent platform for continuous learning. They offer on-demand content that is easily accessible anytime, anywhere, making them ideal in preference to conferences or workshops. Most podcasts release new episodes weekly, providing current and relevant content to their viewers. The frequency of output allows podcasts to evolve constantly and remain relevant.
Updating OKR Knowledge and Practices Through Podcasts
In your OKR journey, business podcasts that specify OKRs are an incredible resource that unlocks an organization's growth potential. OKR podcasts update you on the latest trends and best practices regarding Objectives and Key Results. By listening regularly, you can gain insights into how other organizations achieve success using OKRs and discover ways to improve your process. Podcasts provide a rare opportunity to listen to other experts, often for free, and help gain new insights and perspectives.
Podcasts are an excellent way to remain up-to-date with the latest OKR best practices and knowledge. Podcast episodes in this genre range from interviews with thought leaders to case studies of companies implementing OKRs. You can easily find topics that will help inform your approach or inspire new implementation ideas. And you can get answers to hundreds of questions that keep popping up on OKRs.
Listening to business leaders on various platforms will create a habit of learning, resulting in invaluable knowledge sharing and personal growth.
Listen to Bastin Gerald, founder, and CEO of Profit.co, on the podcast Action and Ambition, discussing his perspective on leadership and OKRs.
Apple – https://apple.co/3Flq03m
Google – https://bit.ly/3Tl0Yay
How do you transform yourself into an execution machine?
When selecting the podcast episode(s) to listen to, consider the type of information that would most benefit your OKR implementation strategy, then ask yourself the following questions.
Are there specific questions or challenges about implementation that you have?
Is there a particular sector where you feel that gaining insight will help you make informed decisions?
Once you determine these, it's easier to narrow down the episodes which most likely have relevant perspectives and content.
How Can Creating a Podcast Help Your Organization?
Sharing and creating content can help your organization in various ways. Podcasts are not for every organization to create but are a resource and potential tool for success for those where they are suitable.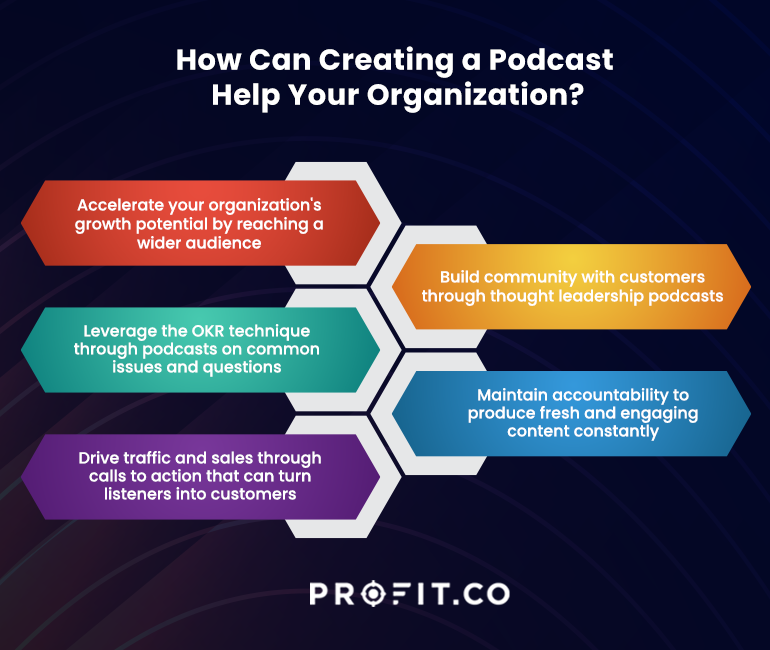 The following is a list of benefits that starting a podcast could bring your organization.
Accelerate your organization's growth potential.
You build a platform to reach a broad audience by maintaining a podcast. With additional content and the ability to communicate via podcast, your organization can gain a larger audience.

Build community with customers
Podcasts have a consistent posting schedule, creating great potential for community building. Listeners can send in questions and comments, which the hosts can address, post comments on forums, and subscribe for notifications of any new content. If viewers have questions about your organization, the host can give personalized and thoughtful answers.

Leverage the OKR technique
OKRs can be created about the content you produce and the reach it obtains. Also, if your content focuses on OKRs, you can dive deeper into discussions regarding evolving strategies in the OKR sphere. With Profit.co's assistance, you can align and measure results for your organization and your podcast growth and see how those intersect.

Maintain accountability
Creating and sustaining a podcast will hold you accountable for consistent content creation. Podcasts require lots of energy and knowing that a community of listeners expects a new episode will motivate you to produce fresh and innovative content.

Drive traffic and sales
Including calls to action in your episodes, like directing listeners to your website or offering exclusive discounts, can encourage listeners to take action and become customers.
Top 10 OKR Podcasts in 2023
Check out the following podcasts to help you on your OKR journey.
FAQs
Why should I make listening to OKR podcasts a routine?
Listening regularly to OKR podcasts helps you think critically about how you can apply the insights in your particular situation. You'll learn which strategies can work with your team and how to tackle your challenges. Listening to podcasts can be an efficient alternative to reading about OKR methodology.

How would creating a podcast help my organization?
Creating your podcast is an opportunity to build community and trust in your organization. With regular releases, a community of learning and brand awareness will develop. With accelerated customer trust, your organization will have an excellent foundation for growth.

How do podcasts help continuous learning?
Both listening to podcasts and creating podcasts require continuous learning. Podcasts are valuable for expanding your knowledge on various topics, especially diving deeper into your OKR journey.
Conclusion
Listening to podcasts provides continuous learning and a platform to engage critically with the topics under discussion. By actively engaging with each episode, you can maximize the benefits from these valuable stellar resources from our business heroes. Starting a podcast is also a great way to continuously learn and utilize the space to connect with customers to have a more open and informed conversation that matters.