Whether you're just beginning your OKR process or you've been using it in your organization for a while, you might've committed a few mistakes. That's because it can be difficult to tell the difference between good and bad OKRs.
In this article, we'll go through the common OKR mistakes and how to fix them, to put your company back on track
Sometimes when you innovate, you make mistakes. It is best to admit them quickly, and get on with improving your other innovations
What Does a Good OKR Process Entail?
Before we discuss common OKR mistakes, it's important to get an idea of what a good OKR process looks like.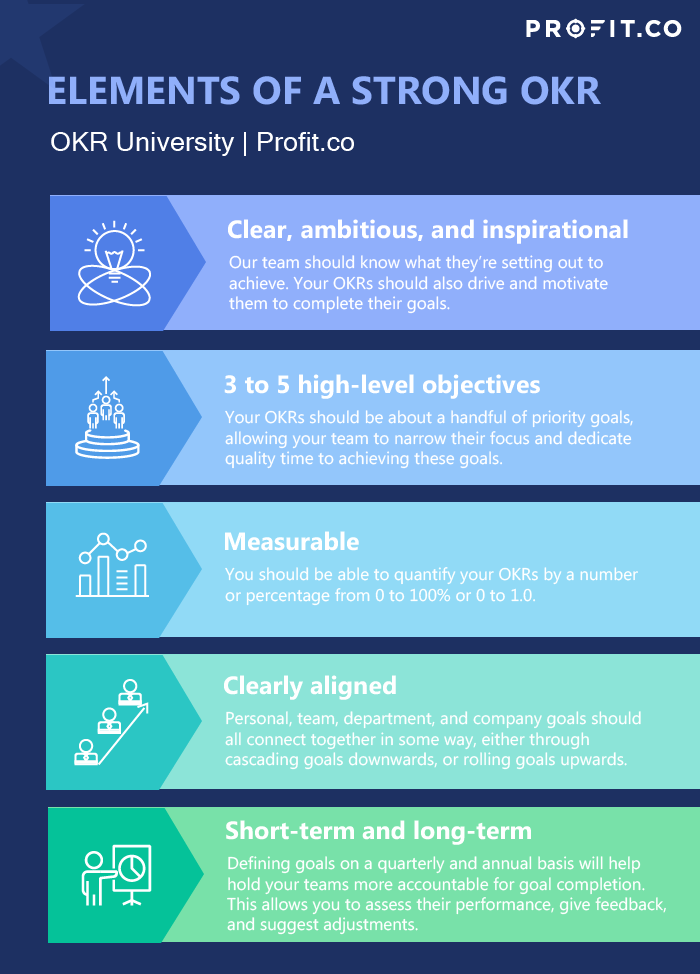 Good OKRs should be:
Clear, ambitious, and inspirational: Your team should know what they're setting out to achieve. Your OKRs should also drive and motivate them to complete their goals.
3 to 5 high-level objectives. Your OKRs should be about a handful of goals that are most important to your organization. Having a few goals will allow your team to narrow their focus and dedicate quality time to achieving these goals.
Measurable: You should be able to quantify your OKRs by a number or percentage from 0 to 100% or 0 to 1.0.
Clearly aligned: Your OKRs should be aligned by cascading goals from the top-levels to the bottom levels, or rolled up from the bottom levels of the company to the topmost levels. Personal, team, department, and company goals should all connect together in some way.
Short-term and long-term: You should define OKRs quarterly or annually. Doing so will help hold your teams more accountable for goal completion. This allows you to assess their performance, give feedback, and suggest adjustments they need to make for improvement.
If you're looking for an agile and intuitive OKR software to help you set and complete ambitious goals, try out Profit.co's OKR management solution completely free for 30 days!
Common Mistakes HR Managers Make When Setting OKRs
Below, we look at the most common OKR mistakes and how to fix them.
1. Not Setting the Right Objectives
When setting OKRs, you should try to strike a balance between easy enough to complete, but not too challenging.
So, if your team is completing all of their goals, it could be a sign that you're setting goals that are too easy. On the other hand, if your team isn't completing enough of their goals, your objectives might be too difficult.
So, instead of trying to reach 100% of your goals, try to aim for 70% to 80% of an objective in a given quarter. In the OKR framework, writing a high-quality OKR is just as important as executing on that OKR.
2. Not Setting Specific Objectives
If you're setting OKRs around ambiguous themes, such as the "customer experience" or "ecosystem", then you're not setting goals that are actionable and measurable. You should set goals that you can come back and look at to see if you've met them.
For example, if you want to "Delight Customers" (objective), you could aim for a net promoter score (NPS) of 42 or better (KR1) and an order rating of 4.6/5.0 or better (KR2).
Setting a specific goal and a benchmark for that goal gives you a clear picture of how to meet your objectives. Ensure that you set quality key results for each of your objectives that help you measure the success of your goal throughout the quarter.
3. Counting all Your Work as OKRs
Never make your OKRs a complete list of every task your team needs to complete. Things like fixing bugs or closing out the quarterly books are "business as usual" objectives that don't need to be a part of your OKR strategy.
That's because they're just small tasks that your team members could complete in an afternoon. Real OKRs take time and teamwork.
So, if your task is to fix bugs, a good key result might be to improve response time on consumer-reported bugs by 15%.
4. Setting and Forgetting Your OKRs
Setting OKRs is only half the battle. You should be up-to-date with the progress of your key results. If not, you won't know how your team is doing when it comes to completing OKRs.
To fix this mistake, consider creating a weekly routine to discuss and review OKRs with your team. That way, you'll know where your organization stands regarding OKRs during the current quarter. It's a good idea to follow a review methodology like the PPP framework, where reviewers catalogue Progress, Plans, and Problems for each of their OKRs and, as a team, work to help goals progress faster.
5. Focusing Too Much on OKRs, and Not Enough on the Big Picture
When HR managers don't align their team's personal goals with company objectives, it can be easy to lose sight of the bigger picture. A team member can set a personal goal.
But if they're not clear on what the goal does for the company, attaining that goal could be difficult. That's because they might not know the steps and actions they need to take in order to complete the goal.
To address this problem, be sure to communicate with team leads and let them know the role they play in the bigger picture. It can also help to host a meeting every time you create a new OKR so that everyone is on the same page.
6. Setting Too Many OKRs Per Quarter
It can be easy to get over-eager when it comes to setting OKRs. You likely want to complete as many goals as possible for your organization. However, setting too many per quarter can actually do more harm than good.
If there are too many objectives to focus on, the results can be counterproductive. Instead, your team may end up having problems managing their workload, which can harm their ability to focus.
Try to limit a focus on around 3 to 5 objectives per quarter. This will allow your teams and contributors to zero in on a manageable number of goals. Increasing focus will increase productivity within your organization.
7. Not Setting Measurable OKRs
If you're not attaching a number to your OKRs, chances are, you won't be able to measure them later.
Making your OKRs measurable can help you quantifiably connect them so that you can see progress you've made towards your objective.
To set quantifiable OKRs, stay away from vague key results like "connect to scalable channels for customer service". Instead, be more specific and make it measurable. For example, you could aim to increase self-service contacts by 95%.
The Importance of Using a Good OKR Tool
If you're looking to create an effective OKR strategy that drives real results, it's best to use reliable OKR software.
Without this solution, you'll likely run into problems, leading you to make mistakes that set your team and organization back.
Using an online OKR software, you can be more effective and efficient when it comes to managing team members, processes, and performance. You can do this all within one app: Profit.co's OKR software. Schedule a free demo with one of our OKR experts today!