Over the last few decades, interest in and use of OKRs has skyrocketed. Objectives and Key Results originated at Intel, with Andy Grove and John Doerr, and have gained popularity with the publication of Doerr's 2018 book Measure What Matters.
In this book, Doerr outlines the five key elements needed for OKR implementation and success— these can be summarized in the acronym "FACTS" which stands for Focus, Alignment, Commitment, Tracking, and Stretching.
Lack of direction, not lack of time, is the problem. We all have twenty-four hour days.
We believe the first element, "Focus" is the most important guiding principle when setting up OKRs at your company.
When companies first hear about OKRs, they are excited to launch all the departments across the company. In their zeal, they decide to go all-in on OKRs, meaning they create and roll out too many OKRs on their very first attempt.

However, what makes OKRs so successful is not the volume or quantity of OKRs — but making sure you are setting up the right one, i.e., prioritizing quality over quantity.
Having too many OKRs can look good on paper when you first roll it out. However, teams soon find out that the enthusiasm dies off. The departments and teams are confused about exactly which goal to focus on and prioritizing the right activities. The worst-case scenario is that when companies get overwhelmed with too many OKRs, they soon abandon the methodology.
We encourage our clients and OKR-newbies not to choose more than 3 to 5 OKRs for any given period.
Quality also means making sure you choose the right goal with both short-term and long-term impacts on your company's growth, brand, image, etc. Companies should avoid setting and tracking one-dimensional goals.
A commonly talked about example of one-dimensional goals in the OKR community is that of Ford Pinto. To compete with the influx of Japanese cars, Ford wanted to create a low-cost automobile for the masses, priced at $2000. To meet management's stringent demands of a low-cost vehicle — product engineers sacrificed critical safety aspects. The results were disastrous. The model had to be shelved in a few years because of many accidents and subsequent lawsuits.
Ford did set an aspirational goal, but they forgot a crucial thing — the importance of safety.
We also notice similar goal-setting mishaps from Silicon Valley companies. For example, for many years, Facebook's motto was "growth at any cost"– to ensure that the social media giant grew exponentially and maintained a dominant market share. We don't need to go into much depth to discuss Facebook's policies' disastrous societal and political impacts. Since then, Facebook has changed its stance, and now they prioritize other essential aspects, i.e., user privacy.
Management teams often struggle to strike the right balance between Big-Hairy-Audacious-Goals (BHAG) and SMART Goals. One is aspirational that challenges the status quo, while the other focuses on attainable goals.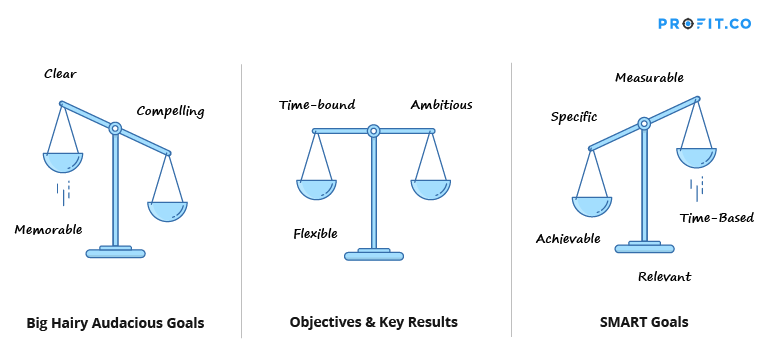 OKRs are a perfect balance between both.
So, yes — you can set up aspirational and world-changing goals. But you also need to ensure that they help advance other vital characters such as user experience, customer success, shareholder value, product superiority, etc.
Objectives (the "O") in OKRs are the goals or the aspirational targets that you choose for that period (either quarterly or annual).
Here are a few examples of ambitious Objectives set by some of the most successful companies:
Microsoft: Power 1 Billion devices on Windows 10 by 2018.
The Gates Foundation: Eradicate Malaria by 2040.
Intel: Establish the 8086 as the highest performance 16-bit microprocessor family.
Nuna: Create a healthy and productive work environment for more than 150 employees.
Please note that Objectives don't have to be just numeric or quantitative; they can also be strictly qualitative. Here are a few examples:
MyFitnessPal: Help more people around the world.
Intuit: Enable every Intuit worker to make decisions based on "live" data.
Nuna: Continue to build a world-class team.
The Key Results (the "KRs") in OKRs are the specific results you must measure and work on to help you achieve the Objective.
For example, here are the Key Results for Nuna's Objective (Continue to build a world-class team):

Objective
David Griffin
Continue to build a world- class team
Visibility: All Employees

Key Results
Q2-2021

# of engineers
Hire a Commercial Sales Leader
Annual-2021


Hiring Process
Maintain at least 100% of candidates
Annual-2021


At least 100% of candidates
The Key Results for each Objective must be quantifiable and measurable. Each of the Key Results must align well and bring more cohesion amongst teams and team members to help achieve the chosen Objective.
Here's an example of Key Results for an Objective for the Customer Success Team "Improve the user-onboarding process."

Objective
David Griffin
Improving the user-onboarding process.
Visibility: All Employees

Key Results
Decrease average time to complete onboarding from 20 minutes to 5 minutes
Q2-2021

Average time to onboard an employee
20 Min(s)
5 Min(s)
16 Min(s)
27%
Increase the number of user who complete onboarding in the first attempt from 60% to 95%
Annual-2021


# of signups
Increase the # of blogs and pop-up tutorials related to on-boarding from 5 to 15
Annual-2021


# of blogs
As you can see from the above example, each KR is specific, quantifiable, and measurable. These are quality Key Results.
Another essential thing to consider is not to set up too many Key Results for each Objective. Doing so might confuse and distract your team from focusing on the right activities.
We recommend that you don't set up more than 3 to 5 Key Results for each Objective.
Paying attention to the quality of your OKRs and ensuring that you hit on the most important priorities for your organization when getting started with OKRs should be of the utmost importance for you and your team. Staying focused on what matters most will help you achieve more with your OKRs.