Aligning Procurement Goals in Supply Chain Management
When one thinks of Supply Chain Management, it's perhaps common to think of its most basic function, which is purchasing goods and services for your own company's product. The main term covering this aspect is procurement, and, like any other part of the supply chain, it can have its own set of complexities and goals. However, there are ways to make solving these stopgaps easier, as we will discuss here.
What is Procurement?
Those who work in the supply chain use other terms interchangeably with procurement, such as purchasing and sourcing. It should be noted, though, that these terms are part of the overall procurement function. Procurement includes the following processes:
Sourcing
Acquisition
Settlement
Analyzing procurement data
Future spending planning
Well-conducted procurement is vital to a business and can directly contribute to the company's profitability. In essence, it helps the business find the best matching and reliable supplier of materials or services at a competitive price.
For example, you are a business providing an online secondhand clothing marketplace. You have expanded your business further, but now you must deal with more clients and their online profiles. One of your chief concerns is data security and currently don't have any in-house experts for a project of this scale. This is where your procurement team researches and shortlists a list of data security vendors, whether it be someone who comes in and does the work or a company that provides its application. The procurement team ensures they get the best deal for your preferred period and negotiates.
Automation applied to an inefficient operation will magnify the inefficiency.
Types of Procurement
The previous example only showcased one type of procurement, while there are multiple others:
Direct Procurement: Sourcing materials that are essential for the end product, such as raw materials and components. A good example would be how retailers frequently source from wholesalers.
Indirect Procurement: Purchasing materials that do not directly affect the profitability of the company and are instead for the day-to-day operations. This includes furniture, office supplies, advertising campaigns, etc.
Goods Procurement: Any type of "good," even things like software subscriptions, can also fall under indirect and direct procurement.
Services Procurement: Your company may need to contract the services of security services, law firms, labor, and other skills not available in-house.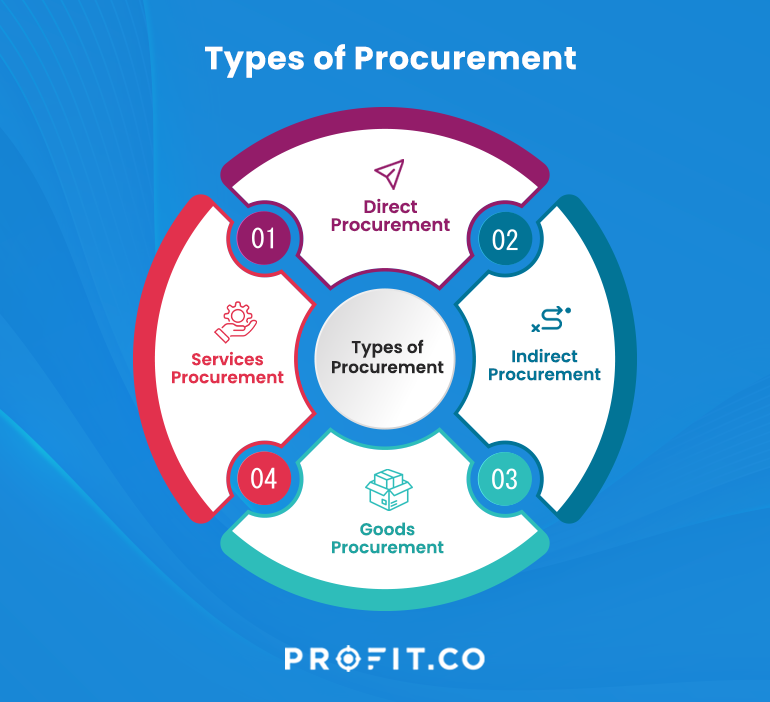 Through your work, you will inevitably have to engage with the different types of procurement, as it is essential to the operation of any business. Furthermore, this work will put you in contact with almost every department in your business. Regardless of the type of procurement you need to do, the process remains the same and can be condensed into 9 essential steps. Regardless of the size of the company, you'll find procurement managers stick to these steps as they remain the same in every business:
1. Identify what the company needs
2. Submit a purchase request
3. Review and shortlist vendors
4. Negotiate price and terms of contract
5. Create a purchase order
6. Receive goods
7. Three-way matching between purchase order, order receipt, and invoice
8. Approve the invoice and make the payment
9. Record all details
All the steps taken during procurement can be seen as the procurement life cycle. It's important to remember that while the steps seem separate, there is a lot of cross-over in terms of functions and tasks, which means collaboration is necessary.
5 Main Procurement Goals
The ultimate goal of those who work in procurement is the seamless integration of their function with the rest of the business. The work is continuous and not always linear, with the added complications of changing suppliers, costs, and availability.
So, if you are working in procurement, you are likely to have the same general goal:
Reduce risk
As you would see in Supply Chain Management, the procurement process is vulnerable to external risk. This could be from a volatile market, unreliable suppliers, or general disruptions.
Lower costs
Procurement's ultimate goal is to obtain the best deal at the ideal price point. The results of your efforts are usually seen in the result when the final product is sold with greater profit.
Reliable quality
You could choose the cheapest deal but it would be pointless if the quality of the materials is not maintained. Any costs saved here would end up increasing again from returns and a loss in your customer base.
Decrease time for the life cycle
As your company grows, your procurement life cycle should become efficient.
Reduce complexity
Identifying bottlenecks in your procurement process should encourage you to find ways to subvert them.
These goals would also be quite familiar to those who work in Supply Chain Management and they would be looking for similar solutions as well. Normally, the go-to answer would be to rely on KPIs and other quantitative solutions to evaluate the effectiveness of your procurement process. However, you might find yourself wanting not only to improve your processes but also to change them from the ground up. Rather than simple solutions, you want to enact systemic change and create a structure receptive to aspirational goals.
The ideal methodology for this is the OKR methodology, that is, Objectives and Key Results. Like KPIs, they provide a quantitative process to measure progress. However, they take it one step further to encourage employees to reach aspirational goals. You do not want your employees just to improve, and you want them to critically approach the problem and then find creative ways to solve it. Success is not only found in achieving a goal but also in the attempt to solve it.
Implementing OKRs in Procurement
How would we use OKRs in the procurement process?
One of the OKR methodology's greatest strengths is its scalability and ability to align an organization toward one goal. So, let us say you are a procurement manager looking to implement OKRs in your team.
Here are steps you could follow
1. The Objective
We first have to understand what your company is working towards so that you can figure out how you can contribute to that. As a procurement manager, you know that you can have a significant impact on profit, and we have already listed the goals that procurement managers typically think about. Let's use
Objective: Reduce defective products by 10%
This objective is the same as improving quality but is also measurable.
Brainstorm
A well-designed OKR takes input from all team members. Depending on the size of your procurement team, you either involve everyone or just the heads of the different teams. During this part, you take input to form Key Results. In what ways can procurement reduce faulty products?
KR1: Reduce the defect rate from 8% to 7.2%
KR2: Decrease monthly rework hours from 40 to 36
KR3: Reduce customer complaints from 20 to less than 18 per month
Communication
Once you have decided on your OKR, ensure everyone in your department is informed and can also give feedback. OKRs are meant to be adjusted.
Encourage creating your OKRs
Your team members should be free to create their OKRs in service to the ones you set. Progress can only be achieved if you know where you went wrong. Typically, an OKR is evaluated every quarter with check-ins every week. This allows for alterations in the Key Results if you feel it wasn't efficient before.
At the end of this process, you should have a better understanding of your team's strengths and will have aligned them better toward your overall goal. A team that is committed and collaborative can only help achieve your objectives.
Conclusion
In conclusion, aligning procurement goals within supply chain management is not just a strategic necessity; it's a blueprint for success. As we've explored, procurement is pivotal in reducing risk, cutting costs, ensuring quality, streamlining processes, and simplifying operations. It's a dynamic function that demands creative solutions to meet these multifaceted objectives.
Objectives and Key Results (OKRs) as a framework to enhance procurement performance underscores the importance of innovation and aspiration. OKRs not only quantify progress but also inspire a proactive approach to problem-solving. This holistic approach to procurement transformation not only drives efficiency but also fosters a culture of continuous improvement and collaboration.
In a world where supply chains are ever-evolving, organizations must recognize that aligning procurement goals isn't merely a checkbox on the to-do list—it's an ongoing journey toward excellence. By embracing change, setting ambitious objectives, and working collectively, procurement teams can become catalysts for positive transformation, ultimately leading to enhanced organizational success in an increasingly competitive landscape.