No business is immune to recession, but only the best-prepared companies survive and thrive. The effects of the Covid-19 pandemic, global conflicts, political changes, energy regulations, climate change, and many other factors drive today's hardships. Managing recession with OKRs is vital to keep businesses afloat. Let's look at how OKRs can help your company navigate the effects of a recession.
Overall, OKRs are meaningfully framed Objectives and Key Results designed and tracked to improve business performance. The definition of OKR is to set objectives for the future and measure those objectives with Key Results.
An Overview of How Recession Can Upend Economy
In simple terms, a recession means a shrinking economy. You can describe it as a declining gross domestic product (GDP) over two consecutive quarters or at least lasting more than a few months. Recessions are a normal part of economic fluctuations, but small businesses are more vulnerable to their impacts than larger companies.
The effects of a recession include:
Poor Sales

During a recession, consumers have less spending power. Job losses and increased inflation lead us to spend less and save more, creating low market demand. This translates to low sales for most businesses, regardless of their industry. In response, companies opt for budget cuts, layoffs, and product discounts to protect their bottom line.

Higher Lending Risk

Businesses find it harder to get credit during a recession because lenders become more selective. Companies experience a slowdown in profit, meaning they can't make loan payments as before or even default on their loans altogether. Refinancing options become harder to find, thus increasing the chances of bankruptcy.

Pay Cuts and Job Losses

Fewer workers are all you need in production if there's less product demand. However, the workload increases dramatically for the remaining employees, who often must cope with lower wages. These strategies may benefit multinational companies, but small businesses must maintain income and human resources.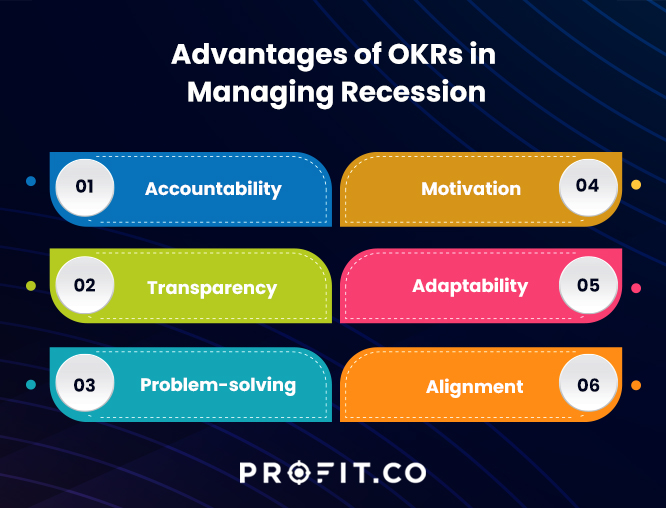 OKR Strategies to Navigate Recession
Objectives and key results (OKRs) are an innovative way for businesses to handle economic downturns. OKRs make your company creative, agile, and goal-oriented in the face of uncertainty.
Managing recession with OKRs offers benefits such as:
Accountability
Transparency
Problem-solving
Motivation
Change management
Alignment with the company's vision
The OKR framework is a recession-proof strategy that enables you to pivot during difficult economic times. OKR management works perfectly for managing company spending to allow businesses to cushion their bottom line during recessions.
Contact us to discover how to leverage OKRs today.
Here are some examples of OKRs for spend management:
Fortune favors the prepared mind
Objective: Enhance spending visibility
Key results:
Use corporate debit cards for 50% of invoice payments
Integrate spend management software for all departments
Streamline expense tracking with mobile receipt scanning for 100% of out-of-pocket transactions
Objective: Manage indirect spend
Key results:
Implement spending caps for every department's budget
Integrate one procurement system for all purchases
Establish a spend management procurement policy for 100% of purchases
Objective: Streamline reconciliation
Key results:
Automate expense tracking with spend management software
Improve credit card reconciliation efficiency by 20%
Integrate real-time expensing to eliminate 90% of expense reports
Expert Tips for Managing Recession with Okrs
Any business operation can use OKRs as a recession-proof extreme measure, from sales and marketing to logistics and supply chain management. Here are some OKR management tips to help you maintain your business through economic uncertainty.
Rely on Customer Feedback

Businesses that add value for their customers can weather economic downturns. Ask your customers about their needs if you need clarification about how to pivot your products or services during a recession. Use OKRs to design your marketing and customer service strategies.

Prioritize Effectiveness

The OKR framework can improve your workflow to make your company lean and agile. A recession often means that the old business processes no longer work, so your team needs clear, measurable objectives to overcome challenges.

Pay Attention to Industry Trends

As a general rule, how large corporations react to a recession influences how small companies respond. For example, a multinational opts to lay off employees or close some office locations or factories, and a small business should therefore brace for the impact of these changes. Use OKRs in contingency planning to reassign tasks to your team, set achievable deadlines, and keep communication flowing smoothly as the marketplace changes.
Conclusion
Businesses that define their objectives using OKR management increase their chances of surviving an economic downturn. Instead of surrendering to market forces, stay motivated to overcome the recession with the right metrics to track your progress. Begin managing recession with OKRs with Profit.co. Our OKR software helps you to create achievable goals to succeed where other companies fall short.