If you want to go for a quick weekend getaway, there are two ways of doing it. You can select your destination, get into your car and start right away. The problem with that approach is that you will drive at your own pace, you will be indecisive about your route and direction, and no one will know your ETA, where you will take a break, or how you can avoid or manage foreseeable obstacles. This approach is not ideal for anyone trying to take a trip over the weekend.
If you do what you've always done — you'll get what you've always gotten.
Alternatively,you can select a destination, plan out where you should stop for fuel and food with your travel companions, share your GPS location so others will know where you are at any given time, and create a schedule to reach specific checkpoints in the trip. You can also measure fuel consumption levels and other vital parameters to travel efficiently. This kind of planning and execution will help you reach your destination faster and improve your driving at the same time.
Working in a start-up that has adopted the OKR framework is no different.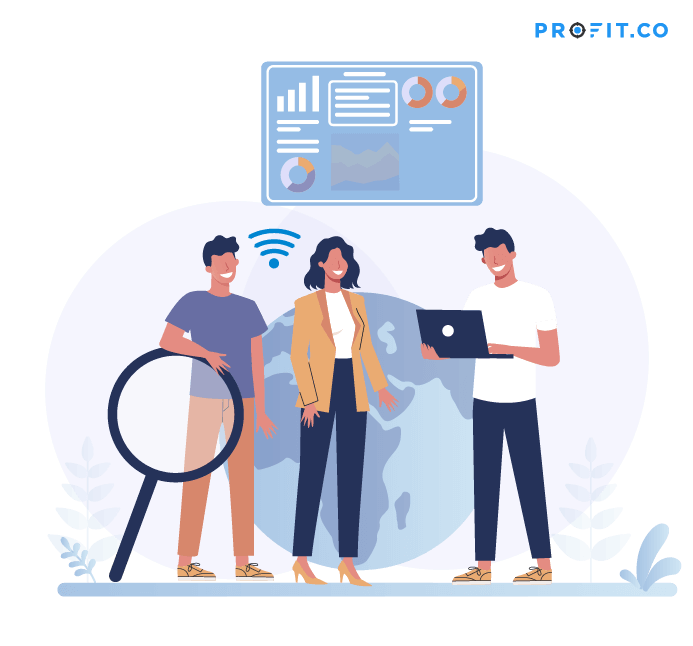 To execute your strategy using quarterly OKRs, you must:
Define your objective, which will be your destination
Break the objective into trackable outcomes to be completed throughout the quarter, similar to fixing a schedule to reach selected checkpoints en route
Communicate the your goals to the entire company or team, the same way you would share the plan with your co-travelers
Align all the team members to the goals, like you would come to an agreement about travel plans with all your travel companions.
Describe the methods to reach those goals, like you would mark your route on a map.
Track the progress against the goals, like you track progress using your GPS location.
Measure outcomes the same way you review your speed, fuel consumption, and expenses.
Constantly evaluate performance and push towards productivity and efficiency, like you would strive to keep on pace with your travel plan.
The right OKR software allows you to do all of that. Objectives and Key Results are extremely useful for start-ups with ambitions seeking scalable business practices. OKRs enable business growth, as they allow you to constantly push your workforce towards greater performance through effective goal-setting and improving performance multifold. It makes you aim higher, enables you to realise the full potential of the workforce, and ultimately helps in scaling business.
OKRs : Scaling and aligning your people with your ambitious growth goals.
OKR stands for Objective and Key Results. OKR is a simple, yet powerful framework for setting and tracking goals. The OKR framework helps teams align priorities at each level of an organization with one another, so the entire business is contributing towards the most important goals, together. This process provides clarity on what needs to be achieved at individual and team levels in order to achieve top business priorities. This systematic approach towards every objective improves the performance of the organization at all levels and results in exponential business growth.
OKR gives the managers a bird's eye view of the status of every project and goal at individual level. It also gives actionable insights on how everyone is performing and helps the growing organization make progress towards the overall objective. As a result, the smaller businesses and start-ups can effectively have control over the performance of the employees and progress they make as an organization.
How to set ambitious goals using the OKR framework.
The objectives and key results set for each quarter should be in line with the organization's strategy and core values. You can select these goals, communicate with your team, brainstorm, and finalize the goals based on feedback from employees at all levels. This will encourage ownership of the goals and increase employee engagement. It is key for small businesses and start-ups to operate at the highest level and punch above their weight. OKR goals should be flexible, clearly defined and easy to track and measure.
To ensure that you are setting well-written, strong OKRs, you can follow take a look at SMART Goals:
Specific: Your goal should clearly specify what you want to achieve. For example, you can set the goal to find 1000 new customers for the product within a specific timespan. For a start-up, this is a beginning of the journey, aiming a number always gives a clear target to begin with.
Measurable: Key Results should define how they can be measured. For the above mentioned target, you can measure the number of units sold and the number of new customers found using the sales data and compare against the targets at any given time.
Achievable: The goals in OKR should be achievable but not too easy. They need to challenge the employees, while making it possible for them to meet them by performing to the best of their abilities. For a start-up, calculated risk taking can be rewarding. Achievable but challenging goals are the key to growth for start-ups.
Relevant: Key results should be aligned to the objectives. Even if you can progress fast towards your key results, it makes sense when you move in the right direction. For that, the key results should be aligned to the objectives in the first place.
Time-bound: If you want to track progress and reach milestones, you need to first set a reasonable deadline for the tasks. A goal reached too late will bring great setbacks, which can be quite damaging for a start-up that is under pressure to get things right in the first attempt. Right deadlines bring in the urgency to complete goals within a specified time, which puts the onus on employees to perform at the highest level.
How OKRs help start-ups and small businesses in scale their business rapidly
Start-ups are usually small businesses with high aspirations. They usually start at a small scale with bright ideas and great energy to achieve big things. But without a direction and proper allocation of clear goals, they can lose their way easily. Also, it's not uncommon for start-ups to have young, unseasoned teams, and face many unknown variables when it comes to teamwork and core values. These attributes can take some time to develop– so, it's important to ensure that the business is united under common goals to help drive progress.
Objectives and Key Results are a perfect fit for small, growth-oriented organizations, because OKR gives a lot of clarity over the direction of the organization and promotes a goal-driven culture of productivity combined with transparency and accountability at individual level.
OKR solves the growth challenges of start-up organizations by:
Channeling the energy and innovation potential of employees into real work and productivity
Giving employees a sense of direction
Aligning the teams to goals
Creating a processes and culture that fosters teamwork
Holding employees accountable for their performance
Encouraging individuals to perform beyond their capabilities
Helping the business achieve growth quickly
Benefits of OKR for start-ups which result in high performance and faster growth.
OKR offers numerous benefits for start-ups and small businesses. Some of them include:
1. Goal-driven performance culture
OKR helps to constantly push everyone towards the goals, one after another. This inculcates a performance culture that enables employees to constantly perform to the best of their abilities and seek the next challenge.
2. Teamwork and communication
For a team to operate efficiently, coordination, communication, and teamwork are all crucial. OKRs clarify important team tasks and get individuals to contribute to those tasks working in tandem with the teams.
3. Alignment of workforce to objectives
OKR brings a uniform understanding amongst the employees with regard to what the objectives are, how they can be achieved, and how individuals and teams play their part, uniting everyone under a common purpose, which is a determining factor in the success of a start-up.
4. Focus and commitment
With a clear sense of purpose and alignment to objectives, the employees of the start-up can quickly focus on tasks in hand. This increases commitment to the objectives and encourages unwavering pursuit towards the goals.
5. Innovation
Since the objectives in OKRs are always ambitious and challenging, employees usually have to think out-of-the-box to come up with innovative solutions to tackle the challenges. This not only brings out innovation from the workforce, but also fosters a culture of innovation, which is the key to business growth.
6. Measurable and actionable outcomes
OKRs makes it possible for start-ups to measure progress precisely and gives them the control over their performance. It helps them tweak operations and realign employees whenever needed, making those organizations highly adaptable and agile.
7. Transparency and Accountability
If a business manages their OKRs on an agile OKR software, they can use informative dashboards that provide detailed insights into progress made at all levels of the organization. This makes progress visible to everyone, ensuring complete transparency that drives employees to take responsibility over their performance and progress. Profit.co's intuitive and agile OKR software provides dashboards and other features that make managing your OKRs easier than ever. You can try Profit.co completely free for thirty days by signing up today!
8. Scaling Business
Start-ups usually operate on a small scale with a compact workforce. OKRs accelerate the progress of the organization and enable rapid business growth. This makes start-ups hire more people, expand their operations, set even more challenging objectives, and scale the business. OKRs trigger this healthy chain reaction of progress, consistent growth, and expansion.
Achieve growth using OKR
Growth can be achieved in many ways, but you can achieve only what you aim to achieve. The OKR framework is extremely important for start-ups because it encourages teams to habitually aim beyond what is possible. This can channel organizational energy towards expanding growth and meeting ambitious goals. This attitude encourages reasonable risk-taking and innovation to solve complex problems and achieve extreme targets. It creates an environment where employees accept failure and mistakes, and use lessons to iterate their approach to goals. Throughout this process, businesses can learn to find creative solutions to issues, and work to lay the right foundation.
Google's founders put the OKR framework to good use. They had a separate department for 'moonshot projects'. They were not necessarily projects related to their core business, but instead created these projects to innovate and attempt to solve technological problems. If they succeeded, the core business could adopt these projects. Start-ups can learn a thing or two from this with regard to adopting this attitude and approach in their business model.
By adopting Objectives and Key Results, start-ups can:
Create solutions that never existed for a complex problem
Create a new market for the solutions and gain leadership quickly before competitors arrive
Aim 20x more and achieve 10x more progress compared to the incremental growth attitude
Institute an achievement and learning culture
Aim for stretch goals and create a working plan to achieve them
Come up with radical innovations to solve monumental problems
Achieve business growth and scaling in a short period of time
Start-ups can gain a massive advantage by adopting the 10x attitude and using great software to implement the OKR framework in their organization. To try the most intuitive OKR software on the market and get started with the OKR framework, you can book a free demo with our OKR experts!