Now more than ever, the business landscape is changing. Businesses are rearranging their company culture, employees are reevaluating their career trajectories, and the residual effects of supply chain interruptions still create roadblocks in many industries. It's become more important for businesses to find the most effective way to manage their business and remain agile during this time.
Success can be attained in any branch of human labor. There is always room at the top in every pursuit.
Challenges in Managing Business
With the increasing changes in business modes of operating, there are many challenges that entrepreneurs might face including:
1. Being Uncertain Concerning the Future
It is impossible to predict the clientele and market trends with 100% certainty. With time, customers tend to change their purchasing and consuming behavior, directly affecting business operations. As a result, unprepared organizations end up closing or even laying off some workers.
2. Poor Communication
Lack of effective communication is quite a big challenge that managers face while supervising. Every person has a unique personality, resulting in a high chance of miscommunication.
3. Substandard Teamwork
From time to time, workers lose their focus and fail to work collaboratively with their respective teammates. As a result, they take much time to complete a given task individually. Because of this, they don't meet the overall goal on time or, in some cases, at all.
4. Poor Time Management
A manager is responsible for keeping an eye on his team members while giving feedback to the heads of other departments, which is overwhelming. As a result, it becomes quite a challenge for them to balance their task.
5. Insufficient Support
In an organization set-up, managers require endorsement from their superiors before proceeding with a specific project. Whenever the decision-making exercise becomes more extensive, it slows the progress of their respective team.
6. Lack of a Structure
Lack of structure is quite a common challenge that the management team faces. Some teams or groups require close supervision to ensure they maintain their productivity levels. If an organization doesn't have a well-set structure, the overall productivity levels may decrease.
Explanation of What Is BPM and Its Benefits
BPM is a technique of surveying and having control of various processes in an institution. It is a powerful approach that executives utilize to make organizations more cost-effective during a crisis.
BPM includes how the management team studies, recognizes, converts, and keeps an eye on various business processes, ensuring everything runs smoothly and continuously improves.
Software can help you better establish and manage your business processes. Profit.co's strategy, OKR, performance, and task management platform can help you organize your priorities and achieve your business goals. You can get started on Profit.co for free today!
Importance of BPM
BPM is vital in business operations. Here's a list that highlights why BPM is absolutely essential for a successful business:
1. It Maximizes the Resources While Minimizing the Expenditures
Business process management enables you to lower the cost of executing transactions by providing a workflow view. As a result, you can highlight areas that require improvements and make adjustments as needed. This allows you to spend your time on other essential tasks.
2. You Can Get a Clear View and Control of the Business Process
Running an enterprise entails a considerable number of tasks. If you are a new business operator, your task management may run smoothly since you are the only decision-maker and you can make quick decisions on what is best for your business.
However, as you scale your organization, it becomes quite a challenge to manage all operations, requiring you to delegate tasks to ensure efficient operations. Business process management ensures that you outline workflow as a whole.
3. You Can Generate Fantastic Business Decisions and Endure Competitively
BPM plays a critical role in streamlining all your processes from beginning to end. With proper business process management, you can formulate a workflow and continually improve and edit it as your business's needs change. With a solid workflow in place, your team will be able to handle demanding tasks and have a clear mindset for decision-making.
Benefits of BPM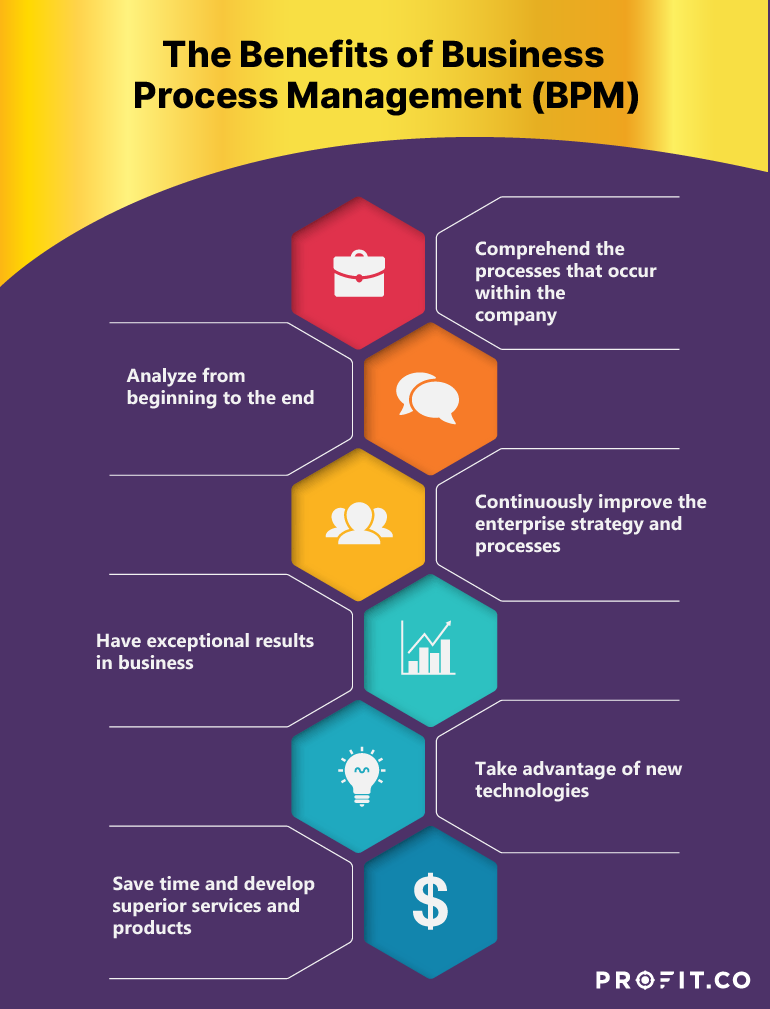 Business process management plays a vital role in aiding managers, including the ability to:
Comprehend the processes that occur within the company
Analyze from beginning to the end
Continuously improve the enterprise strategy and processes
Have exceptional results in business
Take advantage of new technologies
Save time and develop superior services and products
Various Types of BPM
There are three types of business process management, including:
Systems-Centric
With this style of BPM, the center of attention is business processes that work collaboratively with a coherent business system with little human participation.
Human-Centric
This style of BPM emphasizes activities that people handle. Its design is rooted in human interaction.
Document-Centric
This style of BPM revolves around documents, including signing, formatting, and verifying contracts.
The BPM Lifecycle
The business process has five steps within the lifecycle, according to the experts. These are:
1. Design
In this step, users analyze their current process and determine what requires improvements.
2. Model
This step involves establishing the way business processes work in different scenarios and schemes.
3. Implement
Next is the implementation stage, which highlights accomplishments, including process automation and standardization.
4. Monitor
This step involves keeping an eye on improvement and evaluating performance of a process.
5. Optimize
The last stage aims to ensure the continuation of the business process improvement.
Conclusion
Business Process Management is an important tool for businesses to utilize in order to run their organization efficiently.
A great business management platform can help you better track your goals, tasks, and company priorities. To learn about how Profit.co can help you stay organized in a remote work setting and focus on your most important initiatives so you can achieve more, schedule a demo with our experts!