Increasing employee productivity is easier said than done.
And if you're a human resource manager, you know the drill.
Changing performance improvement trends throw curveballs when you're trying to figure out how to manage employees.
For decades, we knew just one way to improve employee performance: the infamous "rank and yank" system. It worked simply. You assigned performance scores to employees relative to their peers, rewarded those in the high percentile, and fired those in the lowest percentile.
For a long time companies believed this is what worked best– but did it really?
The following graphical representation by Deloitte highlights the importance of performance management that respondents perceived in different countries: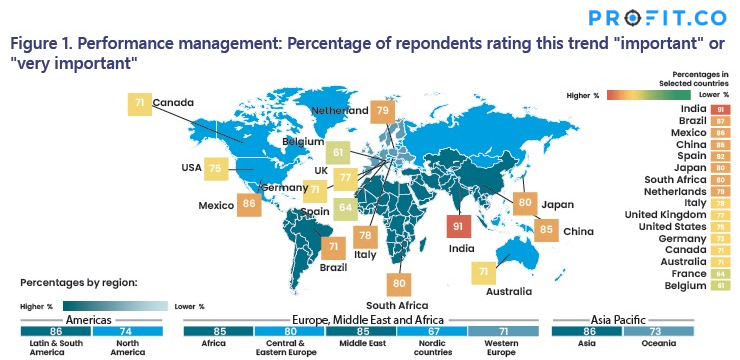 Source: Deloitte University Press dupress.deloitte.com
Evidently, old-school performance management wasn't making much of an impact.
The old performance management techniques were not only ineffective for companies, but they frustrated employees. Therefore, a shift was inevitable.
Research reveals that only 2 in 10 employees feel that performance management motivates them to do outstanding work.
This is a shocking ratio– especially considering that a larger part of the world relied on this process for decades.
This very reality has forced many companies to redesign their performance management systems from top to bottom.
As a result, global companies – big and small – are keen on creating a cultural shift in the way people work.
But what are the benefits?
For starters, the traditional performance management and improvement tactics lack idiosyncratic feedback. Managers don't really coach employees with annual reviews. Nor do they give the low performing employees the push they need to improve their performance. This is why open communication and frequent feedback is gradually becoming the norm.
It's worth noting here that criticism makes employees more defensive, which leads to much lower performance. A study highlights that instead of motivating employees to improve, negative feedback had an opposite effect on them.
So, rather than grilling employees annually on their low performance, coaching, and ongoing performance development and improvement should be adopted. The latter will help employees identify where they deviate from their goals and how to achieve them while advancing their careers.
Read on for our walkthrough of some of the best practices that make employee performance tick and real world examples that inspire you to put your focus on the employee, not just performance.
Employee Performance Improvement Best Practices
Performance management in itself isn't as dreaded as the performance improvement plan.
In fact, some employees don't even think of it as an improvement plan. They see it as the "harbinger of the end".
While endorsers see it as a win-win, the results are far from reality.
That's why it needs an overhaul. And here's how you can do it – with this list of best practices.
Focus on the employee
First things first. You need to chalk out a detailed performance management program with the objectives you wish to accomplish. Know what rings the bell for your company and then work towards achieving it by giving your employees the top priority.
So rather than emphasizing productivity, emphasize employee engagement.
Profit.co's Engagement Module offers a variety of ways to help this process. Engaging with your employees can by way of a points or rewards system, surveys concerning their satisfaction, and even our Hashtagged Conversations feature, which promotes communication about wins as well as needing support.
Rather than merely managing people, coach them.
Rather than paying your workforce, streamline their compensation process to match their talent, skills, and aptitude.
Explain roles, Don't just define them
In the absence of well-explained roles, the chances of deviating are higher. Employees won't be successful at what they do if they lack clear-cut goals and guidelines they must follow to attain them.
Thus, for every role that an employee needs to perform, there should be policies or guidelines specifying the areas of opportunities and restrictions.
When the software company Adobe ditched annual reviews for open and frequent communication with employees based on Check-Ins, little did they know that they were revolutionizing employee feedback.
But what's a check-in anyway?
A check-in can be a daily, weekly, monthly, or quarterly discussion between a manager and employee on the progress made during the review period.
Apart from highlighting the goals for the next period, check-ins help set the expectations straight. They drive performances with meaningful conversations that are free-flowing and centered around the employee.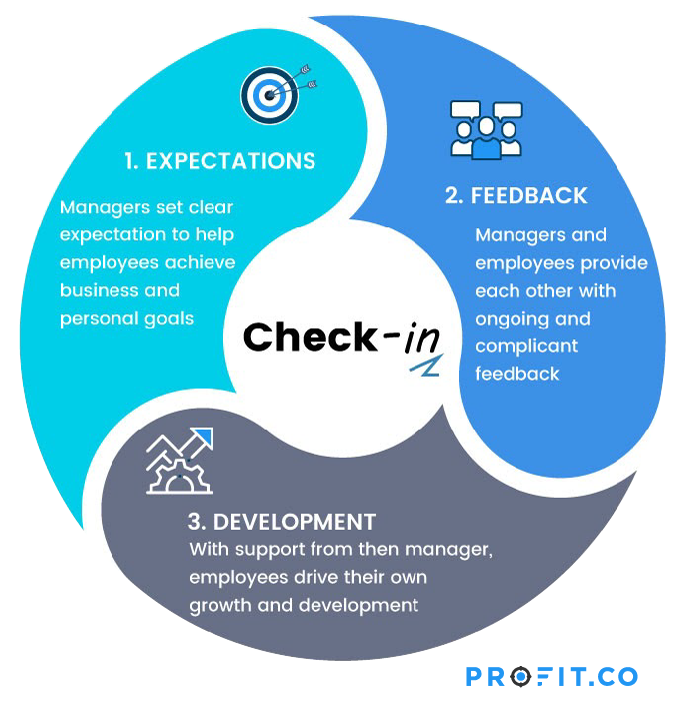 Source: Adobe
And the data seems promising too.
In a survey, nearly 85% of millennials said they'd feel more confident if they'll have more frequent conversations with their managers.
It's no surprise why Gallup's internal analytics revealed that employees are 2.7X more likely to be engaged and 3.2X more likely to be motivated with a weekly feedback system in place.
The efficacy of check-ins, thus, shouldn't be understated.
Identify the problem areas
The common thread between almost any improvement plan is the same.
Solving a problem.
Identify the pain points you're facing regarding your employee's performance and let them know about these points in as much detail as possible. If required, include specific events describing the issue to help them understand what went wrong and where.
But that's not to say that you can't lend an ear to the employee. By listening to their responses, you give them a platform to share their voices – which might lead you to discover bigger problem areas that you should focus due attention on.
Create a feedback culture
Your company's work culture can make or break your employees' morale. And it's this morale that helps them keep going. So, make sure there are shared values and expectations which rest on a feedback culture.
Why a feedback culture, you may ask?
Well, because fostering a culture where honest feedback takes precedence over other things ensures that employees are more receptive to feedback and utilize it well to progress individually and collectively.
When employee opinions are valued, when they are empowered, when companies invest in talent – this is when the real growth occurs.
So, whether it's a standing ovation or a high-five, cultivate a culture where feedback doesn't take a backseat.
The OKR methodology's inclusion of frequent check-ins on key results lend itself well to this practice. If an employee is struggling to meet their projected target numbers, why not offer assistance, or start a conversation about where they might be struggling? If an employee is on track, or even exceeding expectations, sending them a congratulatory and encouraging email or noting this progress in a meeting can make a big impact on morale.
Turn goals into actions with training
Without a comprehensive training program, performance improvement is a futile attempt.
Imagine an organization where people know what to do but they don't know how to do it. That's why you must have a training system which is meant for all.
Remember, training sessions aren't only for junior or middle-level employees. Senior-level employees and managers need them too. After all, coaching, handling challenging discussions, and giving constructive feedback is no mean feat.
Videos, online classes, digital displays, manuals, live chat, etc. are some mediums to make training effective and create a feedback culture as highlighted in the point above.
If you note an employee who is struggling considerably with their responsibilities and needs to be brought up to speed efficiently or their position could be in jeopardy, you could implement a Performance Improvement Plan (PIP). With a PIP, you can assign struggling employees a mentor, as well as create a list of tasks they could complete in an attempt to improve their performance and get where they need to be. Alternatively, if you notice an employee who demonstrates high potential and excellent work, you can initiate an Individual Development Plan (IDP) which puts them on track for a promotion once they've further developed their leadership skills.
Effectively preparing your employees for what is expected of them, or what will be expected of them, is a vital part of ensuring that employee performance will be outstanding in your company. In order for employees to perform, they must be taught.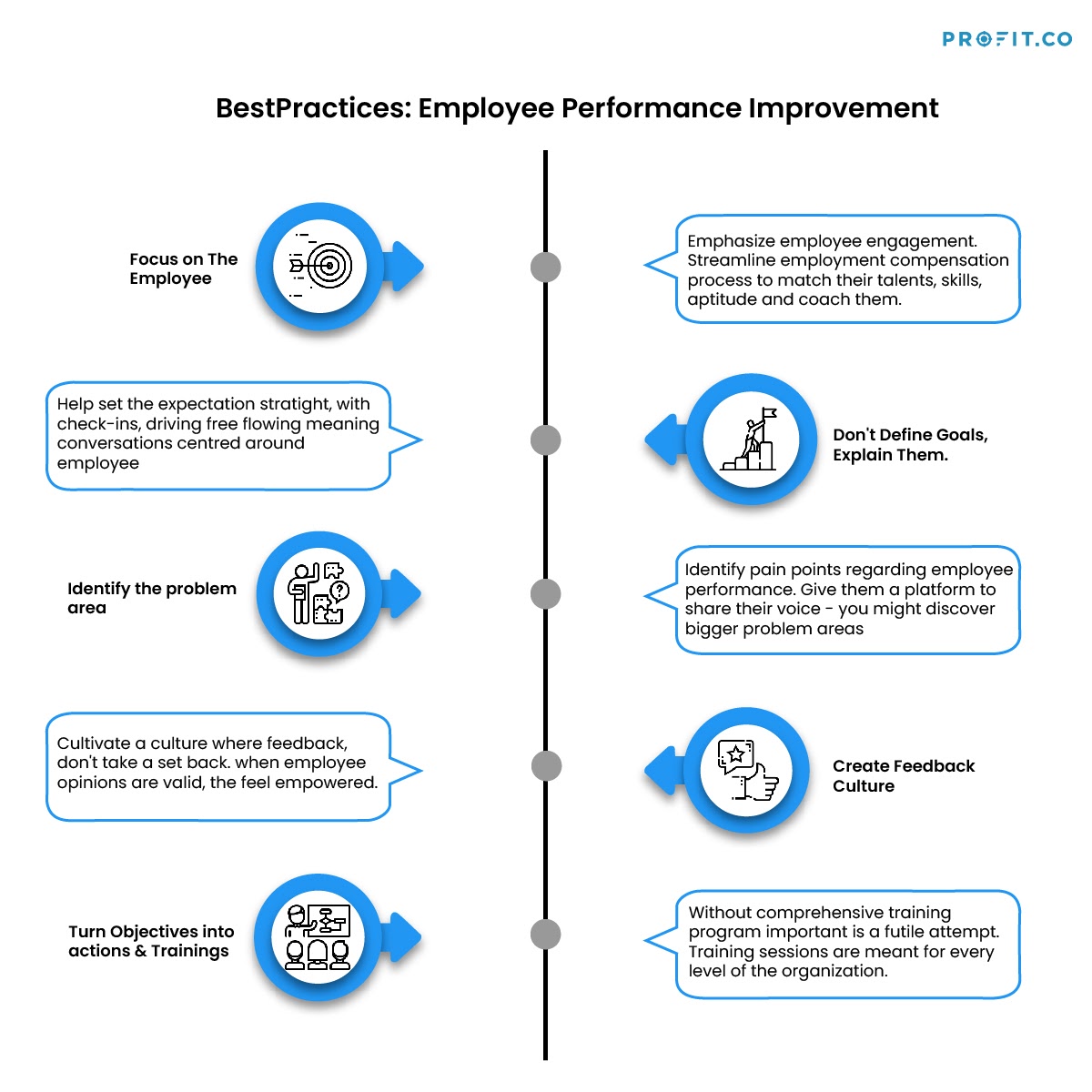 Real-World Examples of Companies Acing Performance Management & Improvement
More and more, companies are doing away with archaic and constricting performance management and improvement programs that only serve to frustrate everyone involved.
And we can see why.
After all, 58% of executives believe their existing performance management approach doesn't do any good in driving employee engagement or high performance.
So, what should you do?
Find inspiration.
Here are some of the companies blazing the trail in the new performance management trends and moving away from the old evaluation system: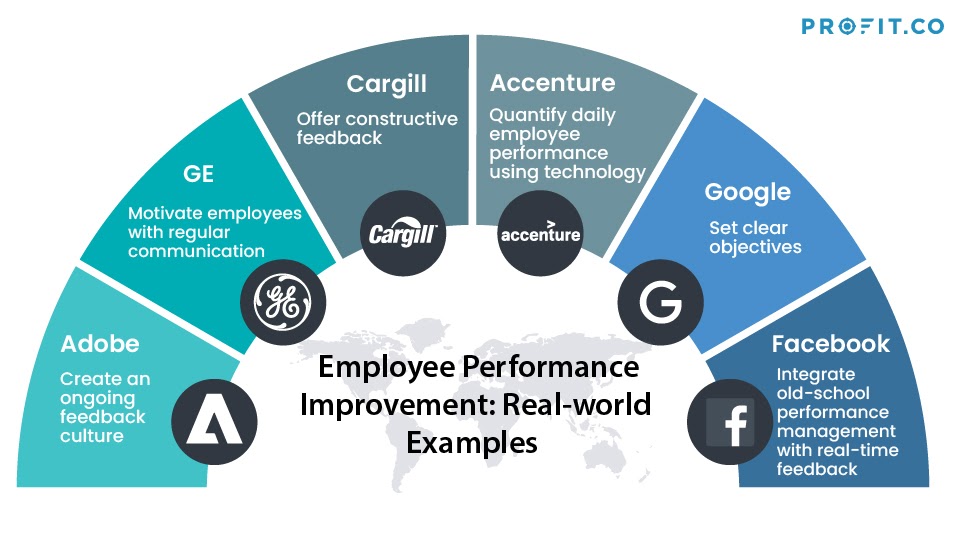 1. Adobe
Much has been said about Adobe jettisoning the traditional performance evaluations.
After adopting check-ins in 2012, it has stayed ahead of the curve and even improved its headcount growth by some 30%.
By focusing on two-way, ongoing conversations between managers and employees, the company has increased the efficiency and effectiveness of its performance management system along with employee engagement and retention.
Adobe completely reinvented their performance management strategy with an approach that emphasized setting employee priorities, understanding the role of the top leadership, and delivering adequate help and resources.
And it did so fantastically.
Key Takeaway: Create an ongoing feedback culture
2. GE
In a bid to improve performance, GE got rid of the formal, once-a-year review, which was a part of its culture for decades.
With the new system rolled out at the end of 2016, GE reintroduced meetings with regular, informal touchpoints that can be held whenever the system demands. Performance development and improvement are centered around coaching rather than criticizing, and suggestions are welcomed from anyone in an employee's network.
The innovation giant developed a contemporary smartphone app, PD@GE, to facilitate more frequent communication between managers and employees. Meant for exchanging voice and text inputs, documents, and handwritten notes across employees, managers, and teams, the app gives a platform to exchange feedback throughout the year.
Key Takeaway: Motivate employees with regular communication
3. Cargill
Empowering and inspiring employees has a lot to do with daily encouragement.
This is what the Minneapolis food producer and distributor Cargill realized back in 2012 and became a trendsetter with its everyday performance management system.
Rather than a traditional year-end system that focused on the past, Cargill introduced an approach where managers gave forward-looking constructive feedback to employees.
And what was the result?
Motivated, better-engaged employees that are focused on not just their growth but the company as a whole.
Key Takeaway: Offer constructive feedback
4. Accenture
Disrupting HR is not a new phenomenon. It's been quite a few years that companies have been doing that with digital, and Accenture is one of the frontrunners.
In 2015, the company set out to change its performance management model with a more flexible system that stressed on ongoing feedback.
Promoting a collaborative and employee-empowered culture, it provides feedback to employees on an everyday basis – after the completion of assignments.
Like GE, Accenture also relied on an internal app to make the system more fluid. The company quantifies human performance with the help of digital technology, and there has been a critical success factor in chalking out tailor development plans for each employee – helping them make the most of their potential.
Key Takeaway: Quantify daily employee performance using technology
5. Google
"One of the best companies to work with", Google has earned that status for more than one reason.
From nap pods to a collaborative work environment, the search engine giant has always done things differently. And its performance management practice is no exception.
It's amazing how the company never really had a formal ranking system in place. It has always been about employee goal-setting and considering specific objectives and key results (OKRs).
With "people analytics," a brilliant mix of qualitative and quantitative data, Google has redefined the way companies evaluate and improve performances.
By using midpoint employee performance check-ins and including employee self-evaluations, the company has been crushing its HR goals like a pro. And on-the-job coaching, along with peer-to-peer and outside training, help in creating that perfect meritocratic environment that Google is renowned for.
Plus, there's a strong focus on regular one-on-ones, a comprehensive 360-degree feedback collection process, and upward feedback surveys to review goal progress and completion.
Key Takeaway: Set clear objectives
6. Facebook
What does a 4.6 company rating and 100 percent CEO approval rating on Glassdoor tell you about Facebook?
That the company excels at managing people.
Bi-annual review endorsers, please take note.
Unlike the other trendsetters who have more or less shunned the traditional semi-annual review system, Facebook sticks to it, albeit with a few fundamental changes.
The company uses 360 reviews, a suggested rating curve, not a forced one. And it does so with the help of internal software, which provides continuous, real-time feedback. The recommended maximum number of peer reviewers ranges from 3 to 5, and after the review, managers use calibration sessions to rate employee performance.
The rationale behind the process is employee performance review shouldn't have an element of surprise. People should know what's expected of them, and real-time feedback helps them stay on track.
Key Takeaway: Integrate old-school performance management with real-time feedback
The Bottom Line
The end-of-year appraisal is nearing, well, its end.
With remote working becoming the new normal, it makes sense to have performance management and improvement system that relies on real-time and continuous feedback.
While companies are increasingly willing to implement an agile performance management process, they need some best-practices to help them steer in the right direction.
They need help to align their performance management systems more closely with business goals. And this is where this guide will come in handy.
Learn lessons from the industry leaders and join the Performance Management revolution. Profit.co can help you transform your current performance management methods into highly effective, connected, and useful reviews that offer a 360-degree view of an employee's function in the workplace and promote accountability and improvement.
Reinvent, test, and deploy a performance management system that works best for your business.
Related Articles