There are many ways to define a leader. In business, many would say that the highest-ranking employees, such as C-level executives, are the leaders. However, just because someone is in the position of a leader, doesn't mean they can stop working on their leadership skills.
There are many different types of leaders. However, at its core definition, leadership is about equipping people with the correct information and tools to enable them to do their best work and deliver on organizational goals. An effective leader directs, motivates, encourages, and celebrates the team when it achieves goals.
The leadership team should recognize and utilize the OKR model to effectively lead their team. Leading with objectives and key results can help keep the team closely connected with the organization's mission, vision, and values. Here, we explore how the OKR model can improve leadership skills and help leaders guide the team to achieve goals.
Effective leadership is not about making speeches or being liked; leadership is defined by results not attributes.
Tips for improving leadership skills
Managers with poor management skills don't inspire their teams. Such leaders must enhance their skills to improve the productivity of their teams. Here are the tactics you can use to enhance your leadership skills:
1. Discover your leadership style
The first step in improving your skills is to discover the type of management style you use. The discovery can help you to identify your strengths and weaknesses. Some of the standard leadership styles include:
Autocratic: they make decisions without input from the team members.
Pacesetting: they set the pace of work and expect others to follow them.
Democratic: they seek responses from the team before making decisions.
Coaching: they educate their team members, offer minimal direction, and let them make their own decisions.
Affiliative: They connect to their team members personally and use the knowledge to provide guidance.
Laissez-Faire: They offer minimal direction and let members do what's deemed necessary.
It's essential to evaluate yourself and discover the styles that you use. If you experience a high employee turnover, there's a good chance that there's something wrong with your leadership style and how you choose to support your team.
2. Talk to your team
Regardless of the type of management style you use, it's essential to communicate with your team members clearly and frequently. From your discussions, find out which leadership style works well for your group. If you do not maintain an open line of communication with your team and have a good communication strategy, you won't be able to get a sense of how they are doing with their daily work, and you'll eventually fall out of touch with what your employees need from you as a leader.
3. Set clear objectives
When you set clear goals, you motivate members to achieve them. This is where Objectives and Key Results (OKRs) come in handy. The OKR framework has been adopted by top-notch companies like Google and Facebook and helps managers keep their teams focused. The reason the OKR framework works wonders for these industry-leading companies is because it requires users to narrow down their focus to a handful of ambitious goals. Limiting the number of goals a team focuses on within a quarter helps funnel resources and effort to the most important priorities, while the key results that quantify each Objective help determine whether you achieved your goals.
Are you looking for agile and intuitive software to help manage your OKRs? You and your team can try Profit.co completely free for 30 days. Sign up today!
Why OKRs are vital for leadership?
In modern business, things change at high speed. The only way that leaders can stay on course is if they adopt the best approaches to working. The OKR framework is a compelling and straightforward goal-setting strategy that big companies in the world use to enhance their strategy, engagement, and alignment. Here are the main reasons why OKRs are crucial to business:
Strategy shifting: Research indicates that many businesses fail to deliver strategic plans and only a paltry 10% of companies can attain their objectives and meet their business goals. In a fast-past world where things change at record speed, the OKR framework can help leadership identify the essential drivers that help you achieve your strategic goals. OKRs can help teams close the strategy-execution gap and steer clear of time-wasting and costly distractions. They allow you to identify and focus on goals that can take your organization to the next level of achievement and success.
OKRs need complete alignment: An expanding business risks miscommunication and misalignment as responsibilities are delegated to multiple teams. When teams are siloed, there's a lack of proper communication. Teams that don't communicate can't work towards common goals, sending different sectors of the business in completely different directions. A lack of collaboration makes it impossible to achieve goals. OKRs enable your organization to align all units to the overall business plan. With OKRs, it's possible to attain both strategic and horizontal alignment. The horizontal alignment strategy enables teams to work together cross-functionally.
OKR enhances engagement: Employee engagement is vital if you want to succeed in your business. According to Gallup, disengaged employees cost US firms over $550 billion annually. OKRs come from active discussions between various organizational teams with their leaders. These participatory conversations bring everyone on board and offer them a chance to make decisions. Studies indicate that regular meetings and touch-bases enhance the productivity of employees. For example, managers can sit with each team member every quarter and inquire what they learned and their contribution to the overall success of OKRs.
How OKR fosters outstanding leadership and improves performance?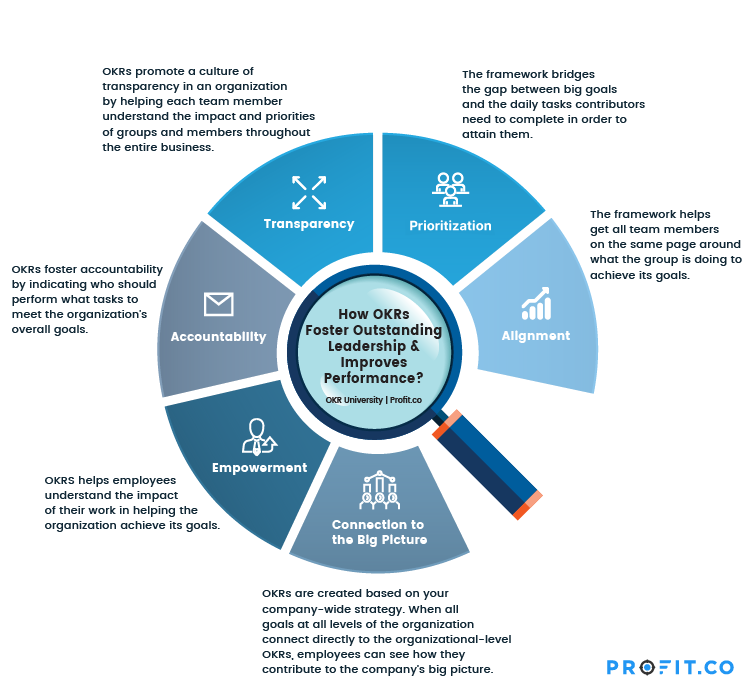 OKR is a goal-setting framework that can help leaders in businesses lead better. Because each team member owns their OKRs, leaders can easily delegate responsibility and help members concentrate on the key areas. Because OKRs foster transparency, there's minimal friction within teams. OKRs improve performance in the following ways:
Alignment: The framework helps get each team member on the same page around what the group is doing to achieve its goals. This enables the team to work together to achieve goals.
Prioritization: OKRs bridge the gap between big goals and the daily tasks needed to achieve them. This helps team members plan their duties in order of priority.
Transparency: OKRs promote a culture of transparency in an organization by letting each team member understand the impact and priorities of groups and members throughout the entire business.
Accountability: OKRs foster accountability by indicating who should perform what to meet the organization's overall goals.
Empowerment: OKRs help employees understand the impact of their work and how their daily tasks are helping the organization achieve its goals. Thus, employees develop a sense of ownership in the company's goals and are more productive and engaged.
Connecting OKRs to mission, vision, and values: If you know where you're headed and how to get there, you can help your organization achieve great success. The mission of your business indicates why the company exists. Vision is where your organization intends to go. The organization's values and beliefs are the standards a company wants to uphold on its journey to meet its vision and mission. Leaders who buy into the OKR framework and understand how to incorporate all of these high-level values can create lively, motivating OKRs for the organization.
The objective is what I want to have accomplished. The key results are how I'm going to get it done. The objectives are typically long-lived. They're bold and aspirational. The key results are aggressive, but always measurable, time-bound, and limited in number.
Source: Havard Business Review
What next?
The OKR framework has become an essential model in helping teams articulate goals and determine how to attain results. Are you looking for OKRs to improve leadership skills? Profit.co can help you transform your talent and your organization with our all-in-one OKR management software. To learn how OKRs can help you achieve your ambitious goals, schedule a live demo with one of our OKR experts today!