The growing need for OKRs
In a highly competitive business environment, it is crucial to dream big, achieve more and push the boundaries further every time. High growth and achievement isn't just for companies who want to lead the pack and find success– it's for survival in today's highly competitive market. This is because only those organizations that remain agile and adapt to changing market conditions survive and remain profitable in the long term.
Adaptability is about the powerful difference between adapting to cope and adapting to win.
This survival is possible if leaders are willing to set ambitious objectives and relentlessly work towards them as an organization. Such disciplined performance from all levels comes only from alignment towards the objectives at team and individual OKR levels, from the leadership team to all the way down to the last person in the lowest point in the organizational hierarchy.
OKRs setting up teams for collaboration and growth
Alignment can be achieved only when there is a culture of self motivation, transparency and accountability, and more importantly, the focus towards collective outcomes rather than individual achievements. Individuals and teams need to align their OKRs towards a common organizational objective in order to understand their roles and how they contribute to the overall objectives of the organization as individuals and teams.
As they realize this and take up responsibility for their own outcomes and performance, employees would be motivated to take up ambitious but achievable targets at their respective levels and work towards outcomes that contribute towards overall company objectives.
In order to achieve all these, the organizations need a robust framework and system of goal-setting. Objectives and key results (OKR) perfectly suits this purpose, and it has gained popularity amongst organizations of various sizes and scales, from established tech companies to brand-new start-ups. Due to the framework's demonstrated effectiveness, managers and leaders in all industries are in pursuit of OKRs and are searching for resources that can guide them towards flawlessly implementing Objectives and Key Results in their organizations.
In order to assist you in finding the best OKR literature available in the market, this article reviews some of the most sought-after books on OKR.
Author: John Doerr

Author: Bastin Gerald, Senthil Rajagopalan

Author: Christina Wodtke

Author: Bastin Gerald, Senthil Rajagopalan

Author: Paul R. Niven, Ben Lamorte

Author: Bart den Haak

Author: Bastin Gerald, Senthil Rajagopalan
1. Measure What Matters
Author: John Doerr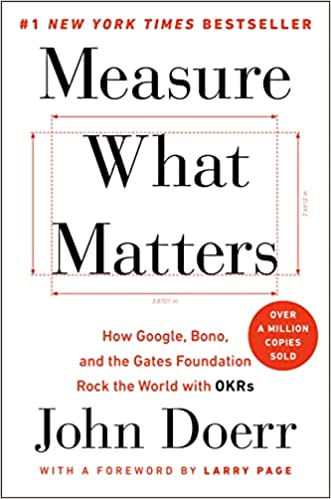 The original point of reference for the objectives and key results (OKR) framework is John Doerr's 'Measure What Matters'. This book explores how a simple goal-setting framework made a humble start-up into one of the world's leading tech companies. Venture capitalist John Doerr explains how he revived and adopted a goal-setting system he was inspired by as an engineer to create the framework we know as OKR.
This account of the goal-setting system Doerr used during his days at Intel in the 70s builds a narrative around the origins of objectives and key results. Doerr experienced the advent of OKR first-hand from the legendary Intel CEO Andy Grove. Doerr took learnings from that experience and used it much later in life to write his 2018 book.
In 1999, he invested $12.5 million in a promising tech startup with just 40 employees called Google, run by highly energetic and ambitious Sergey Brin and Larry Page. Their flair for achieving big things and to bring about change meant they had a grand vision, but lacked a methodical approach to realizing those big ideas efficiently and effectively. In order for Google to survive in the first place, they needed a robust, fool-proof mechanism to measure successes and failures, and to remain agile, quickly building on anything with growth potential and discarding failures.
Doerr knew exactly what they actually needed and introduced the founders to OKRs. When implemented correctly, objectives and key results took them to new heights and enabled them to grow into a company with an enviable knowledge capital and a market cap of $1.86 trillion in a span of 23 years.
Doerr went on to share the secret ingredient to success (OKRs) to more than 50 other organizations. In this book, he shares numerous case studies and brings in narrations from highly successful people such as Bill Gates who have witnessed how OKRs can bring about explosive growth in organizations.
'Measure What Matters' is an essential text for individuals learning the OKR system and hoping to achieve their ambitious goals with this framework.
2. Preparing for your OKR program
Author: Bastin Gerald, Senthil Rajagopalan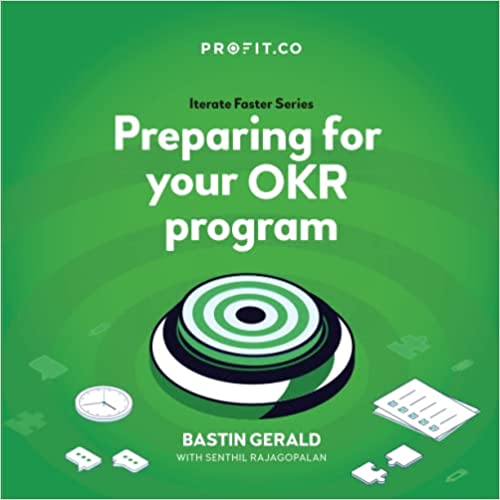 'Preparing for your OKR program' is a book that focuses on how to prepare your organization and lay the foundation for introducing the OKR framework. This is the first installment of a three-part OKR series called Iterate Faster that educates readers on how to prepare their company for their OKR program, how to launch their OKR program, and finally how to scale it. This installment explains the importance of creating a culture that will enable you to integrate the goal-setting framework in your organization and achieve adoption at all levels.
The authors are seasoned professionals who specialize in OKR and have worked with a multitude of companies to successfully integrate OKR in their operations and work culture. As a result, the book brings a fresh perspective of OKR from an expert's point of view.
The authors offer step-by-step directions with detailed examples for implementing OKR in an organization of any size and in any industry. OKR has a set of basic guidelines that need to be followed in order to properly focus, measure, and achieve your goals– however, there's no one fixed way to execute OKRs in your organization. This book explains how businesses should prepare to adopt OKRs based on their unique business DNA, and how they can optimize their strategy-execution according to the requirements of the organization.
OKR, as a methodology that provides room for failure and encourages users to set targets that are overambitious, naturally has some ambiguity over how you can define success. This book offers readers an in-depth understanding of how to set OKRs that will stretch their teams to the limits. It also shares the secrets and tips to achieve success with the framework.
The book contains interesting insights on contemporary challenges in the business landscape and how OKR helps to solve them. It also gives detailed comparisons of OKR with competing goal-setting methodologies.
'Preparing for your OKR program' is an excellent read if you want to get the basics of the OKR methodology and lay a foundation for success in your organization.
3. Radical Focus
Author: Christina Wodtke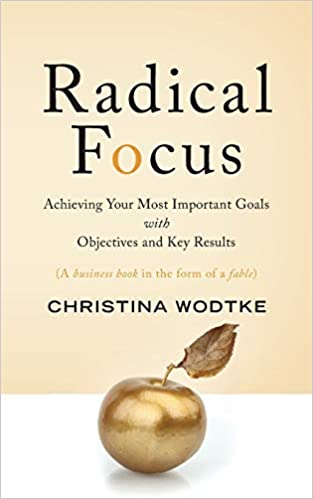 'Radical Focus' is an interesting take on objectives and key results. The author Christina Wodtke narrates the implementation of the goal-setting framework using fictional characters running a fictional company. It gives her the flexibility to tailor scenarios involving every kind of challenge that a growing, ambitious company can face, and explain how OKR can help the organization weather those challenges. The author brings years of valuable work experience to her book as she has worked for top tech companies such as LinkedIn. Based on her lived experience,
She offers insights on how to implement this effective goal-setting system and create a healthy work culture with transparency and accountability, in order to enable successful teamwork, turn failures into success and achieve big goals in a methodical way.
She shares her wisdom through two fictional characters named Jack and Hanna, who have a great vision and ambition, but initially lose focus and face various challenges in running the company. She sets up the plot as a strong base for a case study, as the characters learn how they failed first and what they should do to turn this around.
Reading the case study of how Jack and Hanna implemented objectives and key results (OKRs) and turned their failure into success in a systematic manner is a must for anyone who wants to learn about OKR. Though fictional, the case study story packs in numerous real life experiences and observations that are valuable for anyone looking to implement OKRs.
As the title of the book suggests, this book will really help start-up managers and business leaders narrow down their focus and successfully implement OKRs.
4. Launching your OKR program
Author: Bastin Gerald, Senthil Rajagopalan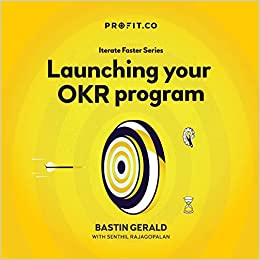 'Launching your OKR program' is a practical guide to implementing OKR in an organization. This is the second installment in the Iterate Faster series. The authors of this book are industry insiders who have years of experience using and implementing OKRs. This book comes packed with time-tested strategies for implementing your OKR program and offers readers models and examples for better comprehension.
One of the biggest challenges in an organization with high ambitions is setting the objectives and goals in OKR. Setting them too high can place unnecessary stress on the workforce, leading to failures and loss of motivation. Setting them too low may result in underwhelming performance. This book helps you strike the right balance in your organization and can help your team hit your perfect OKR stride.
It also explains how to achieve alignment across the organization and enable OKR adoption at all levels. It provides a step-by-step guide to writing effective OKRs to meet your goals, and writing them without focusing on tasks rather than outcomes.
The book provides complete information on how to select OKRs and grade them. It emphasizes on the need to constantly review progress and make corrections to achieve success with the OKR framework. It describes the structure and ideal cadence of check-ins and reviews that can help you sustain good performance and ensure relentless progress towards the objectives. It also explains the steps involved in completing quarterly OKRs and moving on to the next set of goals.
'Launching your OKR Program' is an excellent material for reference with regard to execution of OKRs in your organization.
5. Objectives and Key Results: Driving Focus, Alignment, and Engagement with OKRs
Authors: Paul R. Niven, Ben Lamorte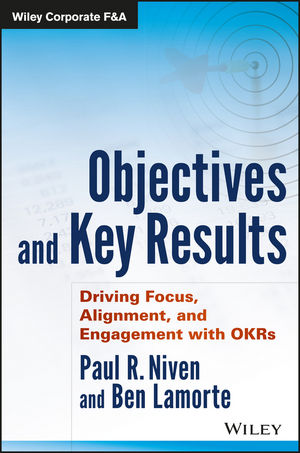 'Objectives and Key Results: Driving Focus, Alignment, and Engagement with OKRs' is a comprehensive guide to objectives and key results, the top goal-setting framework for organizations that want to achieve growth quickly and efficiently.The authors provide industry insiders' perspective on OKRs with regard to how they create quick alignment across all levels of the organization towards an overall objective. The book explores how OKR helps every individual and team focus on what is important for them in order to achieve the objective.
As a one-point source for reference, the book clearly explains every component of the OKR framework and explores in detail the process of goal-setting, tracking and measuring the goals. It also lists out the best practices that can lead to producing excellent outcomes.
The book also touches the history of objectives and key results and demonstrates the importance of this framework in today's context, as a large number of start-ups and tech companies prefer
OKRs to help them achieve unprecedented growth and progress towards their objectives and vision, while making work enjoyable for employees.
The book discusses ways to adapt the OKR framework to suit various types of organizations operating in different sectors. It is a complete guide for anyone who wants to implement OKR in their organization to achieve alignment and success.
6. Moving the Needle with Lean OKRs
Author: Bart den Haak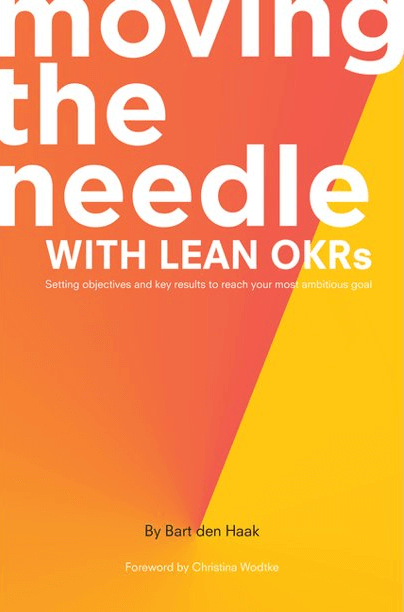 The author of 'Moving the Needle with Lean OKRs' takes on a conversational tone as he explores the combination of lean practices with OKRs. The author narrates the evolution of OKRs into the next level as a strategy execution tool. The book covers OKR with a simple and detailed step-by-step guide to implementing the framework and adapting it to the needs of your organization.
It provides an in-depth view on integrating OKR across the organization, driving alignment and initiating a behavioral change through emotional management. The book explains how OKR aligns, inspires, and empowers teams through daily practices.
The book provides a historical context of OKR and adds useful references to the works previously done by other experts in OKR, thus establishing a clear and coherent evolutionary path of OKR as it merges with lean practices.
The author makes it more engaging with creative exercises, insights, and suitable examples on how lean OKRs bring innovation to small organizations and transform them into highly-motivated, outcome-oriented companies with high performance teams working towards a common goal.
The book is a complete guide for lean OKRs that are easy to understand, adapt, and implement as a unique blend of structural and leadership strategies.
7. Scaling your OKR program
Author: Bastin Gerald, Senthil Rajagopalan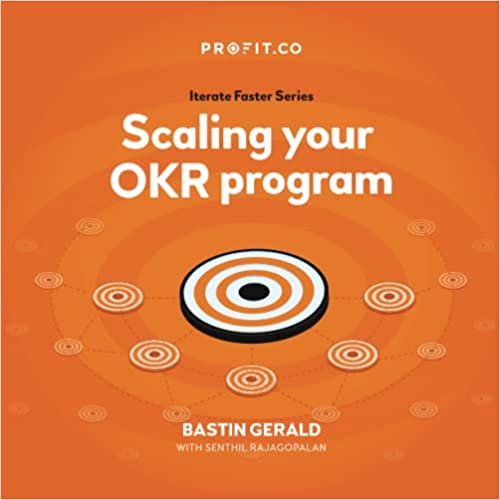 'Scaling your OKR program,' the third installment in the Iterate Faster series, is all about how to expand your OKR program in line with your growth trajectory. The authors give practical advice with respect to how to create an OKR calendar to customize the progression of quarterly OKRs in your organization. This is a comprehensive guide on learning as an organization and building on those learnings to scale yourOKR program.
This book helps identify and solve issues that many organizations face when scaling their OKR program. Additionally, readers can learn how to achieve balanced progress in all areas with the participation of all the teams towards the collective outcomes and achievement of the objectives.
One of the biggest challenges in the OKR framework lies in ensuring that the OKRs scale with the progress made by the organization. The authors give their expert insights on how to set OKRs that scale properly. The book guides the readers to prioritize their OKRs the right way and use automation and suitable OKR software for daily management of OKRs and check-ins.
Additionally, this book details the warning signs of failure in OKR programs and the symptoms all leaders should look out for in their own organization to ensure they catch and fix issues before they stall progress in a big way. All of this information helps you and your team achieve more with OKRs.
The book explores what organizational learning is and how the successes and failures in OKR should be collectively learnt and addressed together as an organization to ensure agility and long-term success.
'Scaling your OKR program' is a must-read for managers who need to implement OKR, troubleshoot their program and enable collective learning in the organization.
Once you've learned the basics of OKR, it's time to implement your Objectives and Key Results on an agile and intuitive OKR management software! You can get started on Profit.co today completely free, or book a demo with our OKR experts to see how this OKR software can work for you!