Experts say that ensuring high retention requires an organization to onboard new employees strategically and last at least one year.
Onboarding is often thought of as something that ends once all of the documents are signed and filed away, and you show the new employee to their desk. Many HR managers might think that this is the entirety of the onboarding process– but in reality, it's just beginning.
I am convinced that nothing we do is more important than hiring and developing people. At the end of the day, you bet on people, not on strategies.
Managing the first few days and months of a new employee's experience is vital.
Although onboarding isn't a new concept, it is even more critical today because spending time appropriately onboarding a new employee can save your company a lot of dollars. Replacing employees is incredibly expensive for an organization, so it is vital to ensure that employees are properly trained and feel secure in their position to reduce turnover.
So, a solid onboarding process is absolutely vital to a company's long-term success. That's where OKRs are useful.
Want to manage OKRs on an agile and intuitive OKR software? Get started on Profit.co for free today!
Challenges in Onboarding
Engaging new employees, boosting employee productivity, and reducing turnover are all benefits of good onboarding. However, if it is not handled correctly, many will leave within months of being hired, squandering the investment in recruiting top talent.
An estimated 28% of new employees quit within 90 days after starting a new position because of poor onboarding. Some of the challenges in onboarding include:
1. Miscommunication Between Departments
HR teams typically manage onboarding, but IT, security, operations, facilities, finance, and sometimes other business units participate actively. There are only a few accountability mechanisms between these stakeholders.
Unapproved credentials and equipment can be the result of miscommunication between departments. Stacking dependent processes can leave new employees idle, impatient, or both.
2. A Frustrating, Manual Process
Many recruiters, candidates, and hiring managers communicate via email, phone, and text messages. Checklists and spreadsheets do not handle processes efficiently. The conversion of paper forms to electronic formats can lead to costly errors and even fines from regulatory agencies.
3. Expectations Of Employees Are Rising.
A study completed by Robert Half Talent Solutions found that 91% of new hires would consider quitting if a new job did not live up to initial expectations after their first month on the job. More than a third of respondents cited a lack of proper onboarding.
HR executives at the C-level are anticipating but not yet implementing a reorientation of priorities to meet the needs of this new generation of employees.
Characteristics of a Good Onboarding
1. Strong Communication
Communication and collaboration are essential for employees to excel. Technology can support collaboration, but company culture must also promote it.
2. Indoctrination Into The Culture
As new employees, they must learn about the company's culture and their role within it. A prospective employee should know about the company's culture before accepting a position to ensure they are a good match for the company.
3. Clear Expectations
Employees need to understand what is expected of them and what they are expected to accomplish in a given period.
4. Formal Learning
Depending on the industry and organizational culture, many companies do not provide formal training. Formal training may be necessary for larger organizations and sectors with strict regulations.
5. Social Learning
Many believe employee satisfaction is largely dependent on social learning. Observing others and learning behavior is an important part of an employee's experience within a company and acclimating properly.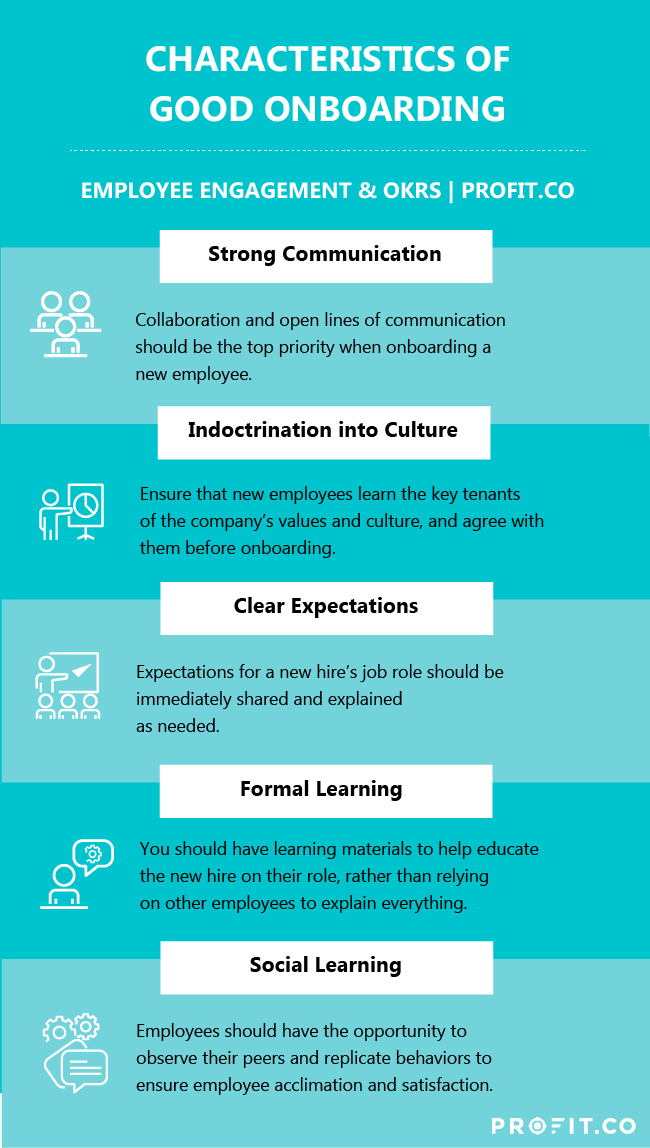 Why is Goal-setting Important?
Goal Setting can help you maintain employee motivation in your workplace. A lack of specific goals can affect the morale of employees as well as their productivity. When employees have goals, they're motivated and become more confident and satisfied with their jobs when they achieve their goals.
How can OKRs help in successful onboarding?
There are three ways OKRs can help in successful onboarding:
Prioritizing
Teamwork
Monitoring Progress
Let's take a look at these three items:
1. Prioritizing
Establishing OKRs helps you determine which tasks should be prioritized and which ones can wait. As a result, your new hires will understand what their goals are. It is better and will have a clear sense of direction. When goals are specific and understandable, they are easier to accomplish.
2. Teamwork
Team and company OKRs are typically available to everyone. The new hires can then learn about what their coworkers are working on and how they can contribute to achieving the company's goals as a team. When team OKRs are visible, team members can support each other and complete their individual goals.
3. Monitoring Progress
OKRs are a method of quantifying and establishing goals for employees. It is a great tool to use during the onboarding process for new employees. It offers a way to measure performance and progress toward goals; it provides structure and accountability. It helps employees feel like they are making progress.
Onboarding OKR Examples
Two key factors come to mind when implementing the People Operations Objectives:
What are effective metrics to track and write OKRs?
What are the best examples of OKRs for HR?
Here are some HR OKR examples that can help answer these questions:
To learn how you can track important OKRs like these with the market's most intuitive OKR software, schedule a free demo with the OKR experts at Profit.co today!