Performance management is a hotly debated topic in modern HR, and for good reason. After all, a good performance management system keeps employees happy and motivated, while ensuring companies retain the talent they need to generate a profit.
Unfortunately, many companies are still stuck in the old way of thinking when it comes to performance management strategies. Because yearly performance appraisals and irregular goal-setting meetings have been the norm for decades now, it's difficult for companies to see the point of making a change when their process seems to work.
True intuitive expertise is learned from prolonged experience with good feedback on mistakes.
The biggest reason why there's such a push for change in the performance management cycle in modern business is that there's an increasing amount of evidence that the old performance management plans simply don't work anymore. Employees need to have regular performance appraisals, not only yearly, for them to feel valued, motivated, and willing to continue working for a business. However, as every HR manager knows, this is easier said than done.
With that in mind, companies need to have a structured performance management system in place so that they can ensure all employees have access to the same level of support.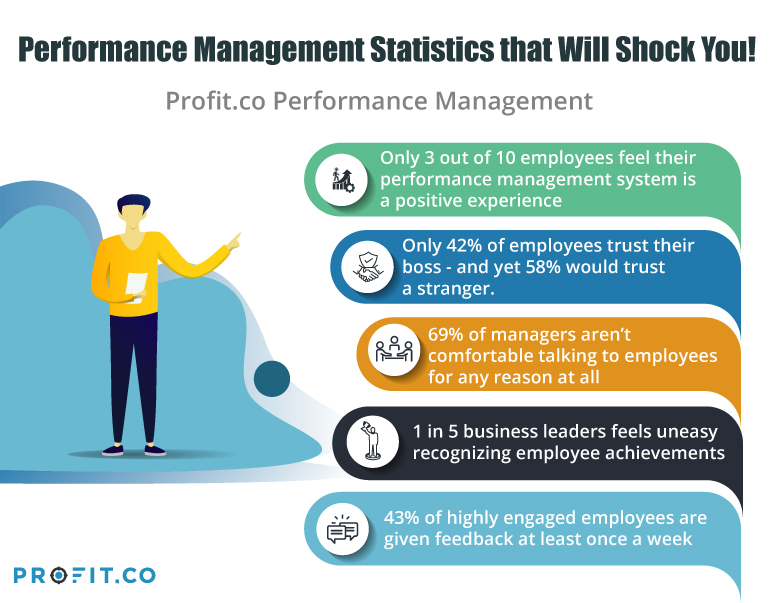 The Importance of a Performance Management System
One of the main problems that HR managers face with performance management processes is that the majority of the time, those processes focus more on ticking boxes than they do what the company and its employees need.
Only 3 out of 10 employees feel their performance management system is a positive experience. Not only that, but the lack of an effective performance management system is damaging to employee-manager relationships. According to Harvard Business Review, only 42% of employees trust their boss – but 58% would trust a stranger.
So how can a performance management system overcome these issues? The answer is remarkably simple – more communication benefits both employees and companies. Chris Westfall, author of Leadership Language: Using Authentic Communication to Drive Results, explains:
"Poor communication—and even avoiding communicating altogether—is a serious problem in organizations. A 2016 Harris Poll reveals that a stunning 69% of managers aren't comfortable talking to employees for any reason at all. Worse still, one in five business leaders feels uneasy delivering the company line or even recognizing employee achievements"
The important thing to note is that a performance management process is a continuous cycle. As you can see from the failure of the annual performance appraisal system, communication needs to happen regularly for any employment feedback to be effective.
Research shows that 43% of highly engaged employees are given feedback at least once a week, which goes to show that performance management needs to be interwoven with the day-to-day operation of your organization. Employees need to understand what their job role is, what they're expected to do, and how they can improve their performance to be successful.
Not only that but how their managers communicate can be attributed to at least 70% of the variance in retention rates between employers. So, it's clear that performance management needs to be a process, rather than a single event.
Modern Performance Management Systems
With all of this research confirming that performance management needs to modernize, there has, thankfully, been a slew of new developments that can help your organization improve its performance management process.
It's worth noting that, while the modern performance management system in this list all have tools and techniques that make them unique, they all follow a similar set of guiding principles. These are:
Regularity: Employees are given performance reviews regularly.
Goal-setting: Employees and managers have regular goal-setting sessions.
Support and development: There is an emphasis on helping employees to improve through training and company-sponsored support.
Structured: Employees and managers are fully aware of the performance management process and what is expected of them.
Feedback: Feedback is freely given, both during the working day and in a more structured way in performance reviews.
Given the research you read in the section above, you might think this list is a no-brainer. However, it's easier said than done to implement these procedures, particularly if you're moving your performance management plan away from the outdated annual performance appraisal model.
Thankfully, there's more guidance than ever before on building a performance management system that works for your organization. Here are a few examples of modern systems.
360-Degree Feedback
360-degree feedback fixes the age-old problem of performance management being entirely focused on how a manager sees their employees. With this system, managers collect feedback about an employee's performance from their circle of influence to give them a clearer picture of an employee's behavior.
Continuous Performance Management
This system is increasingly popular because it interweaves performance management with daily working life. Employees and managers follow a cycle of goal-setting, monitoring performance, and performance appraisals, with the latter occurring every month to three months. This ensures that employees are given continuous feedback about their performance and managers can help employees develop their skills.
Technological Performance Appraisal
The appraisal process is designed to evaluate an employee's technological proficiency, and as such, it tends to involve some sort of standardized testing to determine performance. This method is best suited for job roles where technical skills are the most important performance factor.
Employee Self-Assessment
A more limited version of 360-degree feedback, employee self-assessment involves employees evaluating their performance over the last review period in combination with the traditional management assessment. This is intended to show managers how employees feel about their performance and their role, and assess if there are any areas for improvement outside of what a manager witnesses.
Tools and Techniques for Effective Performance Management Strategies
With the name of the game being consistency, communication, and structure, you'd be right in thinking that your performance management system needs to exist alongside your employees' and managers' daily lives. Given that the previous system is often treated as a separate ecosystem, and it's clear that annual performance appraisals don't work, it's time that you structured your performance management plan around the working day.
With that in mind, here are some techniques and tools that you can use to make your plan more effective and efficient.
Clarifying Roles and Expectations
A major problem in performance management is that employees often struggle to know what they're expected to do. Research shows that only half of employees feel confident that they know what's expected of them at work, which is a major problem when it comes to managers delivering feedback.
Not only that, but employees may not know how their work contributes to the overall success of their employer or the goals of their department. If this is the case, it's easy for employees to feel isolated or like their work is meaningless, which can be a significant contributing factor to low employee morale.
So, when you're implementing a new performance management plan, you also need to consider rewriting job descriptions in case employees aren't clear about their responsibilities or tasks.
Training and Development Opportunities
As part of the performance management process, managers have to make sure that their employees can improve on their skills, whether they're underperforming or not. While this can be through on-the-job support, it's not always adequate or appropriate where certain skills or behaviors need improving.
In your performance management plan, you need to build in training and development opportunities to help both employees and managers improve their skills. These can be:
Online training platforms
External training courses
In-house mentoring programs
Internships or apprenticeship programs
Job-share opportunities
This ensures that employees can act upon any given feedback with the support of the company.
Performance Management Platforms
Performance management systems always come with a significant amount of paperwork, which is one of the most common barriers to a seamless, stress-free appraisal process. With software-as-a-service (SaaS) more popular than ever before, there are performance management software solutions available to make performance management quick and easy.
For example, Profit.co's performance management software allows you to simply initiate customizable reviews that combine competency ratings, conversation, and open-ended questions to give managers and HR a comprehensive understanding of an employee's experience at a company as well as their performance. Self-assessments, peer feedback, and manager reviews are averaged on a variety of organized reports that can help a company determine where their employees are regarding their performance and potential, and in comparison to their peers.
Profit.co's performance management system is highly customizable and can be adjusted to suit organizations of all sizes and in all industries. To learn more and get a personalized tutorial of Profit's product, book a demo with one of our experts!
Two-Way Feedback
One of the many reasons why employees don't like the current performance management system is that it can often feel like their behavior and personality is on trial. With no opportunity to provide feedback to their managers, it can lead to employee anxiety, refusing to engage, and acting defensively throughout the process.
The solution to this is simple – allow employees to provide managers with feedback. Not only does this help the performance appraisal process feel more like a conversation than a trial, but it also reduces the power dynamics that can often be felt in an employee-manager relationship.
Keep Employees Engaged With The Process
More often than not, HR managers will develop performance management strategies and will only consult top-level managers, not employees. This leads to a performance management system that works only in theory and is either too bloated or too flimsy to work in other areas of the organization.
To help employees stay engaged with the process, you might consider involving them from the very beginning by sending out surveys asking what employees want from a performance management process. You could even hold open office hours for employees to come and speak with you directly about the changes they want to see.
You should also stay open to feedback throughout the process, and be willing to listen to employees if the system isn't working for them. One of the best ways to keep employees engaged is to give them a degree of control or ownership over the system, so involving them at the planning stage can ensure your performance management system works for everyone.
Keep Everyone Accountable
A common reason why performance management processes fail is that managers don't fully engage with the process, leaving employees feeling ignored and without direction. However, it can go the other way too, with employees failing to meet the goals they've set.
To combat this, everyone in the performance management cycle must be held accountable for their participation with the support of HR management. After all, there could be legitimate reasons as to why someone isn't engaging in the process, and it's better to deal with these than punish the individual for failing to comply.
So, if a manager isn't holding review meetings or providing feedback as they should, employees should have an avenue through which they can ask for support from HR, particularly given that managers already have that avenue to deal with employees who aren't engaging.
Anatomy of Performance Management Systems: In Summary
Using annual performance appraisals is an outdated approach to performance management, and one that research shows is ineffective. To build an effective performance management plan, you need to make sure that it is consistent, engaging, transparent, and emphasizes a culture of continuous improvement. Without any of these aspects, you're likely to be left with a system that is just as ineffective as the one you just replaced.