Business objectives are vital to achieving goals, regardless of the size of your business. They form the road map towards your ultimate business goals.
Clear, concise objectives outline what you want your business to accomplish within a specific time frame. They are an essential part of your business plan and require input from all team members to ensure success.
Let's explore a good objective, why it's essential, and the top 15 goals you need to grow your business.
What is a Good Business Objective?
Essentially, business objectives are clear targets that direct business owners and the management team to grow the business. For instance, increasing profit margins is a broad corporate goal. The business objective, in this case, can be summarized as "grow revenue by 20% over the following six months."
Good objectives for business should follow the SMART criteria, that is:
Specific
Measurable
Achievable
Relevant
Time-specific
SMART objectives ensure a better-structured approach when developing a work plan. It helps you devise a systematic method of monitoring and evaluating your progress. Such objectives clearly define how to achieve your business goals and identify the opportunities to grow and improve. Attaining your business objectives gives you confidence as it's a sign that you're on the right path towards your overall business goals.
Innovation distinguishes between a leader and a follower.
Why is it Important?
Good objectives for the business are an effective way to harmonize your business' vision and business processes. Other outstanding benefits of business objectives include:
Motivating your Team

Business objectives motivate your team by outlining what you or the business expects from them. Clear goals ensure everyone remains driven and enhance productivity. Setting up a reward system is an excellent way to motivate your team to exceed the objectives.

Better Evaluation Methods

Your business objectives are the benchmarks to determine the overall success of your business. When paired with proper metrics, these objectives help you make more informed decisions to propel your success. It's also an effective way to identify areas where you're failing and what needs improvement.

Budget Planning

Clear business objectives help you determine the best way to allocate funds in your budget. Since you'll know what steps to take to achieve your goals, it's easier to streamline your budget and financial plan.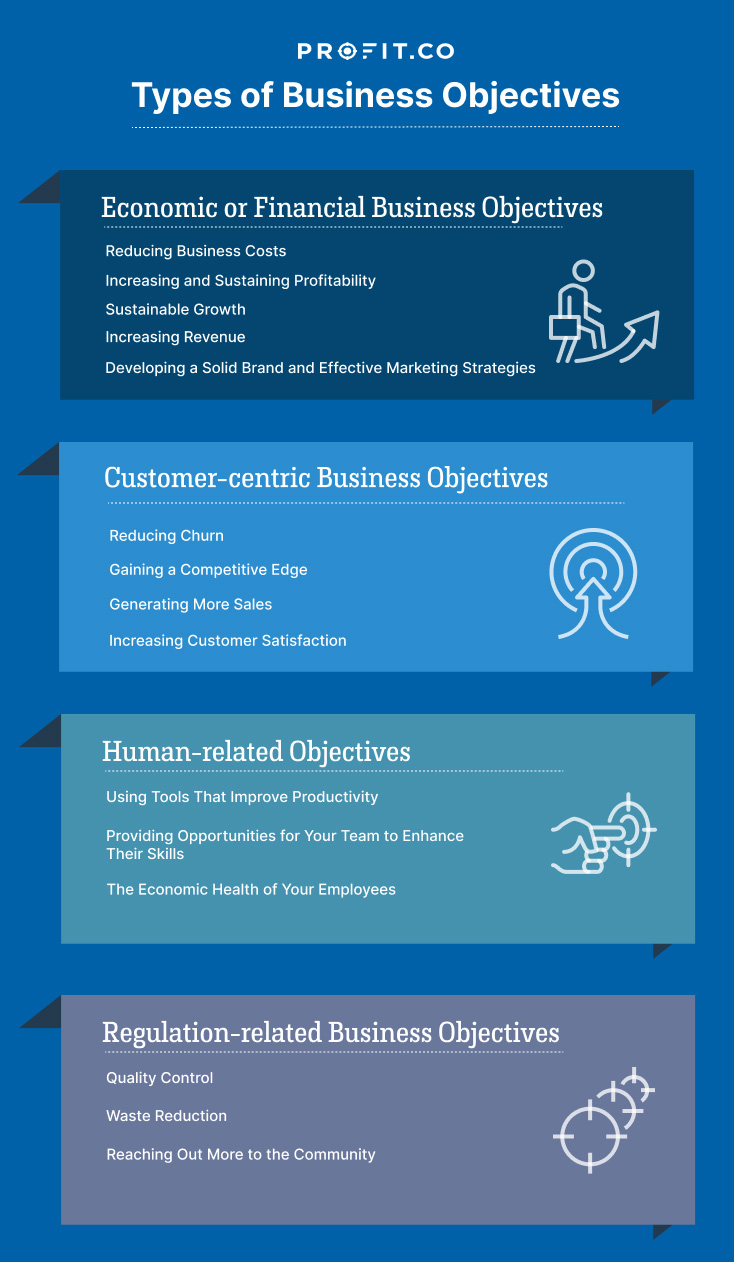 Types of Business Objectives
Every business has unique business objectives depending on the specific circumstances. Goals fall under four primary categories, including:
Economic or Financial Business Objectives
1. Reducing Business Costs
Good objectives for business addressing costs assist with managing operational and production costs. They help you attain profitability and increase your revenue.
2. Increasing and Sustaining Profitability
Profitability is an essential business objective, especially if you partner with other investors. Maintaining profitability is the best way to ensure a promising future and progress towards your ultimate goals.
3. Sustainable Growth
Business growth is essential, but it's most beneficial if the development is sustainable. Setting objectives for sustainable growth enables you to project finances and operational costs.
4. Increasing Revenue
Business objectives that focus on revenue ensure your operational costs and income balance. Your objective can be a specific revenue goal or increasing the income by a particular percentage within a certain period.
5. Developing a Solid Brand and Effective Marketing Strategies
Another business objective to grow your business is creating a solid brand image and marketing strategies. You can measure your progress by conducting surveys to help you understand your reputation. Focus groups can also help you identify areas of improvement. It's also essential to evaluate your marketing strategies. For instance, your objectives can include social media and paid advertisements. Tools such as Google Analytics are handy when measuring your progress.
Customer-centric Business Objectives
1. Reducing Churn
The churn rate can affect your business since it's the number of customers you lose within a particular period. Creating objectives addressing the churn rate increases your revenue and customer satisfaction.
2. Gaining a Competitive Edge
As part of your business strategy, it's essential to consider how you measure against the competition. Developing business objectives for competition ensures your products or services meet market expectations.
3. Generating More Sales
Sales-related business objectives focus on enhancing the sales cycle. The goals should cover various aspects, such as;
4. Increasing Customer Satisfaction
Your business's success relies significantly on happy customers. Designing good objectives for business around customer satisfaction helps you provide better services. Ensure you understand your clients, what they desire, the challenges they face, and how they behave. It's also essential to provide omnichannel service so customers can reach out through the most convenient means.
Profit.co's OKR Management software enables you and your team to track progress and objectives from anywhere in the world. Whether you're a remote team or all in the same office, everyone can stay aligned to the top-priority objectives with Profit.co. Try it for free today!
Human-related Objectives
1. Using Tools that Improve Productivity
Running a business can become overwhelming, making it difficult to keep track of all tasks you need to handle. However, if you develop a clear plan to maintain your and your team's productivity, it's easier to manage all tasks. For instance, you can leverage task management software to organize and prioritize tasks. You can also plan to outsource specific processes as your business expands.
2. Providing Opportunities for your team to Enhance their Skills
Naturally, people seek to grow and excel, and your employees are no different. Development-focused business objectives can be such as providing adequate training programs. By allowing your team to enhance their skills and abilities, they become more competent, which benefits your business.
3. The Economic Health of your Employees
Satisfied employees are more productive and dedicated to success in any business or company. It's essential to outline objectives that will ensure your employees remain happy.
For instance, you can introduce performance incentives to ensure your team contributes more.
Regulation-related Business Objectives
1. Quality Control
Adopting quality control measures as a business objective is an excellent way to maintain high quality. Inferior quality drives away customers, which significantly affects your business's future. Your prices should match your quality, and your products or services should be available when needed. It helps nurture customer relationships and increases your overall revenue.
2. Waste Reduction
You can set objectives to minimize waste to increase your business's sustainability. Showing you're conscious of the environment can help you attract specific target audiences.
3. Reaching Out more to the Community.
If your business is relatively new, you should consider having objectives that focus on the local community. Engaging the community and remaining active connects you with potential customers. It also builds stronger relationships, increases brand awareness, and builds trust.
Conclusion
Precise objectives are vital to ensure your business runs smoothly and grows sustainably. You can start by outlining your business's challenges and matching them with business objectives. Remember that your goals only serve their purpose when executed successfully. The best way to ensure this success is by using intuitive objectives and key results (OKR) software. With Profit.co OKR Software, you can easily manage your strategy and team while monitoring processes, performance, and OKRs on a single platform.
Schedule a free demo today and unlock success beyond your imagination.