Introduction to the PEEL approach
Profit.co OKR software is designed & developed in such a way that it helps businesses set challenging and ambitious goals with measurable results. Learn how to review OKRs using the PPP framework or create your own review method in this video. This document will guide you to use the OKR software better.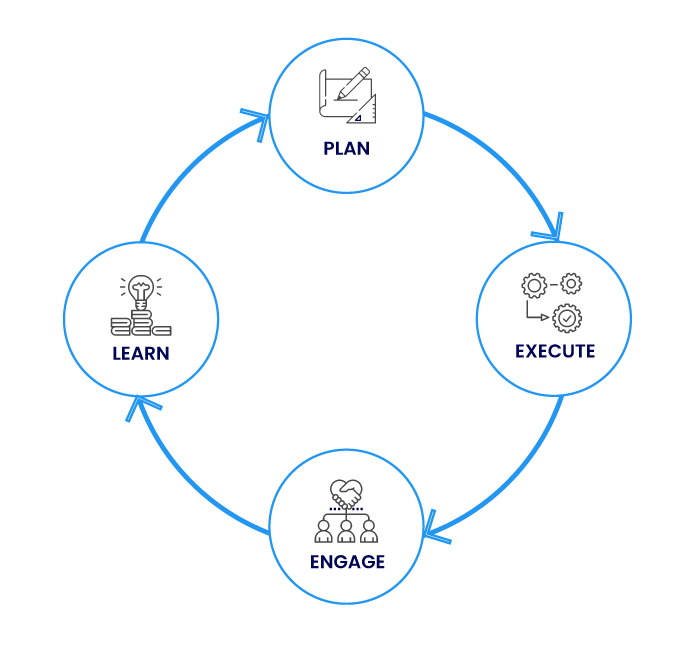 The PEEL approach walks you through each step of the OKR journey:
Plan your OKRs
Execute your OKRs
Engage your employees
Learn from your successes and failures in an institutionalized way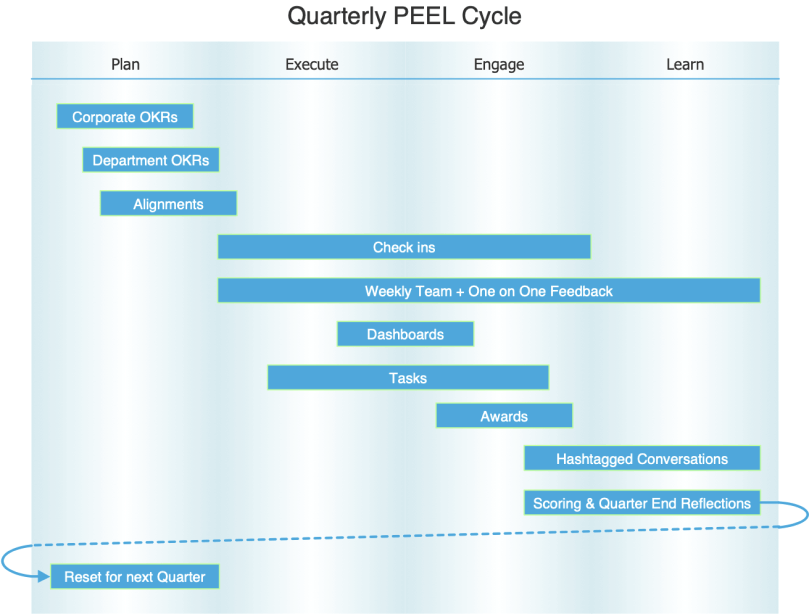 Planning
Planning is the first thing that you have to do before creating and executing successful OKRs. Whether you're creating new OKRs or refining old ones, your objectives and key results are conceptualized during this stage.
Execution
Once you complete planning, you have to move towards the execution phase. Once OKRs have been set and determined, you can begin to check in your key results. Profit.co has a check-in feature that provides you with a reminder (which can be set according to your schedule) to review your OKR progress.
Engagement
Profit.co supports employee engagement by awarding them for their performance and the success of their OKR progress.You can give awards to managers, peers, and subordinates. These awards, which can be set by superusers, is a points-based awading system.
Learning
The last component of the PEEL cycle is learning.
In Profit.co you can use hashtags to note and communicate issues or successes that you've had during your OKR experience. Keeping a record of problems can really be beneficial in figuring out a solution and helping in learning your OKR management better. It's important to remember that this PEEL approach of Profit.co isn't a finite process; instead, it's a cycle that requires engagement and practice in order to truly learn from experience.
Plan – OKR Planning
Companies like Google, LinkedIn, and Netflix have become massively successful in using OKRs as a goal-setting system. They continue to push themselves and rise to every occasion by thriving hard towards attaining success. Even they had to start from somewhere, and it can seem like a daunting task when they planned for OKRs from scratch.
In this section, we will discuss creating objectives, creating key results, aligning OKRs, creating dependencies, and using OKR tags.
Objectives
Create an Objective
In Profit, there are three ways to create an objective:
1.Step-by-Step Guide
As an individual contributor who is new to the product, the Step-by-Step option takes the most amount of time, but it also provides you with a comprehensive guide for creating your objectives.
2.Quick Create
Quick Create allows you to add objectives to the program by typing their name and creating them from a textbox. These objectives can be edited later using the pencil icon to the right of the objective.
3.Using Form
The Form option provides you with another quick way to create an objective in a single window.
If you don't see all of these options available in your account, you may need to reach out to a superuser to enable the options that are currently unavailable.
Change Objective Owner
Profit.co allows you to set the owner for Objectives that are created under My Departments OKRs. You can assign, as well as change the owner for any OKRs that are created in My Department OKRs
OKR visibility
While creating an objective, you need to set visibility. Visibility option helps you restrict the view of your OKRs.
For more information about visibility, see the following video:

OKR Alignment
Aligning with another OKR establishes a connection between your objective and the objective you are aligning with. For example, you may decide to align your objective with your manager's in order to contribute to a larger OKR, or you may align your OKR with a peer's to show a connection to a team OKR. When OKRs are aligned, their relationships are visually represented in a cascading effect beginning with corporate OKRs down to individual OKRs.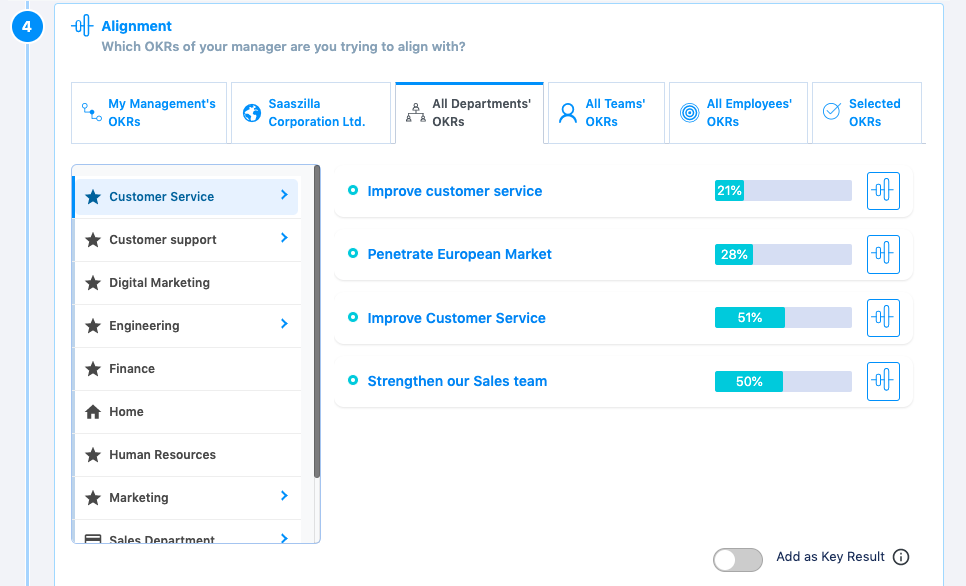 From backlog
If you're looking for a drafting space for Objectives, you can use the Objectives Backlog. To access the backlog, click on the symbol in between the action and help centers in the top right corner of your screen.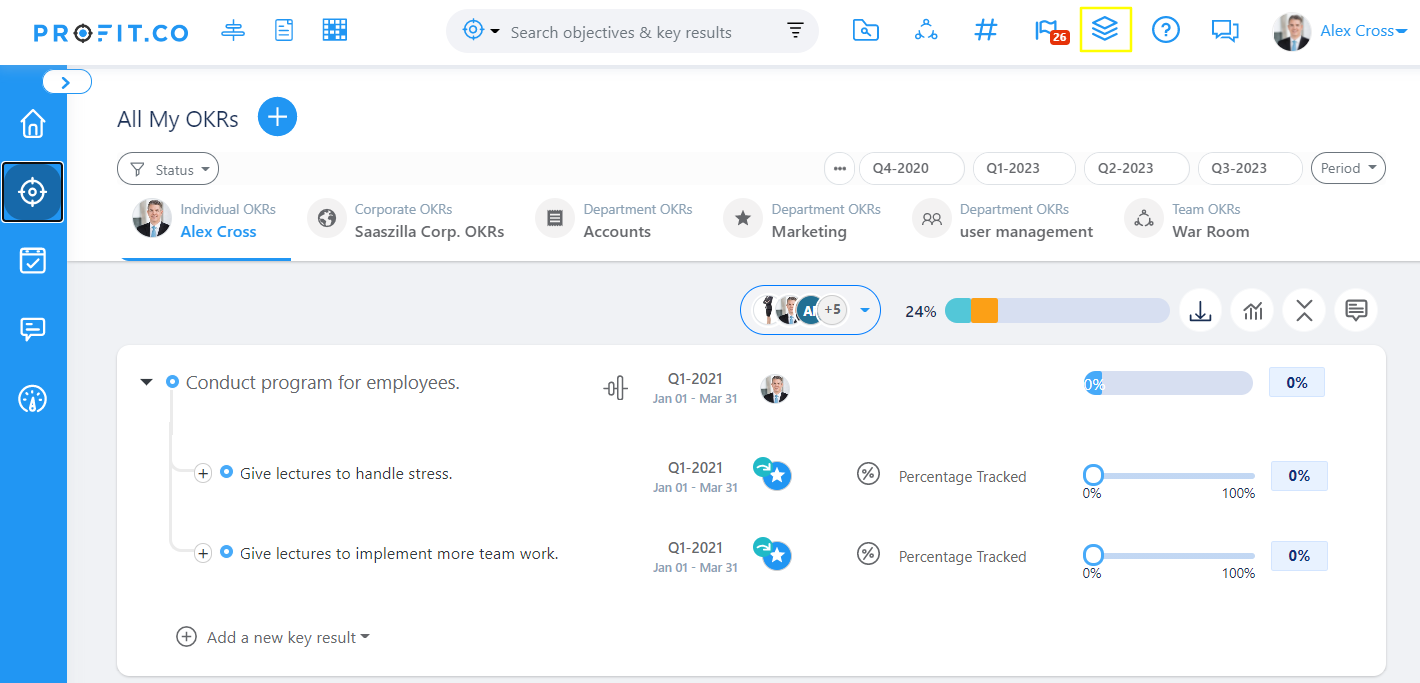 Once you enter the backlog, you can create an Objective by clicking on the Create button at the top left of the screen.

Type a name for the Objective and set the OKR Levels. You can also add the Key Results. Finally click on the create button.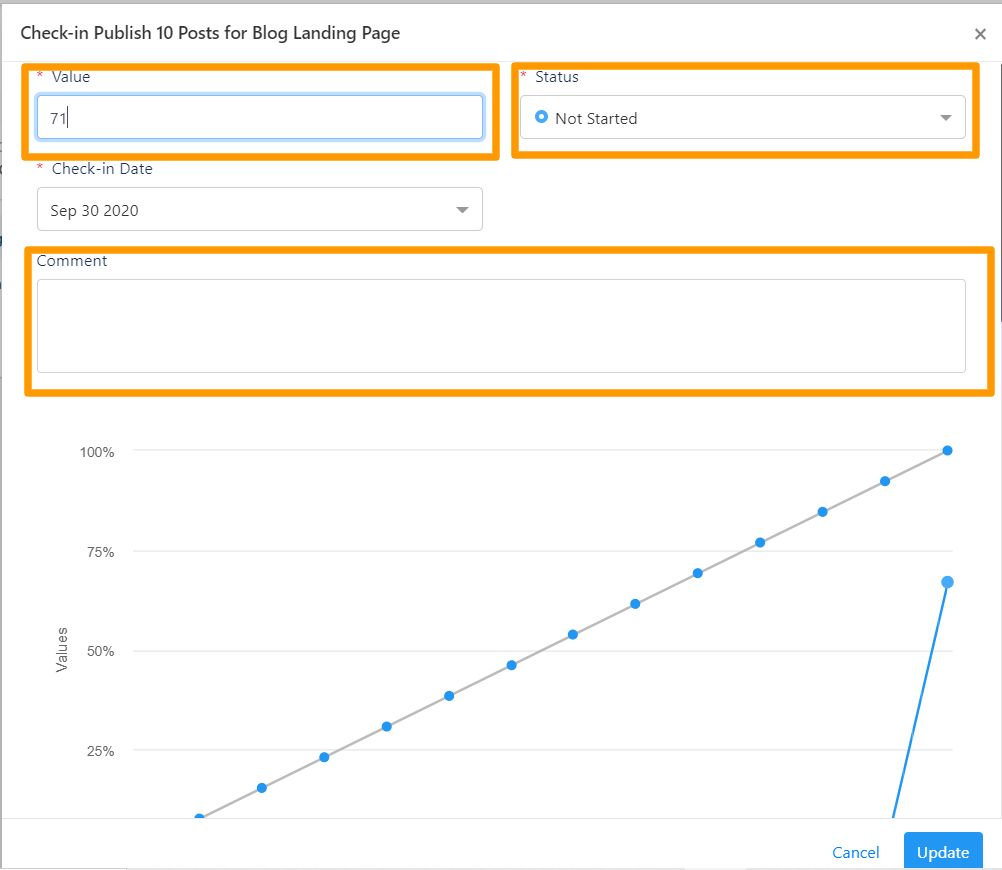 Click on the Target icon on the right side of the objective name.

Once you've clicked "Add as objective", you'll get the Name,Target and Visibility to cross check and Create it finally.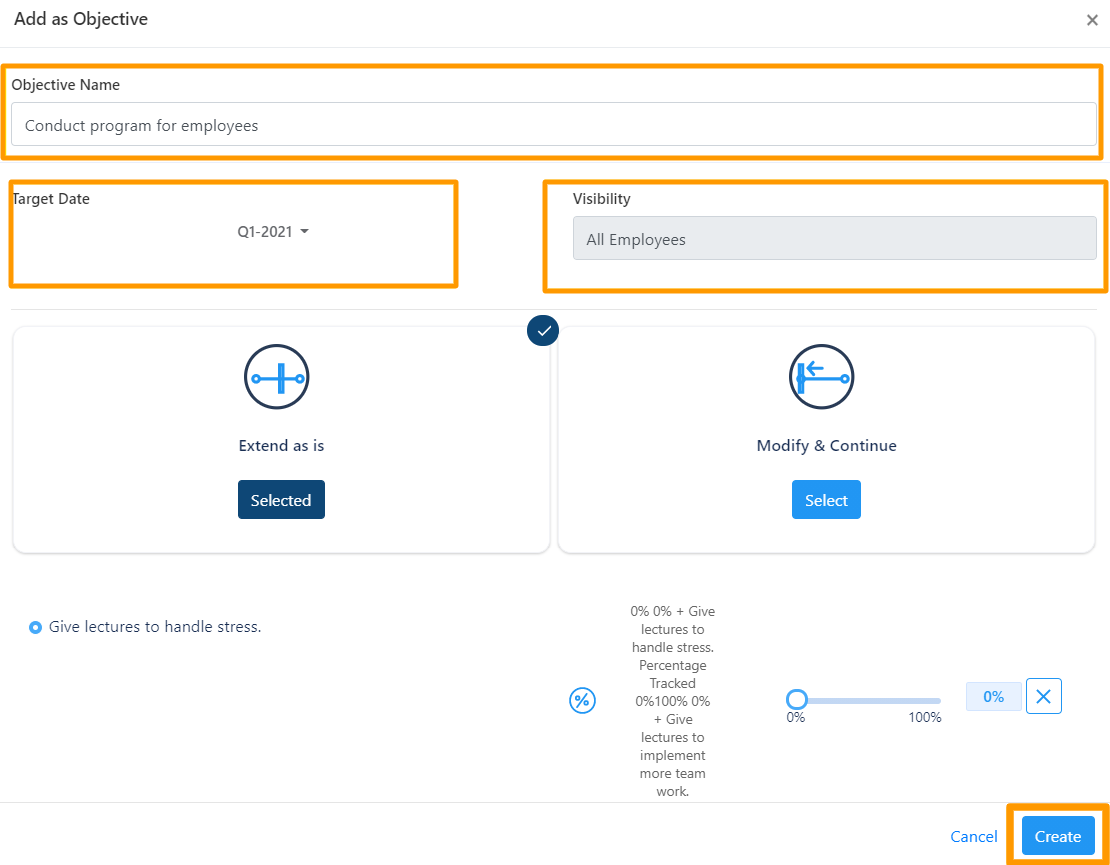 After creating the Objective it'll be reflected on the page , in which OKR level we have setted.

Key Results
Creating Key Results
Key results are the actionable steps needed to achieve the goal that you'd like to reach to complete your objective. Key results are basically measured or tracked in order to determine the progress made towards your objective.
In Profit, you'll find four ways to create key results:
1.Step-by-Step Guide
For end users new to the product, the step by step guide is the most comprehensive tool to use to create key results, although it is the longest option.:
2.Quick Create
Quick Create allows you to create key results by selecting "Add a new key result" beneath your objective and typing in your KR name. This option is the quickest way to create a key result once you've become familiar with the program. Your key result can be edited at any time using the pencil icon.
3.Using Form
The Form option provides you with another quick way to create your key result in a single window.
4.KR Backlog
The KR Backlog is a drafting space for key results where you can start them and add them to your objectives later.
Default key result type
Profit.co allows you to set your default Key result type based on your requirements. Whenever you create a new key result for your objectives, this will help you save time without having the need to manually set the key result type for every key result that you create.

To learn more about Default key result type setting process, click here
Pending Check-ins
You can now view the pending check-ins of employees in My Org's in Profit.co and it helps you to keep track of their progress towards their key results.
Note: Only the manager can view the pending check-in list of the subordinates.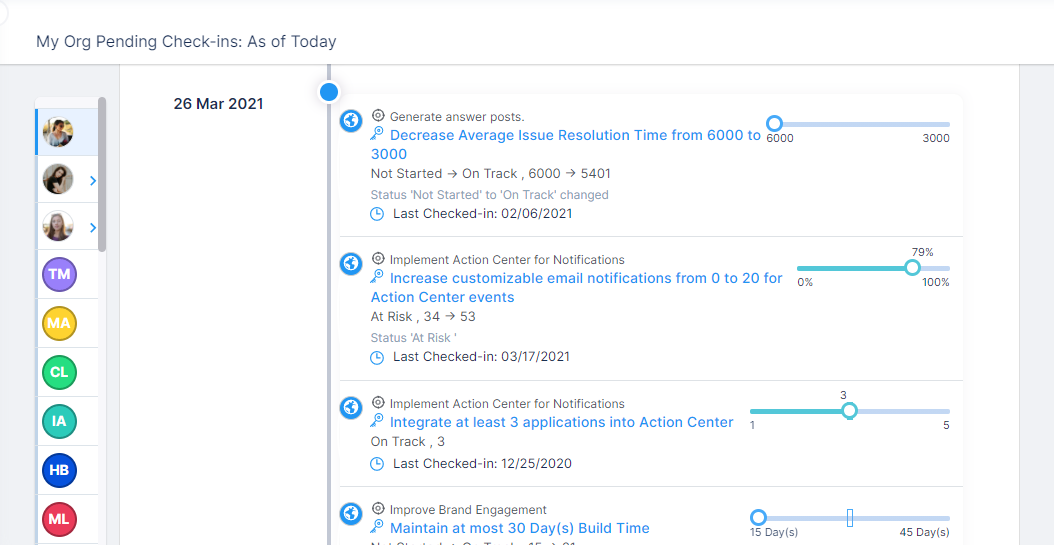 Creating Sub Key results
You can now branch out your parent key results and create sub key results for your objective in Profit.co.
Note: Before creating sub key results, navigate to Settings → OKRs→ Alignments & Dependencies from the left navigation panel.

Distribute weight for key results
Profit.co enables you to assign your key result to multiple users and update your key result progress automatically. For percentage tracked KR you can distribute percentage contributions to your team members.For increase and decrease KPI key results, you can distribute the KPI value to your team members.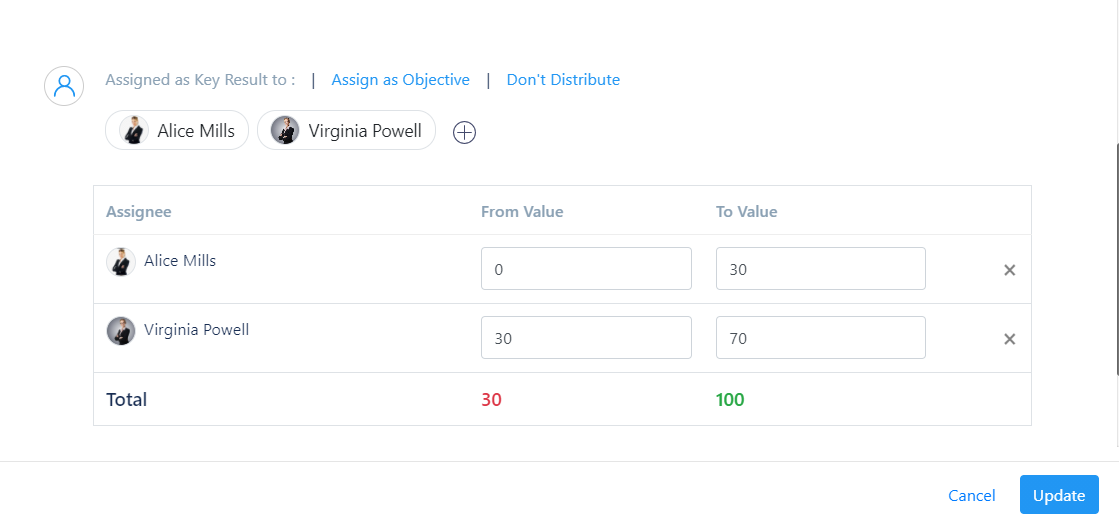 Distribute weight for sub key results
You can now create subkey results by simply distributing the key result weightage to multiple assignees at a time using the Distribute button in Profit.co. By doing this you can create subkey results, assign multiple assignees and distribute weightage to each key result.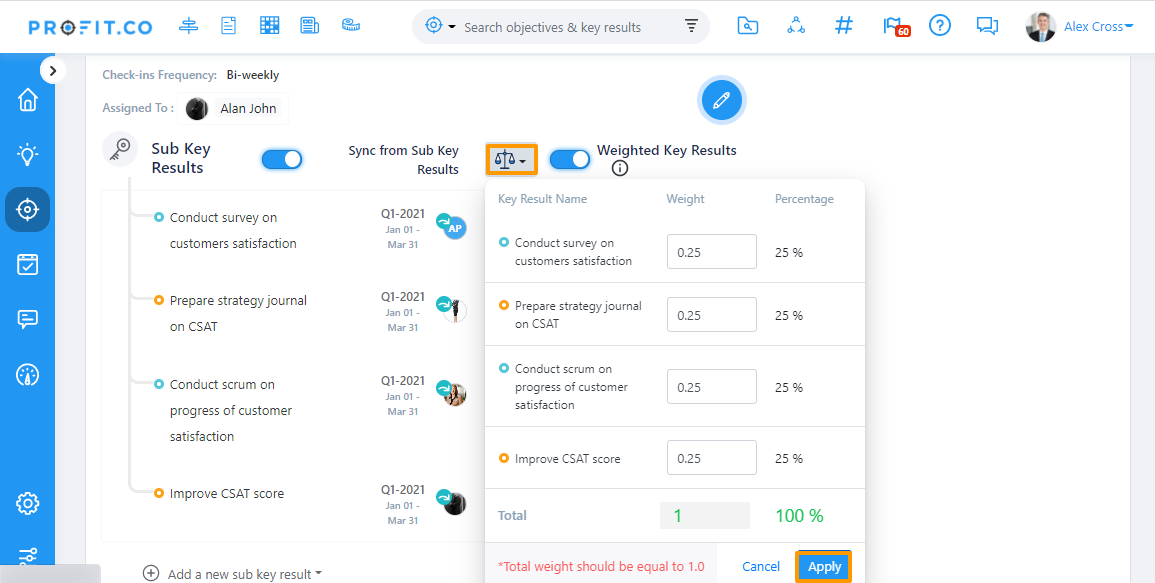 Restrict Visibility for Key Results
Profit.co provides an option to Restrict Visibility for Key Results and Sub Key Results. Key Results assigned to the department can be restricted to selected employees within the department as well as the organization. Restricting the visibility will allow the user to limit the employees to perform actions on the OKRs.

To learn more about this process, click here.
Restrict Parent Key Results
In Profit.co we can control the parent Key Result level check-in; only the Sub-Key Results progress will override the parent Key Result.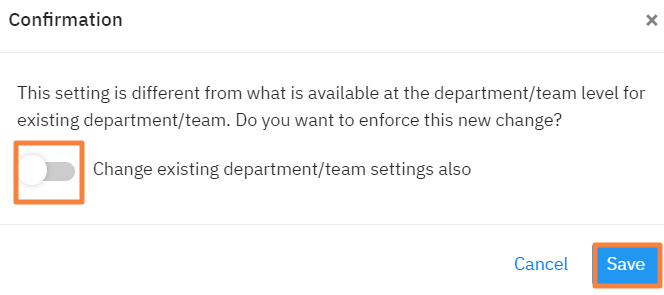 To learn more about this process, click here
Key Result Reports:
You can generate report of the key results without tasks.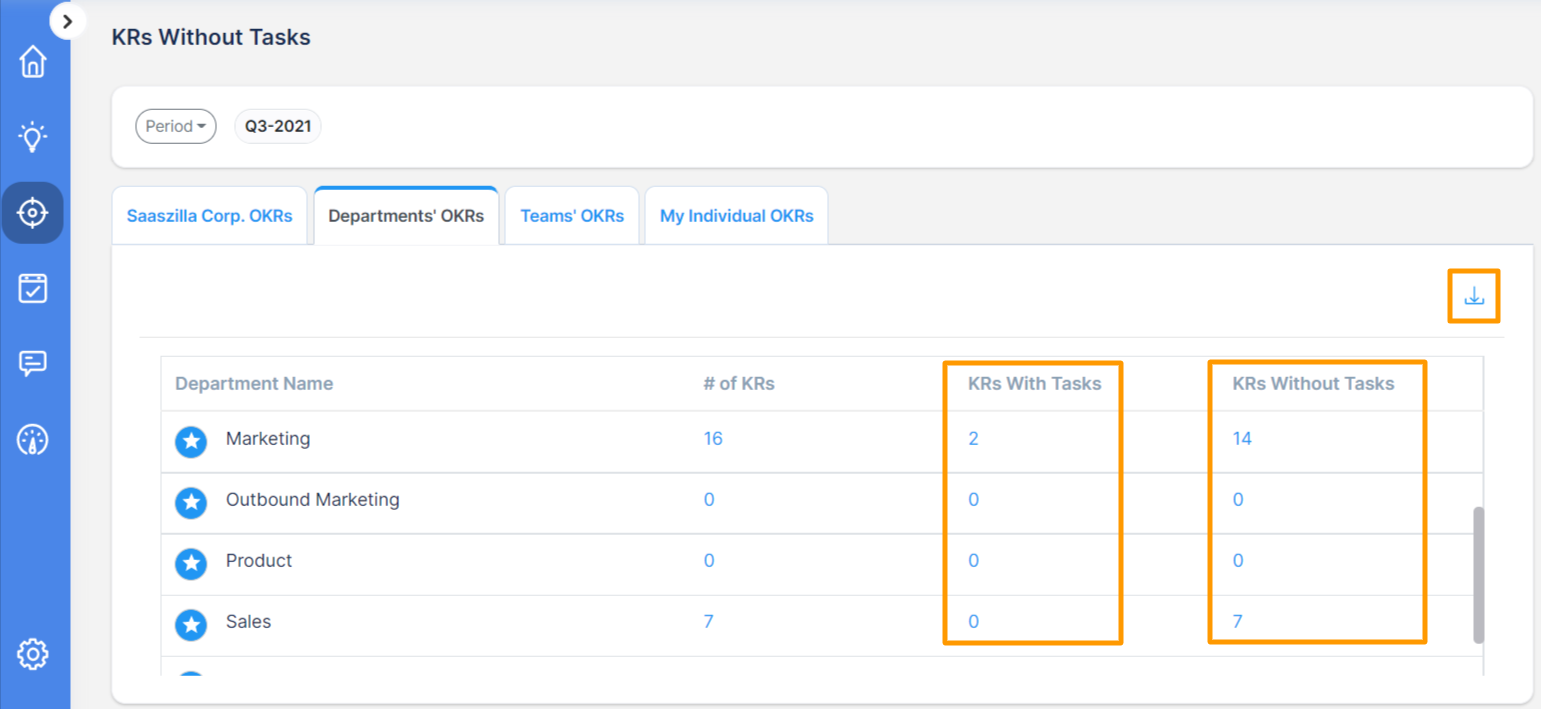 To learn more about this process, click here.
Cascaded OKRs:
Profit.co provides an alert message before changing the assigned Key Result as an Objective.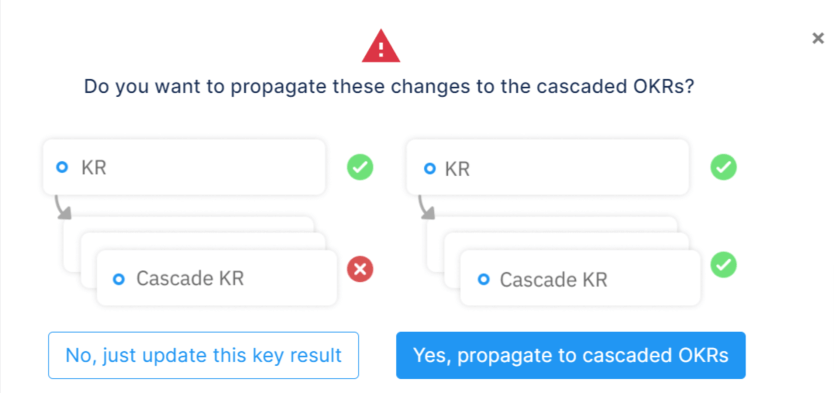 To learn more about this process, click here
KPIs
There are seven key result types, in which you can show progress by using the following KPI in the kesy results.
Percentage Tracked
Percentage Tracked key results allow you to track and measure key results using percentage. For example, "Publish 10 Blog Posts" can be represented by the percentage of blog posts you've published. If you've published five posts, your key result would be 50% complete, or if you've published nine, it would be 90% complete.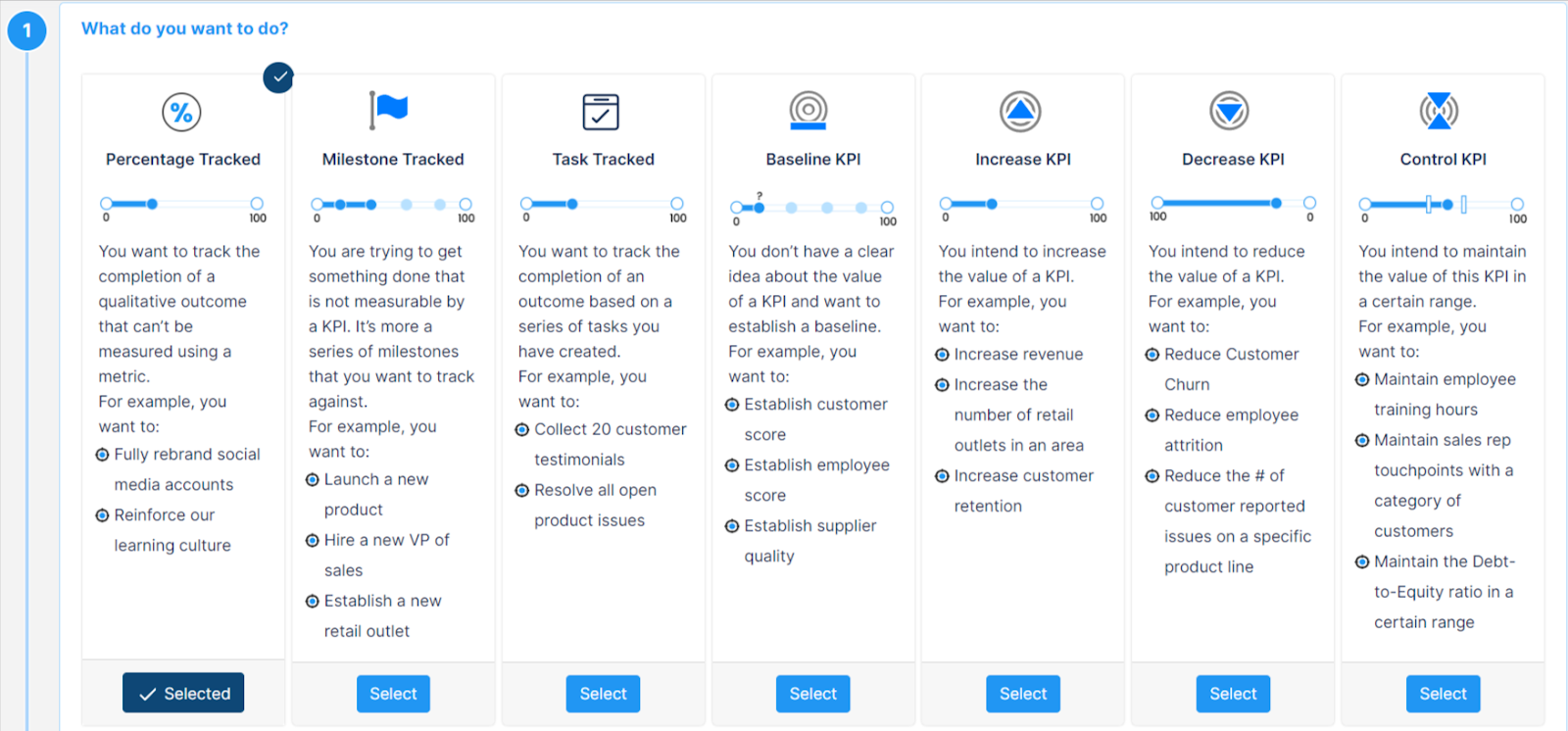 Milestone Tracked
The Milestone Tracked option is ideal for tracking key results that need to be completed through multiple steps. While many key results are quantitative, there are times in which your progress can't be measured numerically. During such instances, Milestone Tracked key results can be used and you can achieve your key result by completing sequenced steps or milestones.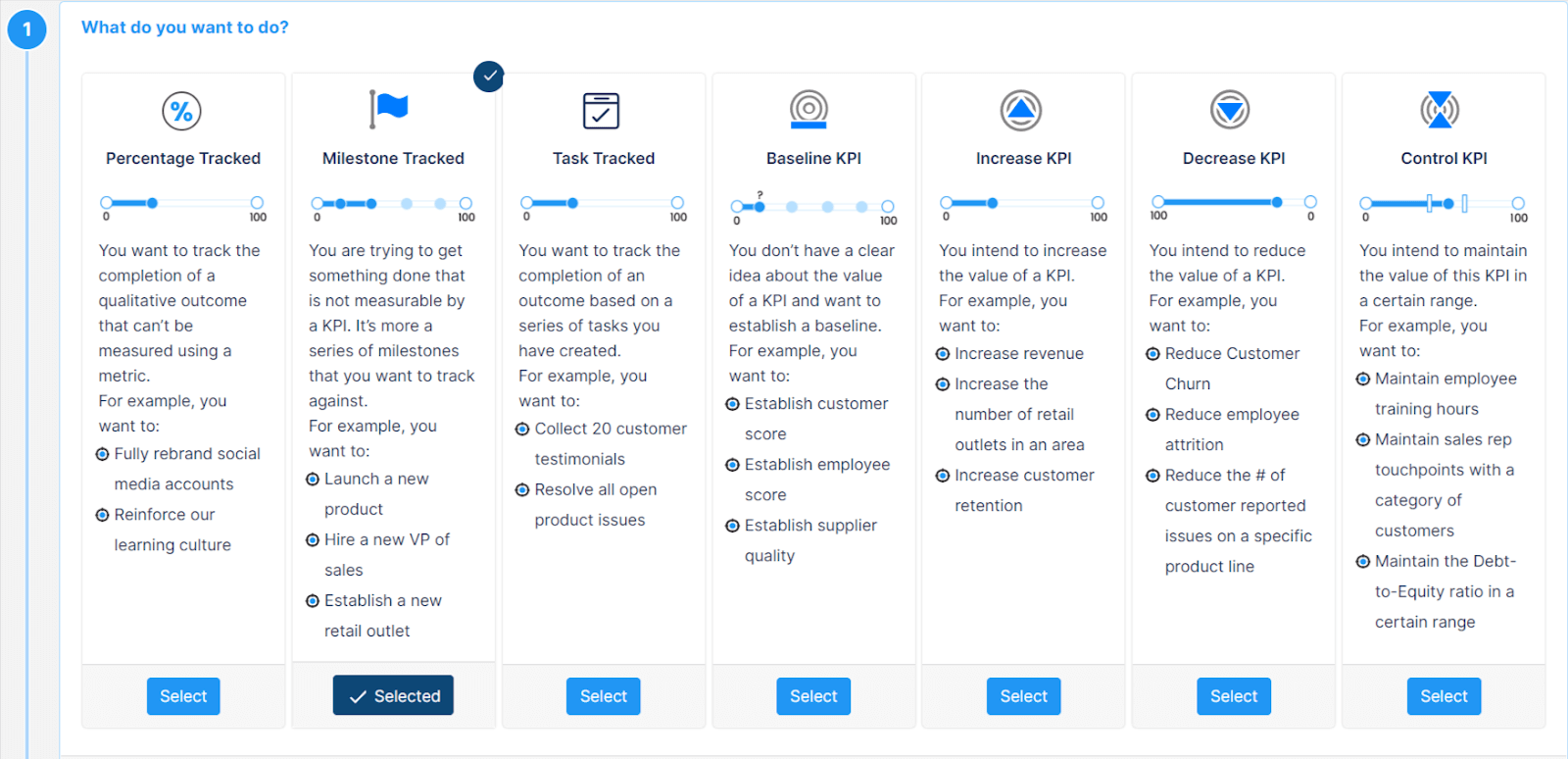 Task Tracked
You can create Key Results using Task Tracking non measurables in Profit.co. This KR type directly associates your task with the created key result, so that you can track the progress of your selected tasks from the workspace via key results.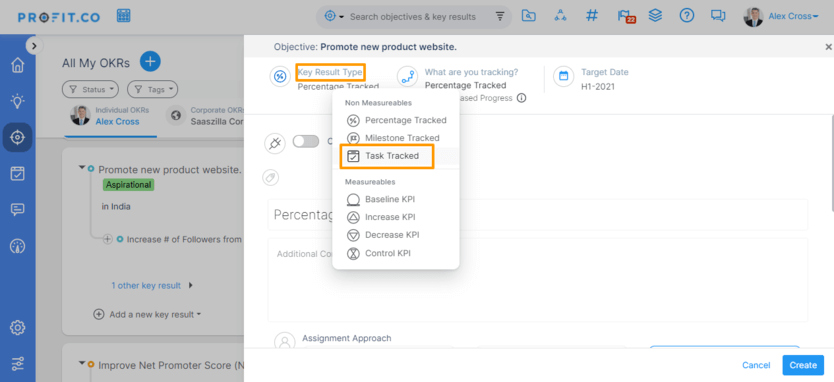 Also you can display the completed task count in Task Tracked Key Result.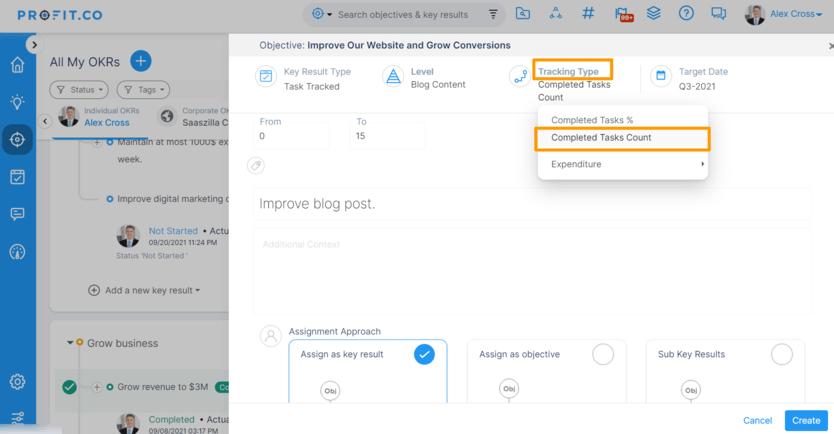 Baseline KPI
The third type of key result is Baseline KPI. This can be used when you don't have a clear idea about the value of a KPI and you want to establish one. For example, this could involve either establishing a customer satisfaction score or an employee score–it's about creating something you don't have at the moment and need to establish a baseline for moving forward.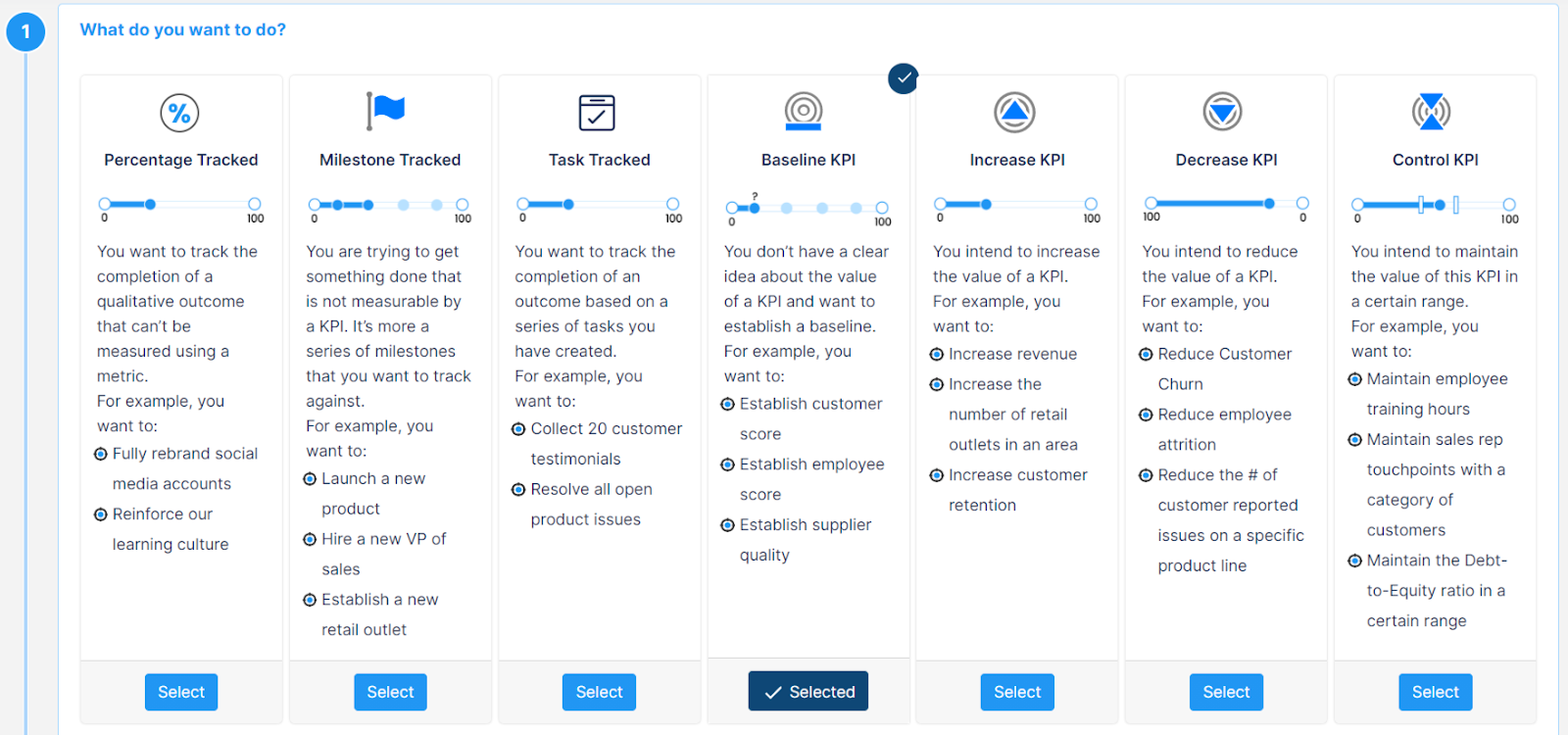 Increase KPI
Next is the Increase KPI. This can be used when you are trying to increase the value of a KPI. For example, you may use this option for increasing the revenue or increasing the number of retail outlets that your organization focuses on. Depending on what you're looking to increase, you can make your KPI increase the value of a specific number, percentage, amount of money, or time etc.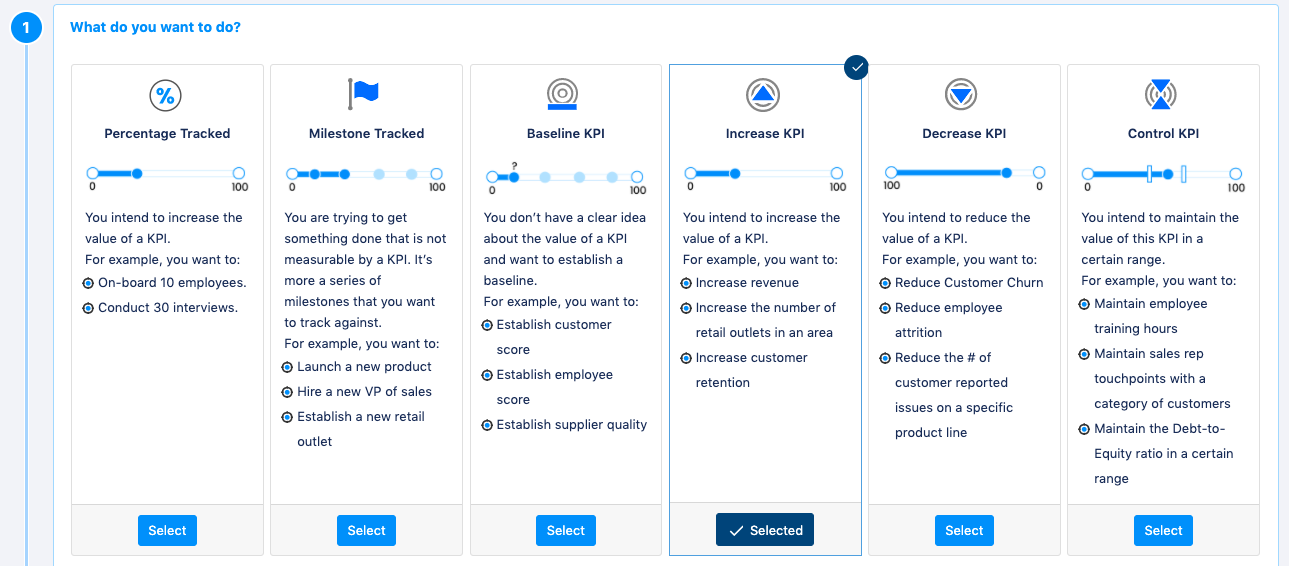 Decrease KPI
In some instances, it may be the best to lower the value of a KPI. For example, an organization may aim to reduce the employee attrition rate or reduce the number of issues in a test or product. With Decrease KPI you can decrease the numeric value, percentage, currency, or time of the key result.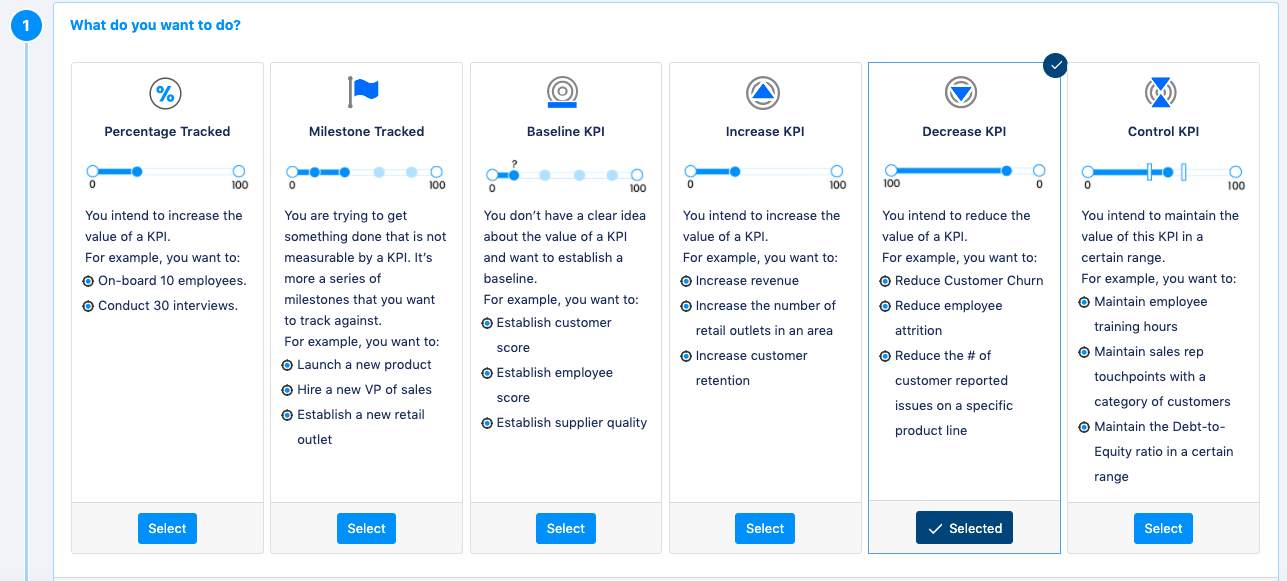 Control KPI
Finally, the Control KPI, allows you to keep the value of a KPI within a specific range, mostly above a certain amount, or below a certain amount. For example, if you want to control employee training hours in between 20-40 hours a year, then it is Control KPI because you're looking to maintain a range in between certain values. Other times, it may be beneficial to have a lower limit, like if you want at least 10,000 views on your webpage per week. The lower limit would be 10,000–then it is an "at least" Control KPI. Or maybe you're looking to enforce an upper limit. An example of an "at most" Control KPI could be a key result to "ensure that all KPIs respond within 400 milliseconds." In this instance you do not want your KPI to exceed 400 milliseconds. Control KPI can also be tracked by a variety of measurements such as numeric value, percentage, currency, or time.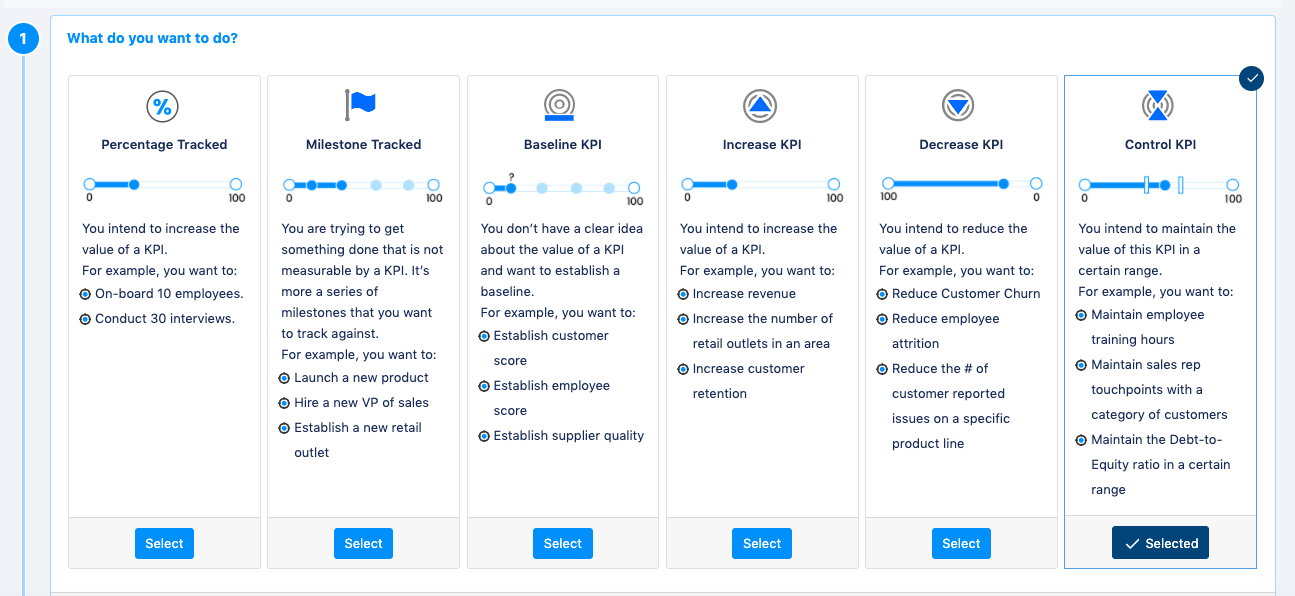 From backlog
If you're looking for a drafting space for these key results, you can use the KR Backlog. You can also create a key result backlog to store your created key results. In Profit.co you can move your key result to the backlog and vice versa. If you want to remove the backlog from the list you can remove it easily.
Swiftly move Key results to any objective
You can now swiftly move key results to any destined objective using the drag and drop technique like how you rearrange key results in Profit.co. It helps you to save time and also you can move any key results to any objective and start showing progress right away.

You can also move the key result within the same Objective.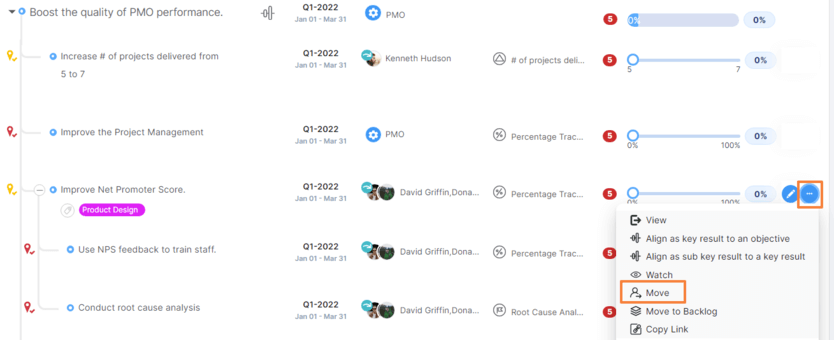 Change the default owner of an OKR
In Profit.co the default owner name will be added to the objectives and key results in the create/edit page of OKRs. But now you can also change the owner of the OKRs by using the search and select option while creating or editing OKRs.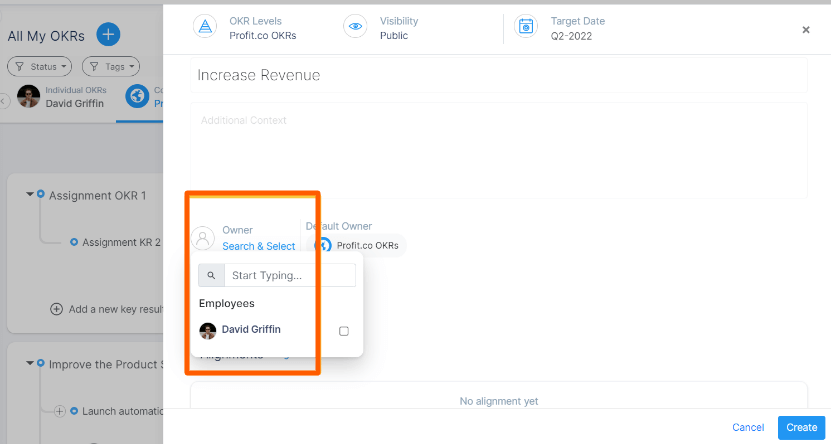 To learn more about this process, click here.
Weight Roll-Up Approach
A new roll-up approach named KPI Based will set the progress calculation based on the KPI value. While choosing this option, we can sync the subkey result progress changes when the subkey result type and KPI are matched with the parent key result.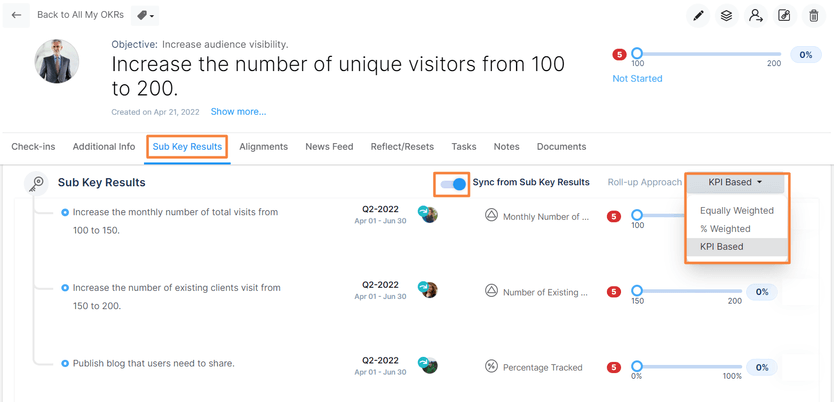 To learn more about this process, click here.
Rearrange the order of KRs, Objectives, and Tasks in their actual list page:
You can always rearrange your Key results, Objectives, and Tasks through drag & drop in Profit.co. This helps you to keep the prioritized KRs, Objectives, and Tasks at the top and helps you to organize OKRs and Tasks at your convenience.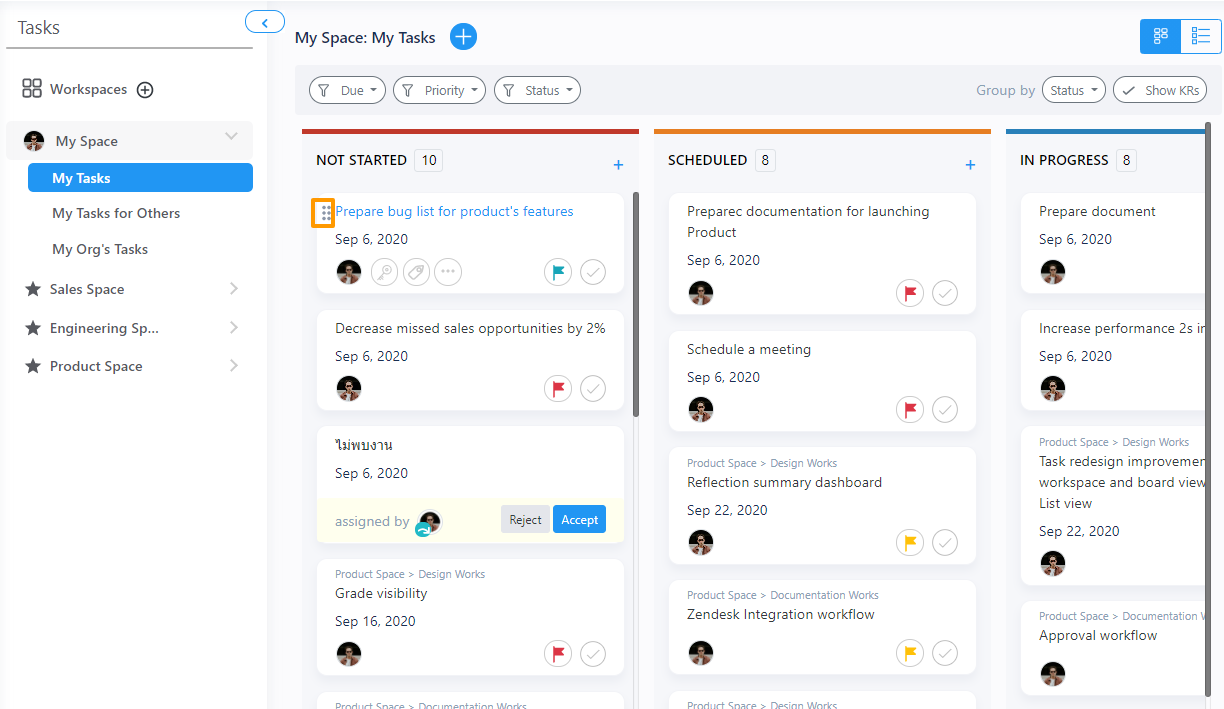 Assignments
Enable Multi Assignee in KR Assignment
You can assign a single key result to multiple assignees in Profit. co. This helps the assignees work collaboratively over a single target with each being assigned a certain percentage to contribute to the key result.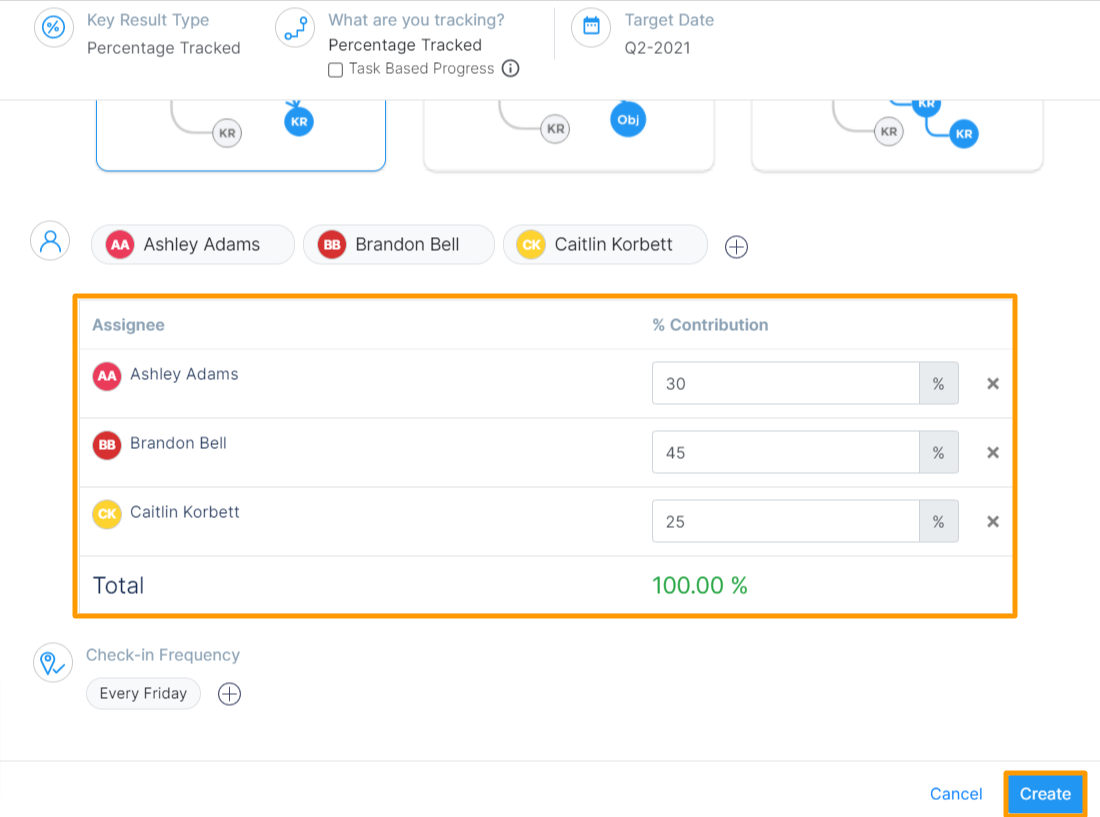 Filter the assignees in the OKR list page:
Profit.co allows you now to filter the Objectives and Key Results assigned to you in one click. Just by clicking on the right side of the filter, you can filter the assignees and view the OKRs associated with them.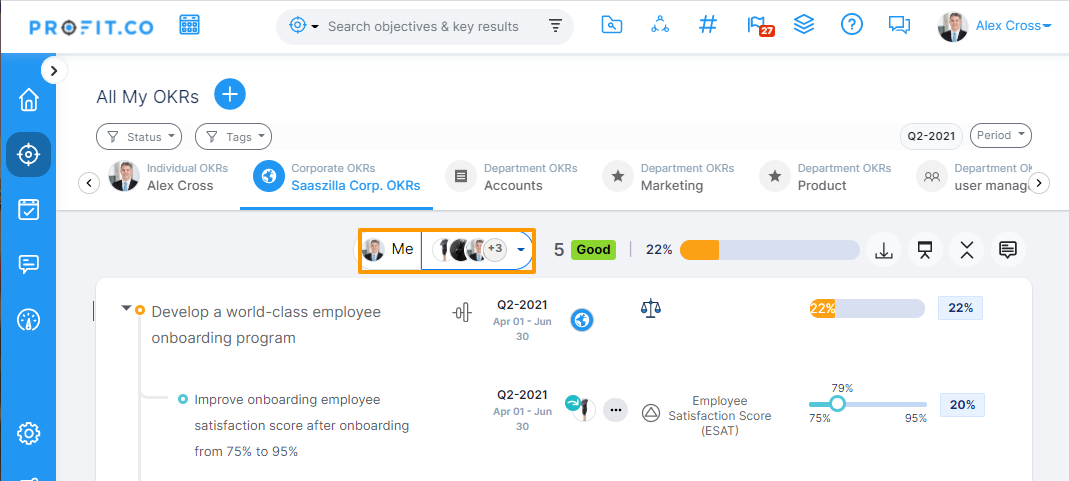 Filter OKRs by Periods
A period signifies a year and each year is divided into four quarters. Profit.co provides an option to filter your OKRs based on periods.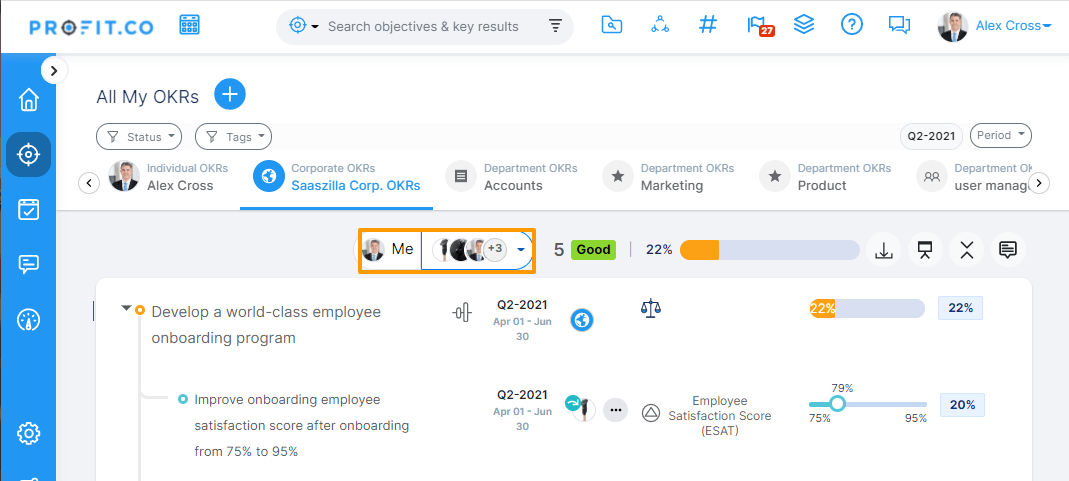 To learn more about this process, click here.
Change the assignee for a Key Result
In Profit.co you can now change the Assignee of a key result in two ways: one is that you can change it in the OKR list page itself and the other one is changing it by navigating through the overview page of the key result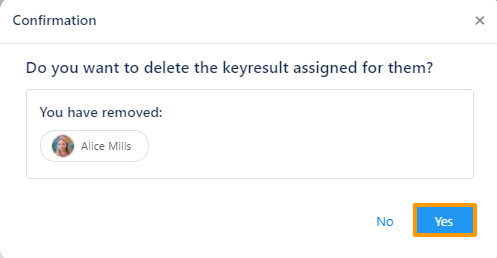 Clone/Copy OKRs:
We can clone/copy the OKRs if you want to make a duplicate of the existing OKRs.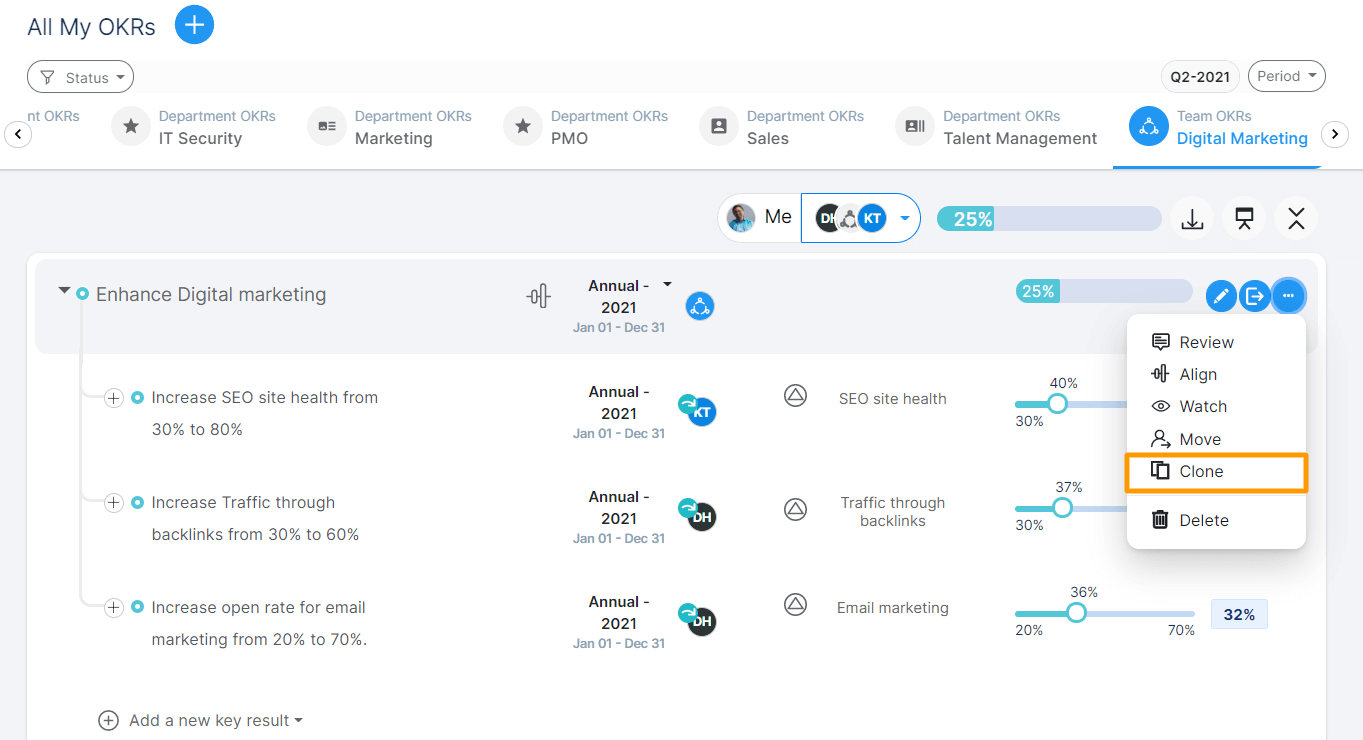 To know more about this process, click here.
Also you can clone/copy OKRs along with tasks.

All Team OKRs:
All the profit users can have access to view all of the team OKRs.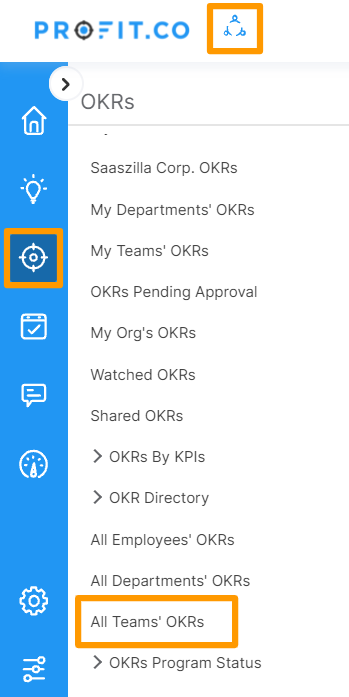 To learn more about this process, click here.
Add Weightage for Objectives:
We can define weightage for the Objectives. Click on the Weight icon to add the values.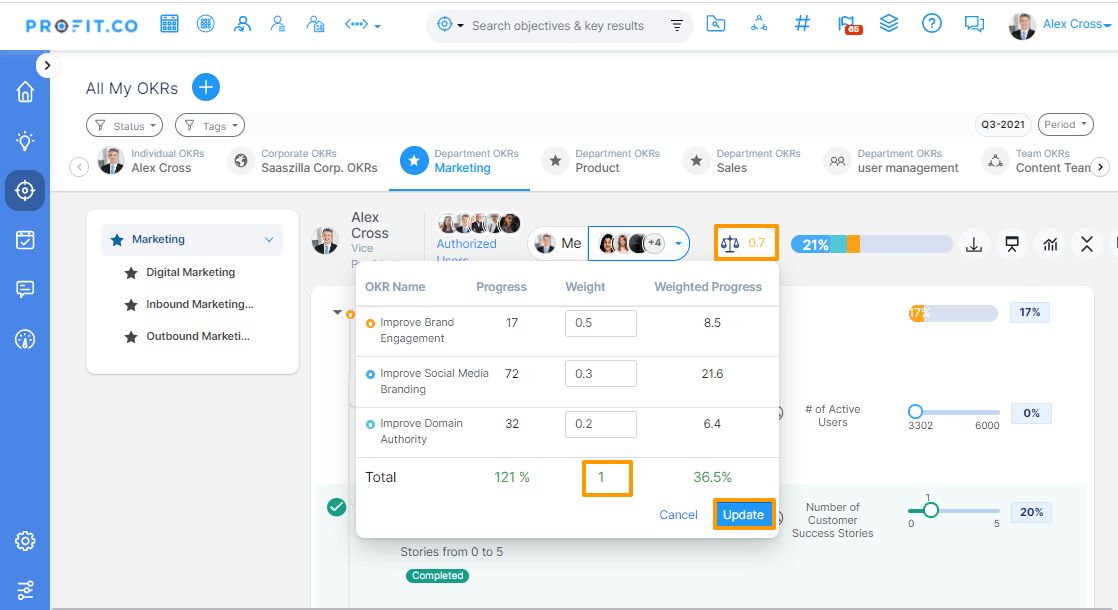 To know more about this, click here
We can also track the changes in the objective weights defined at the OKR level by clicking on the "View Log" in the OKR weight-defining pop-up in Profit. co.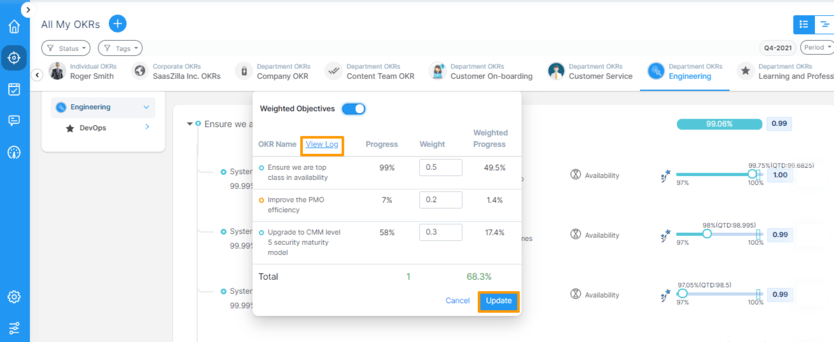 To learn more about this, click here.
Add Note on the Objectives:
Mouse hover over the objective name and click the

Notes symbol.

To know more about this, click here.