This guide is specifically designed for the super users of the Profit.co software. As the super user is open to special privileges to administer and maintain the system of the organization, this guide helps them to learn the functions and understand their key role better. This guide will foster the responsibility and the managing competency of the super user.
As the super user's enjoy super access to system administration and the software management, it is vital that they know their role better, instead of diving into the account without having any prior orientation about the product. This super user guide is chiseled in such a way that all the salient and the key functions of the Profit.co software is highlighted in a coherent order. Just go through the super user guide and learn how to enjoy a hassle free access to accounts in your administration. Starting from managing OKRs modules, Task, Engagement and Performance the key settings part is handled by the admin and you can know it all under a single roof.
Profit.co mainly focuses on establishing a customer friendly product that can be accessed from anywhere anytime at ease. So being a super user is more like managing the freedom of the fellow employees, so learn it better and manage it efficiently as you're going to run the success story of your organization through your management skills.
Alignments & Dependencies
Alignment & Dependencies facilitates a hierarchical view of how your team's objectives are aligned with your objectives and key results. Profit.co enables top down and bottom up alignments.
How to Access the Alignment & Dependencies page of OKRs?
Go to Settings→ OKRs → Alignment & Dependencies from the left navigation panel.
The Alignment & Dependencies Page will open. Here you can manage Alignments & Dependencies via this page.
To read more about Top down and Bottom up alignment, click here.
Top Down Alignment
In top-down alignment, you can align your OKRs in Profit.co by assigning your Key Result as an Objective, or, as a Key Result. This way, the assignee will receive that Objective or Key Result as a priority.
Enable multiple assignees for one assignment.
Assign a KR along with the copy of the Objective.
Always assign a KR as Objective.
Copy KRs to Individuals as Objectives or KRs when assigned from the Corporate, Department or Team OKRs.
Bottom Up Alignment
In bottom-up alignment of OKRs, while you create OKRs, you can choose which OKR you want to align with and can view the OKRs from the bottom-up alignment. A good alignment will ensure that your employees focus on Tasks and KeyResults that matter to the organization
Allow Bottom Up Alignments for Key Results.
Accept/Reject Alignments
Always add the aligning Objective as KR to the target Objective
Allow alignments to only one level above the aligning objective's level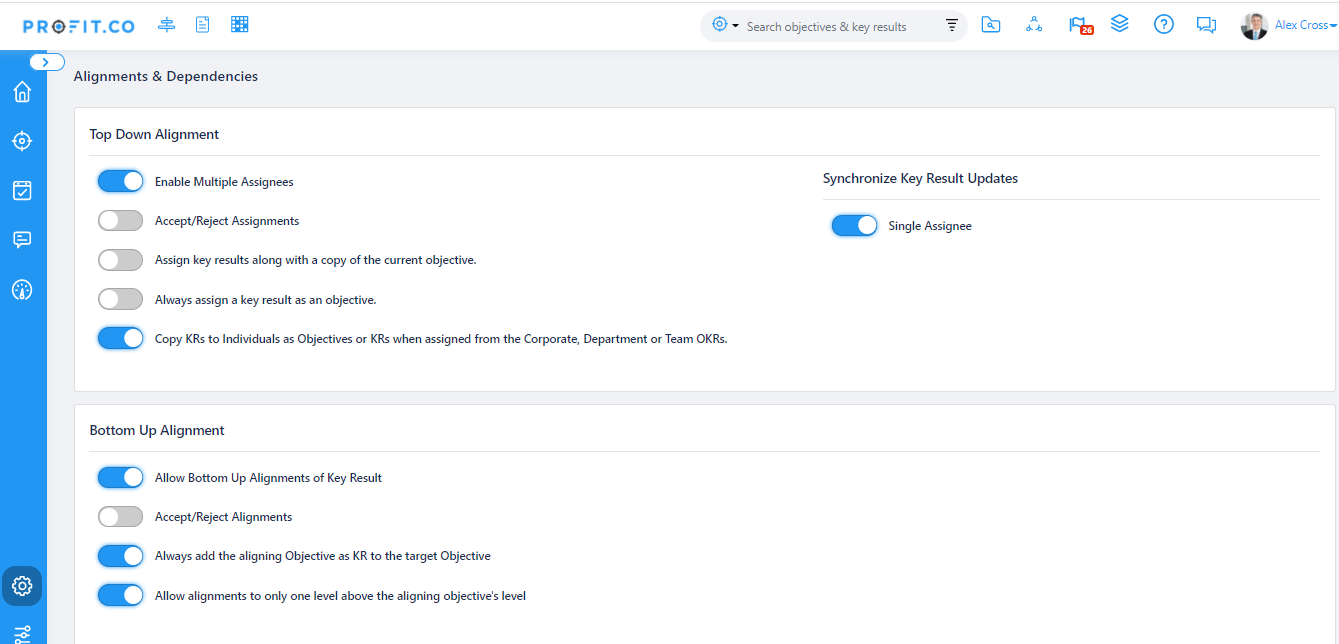 Baseline
How to create a new Baseline Sequence?
Super users can create and save baseline sequences, so that the users can use them while creating Key Results.
Click on Settings → OKRs → Baseline Sequence to open the Baseline sequence page.
Click on the given link to learn, the steps to create Baseline sequence in Profit.co
Controls
The superuser can control the time frame for setting up of OKRs. Some objectives may have been planned quarterly while some objectives would have been set annually by the organization. If the superuser wants to restrict the time frame for an OKR, he can enable the toggle to set up the time frame for objectives.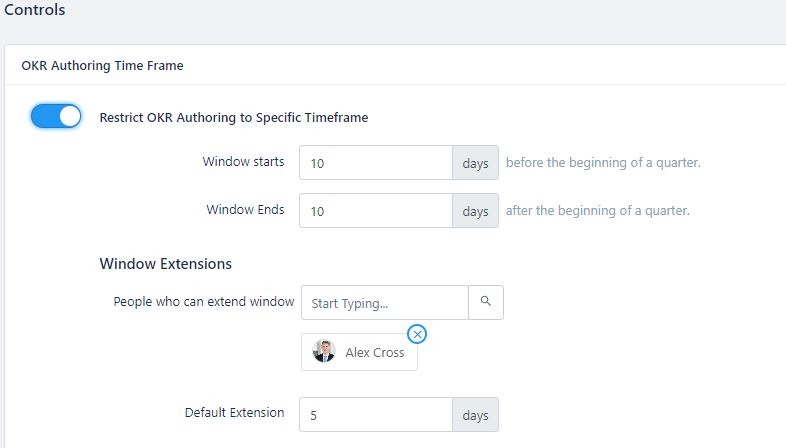 The default settings consist of the window starting time 10 days before the beginning of a quarter and ending time 10 days after the beginning of a quarter. The superuser can customize these settings as needed.
The superuser can also enable approval flows for users to create and edit their individual OKRs.

To set approval flows, the superuser needs to enable the toggle. The default number of employees managers entitled to approve the OKRs would be 1. But, this setting can be extended for any number of employees. Though the approval notification would be sent to everyone in the list, approval from anybody in the list is sufficient for creating or editing OKRs by the employee. The approval status would be visible under the 'pending OKR approvals' menu for the user.
To know more on how to restrict users from creating OKRs, click here. To learn more about approval flows, click here.
The superuser can also assign weightage to each key result under OKRs in order to rank them in the order of importance. The assigned weightage will affect the total average score of the OKR. To know more about how to define weights for key results, click here.

The superuser can also monitor and accept or reject the movement of OKRs from one department/team to another by enabling the toggle. To learn more about controlling the movement of OKRs, click here.
Frequencies
Profit.co comes with a vast number of check-in frequencies that you can select from.
You can set the default check-in frequency for the OKRs of your department according to their work plans. Click here to know more about frequencies.
Meetings
Profit.co allows you to create meetings as a unique feature and present a platform for the teams and departments of the organization to conduct regular meetings and connect with each other. We should enable Meetings first to create it.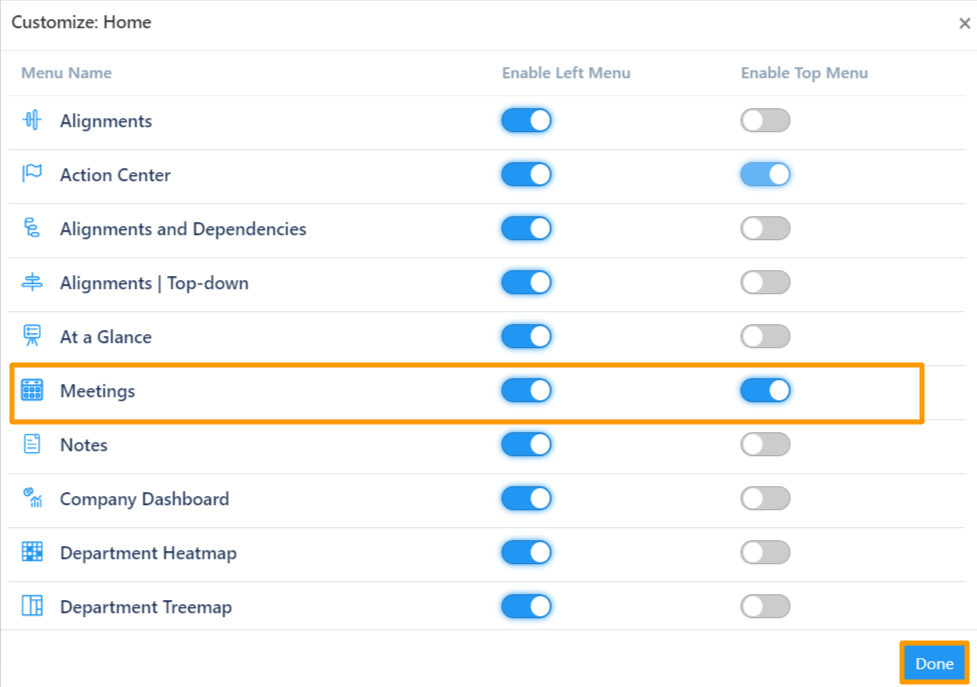 After enabling we can schedule a meeting by adding a proper time and date.
Department Heatmap
A heatmap is a graphical representation of OKRs progressed department wise where values are depicted by color codes. Heatmaps make it easy to visualize complex data and understand it at a glance. We are going to provide an option to generate a heatmap dashboard for department OKRs.
To know more about the department heatmap, click here.
Key Result Types
You can choose your key result type in Profit.co. Click here to know more about it.
How to Enable/Disable Key Result types?
Navigate to Settings → OKRs→ Key Result Types from the left navigation panel.
You will be directed to the Key Result Types page. Here you can Enable/Disable Key Result based on your requirement.

KPIs
KPIs can be associated with key results to track quantitative outcomes and to measure the achievement of your Objective. You can also define and maintain a library for KPIs where you can create KPIs based on your business needs. After creating KPI you can allow your employees to select, use and reuse KPIs for better tracking and reporting. You can also create KPI category in Profit.co.
Also, check out Aggregate KPI, Extension KPI.
Milestone Sequence
Superusers can create and save milestone sequences, so that the profit users can use them while creating Key Result.
Click on Settings → OKRs → Milestone Sequence to open the Milestone sequence page.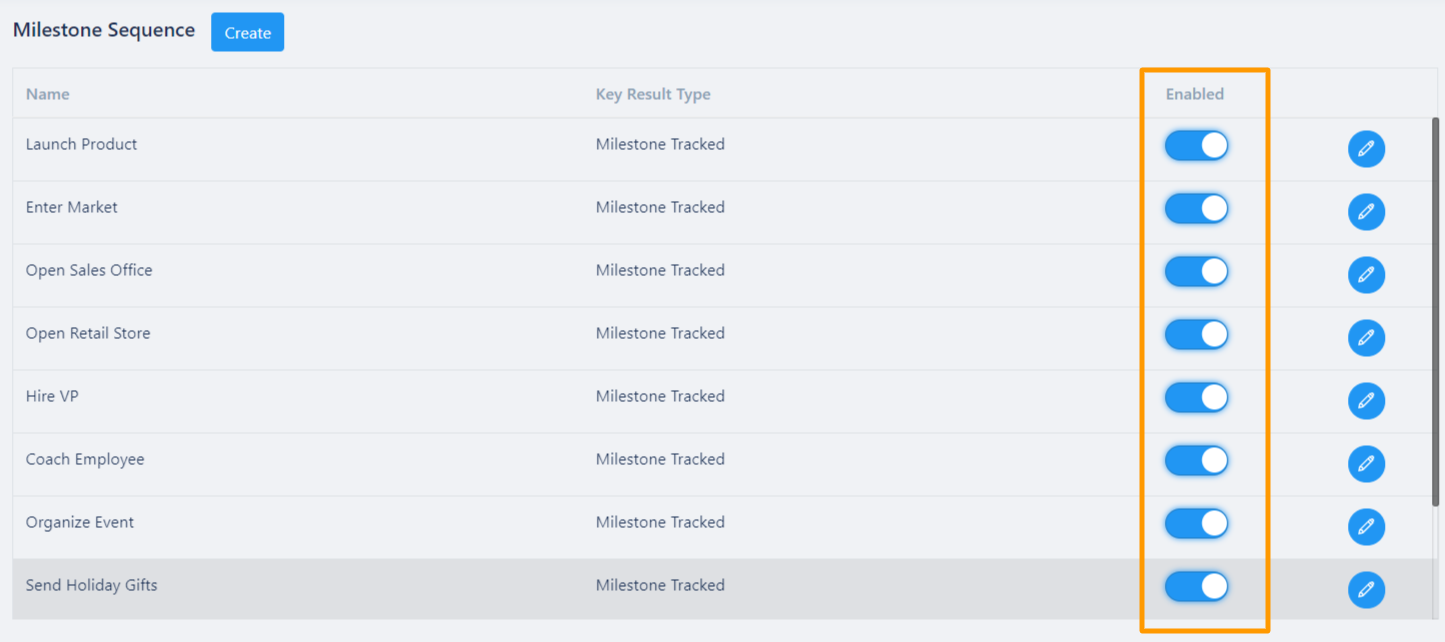 This Toggle against the Milestone sequences is used to enable or disable the Milestone sequence , that can be used while creating a Milestone to track key results.
Click on the Create button, a side panel will open.
Enter the name of the Milestone sequence.
This toggle prevents/allows the Milestone sequence to be displayed when creating a Milestone that tracks key results.

Enter the Sequence name and incremental percentage of the Milestone as per your convenience.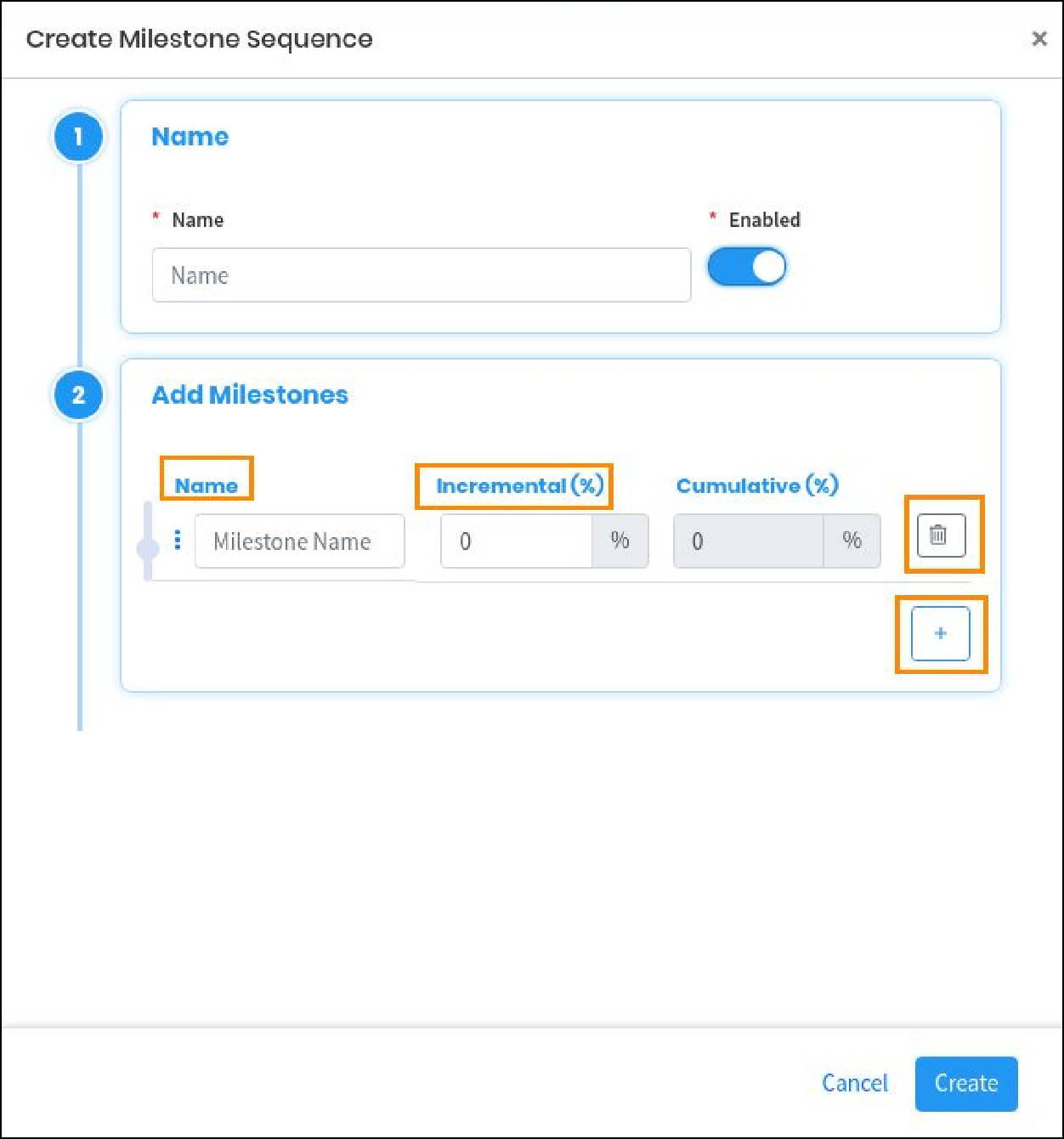 You can also delete a sequence by clicking on the Trash icon and + icon to add a milestone sequence.
Note: Cumulative percentage should not exceed 100% while providing incremental percentages.
Once you complete, click Create to create a new Milestone sequence.
OKR Levels
We can set OKRs at four levels. Every company will have multiple departments and sometimes companies have cross-functional departments that work towards solving a particular problem.
How to enable all Four Levels of OKRs
Navigate to Settings→ OKRs → OKR Levels from the left navigation menu.
Enable the Toggle keys. (By default Individual OKRs will be enabled)
Super users can enable all levels like corporate, Departmental, Team and Individual OKRs.
The Authorized user or the head can create OKRs under the respective levels.

OKR List View
The OKRs list view setting in Profit.co, helps you to customize the view of the OKR list page. Click here to know more.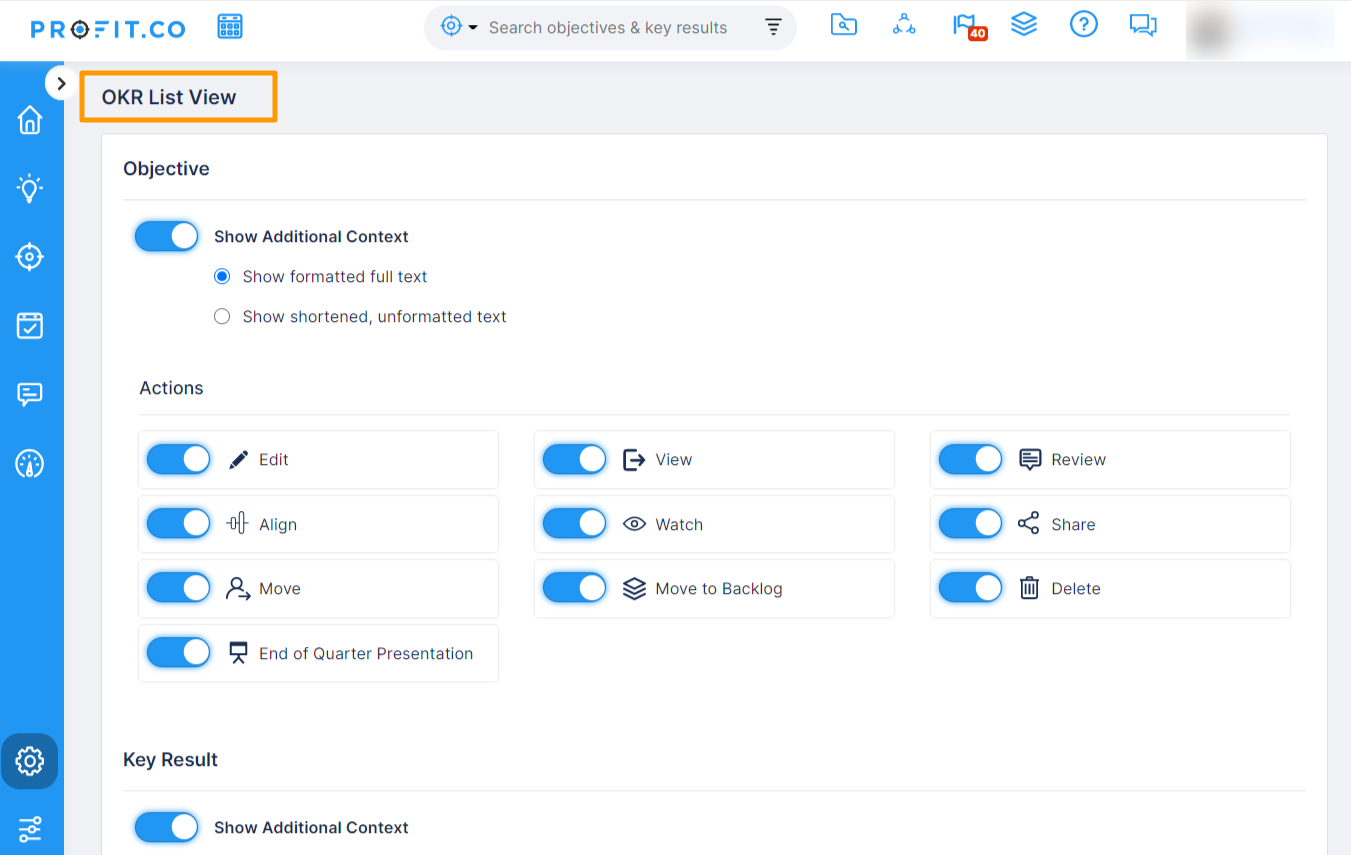 End of Quarter Presentation
The End of Quarter presentation is a tool in Profit.co that helps users quickly and easily create a PowerPoint presentation with Overall OKR progress and KR progress for the current quarter, and plan for the next quarter for any department and available in all department tabs.
First we have to enable the toggle for End of Quarter Presentation.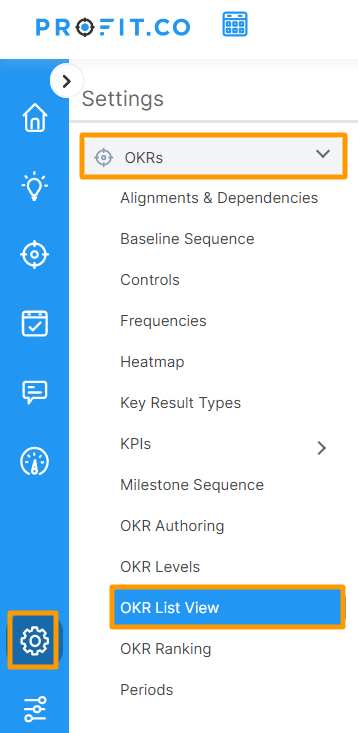 To know more about this click here.
OKR Ranking
Profit.co allows you to rank the OKRs based on the progress. You can now rank the OKR achievement of the employees and reward them achievement scores with OKR Ranking.
Note: OKR Ranking applies to the Corporate, Department, and Team OKRs. The predefined ranking can be customized and new ranks can be added by the superuser.
Check out the complete steps to enable OKR Ranking.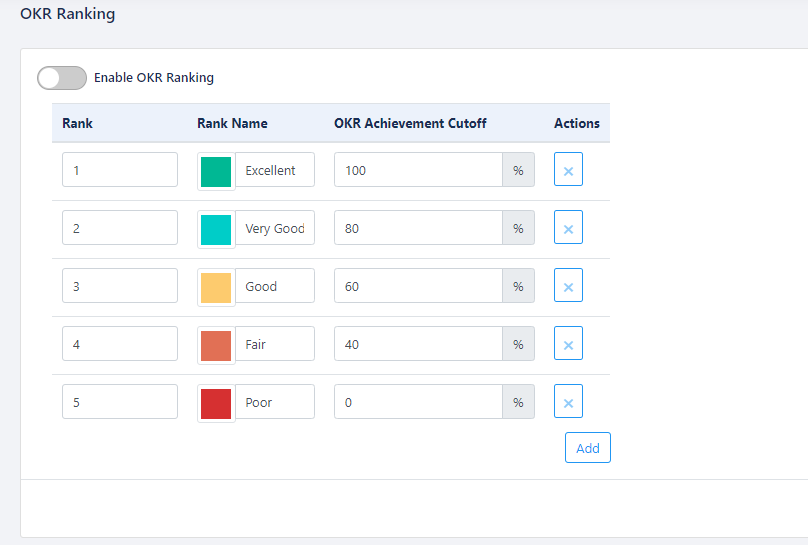 Strategy
Profit.co offers the option to use OKRs as per the company strategy. Currently, this feature has been implemented for customers who want to link their OKRs with specific strategies. Using this feature, customers can align their OKRs as per the company strategy using the achievement of initiatives.
To access the strategy menu under settings, the superuser has to configure and enable this feature.
The four main attributes of an initiative include directives, priorities, measurements and focus area. Before creating a focus area, it is important to set directives and priorities for the focus area of the initiative.
Tasks
Profit.co offers a powerful task management system where you can Create, prioritize, and monitor tasks. You can associate tasks with Key Results, visualize workflow with Kanbans, assign tasks to others and also can view the department's tasks.
Learn to add a new priority status to tasks by clicking here.
ENGAGEMENT
User Management
You can always add new employees to your Profit.co account, as long as your account is subscribed and active.
Learn how to add a new employee in Profit.co.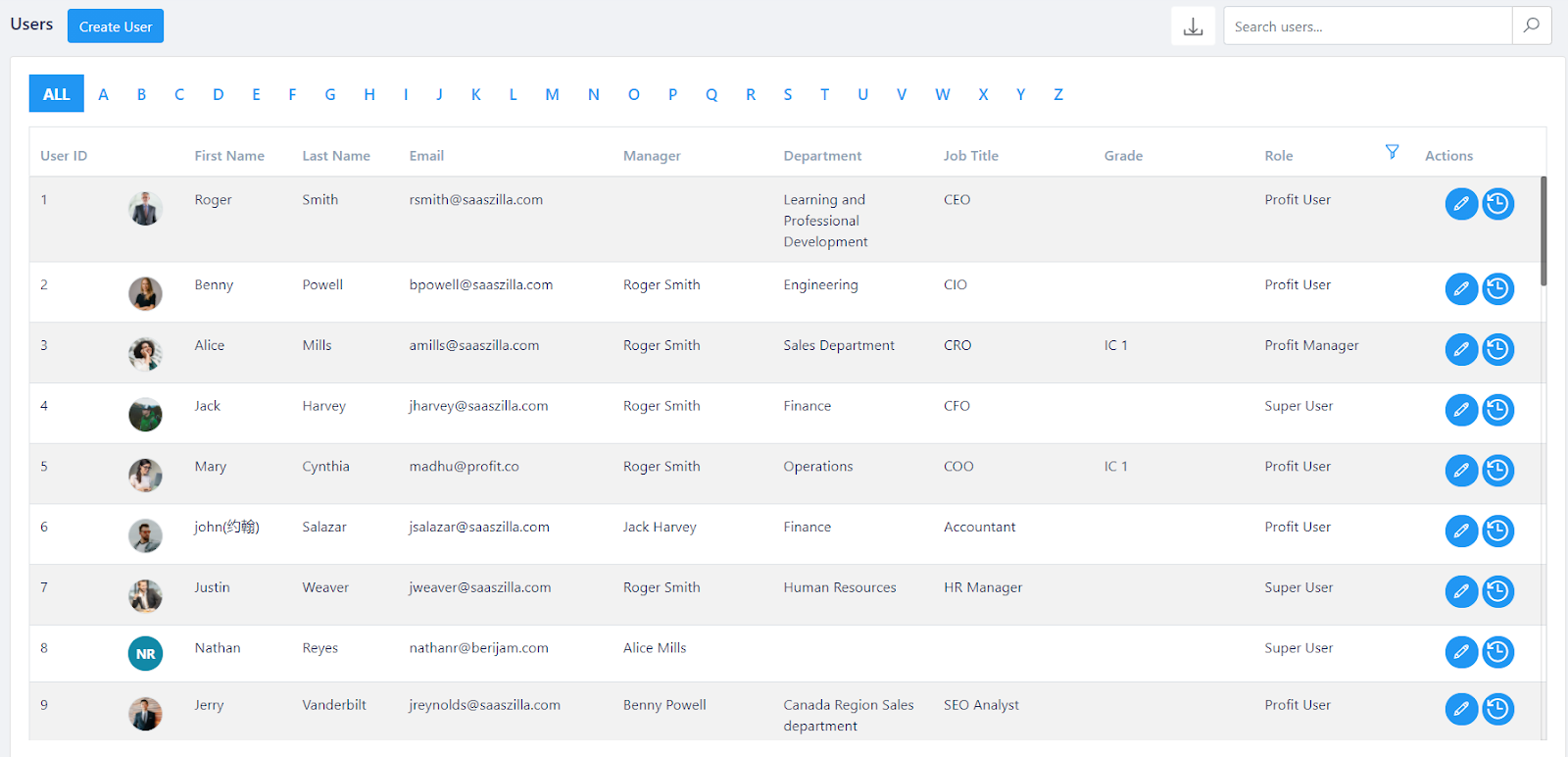 Click on the link, to know How to set up a new department.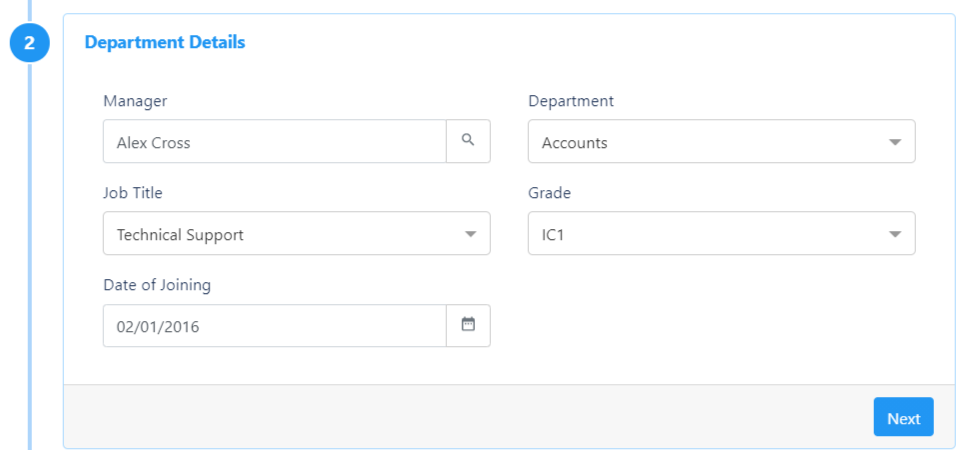 Number Generation
The superuser can decide the unique identification numbers assigned to new/existing employees to be generated at random by enabling the 'auto generate' toggle under number generation in the user management tab under the settings menu. If the superuser wants to assign a specific number of his/her choice to the employees, they can disable this toggle in order to do so.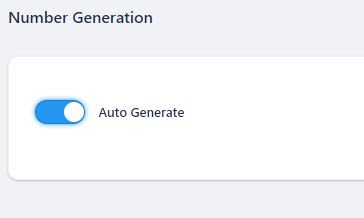 General