This guide is specifically designed for the super users of the Profit.co software. As the super user is open to special privileges to administer and maintain the system of the organization, this guide helps them to learn the functions and understand their key role better. This guide will foster the responsibility and the managing competency of the super user.
As the super user's enjoy super access to system administration and the software management, it is vital that they know their role better, instead of diving into the account without having any prior orientation about the product. This super user guide is chiseled in such a way that all the salient and the key functions of the Profit.co software are highlighted in a coherent order. Just go through the super user guide and learn how to enjoy a hassle free access to accounts in your administration. Starting from managing OKRs modules, Task, Engagement and Performance the key settings part is handled by the admin and you can know it all under a single roof.
Profit.co mainly focuses on establishing a customer friendly product that will be accessed from anywhere anytime at ease. So being a super user is more like managing the freedom of the fellow employees, so learn it better and manage it efficiently as you're going to run the success story of your organization through your management skills.
OKRs:
OKRs help you to have synchronized and orchestrated goal management systems that allow a business to implement a strategy based on their Objectives and targeted Key results. An OKR consists of one Objective, that defines a goal to be achieved, and it can have up to 7 Key Results to measure the progress towards the Objective. Click here, to read more about OKRs.
Alignments & Dependencies:
Alignment and Dependencies provides a hierarchical view of how your team's objectives are aligned with other objectives and key results.
How to Access the Alignment & Dependencies page of OKRs?
Go to Settings→ OKRs → Alignment & Dependencies from the left navigation panel.
The Alignment & Dependencies Page will open. Here you can manage Alignments & Dependencies via this page.
To read more about Top down and Bottom up alignment, click here.
Top Down Alignment:
In top-down alignment, you can align your OKRs in Profit.co by assigning your Key Result as an Objective, or, as a Key Result. This way, the assignee will receive that Objective or Key Result as a priority.
Enable multiple assignees.
Accept/Reject Assignments
Copy KRs to Individuals as Objectives or KRs when assigned from the Corporate, Department or Team OKRs.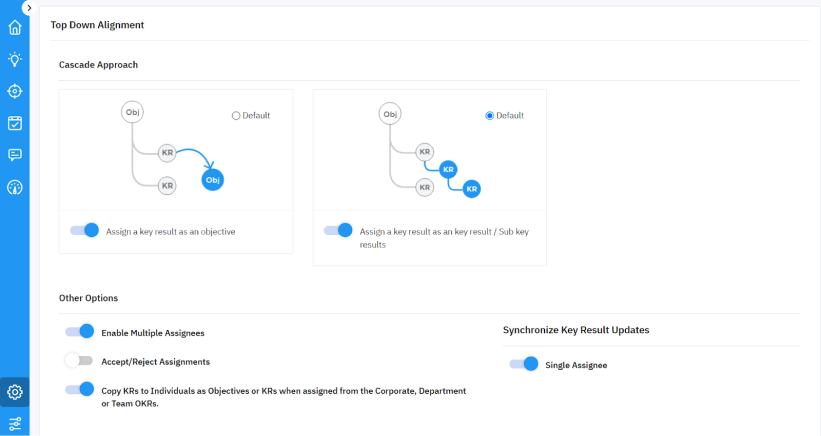 A user can assign a sub key result to multiple assignees.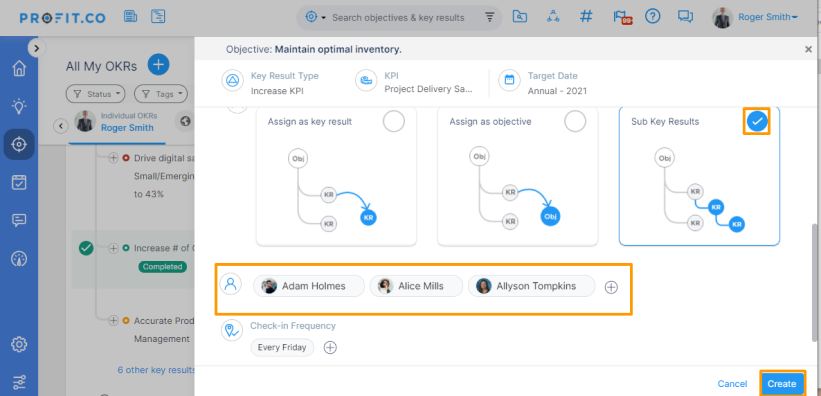 To learn more about this, click here.
Bottom Up Alignment:
In the bottom-up alignment of OKRs, you can select which OKR you want to align with while creating OKRs and view the OKRs from the bottom-up alignment. A good alignment will ensure that your employees focus on Tasks and KeyResults that matter to the organization
Allow Bottom Up Alignments for Key Results.
Accept/Reject Alignments
Always add aligning objective as a contributing key result
Allow aligning an objective as a key result under another key result
Allow alignments to only one level above the aligning objective's level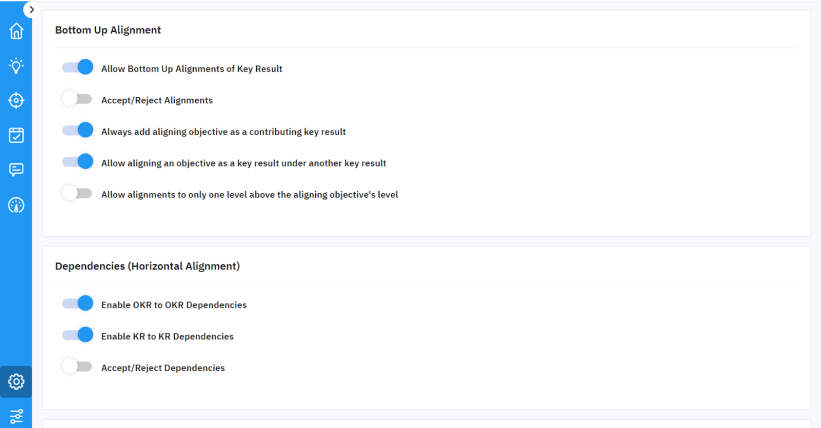 Check-in Score Propagation
In the Alignment and Dependencies option, you can allow users to decide to enable/disable sync the check-in progress from sub key results by default. You can also enable/disable the toggle to allow users to override check-ins at the parent key result level.

To learn more about this process, click here.
Differentiate between direct check-in values and check-in values synced from sub-KRs in the check-in history of key results
The check-in progress made in the Sub Key Result will reflect in their parent key result and the objective respectively. By enabling Show latest Check-in Comments toggle, you can view the check-in progress updates of key results as comments under Key Results. This helps to distinguish between direct check-in values ​​and synced check-in values ​​from sub-KR.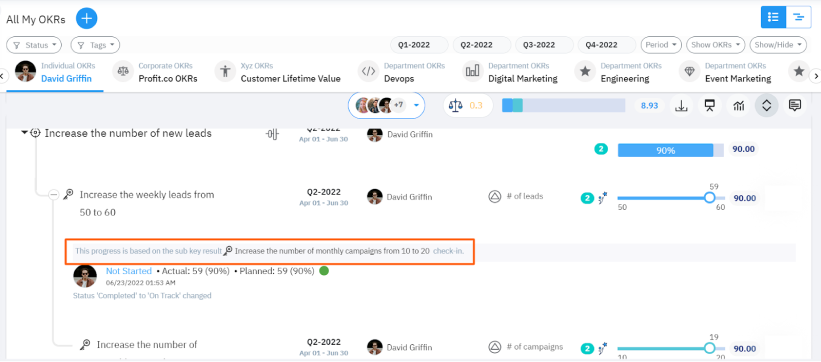 To learn more about the Check In Comments, click here
Contributing and Non-Contributing key results in bottom-up alignment
Profit.co allows you to do a bottom-up alignment of Contributing & Non-Contributing (Soft Alignment) objectives as a key result to the target objective. With the use of this feature, you can determine whether a key result outcome is helping to achieve the objective or not even when they are all aligned with it.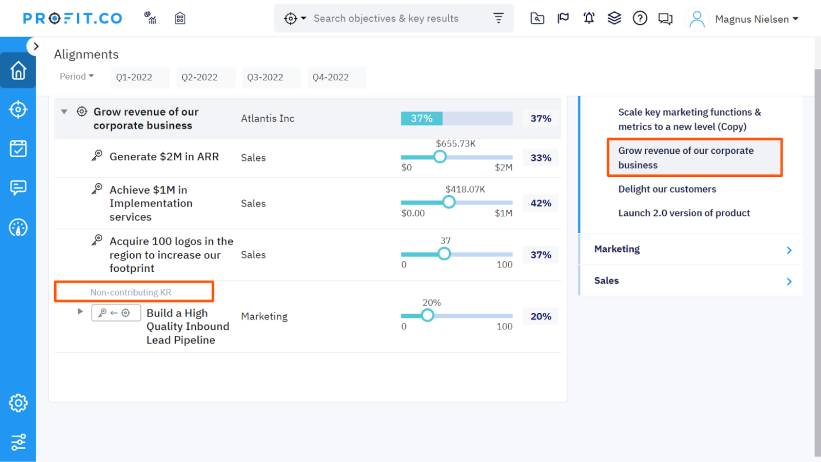 To learn more about Contributing and Non-Contributing key results in bottom-up alignment click here
Baseline Sequence:
How to create a new Baseline Sequence?
Super users can create and save baseline sequences for users to use them while creating Baseline KPI key results.
Click on Settings → OKRs → Baseline Sequence to open the Baseline sequence page.
Click on the given link to learn, the steps to create a Baseline sequence in Profit.co
Controls:
The Superuser will have the ability to set the time period for creating OKR. The organization may have set some objectives for quarterly planning and others for annual planning. The toggle to establish the time frame for objectives can be enabled by the superuser if he wants to limit the time frame for an OKR.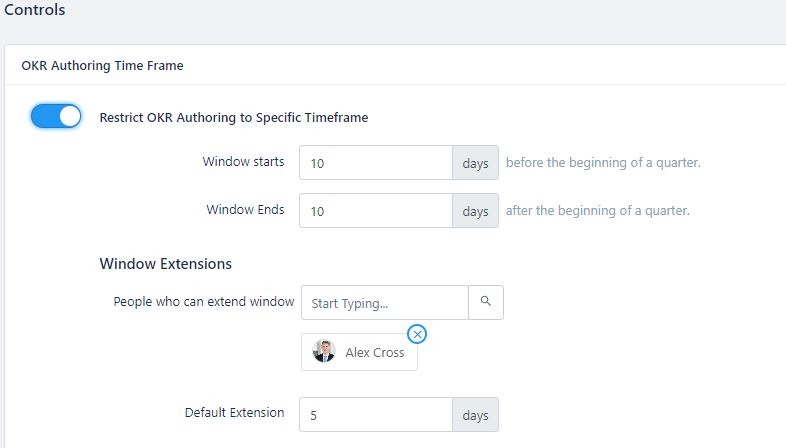 The window's start and end times are set by default to be 10 days before and 30 days after the start of a quarter, respectively. These settings can be changed as necessary by the superuser.
Additionally, the superuser can enable approval processes for the users to create and modify their own OKRs.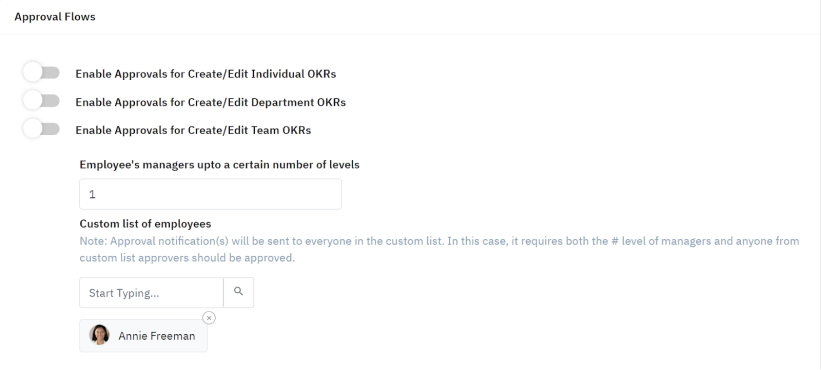 The superuser must enable the toggle in order to configure approval flows. By default, there would be 1 employee manager authorized to approve each OKR. But, this setting can be extended to any number. The user would be able to see the approval status under the "pending OKR approvals" menu.
To learn more about how to restrict users from creating OKRs, click here.
To learn more about approval flows, click here.
OKR Weightages
The superuser can also assign weightage to each objective and key result to set the priority. The assigned weightage will affect the total average score for the objective and key result.
To know more about how to define weights for key results, click here.
To learn more about how to define weights for objectives, click here.

Move OKRs
By turning on the toggle, the Superuser can also keep an eye on and approve or disapprove the transfer of OKRs from one department or team to another. To learn more about controlling the movement of OKRs, click here.

Frequencies:
Profit.co comes with a vast number of check-in frequencies that you can select from.
The default check-in frequency for the OKRs in your department can be set based on their preferences. Click here to learn more about frequencies.
Dashboards & Filters:
A C-level or Director-level view that typically provides a real-time snapshot of the overall development of your organization and permits historical comparison by applying a time period filter. Pie charts based on OKR status, bar graphs for OKR by department, and additional configurable views are all available. Each graph is interactive as well, where you can drill into it to dive deeper into specific OKRs.
Profit also provides to filter and export files from the company dashboard.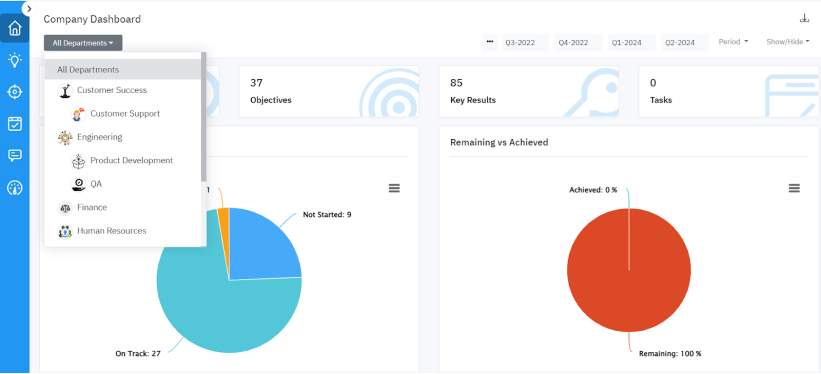 To learn more, click here.
OKR Filters:
Profit.co provides a set of predefined status filters for the OKRs which can help you to filter OKRs based on their current status.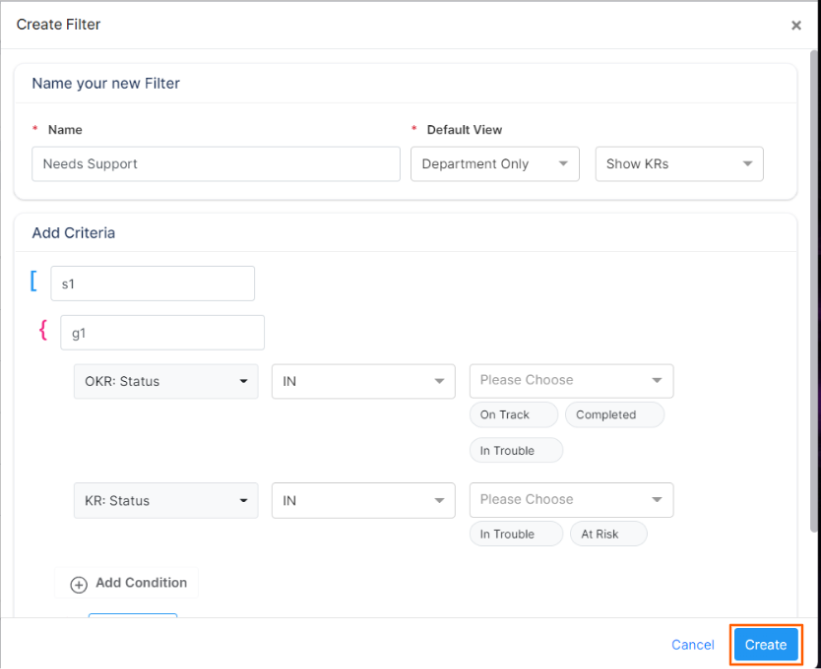 Click here to learn more
Department Heat Map:
A heatmap is a graphical representation of OKRs progressed department wise where values are depicted by color codes. Heatmaps make it easy to visualize complex data and understand it at a glance. We are going to provide an option to generate a heatmap dashboard for department OKRs.

To know more about the department heatmap, Click here.
Key Result Types:
Profit.co offers 7 types of key results. Click here to know more about which key result type to choose.
Navigate to Settings → OKRs→ Key Result Types from the left navigation panel.
You can Enable/Disable Key Result based on your requirements, and you can also choose the default key result creation type.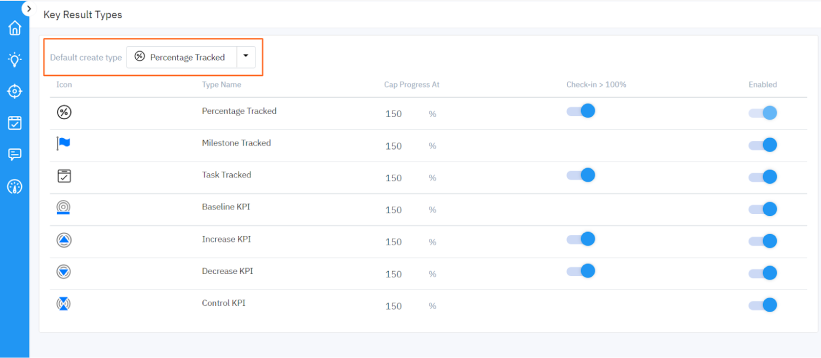 You can set a custom percentage to cap the progress of your main result types in Profit.co. Click here to learn more about how to cap key result progress.
Profit.co also allows users' to stretch goals or progress key results beyond 100%. Click here to learn more.
KPIs:
KPIs are associated with key results to track quantitative outcomes and to measure the achievement of your Objective. You can also define and maintain a library for KPIs where you can create KPIs based on your business needs. After creating KPIs, you can allow your employees to select, use and reuse KPIs for better tracking and reporting. You can also create KPI category in Profit.co
Click here to learn more about who can create KPI and How to create it.
Edit a KPI from the Key result edit page: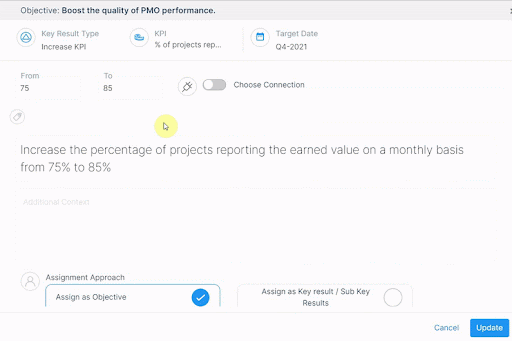 To learn more Click here
Customize OKRs creation form:
You can add more information to the section of the OKRs Master layout that will be used as input when creating an OKR.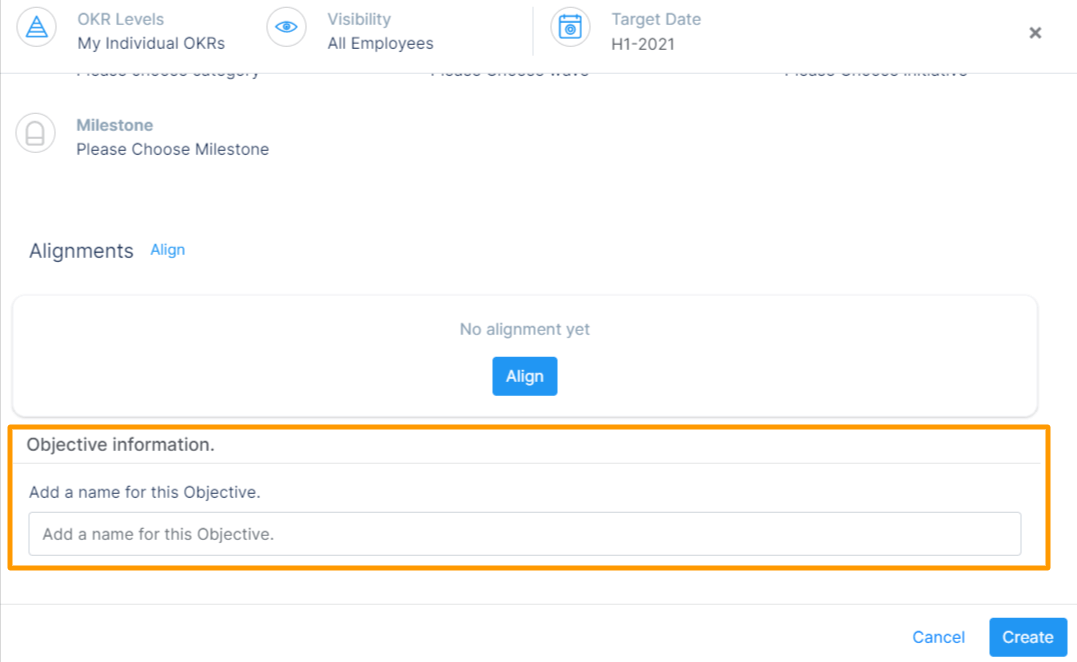 Click here to know more about how to add additional information while creating OKRs
STRATEGY:
In the OKR methodology, OKRs are heavily informed by a business's overall company strategy. That's why Profit.co offers the option to link OKRs with specific strategies. Companies can align their OKRs per company strategy.
The five main attributes of a strategy include initiatives, directives, priorities, measurements, and focus areas. It is important to set directives and priorities before creating the focus area of the initiative.
Navigate to Settings → Strategy, and enable each toggle on the individual pages for Directives, Priorities, Focus Areas, Measurements, and Initiatives.
These features form a thorough strategy module that aids businesses in articulating their strategy over a number of years rather than just a few quarters, as with OKRs. As you can see from this flowchart, strategic directives and priorities inform a company's focus areas. Combined with the right measurements for their given focus, teams can create the initiatives and milestones they want to prioritize for a given period of time. From these top-tier goals, teams can then develop their objectives, and the rest of the OKR.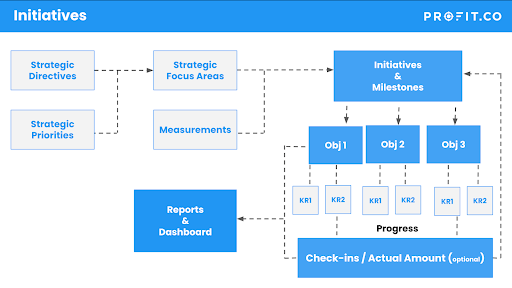 To learn more about how to set a milestone in strategy click here and to learn about how to delete an initiative click here
This Assigned division field helps the Initiative definers to add the members of the department. By adding the department under this, the members of the selected department in the assigned division field will also have access to view & link their OKRs with initiatives. click here to learn more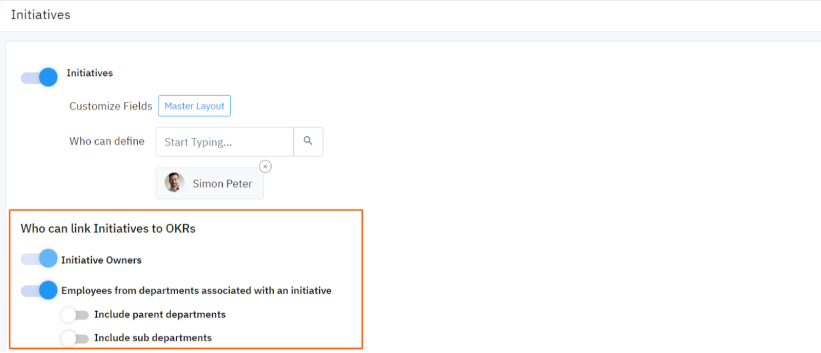 By enabling the toggle, the members of the chosen department will also be able to link their OKR with initiatives in the designated division field.
In the OKR Category section, you will find the Show OKR Category in the objectives toggle; it will be enabled by default.

You can remove the OKR category from the Create Objective page if you don't want to add an OKR category while creating an objective.
Execute your strategy with the industry's most preferred and intuitive software