G Suite Marketplace is an online store that offers a wide range of web applications.Profit.co can be downloaded for free. Add users from G Suite to Profit.co and they can use their Gmail credentials to log in to Profit.co.
Let's take a look at the steps which are listed below for installing Profit.co application from G Suite Marketplace
How do I install Profit.co app from Google Marketplace ?
Step 1:
Login to your Gmail account.
Step 2:
Click the grid icon on the top right corner of the page.
Step 3:
A drop-down box displays the list of installed applications, click "More from G Suite Marketplace".
Step 4:
It will pop-up a menu with a list of Google Applications. Enter "Profit.co" in the search bar.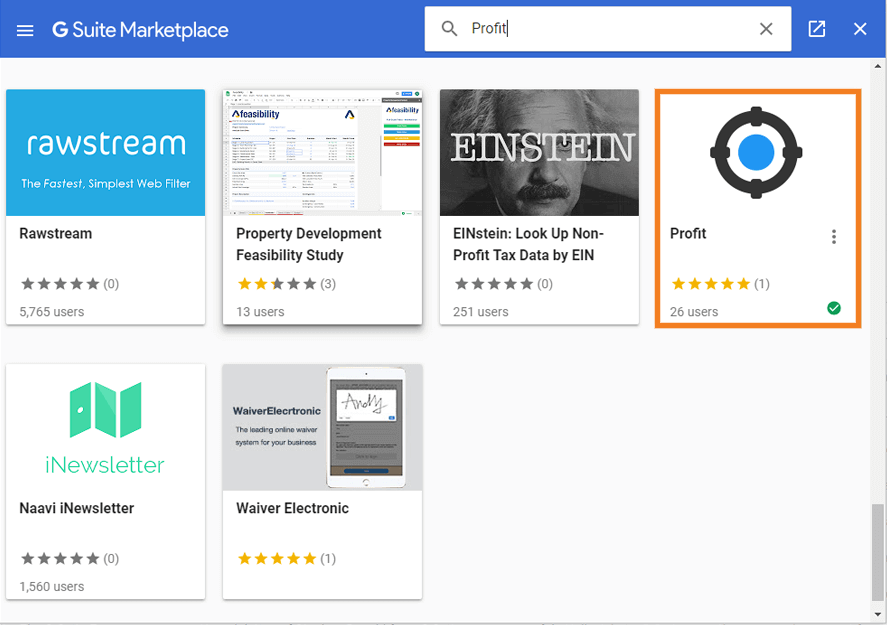 Step 5:
Click the "Profit.co" application and click on "Domain Install".
Step 6:
In the granting access confirmation popup, click on the checkbox for agree "Terms of Service " and "Privacy Policy" of the Profit.co and G Suite Marketplace and click "Accept" button.
Step 7:
Once the installation is complete, a confirmation popup will show "Profit has been installed". Click "Done"
Step 8:
Click "LAUNCH" button to start the Profit.co application.
Step 9:
Use your Email Address and Password to login or click on Google button.
How to import G Suite Users as Profit.co Users?
Many organizations use G Suite which helps to manage the business more effectively, to enhance their workflow and improve the communication between your team members. The authority of the organization has access to admin features in G Suite who can import their required subordinates into Profit.co.
Admin user:
Step 1:
Once the user has logged into Profit.co application, it navigates to the homepage of Profit.co.
Step 2:
Click the Settings icon from the Left navigation panel.
Step 3:
In the left side panel, select Integrations –> G Suite –> Click "ALL" from the directory.
Step 4:
A list of G Suite users who are not enabled as Profit.co users will be displayed and this feature is available only for G Suite admin.
Step 5:
Select the user whom you want to enable as Profit.co user and click "Enable for Profit" button.
Step 6:
Privilege and Profit Score Rule for the selected user should be given and click "Complete".
Step 7:
Once the G Suite users are enabled as Profit users, they would not show up again in the G Suite users list.

Step 8:
When G Suite users are enabled as Profit users, they will be listed under Profit User list, which is provided in Users –>Click "ALL".
Step 9:
The enabled user will receive a mail from profit team with a temporary password to log in.
Step 10:
From the Profit users directory, select the "Edit" button of the user whose credentials need to be changed.
Step 11:
The Personal information, Department information and Profit Access information can be updated for the selected user. Click "Update" once it is done.
Execute your strategy with the industry's most preferred and intuitive software