Integrate Profit.co with HubSpot using username and password:
You can integrate your Profit.co account with HubSpot and create key results via the below steps
Note: Only the superusers can integrate Profit.co account with HubSpot and create key results.
Step 1
Login to your HubSpot Online account using your Email ID and Password.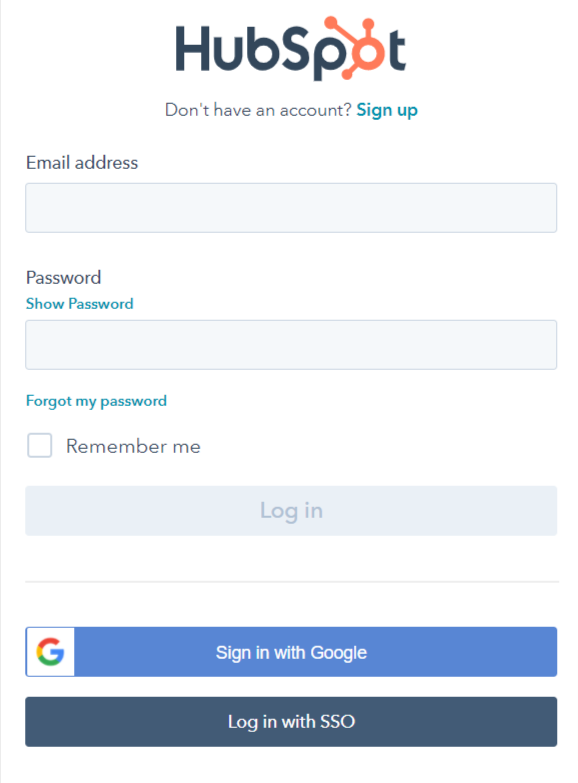 Step 2
You will be directed to the page where you will be selecting the name of the HubSpot account.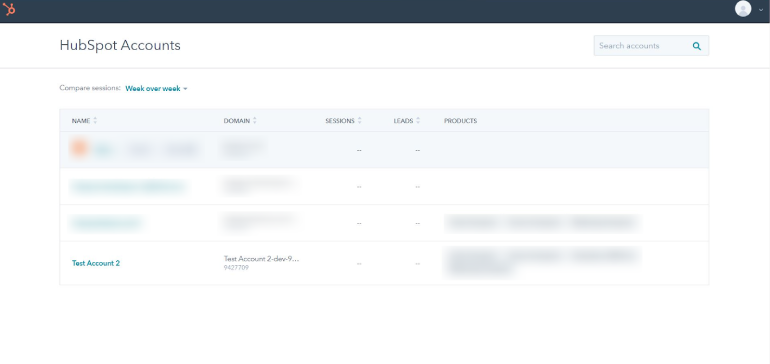 Step 3
After selecting the account you will be directed to the home page.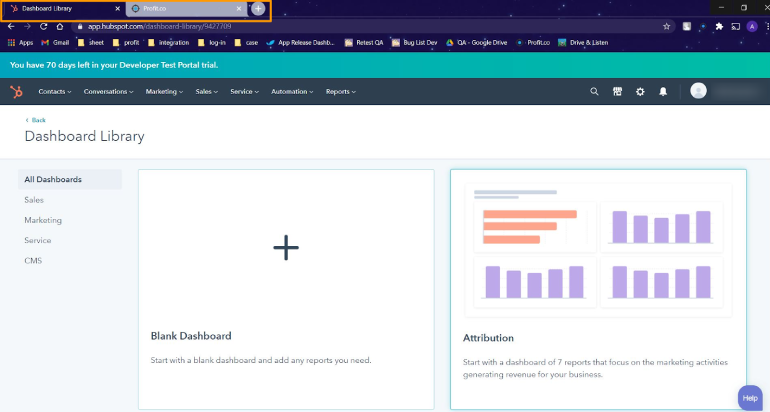 Note: Open a new tab in the same browser and open https://app.profit.co/ to avoid any login issues.
Step 4
Now navigate to Settings → Integrations→ Connectors from the left navigation panel.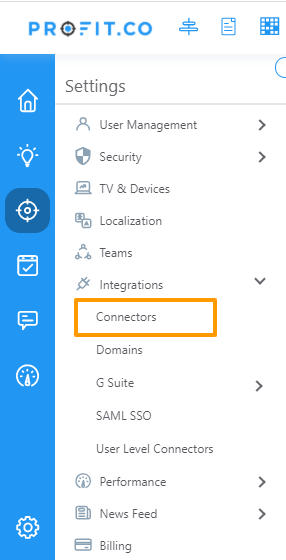 Step 5
On the Integrations page, click on the Manage button of the HubSpot connector.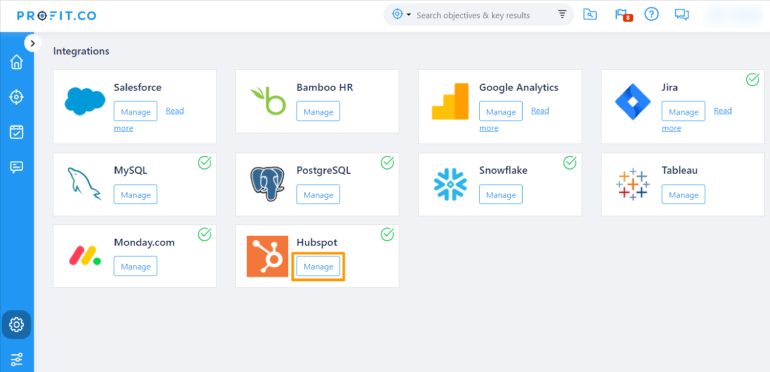 Step 6
Now click on the Connect to HubSpot button.

As mentioned above in the note in Step 3 we have opened this page in a new tab. So already a tab is present with HubSpot which we have already logged in.
So while clicking on Connect to HubSpot it'll automatically integrate, like we have mentioned below.

Now the Profit.co account is successfully integrated with the HubSpot account.
Step 7
Now click on Create Key result → Using form guide.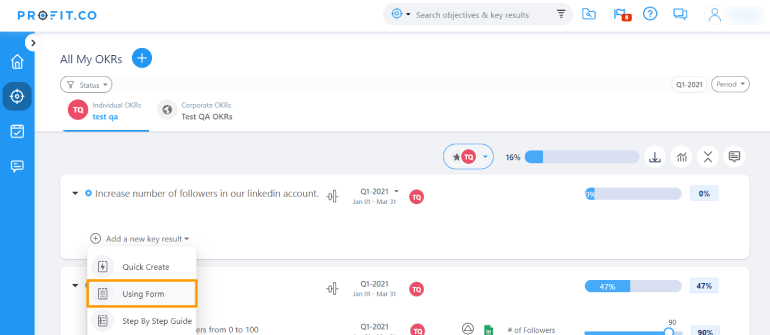 Note: While creating key results using an integrated connector, you can use only Increase, Decrease and Control KPI.
Now create the key result using form, here Increase KPI is selected.
In this, enable the Auto Update toggle, choose connections as HubSpot, and give a value.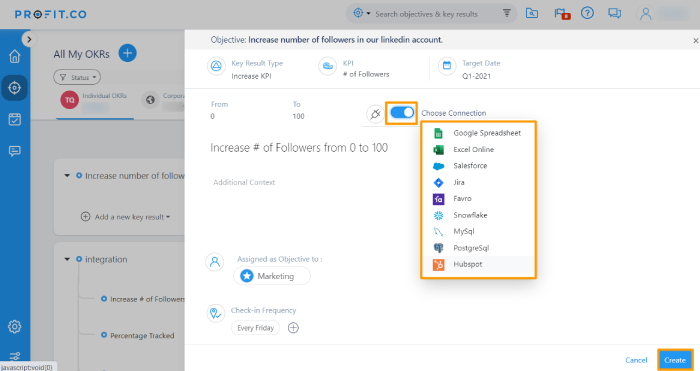 Once you click on the HubSpot integration, you will be directed to the Connect to HubSpot page, where the Connection Name will be automatically populated, under which you'll provide the KPI and Date Range.

After selecting the KPI, the current value will be updated.
Finally, click the "Add" button.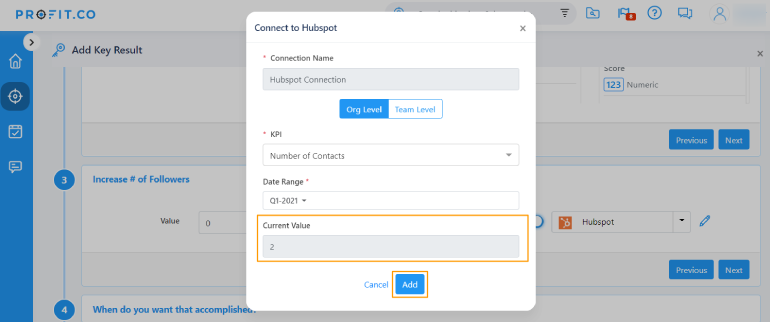 Step 8
Now the value of your increased KPI will be updated here.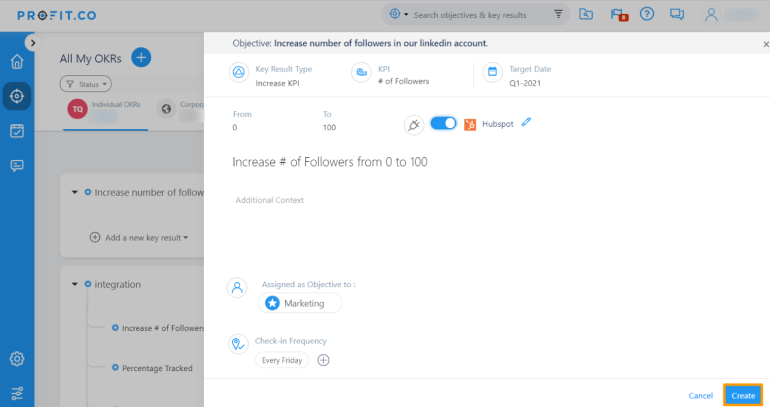 Finally,click on the Create button.
Step 9
After clicking on the Create button, the key result will be reflected.

Now click on the check-in toggle, the value will be mentioned, click on the Check-in button.

Step 10
Check-in the key result and click Update.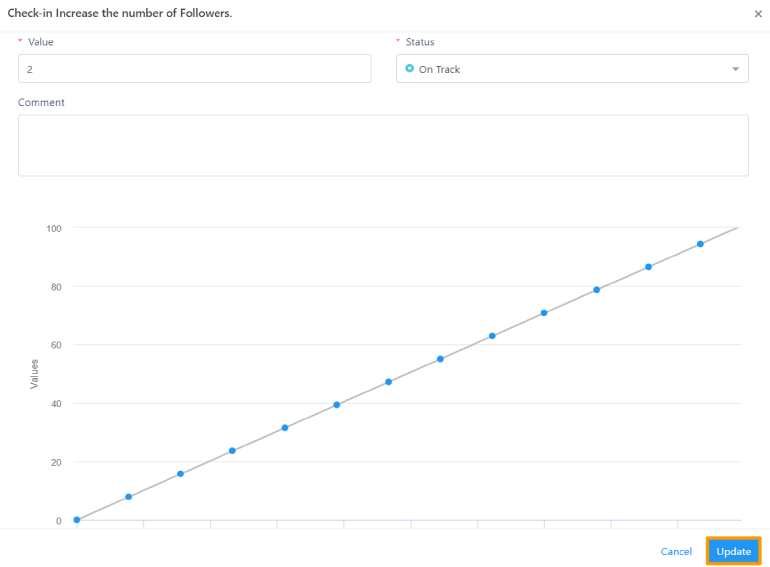 The key result will be updated. If you want you can change the status of the key result.

Execute your strategy with the industry's most preferred and intuitive software